We have been testing stock trading platforms, software, and Apps for over 10 years.  We share with you the finest platforms available today, from proven A.I. Auto-trading to systems using machine learning for backtesting and forecasting.
If you are a beginner looking for a trading community to learn from or an experienced trader looking for an edge in the market, we have you covered. This comparison will allow you to select the software that is right for your trading style and experience.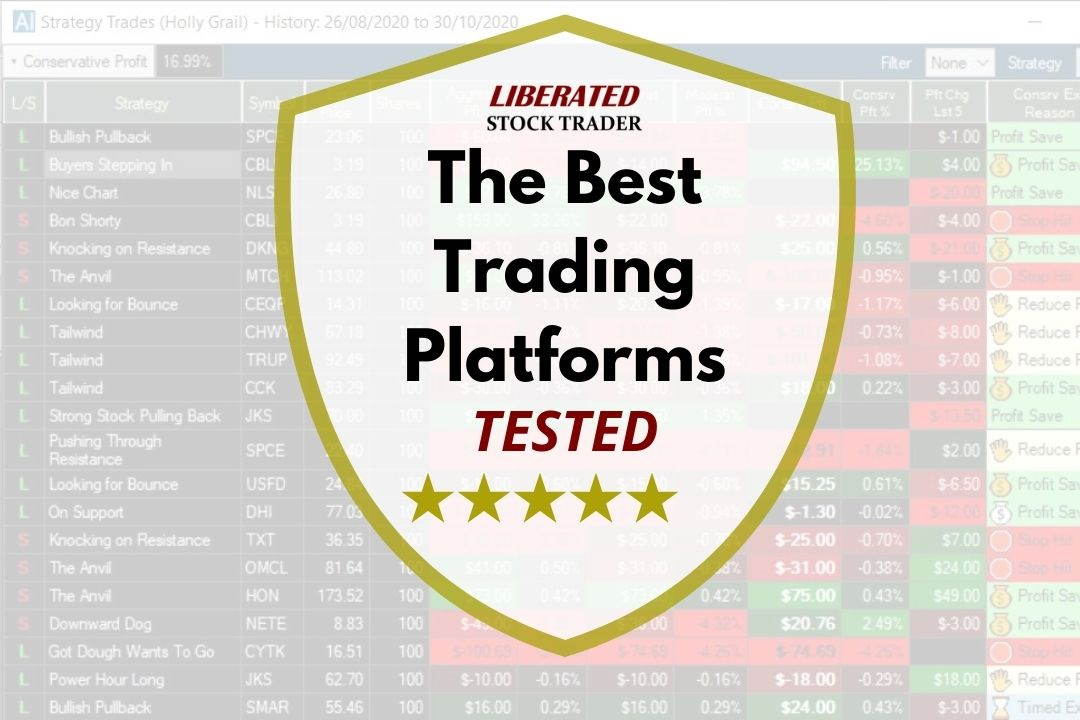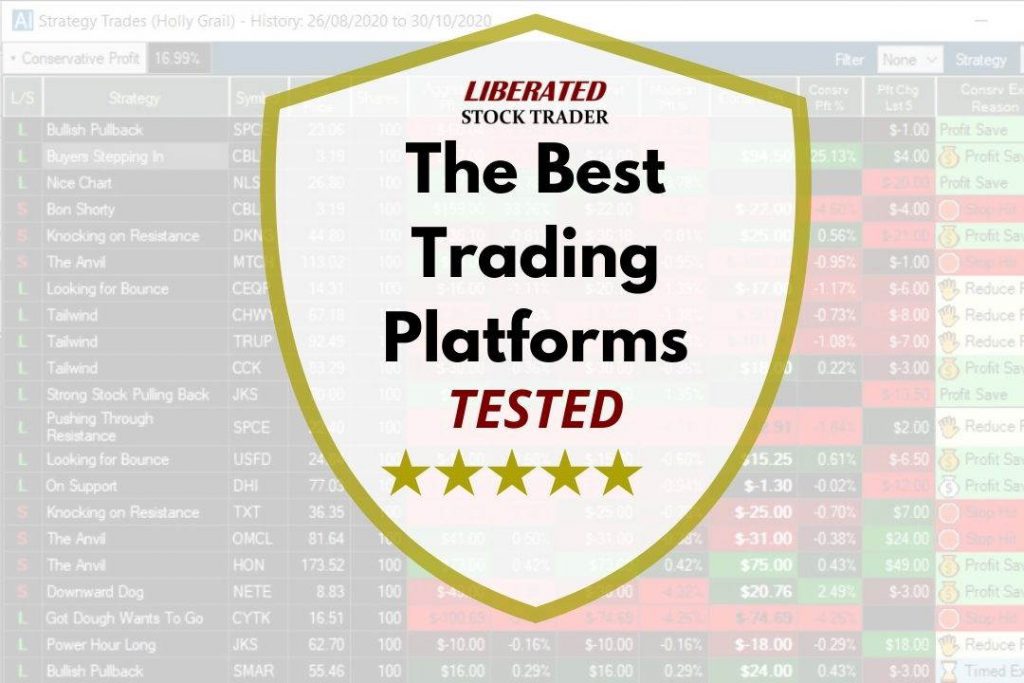 What is a Trading Platform?
A trading platform is either a downloadable application or a web-based service that enables you to view stock charts, perform stock screening, execute backtests, and ultimately trade. You should also be able to see the latest stock news, perform in-depth stock research, and manage your portfolio.
Finally, there is a new breed of software powered by A.I. and Automation to help you find the most profitable trading opportunities.  
There is no single trading platform that perfectly performs every single function; each has its own strengths, so we have selected the seven most important factors and rated all the software against each other.
7 Rating Factors for Trading Platforms
Charts: Are the stock charts interactive, with many indicators & drawing tools for analysis
Screening: Does the platform have powerful technical scanning or fundamental screening
Backtesting:  A great trading platform allows you to backtest systems to assess future trading risk/reward
Trading: Does the platform allow you to execute trades on an exchange from the charts
News & Research: Do you get either real-time news or in-depth stock research reports
Portfolio Management: Can you manage, correlate, rebalance your portfolio, and report profit and loss.
A.I. Signals & Automation: Does the platform provide automated chart analysis or artificial intelligence-driven trade signals
Top 25 Trading Platforms Ratings & Comparison Table
Click on the column to sort by the rating factor, and click the platform name to jump to the review summary.
Best Trading Software Comparison Table - 200 Data Point Ratings
1. TradingView:  Winner Best Trading Platform Globally + Huge Trading Community
Our Recommendation for all International Stocks, Fx, Crypto traders who value a great price, insanely good chart analysis & backtesting with a huge social community, and the best ease of use.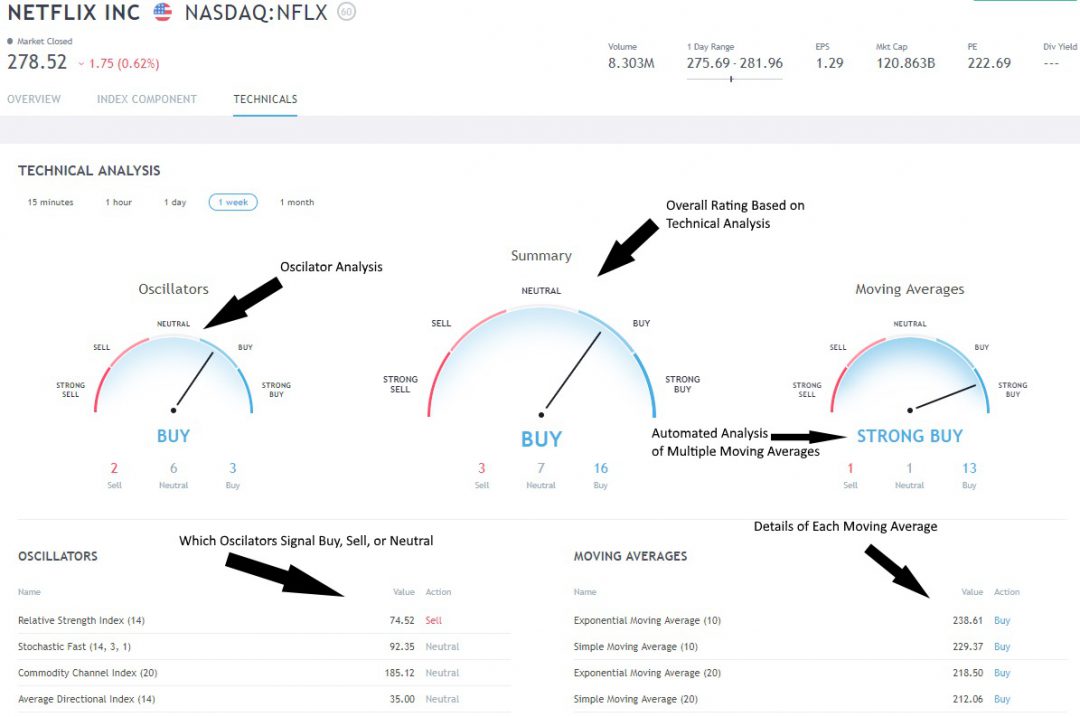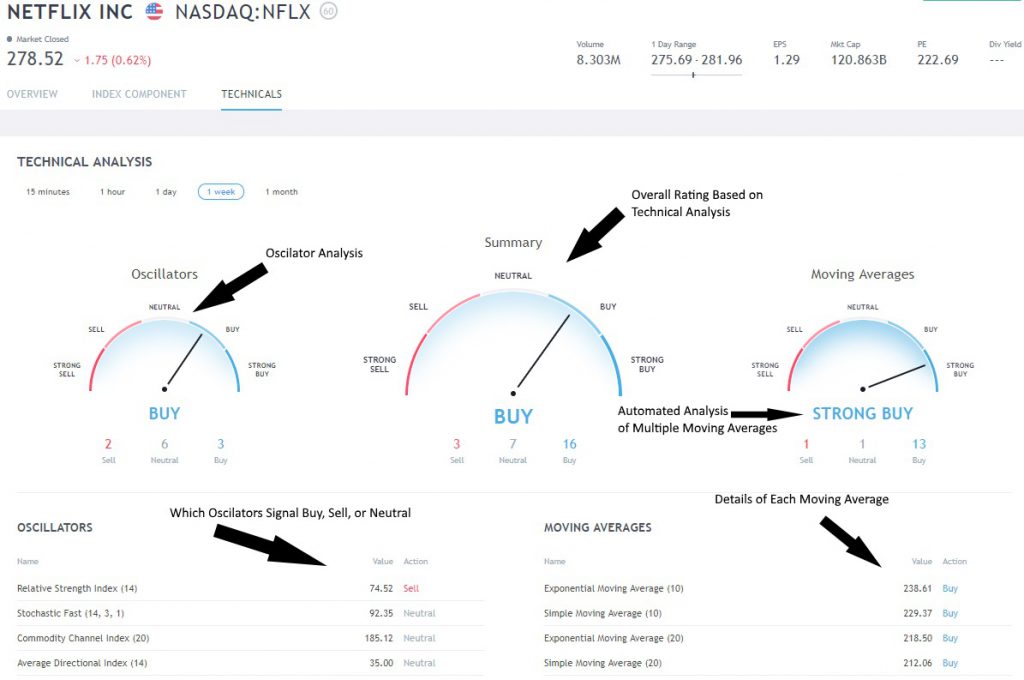 Charts ★★★★★
Screening ★★★★
Portfolio ★★
Backtesting ★★★★★
Trading ★★★★★
News ★★★
AI/Automation ★★
Tradingview has over 160 different stock chart types, chart indicators, and drawing/annotation tools.  Even better, you can like, follow, and share your ideas with other traders across the globe; it is the ultimate learning and social trading community. Tradingview also scores very well on screening as you can easily screen on hundreds of technical and fundamental criteria. They also have by far the best technical screeners for stocks, ETFs, Cryptocurrency, and Forex.
The TradingView backtesting engine is powered by pine script, enabling you to easily develop your own indicators and back-tested systems to enable you to report on the risk-reward of your trading strategy.
With TradingView in the USA, you get great broker integration with TradeStation for Stocks. In Europe, you have integration FXCM and Saxo Group for currency and CFD trading. You can place trades directly from charts, and it will take care of profit & loss reporting and analysis for you.  The only thing it does not cover is Stock Options trading. I expect the major global discount brokers soon to be available.
When it comes to portfolio management, you can see your trades and the profit and losses. To do this, you need to either paper trade with TradingView or select one of their integrated brokers for your region.  There is no way to import your existing portfolio into a detailed watch list manually.
TradingView does have a reasonable news service, with integrated delayed news from MT Newswire, Reuters, and Yahoo. However, if you need real-time news, you should evaluate MetaStock or Benzinga Pro.
★ Bonus: Sign Up For This Service & Get 5 Exclusive Investing Strategy & Research eBooks Valued at $99 ★
-
2. Stock Rover: Winner Best Screening, Research & Portfolio Platform for Investors
Best for USA Value, Dividend & Growth Investors Seeking An Excellent Fundamental & Financial Analysis Stock Research Platform. Easy to Use Yet Extremely Powerful; this is Our Outright Winner Investors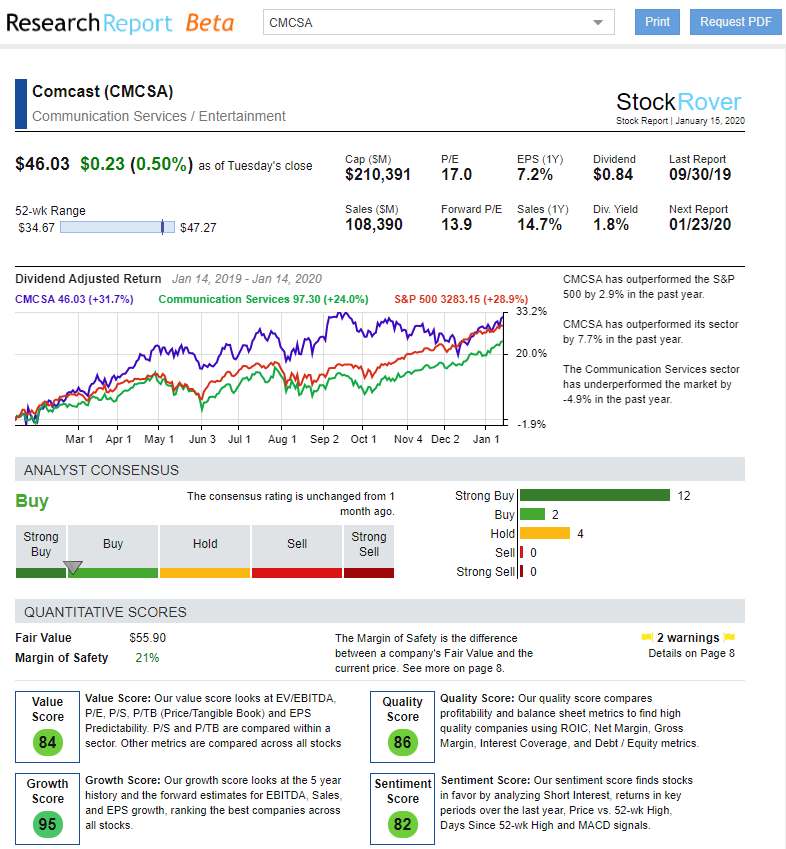 Charts ★★★★
Screening ★★★★★
Portfolio ★★★★★
Backtesting ★★★
Trading ★★★
News & Research ★★★★
AI/Automation ★★
Stock Rover is our clear winner for stock scanning, filtering, and fundamental watchlists. The list of fundamentals you can scan & filter on is genuinely huge.  Any idea you have based on financials will be covered with over 600 data points and exclusive stock scoring systems.
Watchlists have fundamentals broken into Analyst Estimates, Valuation, Dividends, Margin, Profitability, Overall Score, and Stock Rover Ratings.  You can even set the watchlist and filters to refresh every single minute if you wish.
The team over at Stock Rover has implemented some great functionality; I particularly like the roll-up view for all the scores and ratings.
Stock Rover provides the best software for value and income investors. A 10-year financials & fundamentals historical library plus incredible scanners, including Warren Buffett & Ben Graham's favorite criteria. Fair Value, Margin of Safety, and so much more.  If you are a long-term investor, this is the software for you.
An excellent new addition to the Stock Rover platform is the Research Report. This brand new service enables you to generate a professional, readable PDF report on any particular stock's current and historical performance.
The research report creates something new, a human-readable, real-time research report highlighting a company's competitive position, market position, and historical and potential dividend and value returns. In the image below, you can see the dividend-adjusted commentary on Microsoft, a company I invested in because I found it's excellent potential using my Buffett Stock Screener.
★ Bonus: Sign Up For This Service & Get 5 Exclusive Investing Strategy & Research eBooks Valued at $99 ★
-
3. MetaStock: Winner Best Charting Platform for Real-time News, Backtesting & Forecasting
If you are a trader wanting a platform to build a trading system to give you an edge in trading, then MetaStock is the product for you.  You cannot execute trades directly from charts, but the charting, backtesting, and forecasting are a considerable advantage in day trading.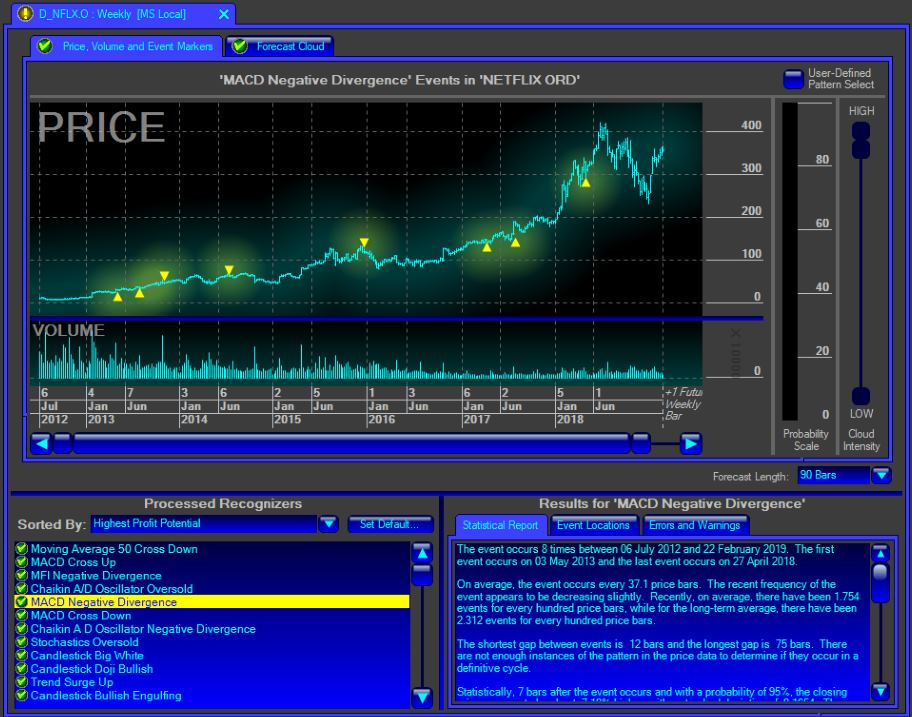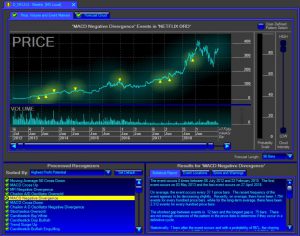 Charts ★★★★★
Screening ★★★★
Portfolio ★★
Backtesting ★★★★★
Trading ★★
News ★★★★★
AI/Automation ★★★
With over 300 technical analysis tools for stocks, forex, and ETF charts, MetaStock has everything you will need to build your trading system. Forex forecasting based on sentiment is an absolutely exceptional feature.  Never mind the broadest selection of technical analysis indicators on the market today. MetaStock is the king of technical analysis.
MetaStock does not natively provide broker integration,  execution of trades from charts, or live integrated P&L analysis; it is designed as a broker independent desktop application.
Using MetaStock Refinitiv, you can see a really in-depth analysis of company fundamentals from debt structure to top 10 investors, including level II.  Excellent watch lists featuring fundamentals and robust scanning of the markets gets a perfect 10
MetaStock Refinativ gives you get integration with institutional level real-time news, analysis, and outlook.  This is the fastest global news service available on the market, including translations into all major languages.
Another area where MetaStock excels is what they call the "expert advisors."  MetaStock harnesses a huge amount of inbuilt systems that will help you as a beginner or intermediate trader understand and profit from technical analysis patterns and well-researched systems.  This is really a key area of advantage.  The biggest addition to the MetaStock arsenal is the forecasting functionality, which is absolutely fantastic.
MetaStock does have plenty of automated systems (sold as Add-ons), and it employs what could be called machine learning. Machine learning helps you tweak a system by providing it with loose parameters within which to operate; then, the platform suggests the best application of your system for the current trading environment.  Very clever.
-
4. Trade Ideas: Winner Best A.I. Trading Signals To Beat The Market
Trade Ideas is a web & desktop-based software platform for finding day trading opportunities. Historically specializing in real-time scanning for trade opportunities, Trade Ideas now incorporates cutting edge AI algorithms that backtest every stock in the USA & Canada for high probability trading opportunities.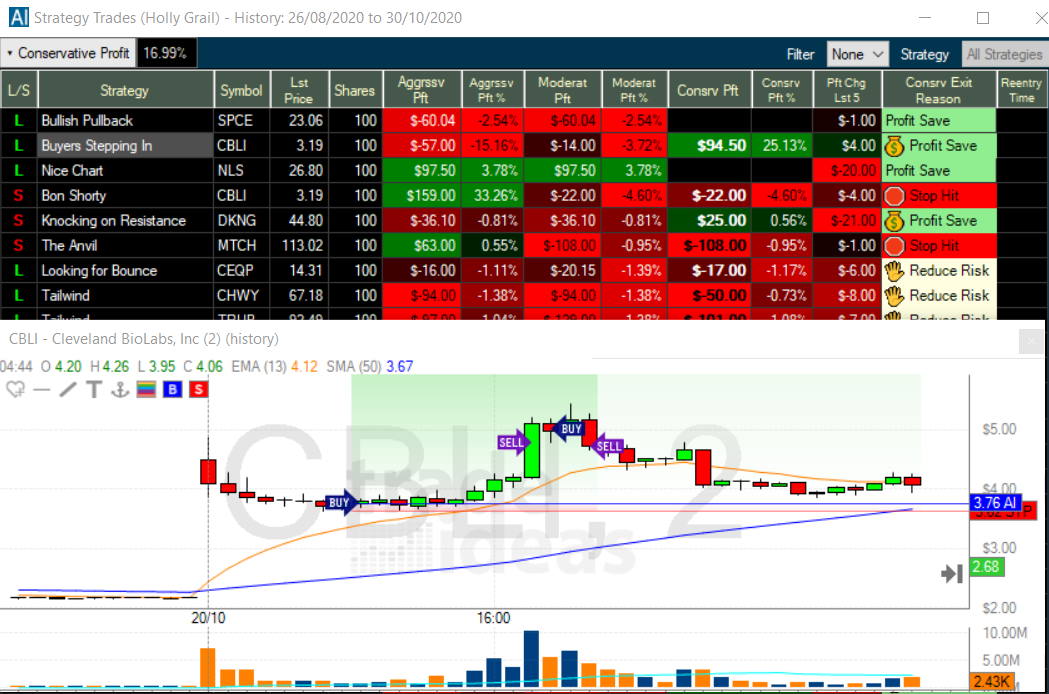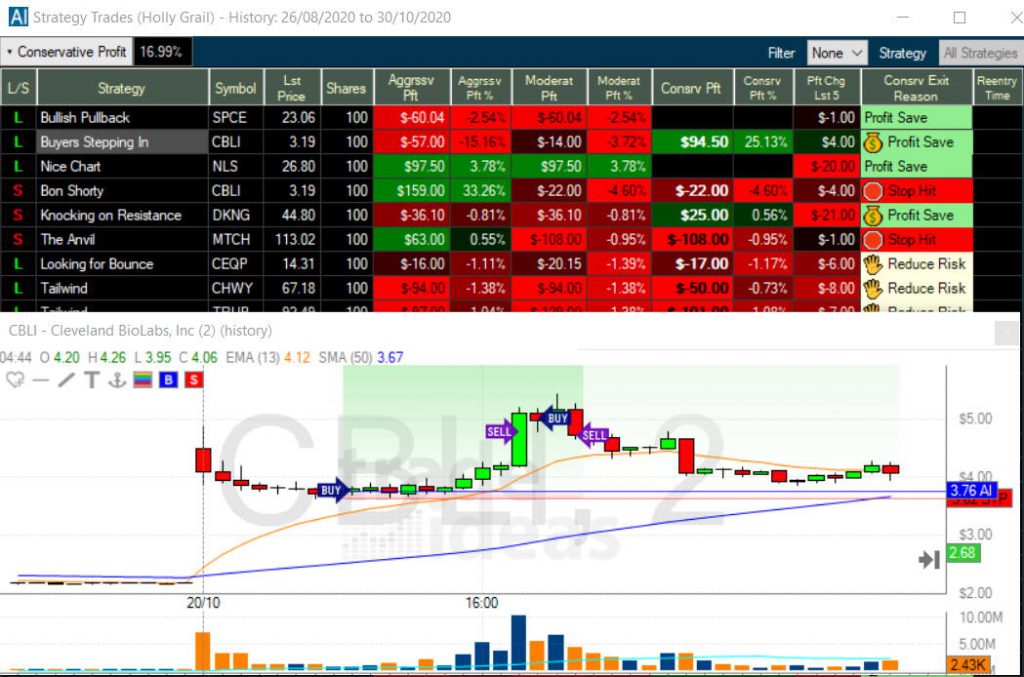 Charts ★★★
Screening ★★★
Portfolio ★★

Backtesting ★★★★★

Trading ★★★★★

News ★★
AI/Automation ★★★★★
The true genius of Trade Ideas, it that it uses Artificial Intelligence algorithms to continually monitor and backtest all 8,000+ stocks on the US & Canada exchanges.
The A.I. program is called Holly, and she runs over 70 different strategies on every stock to supply you with high probability trades every single day.
Those trades are typically day trades lasting between a few minutes and a few hours.
Believe me, you have never seens anything like the Trade Ideas Holly A.I.
The reason why Trade Ideas features on our winner's list is because of the platforms unique benefits:
Live Trading Room – Get full access to the live trading room for Free.
A.I. Virtual Trading Analyst Holly – 4 different constantly evolving A.I. algorithms
Chart Based A.I. Trade Assistance & Entry and Exit Signals
Risk Assessment – Detailed information on the backtested performance of the recommended trade.
Build and Backtest any Trade Idea – Extremely powerful point & click backtesting system.
Autotrade w/ Brokerage Plus and A.I. – Advanced auto trading using Interactive Brokers.
As a partner of Trade Ideas, I requested a discount for all our readers. Use the discount code "Liberated" to get 15% off your first purchase, worth $340 when going for the premium service.
-
5. TrendSpider: Winner Best Automated Stock Analysis
Recommended for all traders wanting cutting edge AI software, automated trendline pattern recognition & system backtesting, all at a great price.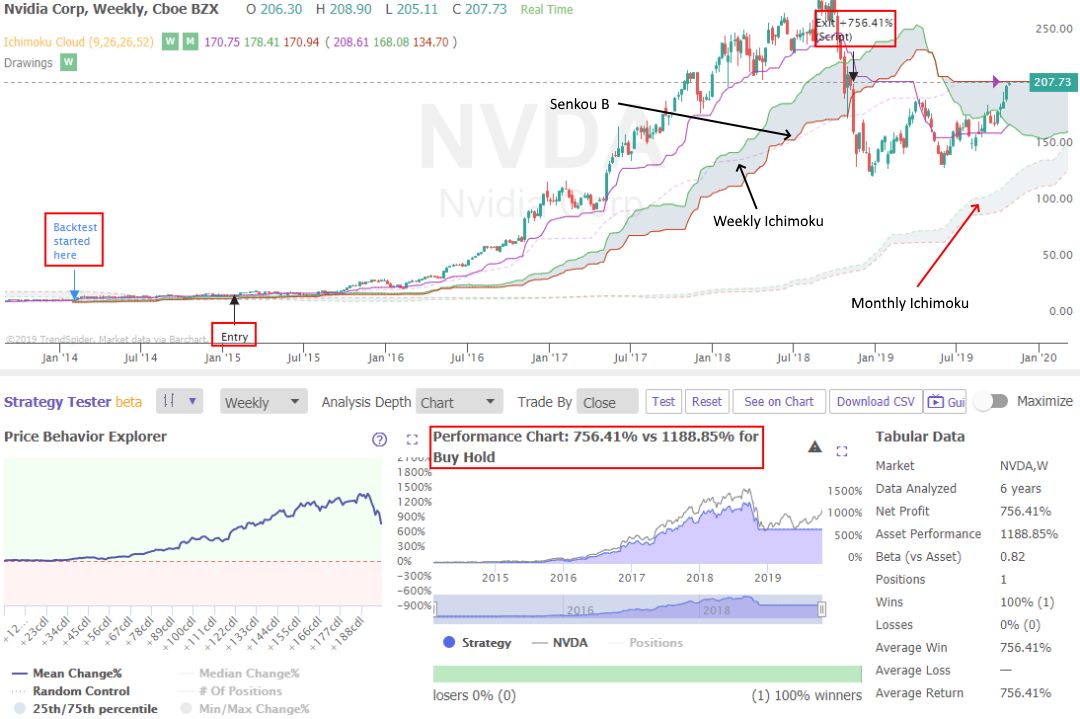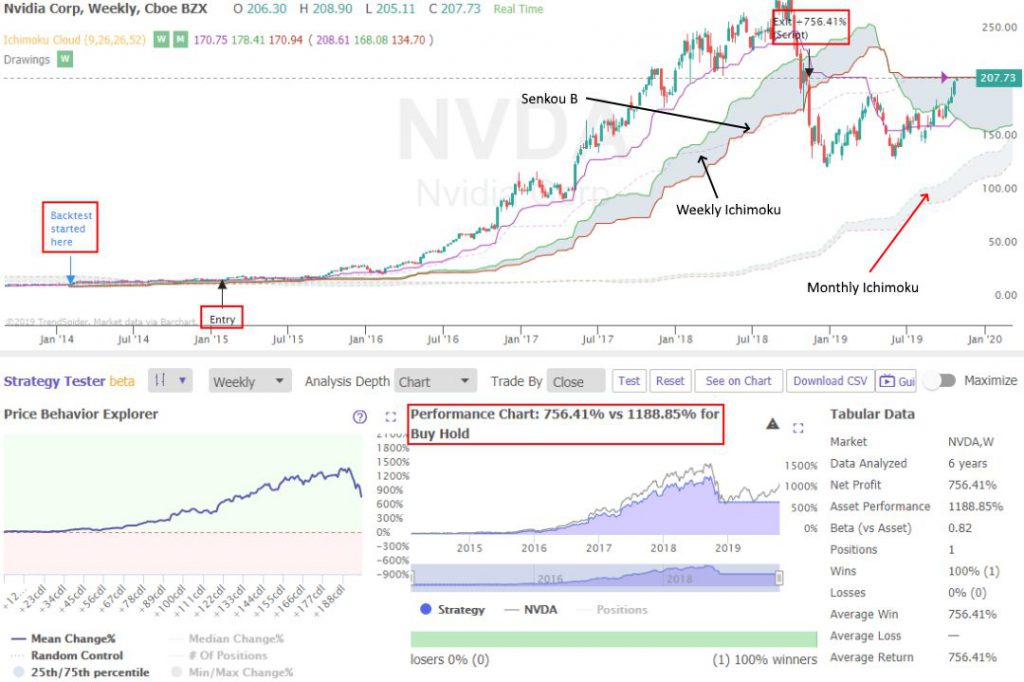 Charts ★★★★★
Screening ★★★
Portfolio ★★★
Backtesting ★★★★★
Trading ★★★
News ★★
AI/Automation ★★★★
Packed full of innovative technical analysis tools means that TrendSpider is perfect for the serious market analyst; it helps you analyze quicker, with better quality, and help you not to miss an opportunity.
The automated trendline detection and plotting do a better job than a human can; using algorithms, the system can detect thousands of trends-lines and flag the most important ones with the highest backtested probability of success.
We have focused on what is unique about Trendspider; it is designed for a specific purpose, taking the guesswork and painstaking hours of analysis away from traders.  But what do you not get?  Well, you do not get fundamental scanning & filtering, trading from charts, or broker integration.  There is no social aspect at the moment and no news service.  But it is not designed for these things; it is designed for fast, effective machine-driven technical analysis.
I see a bright future for TrendSpider. For example, I expect soon to see the analysis of how well any given indicator or price pattern works overall or for any given stock.  The study of the probability of a successful prediction would be a fantastic leap forward.
-
6. Benzinga Pro: Best Real-time Trading News Signals
Benzinga Pro Recommended For Those Who Want An Actionable Real-Time News Feed, Exclusive Analysis & Features That Give You An Edge In Your Trading.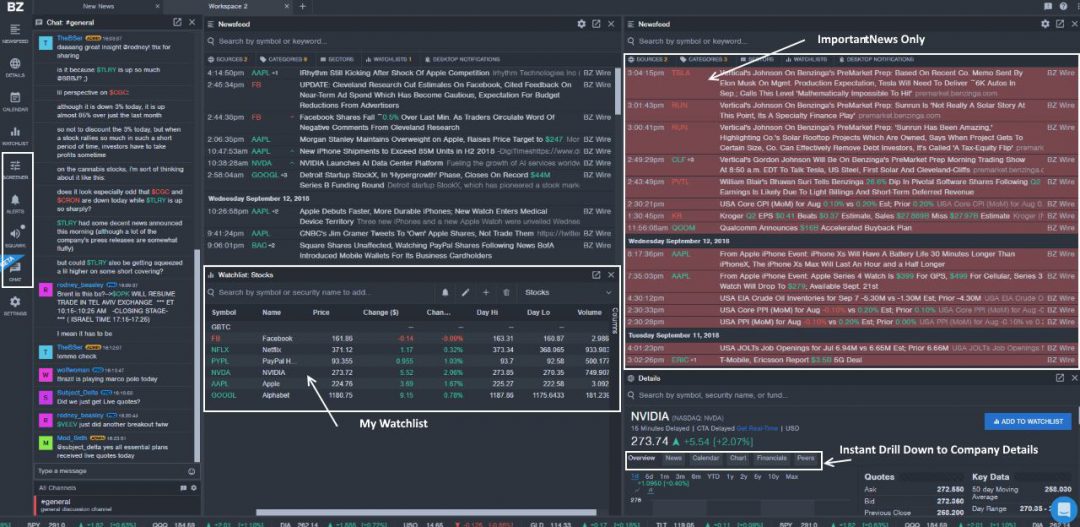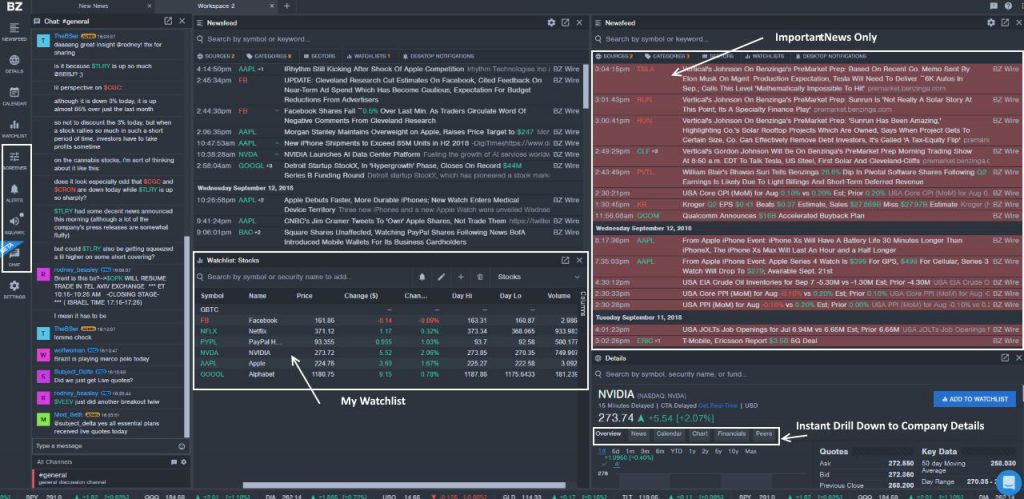 Charts ★★★
Screening ★★★
Portfolio ★
Backtesting ★★
Trading ★★★
News ★★★★★
AI/Automation ★★★★
Benzinga Pro is a different animal from everything else in this review. We all see the news on TV and on the web, but how much of it can you really use to help you make trading profits?
This is where Benzinga specializes; it is dedicated to real-time actionable news for traders and investors.
Benzinga PRO is designed for day traders and is a fraction of the cost of a Bloomberg Terminal. Benzinga delivers value with fast real-time market-moving news to give you a trading edge. Additionally, a squawk box, direct access to the news-desk, and original reporting give you a significant advantage.
Benzinga produces a lot of original news reporting themselves, but they also partner with some of the best trading news feeds to provide complete data coverage to their customers. Current tier one partners are FXStreet, Dxfeed, New York Times, Seeking Alpha, Morningstar, Enin, and StockSnips.
Finally, Benzinga will inform you of market-moving news via alerts and will also tell you how much a stock has moved since it issues the alert. This proves the value of the service and gives you confidence that you can trade with it.
-
7. TC2000: Broker Integrated Platform with Powerful Charting
TC2000 by Worden Brothers Inc. is a leading technical analysis and stock market screening platform. A good selection of stock charts, indicators, and fundamental scanning makes it a very mature service. Voted Best Software by Stock & Commodities magazine for 25 years straight, it is a great option for US investors.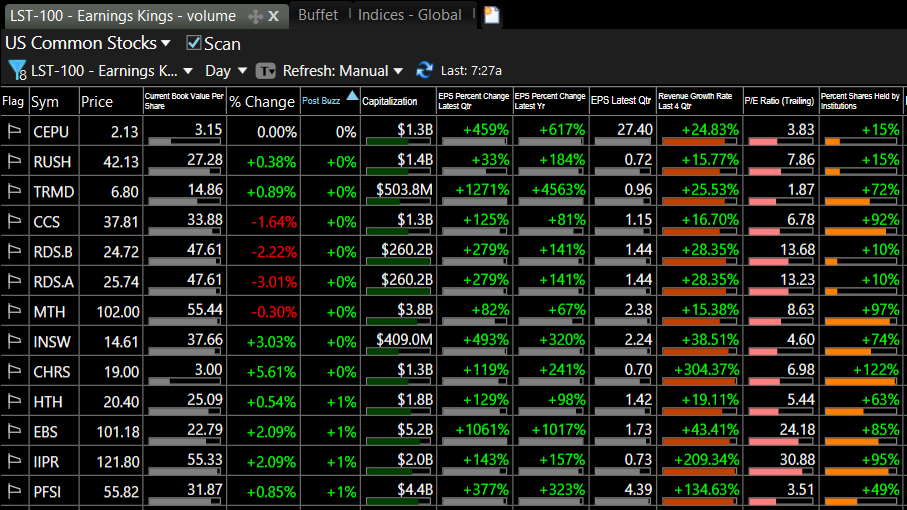 Charts ★★★★★
Screening ★★★★
Portfolio ★★
Backtesting ★★★
Trading ★★★★
News ★
AI/Automation ★★
Make no mistake about it, if you want fundamentals stock screeners in real-time layered with technical screens all integrated into live watch lists connected to your charts, TC2000 is a power player. I selected TC2000 as my tool of choice back in the year 1999 because it offered back then simply the best implementation of fundamental scanning, filtering, and sorting available on the market.  Twenty years later, they are still a leader in this section.
They offer a huge selection of fundamentals & technicals to choose from, 192 to be exact, but even better than that, what makes it truly unique is the fact you can, with a few clicks, create your own indicators based on the fundamentals.
You can then overlay the indicators directly on the charts, which opens up a whole new world of technical and fundamental analysis.
TC2000 also offers a nice implementation of options trading and integration; you can scan and filter on a large number of options strategies and then execute and follow them directly from the charts.
Worden Brothers, who created TC2000, have also launched the TC2000 Brokerage, which was also a review winner in our Best USA Stock Brokers Review, has some incredible benefits, meaning:
You can trade directly from the charts.
You can scan on fundamentals and customer technical conditions and then initiate a trade in seconds.
You get a first-class experience on mobile.
Good profit and loss tracking reporting round off the package to be a well-implemented solution.
★ Bonus: Sign Up For This Service & Get 5 Exclusive Investing Strategy & Research eBooks Valued at $99 ★
-
8. Scanz: Solid Real-time News & Market Scanning Software
Specializing in scanning for L2 liquidity and scanning the plethora of real-time news, Scanz occupies a unique space in the trading platform market. Scanz also includes broad broker integration for trading from charts.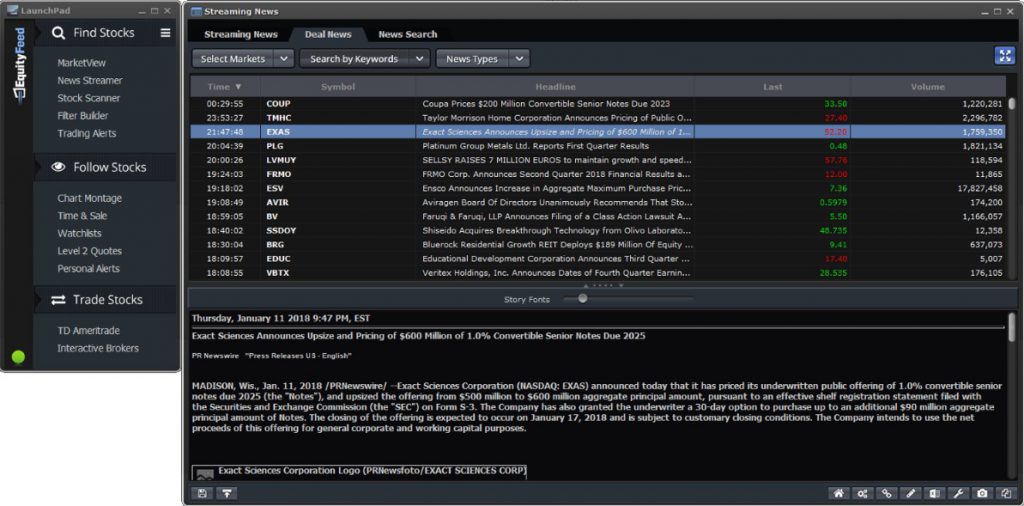 Charts ★★★
Screening ★★★★
Portfolio ★★
Backtesting ★
Trading ★★★★
News ★★★★
AI/Automation ★★
Scanz specializes in providing real-time data and news fast directly to your screen.  Data speeds are excellent, and it has excellent U.S. data coverage, including extensive Over-The-Counter markets (OTC: BB, OTCQX, OTCQB, OTCPINK, GREY)
The Scanz Team has a fantastic set of integrations to your broker to enable chart trading, which includes RealTick, Sterling Trader, LightSpeed, and, most importantly, TD Ameritrade and Interactive Brokers, two of the powerhouses of the brokerage world.  So, the chances are your broker of choice already covers you.
Scanz has the "Chart Montage" functionality, enabling an ultrapowerful way of trading off the charts. This single window contains a wealth of critical trading information, including real-time streaming news, level 2 data, including time and sales.
The deal news section in Scanz is very good. I really like the simple implementation; you can get the low down on contracts and deals struck between companies.  This can give you an edge if you can quantify the deal's impact on the company's bottom line. Scanz also has a strong focus on news services, but it is let down by having no social integration.
-
9. Optuma: Specialized Charting & Technical Analysis for Pro's
Recommended for professional technical analyst traders who value Bloomberg Terminal integration & the best Gann & Point & Figure charts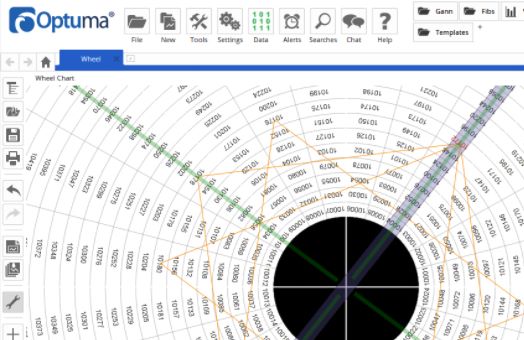 Charts ★★★★★
Screening ★★★
Portfolio ★★
Backtesting ★★★★
Trading ★★
News ★
AI/Automation ★★
Optuma is at the top end when it comes to price. You will need a powerful PC to run it, but with IQFeed, GFT and MT4 data integration's, excellent customer services, and the full range of instruments covered (Stocks, EFTs, Mutual Funds, Options, Futures, FOREX, Bonds) for the premium price you get the premium package.
A fantastic array of technical indicators (400+) and drawing tools.  There is a rich choice of chart types, of course, bar, line, candlestick, but many more such as Point & Figure charts.  Optuma also specializes in Gann tools with a full suite, including Gann Grid Lines, Gann Fans, Gann Swing, and even a square of nine charts.
In terms of indicators, they have the best selection on the markets, included are Elliott Wave and Darvas Box, Ichimoku & Parabolic SAR; in fact, the full set of exotic indicators are present.
If you are looking for live trading from charts, real-time news, or AI/Automation, you will need to look elsewhere on this list.
-
10. Firstrade: Winner Best Free Stock Trading Broker Platform
Best for commission free $0 trading, no hidden charges, the largest number of commission-free ETFs with excellent stock and options tools.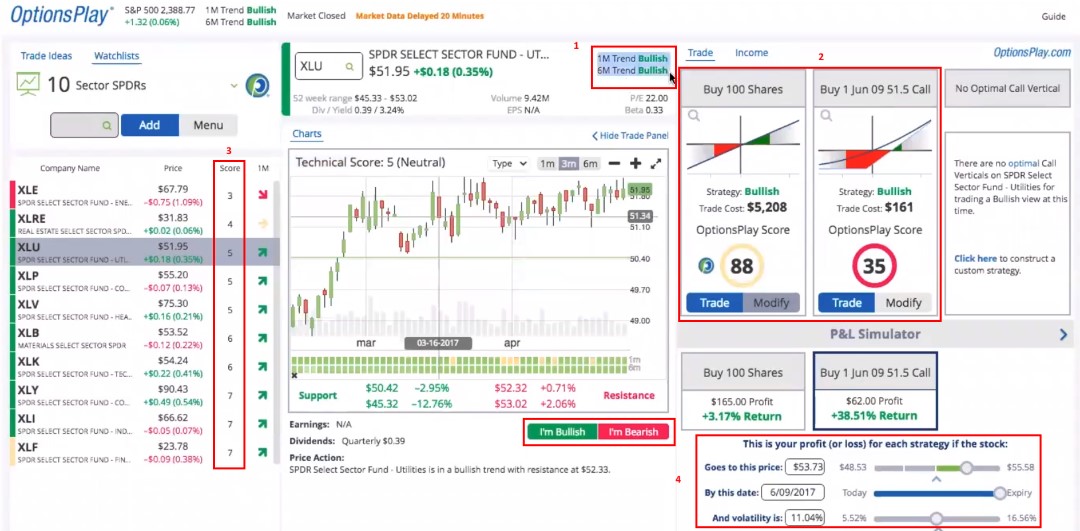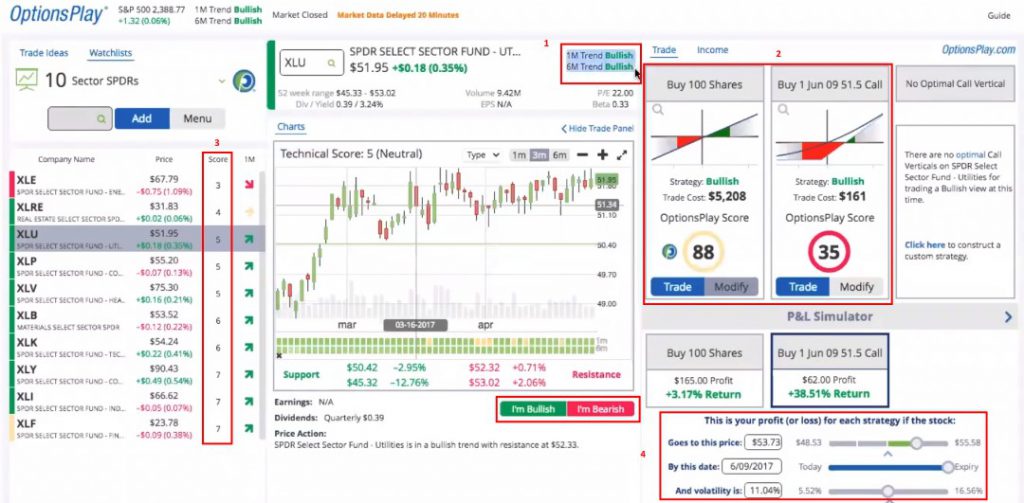 Charts ★★★
Screening ★★★
Portfolio ★★★
Backtesting ★
Trading ★★★★★
News ★★★
AI/Automation ★
Firstrade is great for traders & investors seeking FREE ZERO Commissions trading on Stocks & Options, plus an industry best 2,200+ Commission-Free ETF's.
Full MorningStar access and 5-star customer satisfaction, plus a full suite of IRA accounts, mean Firstrade is a great choice for brokerage services.
Commissions: Firstrade vs. TDA vs. E-Trade vs. Schwab vs. Fidelity
| | | | | | |
| --- | --- | --- | --- | --- | --- |
| Commissions & Fees | Firstrade | TD Ameritrade | E*Trade | Charles Schwab | Fidelity |
| Online Stock Orders | $0 | $0 | $0 | $0 | $4.95 |
| Online Option Orders | $0 | $0 + $0.65/Contract | $0 + $0.65/Contract | $0 + $0.65/Contract | $0 + $0.65/Contract |
| Online Mutual Fund Trades | $0 | $49.99 | $49.99 | $49.95 | $49.95 |
| Broker-assisted Stock | $19.95 | $25 | $25 | $25 | $19.95 |
| & Options Trades | (+$0.50/contract) | (+$0.65/contract) | (+$0.65/contract) | (+$0.65/contract) | (+$0.65/contract) |
| Minimum Initial Deposit | $0 | $0 | $500 | $0 | $0 |
Table 1: Firstrade Commissions vs. Competitors
Firstrade has wholly rebuilt its trading platform from scratch, and the improvement is dramatic.  Gone are clunky java programs, replaced by a fast HTML 5.0 platform.  This platform is future-proofed and highly scalable.  The user experience is clean, intuitive, and easy to learn.
Also, what we like is its price – Free.
The trading platform has several components.  The web-based platform is available for all clients. If you have an account balance over $10,000, you will have complimentary access to download the Firstrade Navigator software; this is a compelling trading experience that runs locally on your P.C. or Mac.
No product set would be complete without the ability to scan and screen for stocks based on the fundamental data.  Firstrade attempt at this is pretty good.  It does not match the offerings from TradingView or TC2000, but it is adequate for most investors.
A new event calendar is also available, which is neatly broken into tabs for Earnings Announcements, Dividends, Ratings Changes, Economic Indicators, I.P.O.s & Splits.
-
11. VectorVest: Simplifying Stock Selection & Specializing in Risk & Market Timing
VectorVest certainly provides many benefits to traders and investors, primarily the simplification of finding stocks to trade based on their proprietary system.  While it is quite expensive for the premium package, it may be worth it if you have a significant amount of money to invest.


Charts ★★★
Screening ★★★
Portfolio ★★
Backtesting ★★
Trading ★★★
News ★
AI/Automation ★★★★
VectorVest software is incredibly easy to use because it is designed to promote the Value, Safety, and Timing system. This means they have a minimal variety of stock market indicators; they provide only what is needed to trade within their VST system parameters.
VectorVest continually evaluates every stock on the exchanges they cover to provide their propriety ratings.
RV Relative Value shows the estimated return versus a AAA Corporate Bond.
RS Relative Safety measures the consistency of a companies financials.
RT Relative Timing is a technical indicator that attempts to define the short term trend of a stock.
VST Value-Safety Timing indicator is an aggregation of RV, RS, and RT, essentially rolled up into one number.
Ultimately, VectorVest recommends that you should trade stocks with good fundamentals, moving in an up-trend, as the market is in an uptrend.  This, to me, makes sense and is the foundation of my stock investing strategy.
VectorVest does provide buy or sell ratings for every stock they cover, which is interesting. They also have a method for suggesting the Stop Loss; this is the price at which you should sell a stock to limit your losses.
VectorVest claims to be the only platform to provide buy or sell signals, but this is simply not true. Other stock software also offers these signals, such as Trade Ideas, MetaStock, or TradingView.
-
12. Interactive Brokers: An Excellent Broker & Global Trading Platform
IB is a renowned global brokerage service with excellent margin rates and very powerful tools. It is very good at many things but master of none.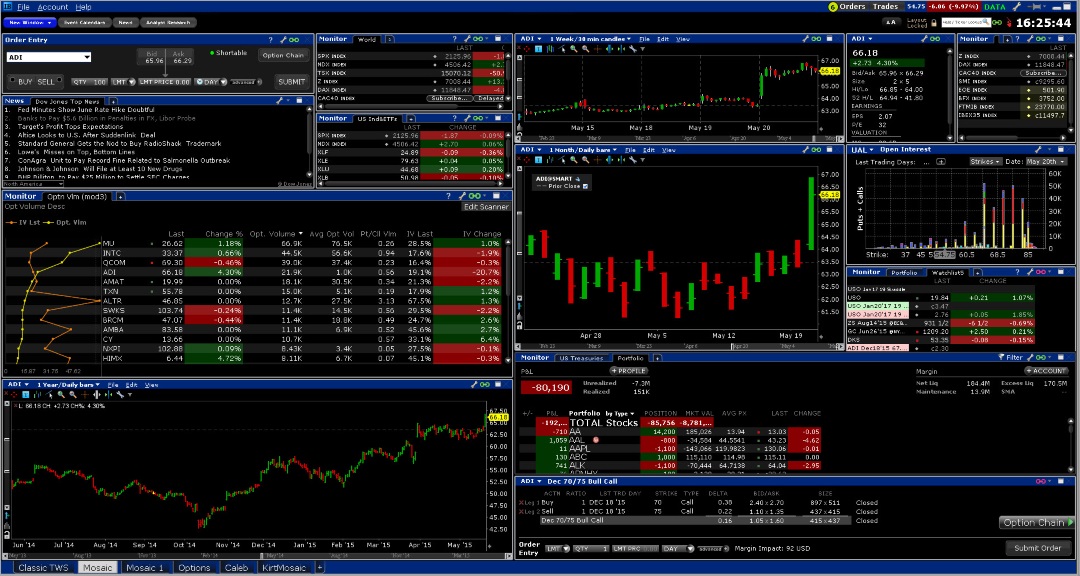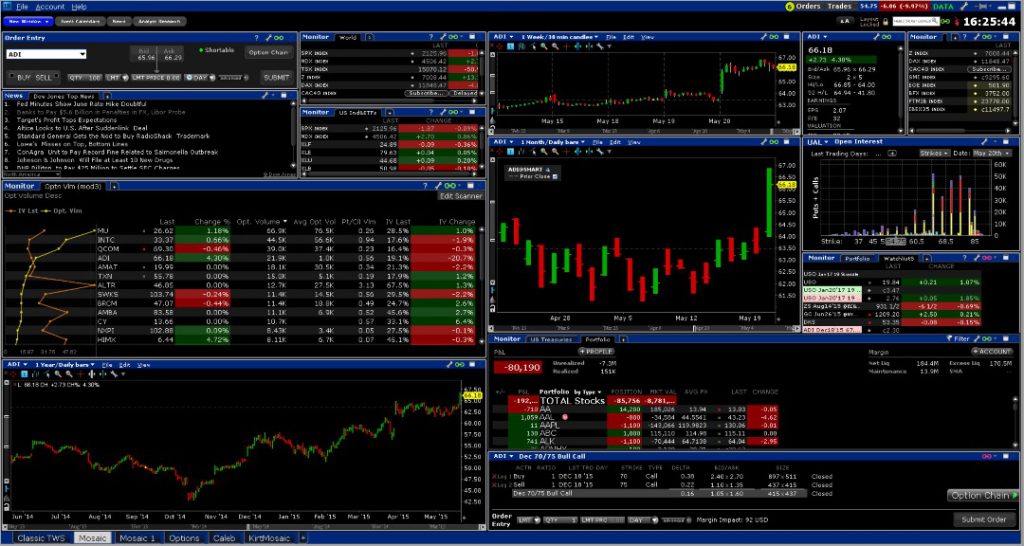 Charts ★★★
Screening ★★★
Portfolio ★★★
Backtesting ★
Trading ★★★★
News ★★★
AI/Automation ★
Interactive Brokers: Ideal for Active Investors and Day Traders, seeking the absolute lowest trading costs, direct market access for fast execution, and best in class margin costs.
Interactive Brokers (IB) is the grandfather of online discount brokers.  Not only are they a long-established company, but it is also big.
It has a complete set of services, enabling you to trade practically anything on any market.  Stocks, Options, ETF's, Mutual Funds, Bonds, Foreign Exchange, and even futures and commodities.
Interactive Brokers has a genuinely excellent trading platform based on Trader Workstation (TWS).  It is free to download and use as a client, and it is the single place to be able to trade any and every one of the vehicles on offer from IB.
Not only that, there are a considerable number of advanced add-on tools that plug into TWS, such as:
ChartTrader – for trading directly from charts.
Continuous Futures – for commodity futures scanning and analysis.
DepthTrader – for in-depth analysis of market liquidity
OptionTrader – more in-depth Options Analysis with specific Options strategies
ProbabilityLab – to test the Probability Distribution of a particular trade
-
13. M1 Finance: High Performing Robo Advisor That Manages Your Portfolio
If you do not have the time to perform stock research, screening, analysis, and place your trades, then you should be looking a using a Robo-Advisor.  M1 is simple the best Robo Advisor we have tested.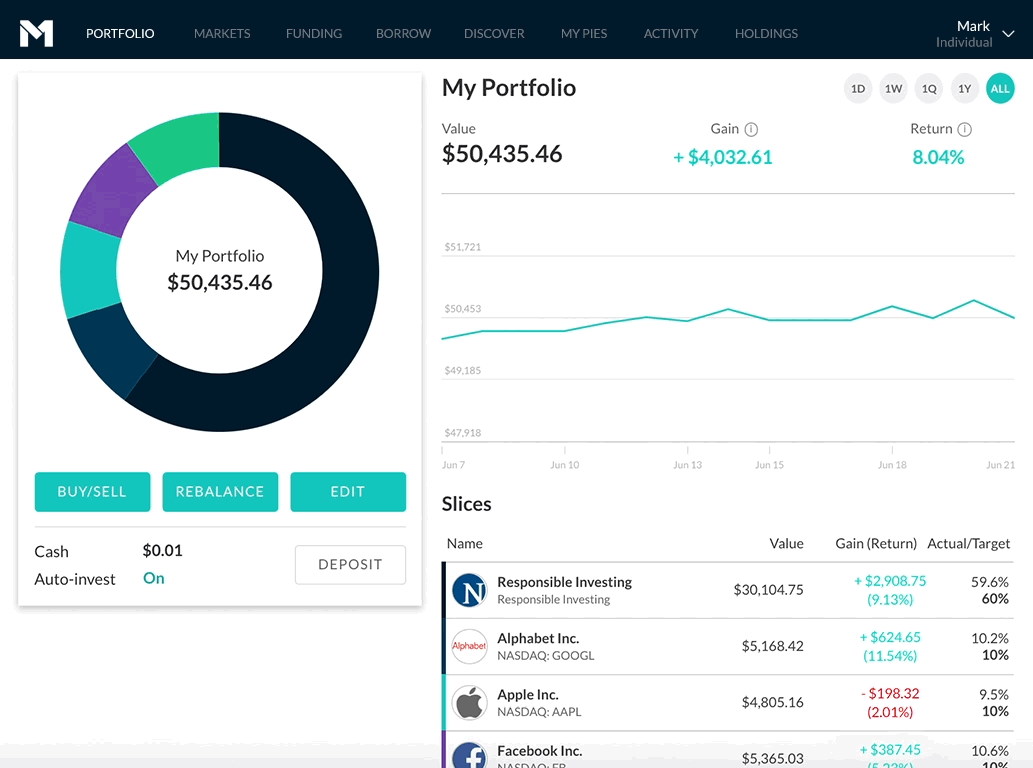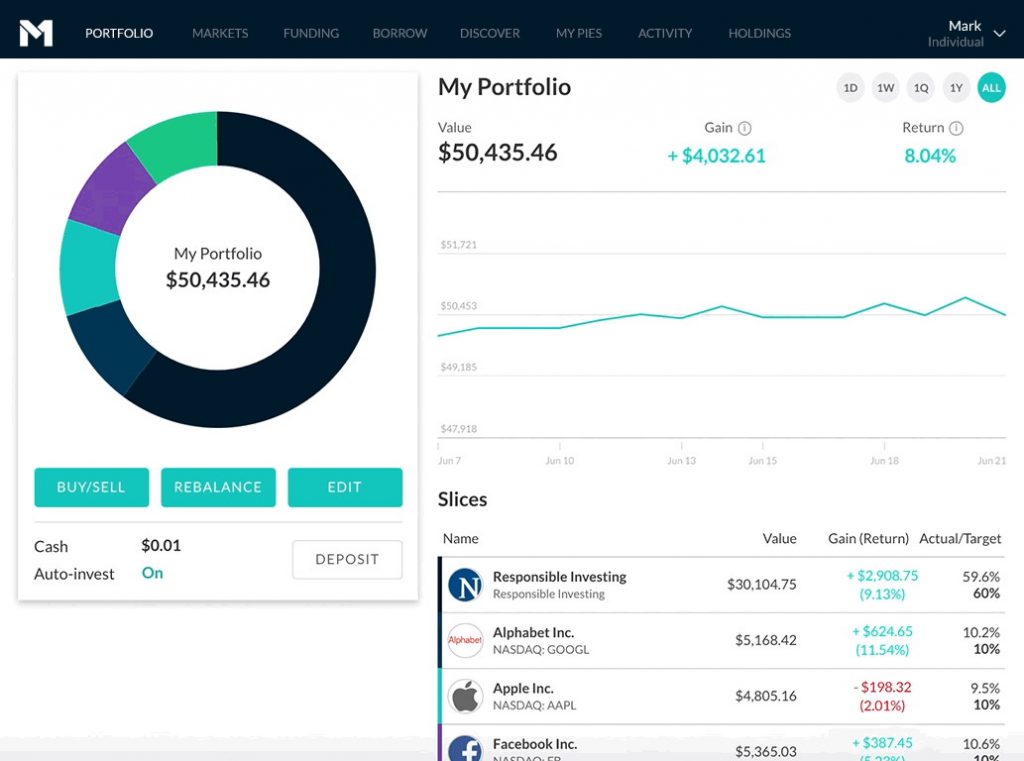 Charts ★★
Screening ★
Portfolio ★★★★★
Backtesting ★
Trading ★★★★★
News ★
AI/Automation ★★★
Actually, it is unfair to test M1 against the others in this review. M1 does not provide powerful stock charts or detailed backtesting and forecasting. Neither does it provide real-time news. It does not need to because it does two things so well that you do not need anything else.
M1 will manage your portfolio, trade your stocks, and report to you your earnings.  Not only that, but it will rebalance your portfolio and perform year-end tax-loss harvesting.
M1's investing approach is based on expertly curated portfolios.  Each portfolio is called a "Pie"; each pie is made up of multiple stocks with specific weightings based on what risk or exposure you seek.
There are close to 100 expert pies to choose from with varying levels of return and past performance.  You can select an expert pie or even build your own.  The great thing is that when you send funds to your account, the money is then automatically fully invested into your pie based on your allocation rules, and because there are no fees, this will not impact your account's bottom line.
M1 Investing Performance
M1 provides so many different expert portfolios to choose from, and depending on when you open an account and decide to invest, the returns on your investment can vary.  Suffice to say, M1 claims that, on average, their expert portfolios (pies) are within or slightly above the underlying market return. Of the 20 Robo Advisors we researched, M1 appeared to have the best returns: typically within or above the underlying index by 1-2%.
-
14. QuantShare: Neural Network Processing for Quants
Do you Backtest, Forecast, and Program Algorithms for Stock Trading? Perhaps Quantshare's Charting, AI and Neural Network & Low Price is Worth Considering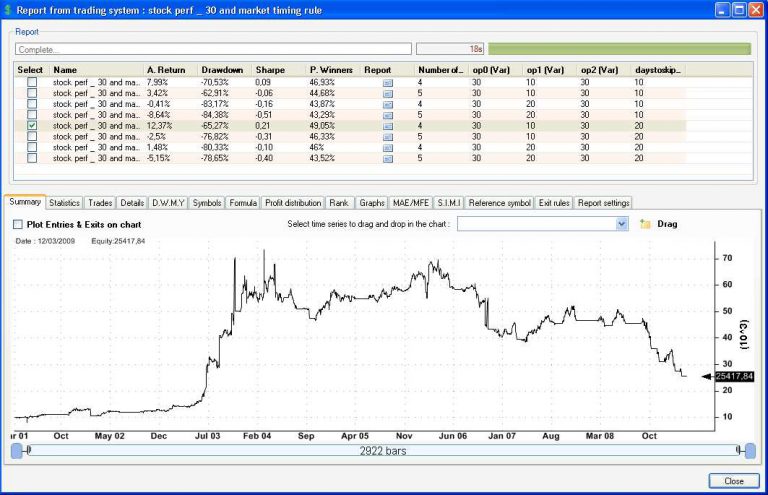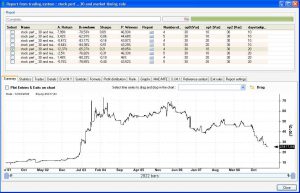 Charts ★★★★
Screening ★★★
Portfolio ★
Backtesting ★★★★
Trading ★
News ★
AI/Automation ★★★
Recommended for Quantitative Analysts who develop powerful automated systems and value a huge selection of shared user-generated systems and powerful technical analysis tools. The use of AI & Neural Network learning is interesting, but you will need to have programming skills to master this software.
QuantShare specializes, as the name suggests, in allowing Quantitative Analysts the ability to Share stock systems. This means they have a huge systems marketplace with a lot of accessible content that you can test and use.
If you have a programmatic mind, you can implement and test an endless list of possibilities.  They do also offer Point & Click implementation of systems.
This software package is not easy to use, and the interface requires serious development effort.  The learning curve will take a time investment on your part.
-
15. Finviz: Market Visualization Platform, With A Retro Screener
FINVIZ has been around a long time and has a good selection of screening criteria, but it seems that the interface has not been updated in 15 years.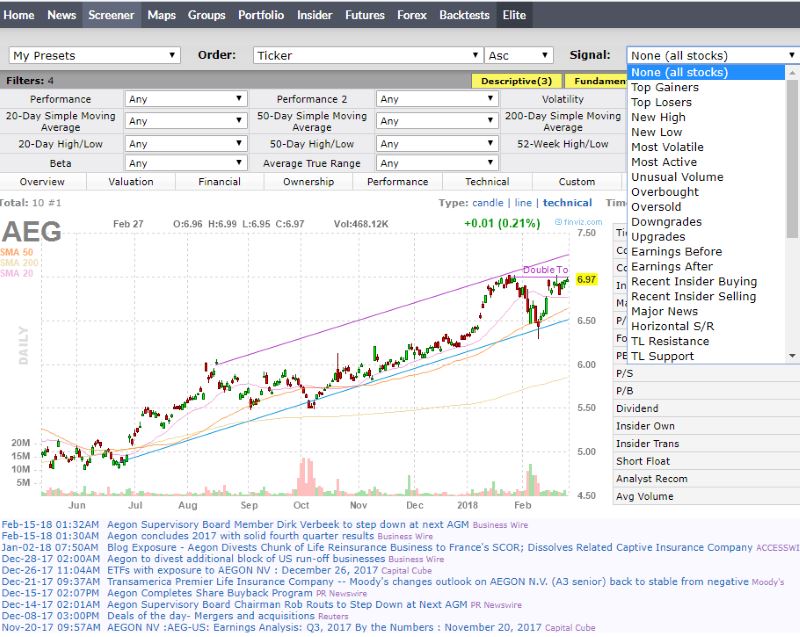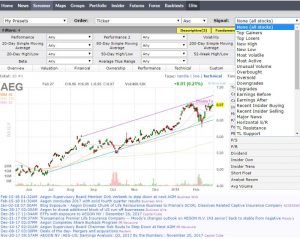 Charts ★★★
Screening ★★★★
Portfolio ★★
Backtesting ★★
Trading ★
News ★
AI/Automation ★
Finviz has simply fallen behind the times; there are so many other trading, investing, and AI platforms that do a better job of helping investors make profitable decisions. Finviz does have a few saving graces.
The opening screen looks impressive, allowing you to drill straight into top gainers and losers and the most volatile.
The Visual Approach to Screening is very nice.
FINVIZ does have 29 Fundamental Criteria and 17 Technical Criteria to select
However, the whole platform, in my opinion, is weighed down by legacy development; for example, there is a clear inability to select specific criteria. For example, if you want to select two exchanges, the NASDAQ and the NYSE, you cannot, you cannot actually do it.  This goes for most of the selections and is a large negative.
-
16. Yahoo Finance: Free News & Basic Portfolio Management Platform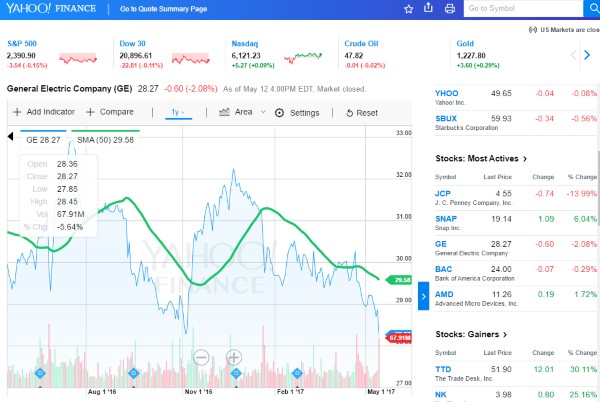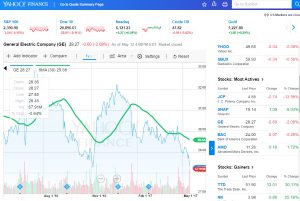 Charts ★★
Screening ★★
Portfolio ★★
Backtesting ★
Trading ★★★
News ★★
AI/Automation ★
Yahoo has updated its interactive charting experience, it is a clean experience and full screen, so now it is actually quite good. With 114 different technical indicators, you are well covered with Yahoo Finance.  The interactive charts also now allow you to draw trendlines, linear regressions, and even quadrant lines.
A nice new addition is that Yahoo now provides real-time quotes and charts via the BATS system. Yahoo Finance is working hard to make their charting system a respectable alternative to other free vendors.
Yahoo finance does provide a news aggregation engine and actually contributes original news via the Yahoo Finance news team. If you opt for Yahoo Finance Premium, you will get a good selection of analyst research reports. These are static reports which could be useful, but again for the price tag of $49.99 per month, it might not be worth it because most mainstream brokers offer research reports for free. In fact, Firstrade not only offers free stock trades but additionally research reports from both Zacks and Morningstar.
-
17. StockCharts.com: Advanced Charts & Industry Analysis From Experts
Worthy of strong consideration are StockCharts.com, which also comes with a solid recommendation.  Worth mentioning are the sharp charts, which are visually very impressive, and its array of exotic indicators may excite the more advanced investor.
Charts ★★★★
Screening ★★★
Portfolio ★
Backtesting ★
Trading ★
News ★
AI/Automation ★
StockCharts.com has been around for a very long time. Like Finviz, it is being overtaken by a new generation of trading platforms that offer real-time news, huge active trading communities, massive backtesting capabilities, and even A.I. trading signals. You will get none of this with StockCharts.
One thing to mention, this service offers excellent Point and Figure Charts, which, to my knowledge, no other free service offers.
The big problem for me is that StockCharts is missing trend lines, rolling EPS, and has a weak news service. As the other service providers, they also offer a monthly Membership service with increased functionality, but I do not think it is worth it.
-
18. Nasdaq.com: A Simple Stock Screening Platform
Charts ★★
Screening ★★★
Portfolio ★★
Backtesting ★
Trading ★
News ★★
AI/Automation ★
The NASDAQ Stock Screener has been around for a long time; actually, now it is powered by Zacks.  It is the same screener as features on the ZACKS website.  It is an OK fundamental screener that is easy to use and worth it for a quick scan or to supplement your existing Charting Software with Analyst Ratings.
Guru Stock screener. This is a nice idea; they have attempted to formulate the Criteria from famous investors into a pre-configured stock screen you can use off the shelf.  Guru styles implemented include Ben Graham, Peter Lynch & Martin Zweig.  Whether they turn you into the next Warren Buffet is another question.
Incredibly detailed EPS (Earnings per Share) Screening, including Earnings EPS, Last EPS Surprise (%), Previous EPS Surprise (%), Avg EPS Surprise (Last 4 Qtrs), Actual EPS used in Surprise ($/sh), Last Qtr EPS, Last Reported Qtr, Last Yr's EPS (F0) Before NRI & Last Reported Fiscal Yr.
Extensive Analyst Rating Filters, including upgrades, downgrades, and rating changes
Ultimately, it is not the core remit of Nasdaq.com to provide real-time charts, news, technical analysis tools, or even portfolio management.  In fact, they do none of these well.
-
19. RobinHood: A Free Stock Trades Broker, But Not the Best
Recommended for those wanting free stock trades who want to keep it super simple, who do not need strong technical and fundamental analysis of stocks and are uncomfortable with using a PC.
Charts ★
Screening ★
Portfolio ★★★
Backtesting ★
Trading ★★★
News ★
AI/Automation ★
Robinhood was really the first Brokerage to offer free trades; started in 2013, it has now raised through private venture capital over $500 million to fund the business.
With over one million registered accounts, it is quickly becoming a force to be reckoned with.
Free trading refers to $0 commissions for Robinhood Financial self-directed individual cash or margin brokerage accounts that trade US-listed securities via mobile devices.  As Robinhood is a mobile-first company, this means if you trade from your smartphone on the Major U.S. listed stocks available through Robinhood, then the trade has no cost.
Clean, simple, and intuitive, the app design and interface would make Steve Jobs happy, so simple in fact, the company claim that no user manual is required to use it.
So, all good so far.  But if you are a serious trader or investor, Robinhood will be good for executing the trades. Still, any serious amount of technical analysis or even analysis of the fundamentals of a stock is impossible and would require other stand-alone applications, such as:
Tradingview for a great online analysis experience
TC2000 for impressive fundamental scanning and technical analysis
Of course, stock screening is also impossible on the phone, so you would want to select a great stock screener to use in conjunction with Robinhood.
Open an Account with Robinhood
-
20. Screener.co: Good Fundamental Screening for Investors
Recommended for US & International Value Investors who want a large selection of Fundamental Criteria
Charts ★★
Screening ★★★★
Portfolio ★
Backtesting ★
Trading ★
News ★
AI/Automation ★
There is a massive amount of fundamental data, literally everything you ever dreamed of; everything in the financial reports is all there and includes detailed breakdowns of each company's details.
Screener.Co ha solid fundamentals, and here are the elements I find to be unique or especially strong:
A large global universe of securities. This is why we recommend it for international investors; you can even filter screens for which exchange, index, sector, and also which country or state the company is headquartered in.
Robust calculation engine that allows non-technical users to create custom screening formulas leveraging over 1,250 built-in metrics
Fast HTML5 web-based platform that allows for rapid iteration when developing screens (unlike Bloomberg's cumbersome EQS)
Flexible column sets allow any metric (including custom metrics) to be displayed in the results table or watchlist view.
Detailed company profiles that can be viewed by clicking on a result and selecting View Company Profile
Very low price. It's not free, but this could be well worth the entry-level price.
Screener.Co is not easy to use.  You will need some significant time to sift through the database and learn the names of the specific criteria you are looking for.
-
21. CNBC: Interactive Charts With 90 Indicators & New Watchlists
Charts ★★
Screening ★★
Portfolio ★
Backtesting ★
Trading ★
News ★★
AI/Automation ★
Over the last year, CNBC has put some effort into improving the quality of their charts and indicators.  Called studies on the CNBC website, they have 90 studies that you can apply to a chart and even make the chart full screen.  This is an improvement. They have a stock screener with 98 fundamental indicators, including the number of employees in a company.
They have also added a watchlist functionality. There is no real-time scanning; this is a click and copy to excel situation, and they have a limited stock universe, focusing only on North America.
-
22. Reuters: Good Free Stock Screeners For Beginners
Charts ★
Screening ★★
Portfolio ★
Backtesting ★
Trading ★
News ★★★
AI/Automation ★
Reuters is definitely leaving the power screening and charting to MetaStock and Stock Rover because this online version of their data is not really worth the effort.  However, there are some benefits. They have some nice pre-configured stock screeners:
GROWTH AT A REASONABLE PRICE (GAARP)
LARGE CAP GROWTH
SMALL CAP VALUE
SMALL CAP GROWTH
NEAR PRICE HIGHS
MID-CAP MOMENTUM
Data does include Europe, the Americas, Asia Pacific & Africa & Middle East.
Ultimately, the Reuters website is simply for general news and information about stocks.  The Thomson Reuters partnership with MetaStock is where you will get access to the global news network and financial data that is the only rival to Bloomberg.
-
23. MSN Money: A Basic Platform For Stock Information
Microsoft has done a reasonable job with this Stock Screener, providing useful and simple access to company financial data.
Charts ★
Screening ★★★
Portfolio ★
Backtesting ★
Trading ★
News ★★
AI/Automation ★
45 Fundamental Screening Selections will cover a beginner's needs
Nice Clean, Simple Interface
Easy to Use
Includes MorningStar Ratings
Global Data Coverage
That is enough of the positives; there is no easy way to add multiple selected companies to a watchlist. There are no technical screens or interactive charts. In short, the service is OK but provides no real advantage to a trader or investor.
-
24. MarketWatch: Mediocre Content Without Any Benefit To Investors
Charts ★
Screening ★
Portfolio ★
Backtesting ★
Trading ★
News ★★
AI/Automation ★
A swift perusal through the annal of Marketwatch content will make it clear that it is about getting webpage views and not providing anything original to help investors and traders improve their trading. However, they do try to generate some original content, so they are awarded 2 stars for news.
-
25. Google Finance: A Forgotten Platform With No Value
Charts ★
Screening ★
Portfolio ★
Backtesting ★
Trading ★
News ★
AI/Automation ★
Google has wisely quit the trading and investing scene. Google Finance still scrapes other websites to give the impression that it is worth visiting, but it's not.
Summary: Stock Trading Platforms
The financial industry is full of innovative trading platforms designed to provide investors and traders with the information they need to make informed decisions. If you want to invest in the long-term, then Stock Rover is king. if you want to unleash the power of A.I. for specific short-term trades, then Trade Ideas is a proven winner. If you are looking for the largest trading community and powerful charting to inspire your next trade, then Tradingview is your platform of choice.
Finally, MetaStock enables you to test every trading strategy you can imagine, and TrendSpider will automate every trendline and chart pattern on every time-frame for you.