In this article, I will share the lessons I have learned when trading the news over the past 20 years.  We will start with a painful lesson.
Trading the News, One Big Mistake
We have all been there, I certainly have. I bought a stock I really thought was a winner, like the perfect first date, it looked good, it felt good, it sounded good, it smelled right, and most of all it acted right.
Even when it came to paying the bill, they paid. The bill, of course, was the earnings report. Earnings were great, the chart looked good, the fundamentals looked great, it had an order book of new contracts in a booming economy, an industry leader delivering a good service.
Yet when the excellent earnings were reported, beating estimates no less; the stock plummeted by 50% in one day.
On the release of the earnings report the company decided to issue more new stock to the market, the stock price had quadrupled in the previous 4 months to over $2 and the future was rosy, yet my delay in news hurt me. When this charlatan of a company decided to issue extra stock to raise capital for one of its new megaprojects it issued them at 50% of the value of the stock available on the market.
This immediately involved carnage to the stock price.
I guess my free web-based news sources including Reuters and others saw me as the last drop off point for their baggage.  Did you know that unless you pay for the premium services offered by Bloomberg or Reuters you receive the news with a 30-minute delay?  The playing field is not quite level.
That is why you pay the premium price for real-time breaking news feeds.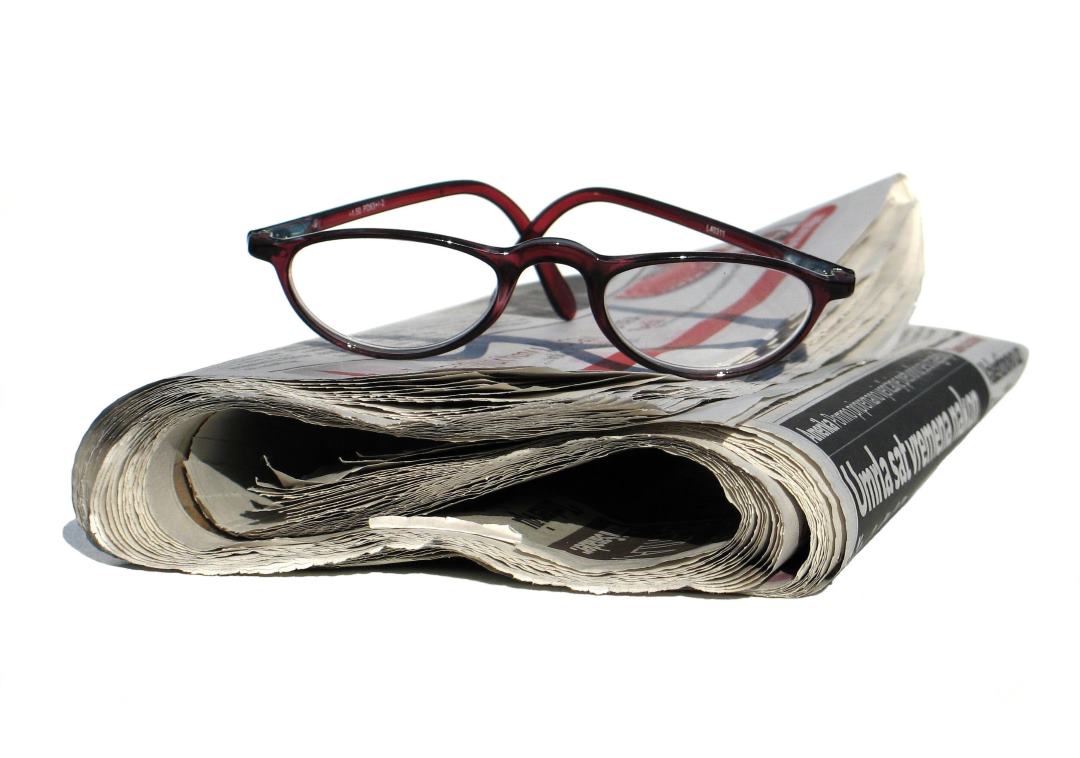 What is Trading the News?
Trading the news is a quickfire style of Stock, FX, or Commodity trading, in which the trader seeks to gather and interpret the market newsfeed as quickly as possible to initiate short-term trades to take advantage of profitable situations. Traders are typically ready to go long or short on a stock depending on the news.
Trading The News Video
How to Trade the News. 10 Things to Know
Free news Sources are Significantly Delayed
You simply cannot trade the news without a reliable and lightning-fast newsfeed. The typical delay between the announcement of breaking news and that news reaching the free news feeds like Yahoo, CNN, CNBC, and even Bloomberg TV is typically 30 minutes. In quickfire trading, 30 minutes is essentially 29 minutes too long.
Real-time News Feeds Cost Money
If you are trading news by investing in stocks as soon as the news is released, thereby gaining a short-term swing in the stock price then you absolutely need to pay for a real-time news subscription.  Your online broker may also provide real-time news included with your service also, see our review of the top 10 real-time news and analysis sources.
Trading the news can be profitable, but there is a cost to that profit and that cost is a premium subscription to a real-time financial news feed. There are four key vendors that produce, report, and broadcast real-time news.
Benzinga vs Bloomberg vs Reuters Eikon vs Xenith
| | | | | |
| --- | --- | --- | --- | --- |
| News Service | Benzinga Pro | MetaStock R/T Refinitiv | Reuters Eikon | Bloomberg Terminal |
| Real-time News | ✔ | ✔ | ✔ | ✔ |
| Price /month | $117* | $250* | $1,833** | $2,000** |
| Price /year* | $1,440 | $3,000 | $22,000 | $24,000 |
| Powerful Chart Analysis | ✘ | ✔ | ✔ | ✔ |
| Dedicated Hardware | No | No | No | Yes |
| Visit News Service | Benzinga | MetaStock | Refinitiv | Bloomberg |
Table 1: Benzinga vs Bloomberg vs Reuters Price Comparison *North America Data **Global Data
As you can see in terms of pricing for real-time news Benzinga Pro is half the price of it's the nearest competitor MetaStock Refinitv.  However, MetaStock Xenith does come with very powerful stock chart analysis, backtesting, and forecasting.
So you can see that for North American traders, Benzinga is 1/10th of the cost of a Bloomberg Terminal or Thomson Reuters Eikon service.
Buy the Rumor, Sell the News
How often does it happen that when a good earnings report is announced the stock falls? Too often! Why?
There is a saying on Wall Street that you "buy the rumor sell the news". That's great if you mingle in the rumor circles that might pay, insiders, employees, good buddies with the CEO. However, for us mere mortals, we might not have these advantages. I have also heard too many rumors that have backfired, tips from a friend in the industry, the nod from the supplier to a new startup company with a bright future.
Apart from being illegal, insider trading of this nature especially when second-hand is completely unreliable.
Economists are Often Very Wrong in The Short Term
But to some extent, we all play the news. One way or another it gets us. Turn on any news channels and the reporters are constantly overstating the meaning of things. We should not believe everything we read. One of my favorite headlines was from USA Today.
"Gas price decline may spur inflation"
Honestly, can you believe that!
Of course, economists can rationalize anything, but I am not buying it. The fact is if we take the news with a pinch of salt and make our own minds up about its real meaning it can be useful. But too much news can drag you in with the sheep on the road to the slaughterhouse.
How to Interpret the News
There are those that trade the news with some success. The problem with playing the news is it is not hard and cold facts it is feelings, interpretation, and an abstract appreciation for how the public interprets news events. There are 3 key variables to the news impact equation
Trading the News Equation
Speed of News + Impact on Company + Perception of Traders = Price Fluctuation
Speed of News
When breaking news hits the market is can take time, usually the first 30 minutes for the stock price to really start to move, this is why free news services are typically delayed, this enables companies to sell real-time news feeds at a premium to professional traders. If you get the news quickly you have a chance to react before others, this is a distinct market edge.
Impact on Company
You need to be able to decide if the impact of the news on the company is really high or not even negligible. The news might sound shocking but will it really impact a company's profits or future outlook. Let's take a look at an example.
The Tide Pods Challenge
At the start of 2018 there was an idiotic internet meme and youtube phenomena where teenagers challenged each other to eat tide pods. Tide Pods, manufactured by Proctor & Gamble (Ticker: PG) are great for washing clothes but are deadly when consumed by humans. This madness result in 6 people dead.
How would you interpret this news?
In the 3 months to April 2018 P&G stocks dropped 15% and took 9 months to recover. But in the same period, the S&P500 dropped 9% and took 8 months to recover.  So, overall this potentially bad news, while having some impact did not really make a big impact on P&G.  This is because the bad news did not really make a dent on P&G's bottom line profit.  The Tide brand only makes up a very small proportion of the overall P&G product portfolio.
Market News is Not Your Perception But The Perception of Others.
Trading the news can be very difficult this is why there is such a strong emphasis on Fundamentals and Technical Analysis.
The news is completely open to interpretation what you have to do is try to understand how others will interpret the news, not how you interpret it.
Viewing news with a contrarian attitude or making your own decisions on what that news really means is absolutely critical.
But when trading the news it is most important that you understand the following:
What effect will the news have on the market participants, because it is those investors who will push the price up or down?
Benzinga Pro our Review Winning News Provider provides helpful bullish, bearish, and sentiment ratings for the news, to help you assess what impact that news might have on a stock it is well worth looking into.
Check Out Our Review of Benzinga PRO Real-Time News – Voted Best for Traders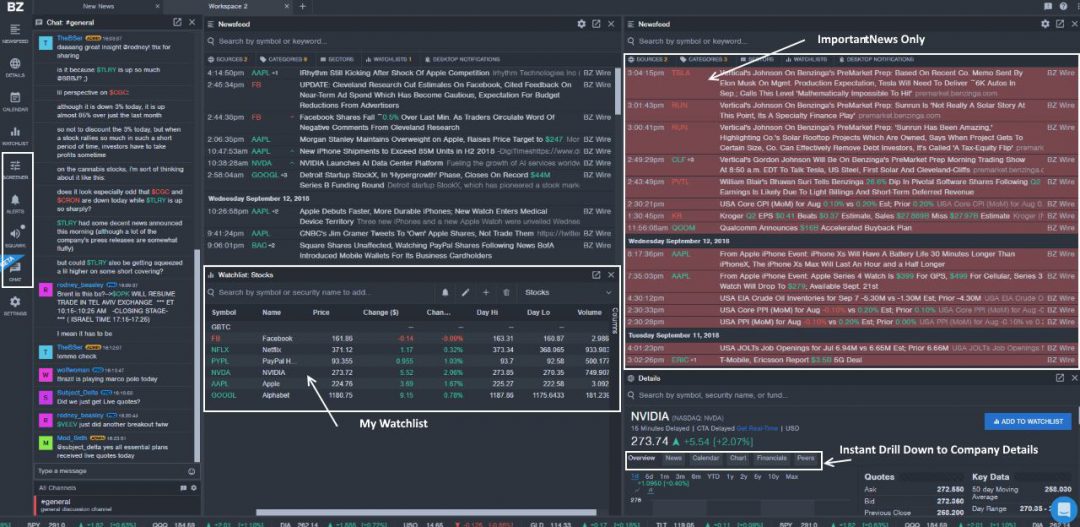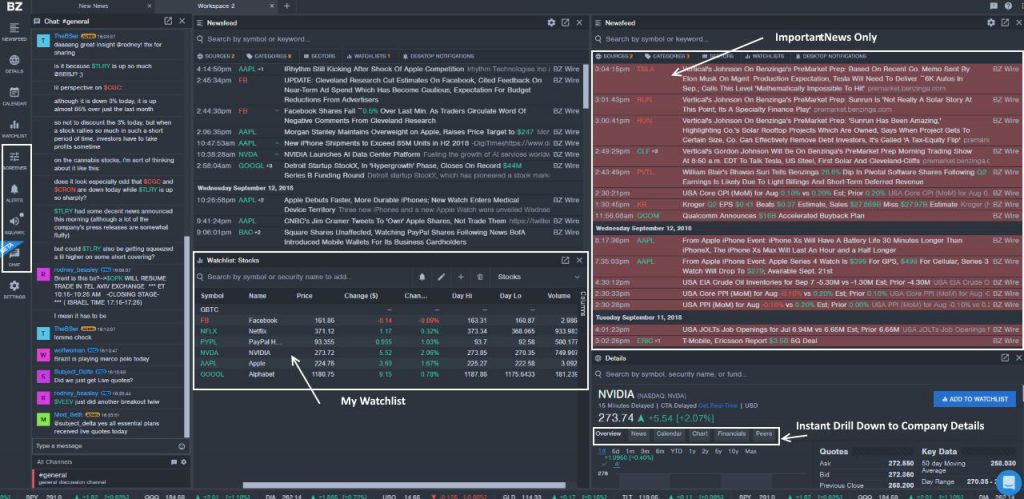 The Market Tries to Price in the Future
Most people tend to forget that the market is always trying to price in the future, it is not trying to price in the now. Let's take for example the Coronavirus pandemic. Despite the fact that the virus outbreak is crippling world economies, causing mass unemployment and widening the distribution of wealth and inequality, the stock market has recovered quickly and is in July 2020 approaching all-time highs.
How can this make sense?  the reason is that central banks have reacted quickly to pump trillions of dollars into the economy in an attempt to stave off economic collapse.  The market has recovered because the market envisions a future where money is cheap and when the virus is defeated business will be on the rampage.
But if news of a second wave becomes visibly real and governments have to start lockdowns again there will be a crash like no other seen in history. This leads us on to the next section, Macro-economic news.
Macro-economic News Affects the Entire Market
As you have seen in the example above, macro-economic news has the potential to affect the broader economy, stock markets, and all the companies on those stock markets.  Looking at the history of stock market crashes they have all started with news of seismic proportions.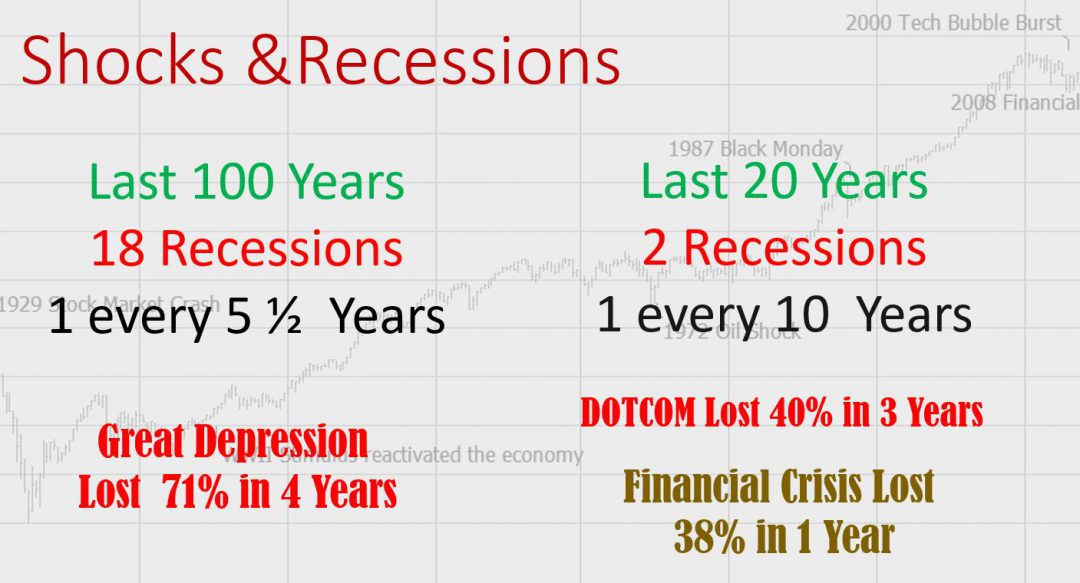 Earnings Surprises Are Not Always Surprises
So you are waiting to trade an earnings release for a high growth company with a PE Ratio of over 100. This means that the company has a very high valuation compared to its current earnings.  in this positive earning surprises are expected from this company. So do not expect a huge and immediate surge in stock price when there is an earnings beat or upside surprise. Don't forget, the market is pricing in the future.
But if a high growth company has a significant miss, this is where the real profits come in, shorting the stock. To short the stock on time you absolutely need a real-time news feed.
The News You Trade Can Define Your Profits
Deciding what area of the news you want to trade is important.  Many professional traders profit from Mergers and Acquisitions News, New Contracts, and Food & Drug Administration (FDA) approvals.
How?  Because these news topics tend to be incredibly important to the companies affected, and the importance of the news and the impact dictate the price swing. This is where a premium newsfeed needs to excel.
Benzinga Pro Newswire Enables Granular News Trading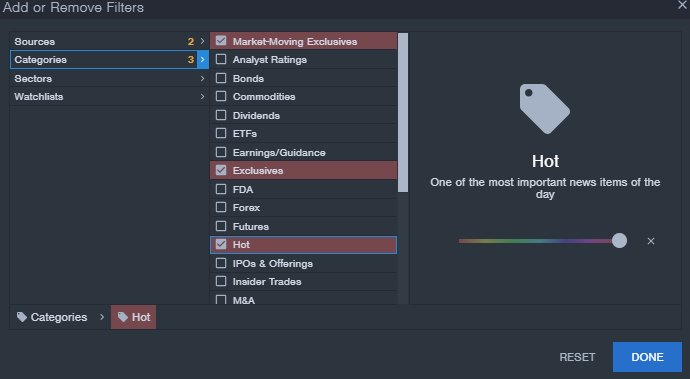 Benzinga Pro allows you to configure your newsfeed based on your trading preferences.
Analyst Ratings
Bonds
Commodities
Dividends
ETFs
Earnings & Guidance

Exclusives

Forex
Futures

Hot

IPO's

Insider Trades

M&A – Mergers & Acquisitions

Market Moving Exclusives

Market Updates
Options

Rumors

Short Sellers
Small-Cap
Startups
Stock Splits
Tech
Trading Ideas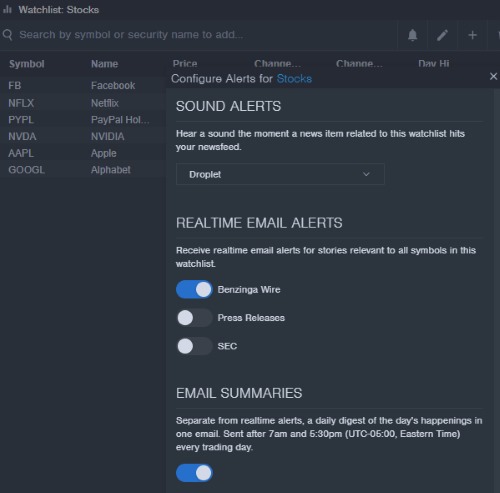 Benzinga Pro Newsfeed Alerts – Alarms On Specific Sectors Or Categories
You can also choose to be alerted on specific categories in your newsfeed.  For example, you can select to be alerted via email or via a desktop pop up and sound, if any hot news or market-moving news is announced.  In fact, any of the categories above can be flagged for alerts.  This is hugely beneficial for the trader so you do not need to constantly watch the newsfeed, you can be trading and hear the alarm as a call to action.
WatchList Trade Alerts
Another bonus is that you can set up as many watchlists as you wish and you can receive alerts on specifically those stocks in the watchlist, for example, those stocks that really matter to you.
You can get real-time email alerts, sound notifications and even summary emails for your watchlist.
Benzinga Options Alert
Benzinga offers Stock options alerts when they see anomalies or opportunities for options traders.  This is a specific upgrade for all service tiers and is not included in the basic price.
Tune Your Skills In Interpreting the News
Interpreting the news is a skill in its own right and Benzinga Pro trys to help you do that by not only categorizing their perceived impact of the news but also enabling your to see how much the stock price has moved since the news went public.  This to be is one of the single best features of any real-time news provider. introducing Benzinga's Price Changed Since Public.
Price Change Since Published
Benzinga prides itself on releasing news in time for you to react to a market move and profit.  And to prove this exact point the have added a great new feature called Change Since Published.  It is a very simple upgrade to the existing newsfeed, but I feel it demonstrates their continual innovation.
If you hover your mouse over any stock ticker in the newsfeed you will see a mini-chart appear. This enables you to see if the news had a positive or negative impact on the stock price.  A very nice feature that I am sure will be further developed in the future.

In the example above, you can see an announcement that Cronos Group will receive a strategic investment from Altria, the stock moved 21% over the next 2 trading days.
Here is another example of how real-time news can impact the market. On December 11th, President Trump announced that the Farm Bill is in "good shape". Benzinga has categorized all potential companies that would benefit from a positive farm bill and grouped them into a "Change Since Published" report. Inside the chart you will see a vertical line or a Change Since Publish label, this vertical line is the exact time the news broke on the Benzinga newswire

As you can see of the 6 stocks that were targeted by Benzinga analysts 4 stocks are gaining since the news was released.  That is an edge in the market.
-
Join Over 25,000 Liberated Stock Traders 
Get the Latest Stock Market Software, Books & Movie Reviews Directly To Your Inbox
-
Other Chapters of the Liberated Stock Trader Book are listed below
Chapter 1 – Essential Stock Market Knowledge – Fundamentals
This chapter sets the stage for the two key areas of stock market technical analysis and the fundamental analysis of companies including macro and microeconomics
Chapter 2 – What Really Moves Markets - Why do Booms and Busts Occur?
This chapter looks at what REALLY makes the markets move, what causes boom and bust cycles, and how to spot them.
Chapter 3 – How do markets move ? - Stock Market Cycles – Business & Economic Cycles – Kondratieff to Kuznets
What are stock market cycles and the cycles of business and economies?  Important information that you need to appreciate as part of your core analysis.
Chapter 4 – Is the Company in great shape – P/E Ratio
Next we move into fundamental analysis and the financial fitness of a company.  All the major indicators and measures are covered.
Chapter 5 – How to find the best stocks
Stock screening means using criteria to shortlist the kind of stock that you want to purchase.  A vital part of any stock market training
Chapter 6 – Chart Reading made easy - Japanese Candlesticks – Bullish Reversal Patterns
Once you know the business climate, the state of the economy and you have shortlisted the stocks you want to buy.  The next thing to do is the technical analysis.  Even if the company looks great on paper, if the stock price is plummeting you do not want to buy it until it has bottomed out.  This is called catching a falling knife.  This is what chart patterns and technical analysis help with.
Chapter 7 – Trend Lines and Price Patterns - How to draw trend lines
Here we get into the art of drawing on charts to help you visualize the Supply and Demand on the stock, the direction of the trend, and estimate how long the trend will last.  Vital for you to establish buy and sell signals.
Chapter 8 – Chart Indicators are your friends! – ROC Rate of Change Indicator
Which indicators should you use, there are literally hundreds of stock chart indicators?  Each has a specific use case and application, which should you use?
Chapter 9 – Chart Indicators Volume - The Price Volume Relationship
Volume is a vital indicator along with the price.  Both of these you need to understand in granular detail, you will learn everything you need to know.
Chapter 10 - Advanced Stock Charting Techniques Parabolic SAR
Moving to advanced technical analysis we cover indicators such as parabolic SAR and point & figure charts.
Chapter 11 - Sentiment Indicators & Trading the News - How to trade the news
How are the market participants feeling?  Positive, Negative, or indifferent.  Consider that 90% of people fail to beat the average market returns, sentiment indicators can be a great contrary indicator.  Learn how to use them to your advantage.
Chapter 12 - Trading Strategy - What type Of Investor are you?
Understanding how you want to invest, how much time you have, and your time horizon.  These questions all help you to understand what type of investor you want to be, this then enables you to select the right strategy for you.  Then we move on to building your stock investing system, a critical element to your plan.