TOP 10 Stock Market Analysis Software Reviews

As stated previously, no two products are identical, there are many strength that are designed into each product to suit specific needs. As such most of the packages can be recommended to a specific audiance based on there strengths. In the following summary reviews we looks at the benefits of each package.


Review Score 8.9/10
Recommended for those who need excellent real-time news, access to a huge stock systems market and powerful technical analysis with global data coverage all backed up with excellent customer services.
The latest release of Metastock XIV has been a big hit with improvements across the board. with huge improvements in Scanning, Back Testing and Forecasting making this one of the best offerings on the market.
Pricing and Software 10/10 – MetaStock is one of the biggest fish in the sea of stock market analysis software.  Backed up by the mighty Thomson Reuters you can expect excellent fast global data coverage and broad market coverage including equities, futures, Forex, ETF's and options.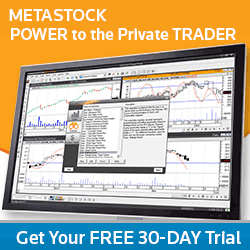 Trade Management 4/10 – MetaStock does provide broker integration but the execution of trades from charts and live integrated P&L analysis is limited.
Fundamental Scanning and Screening 10/10 – Using Eikon you can see a really in depth analysis of company fundamentals from debt structure to top 10 investors, including level II.  Excellent watch lists featuring fundamentals and powerful scanning of the markets gets a perfect 10
News 10/10 – MetaStock 12 has full Eikon integration with institutional level news, analysis and outlook.  This is be the fastest global news service available on the market including translations into all major languages.
Technical Analysis 10/10 – Forex forecasting based on sentiment is feature that is absolutely exceptional.  Never mind the broadest selection of technical analysis indicators on the market today. MetaStock is the king of technical analysis warranting a perfect 10.
Stock Systems and Back Testing 10/10 – Another area where MetaStock excels is what they call the expert advisors.  MetaStock harnesses a huge amount of in-built systems that will help you as a beginner or intermediate trader understand and profit from technical analysis patterns and well researched systems.  This is really a key area of advantage.  The biggest addition to the MetaStock arsenal is the forecasting functionality which sets is apart from the crowd.
Ease of Use 8/10– MetaStock still has the feel of a collection of separately developed applications that require user's education to make them work together.  However with the huge selection of automated expert advisors you can deploy on the selection of stocks in your purview make MetaStock well worth the investment.



Review Score 8.9/10
Recommended for full broker integration, trading off charts and frequent traders.  A great price point of FREE for brokerage clients.
TradeStation are a leading brokerage house with excellent execution and low commissions but did you know they have great software also.  Joint winner in the review TradeStation offers enough in its software and broker integration to stand tall with the other vendors.
Pricing & Software – 9/10 – With a price point of Free for Brokerage clients and awards from Barrons for the software TradeStation is a force to be reckoned with.  Excellent customer service, good training and global market data coverage warrant the highest rating in this category.
Trade Management – 10/10 – With full broker integration TradeStation can offer trading from charts, live P&L analysis and automated trading as part of the package scoring a perfect 10.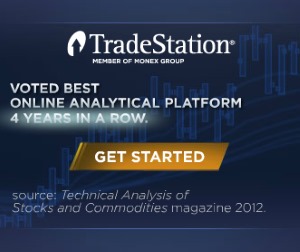 Fundamental Scanning & Screening – 10/10 – TradeStation offers an excellent array of choice and flexibility in market screening and filtering, but not just on volume but a host of fundamentals, including exotic data such as commitments of traders, insider traders and even number of company employees.    You can literally screen on anything you think will get you an edge in the market.   You also get what they call radar screen which is really fast with integrated alerting.
News – 8/10 – TradeStation has real-time news which is an excellent service but only fails to score top marks here because it does not provide market commentary or a chat community.  But do you really need that?  Some people do, its a factor to consider.
Technical Analysis 9/10 – With over 145 different technical indicators TradeStation packs a big punch in the technical analysis space.  The charts could be a little more intuitive to use which is why it does not score a perfect 10.
Stock Systems & Back Testing – 8/10 – TradeStation have also cultivated a systems and strategies market place called the "Strategy Network" where you can purchase stock market systems from an ecosystem of vendors or even contract someone to develop your system for you in the "Easy Language" code.  No perfect 10 in this round as you will need to learn code to develop your own system.
Ease of Use 8/10 – TradeStation is easy to use, but extremely powerful also.  It is probably due a face-lift to make it more intuitive to use, but none the less a good score of 8/10 is warranted.
TradeStation were ranked Best by Barrons:
Best for Frequent Traders
Best for International Traders
Best Trading Experience and Technology


eSignal Review – Interactive Data Inc.  – 8.4/10
Recommended for those who like great charts, scanning, broker & chart trading integration and an easy to use yet powerful and elegant interface.
Pricing and Software 10/10 – eSignal offer a quality product that is well developed, looks great and has beautiful charts.  It will run on your PC, Mac, Tablet or Smartphone.  Not only that they have global data coverage for all stock exchanges, very fast data speeds and cover all markets in the review from equities and ETF's to futures and Forex.
Trade Management 10/10 – Sporting Broker integration with TD Ameritrade, Interactive Brokers and 10 other brokers eSignal has one of the best integrations of any software vendor.  You can place trades from charts and the live profit and loss (P&L) analysis is well developed.  Another top score for eSignal.
Fundamental Scanning and Screening 8/10 – eSignal allows you to setup real time scanning and screening of the markets with live updating watch lists.  eSignal could offer more in the form of scanning for fundamentals however you can list a huge array of fundamentals in your watch list columns.
 News 8/10 – News feeds and more importantly real time news feeds are important to traders, eSignal offers a solid news stream which should not let you down.  A lack of trader and community chat or market commentary mean eSignal does not score a 10/10 for this section.
Technical Analysis 8/10 – For the hardcore technical analyst eSignal might not offer enough indicators for your liking, but how many is enough.  eSignal has 22 indicators it calls "Studies" and they work quite effectively.  However for the drawing tools and the indicators full real time alerting is integrated meaning you do not need to miss the action even if you are not looking at the chart.
Stock Systems and Back Testing 7/10 – eSignal has developed a good ecosystem of stock market system developers who can sell you their systems or develop yours for you.  However because there is no point and click system development or back testing you will need to pay for the services.
Ease of Use 8/10 – One of the easiest platforms to use, the interface is intuitive and very reactive.

Telechart 2000 Review – Worden Brothers Inc. –  8.4/10
Recommended for US Investors with a fundamental bias who need powerful screening and excellent charts on all platforms.

Telechart has long been one of my favorite tools, I have been a subscriber for over 15 years and find the latest release 17.x to be a huge step forward.  Endlessly customizable and scalable the platform offers nearly everything an investor may need.
Pricing and Software 8/10 – Telechart is a big hitter when it comes to software and pricing.  Telechart runs on everything – your iPhone your Tablet, your Mac and your PC.  It is priced very reasonably with a simply pricing structure.  Why does it not score a straight 10/10?  Only because it's data coverage is U.S. and Canada only and it does not cover options, futures, forex or bonds.  However, it was not designed to cover those.  If you trade U.S. Stocks, ETF's or Mutual Funds, then this may be a good solution.  Wordens also provide live weekly training seminars which are of a very high quality.
Trade Management 7/10 – Currently Telechart is only integrating with TD Ameritrade, but if you are using TDA as your broker then the portfolio integrations and trading from charts works well.
Fundamental Scanning and Screening 10/10 – Make no mistake about it, if you want fundamentals screened in real-time layered with technical screens all integrated into live watch lists connected to your charts Telechart is a power player.
News 7/10 – While Telechart does not have a perceivable Real-time news element, it does have integrated news, but what sets it apart is it has a daily Market Commentary from Pete Worden and a very active community sharing trading ideas and banters in a live chat window.  It certainly provides some entertainment while your stocks are moving sideways.
Technical Analysis 9/10 – Telechart has an excellent array of technical indicators and drawing tools, all the big ones are there, from OBV, RSI and Bollinger Bands to Fibonacci Fans and Andrews Pitchfork.  with over 70 different indicators you will have plenty to play with.  They have also introduced live alerts which you can configure to email or pop up if an indicators or trend line is breached.  Very useful indeed.
Stock Systems and Back Testing 8/10 – Worden Brothers also have a little secret when it comes to developing backtested systematic approaches to trading.  With a platinum membership to Telechart you also receive a tool called Stock Finder.  Stock Finder is one of the single most powerful intuitive point and click system development tools on the market today.  No programming required.  That is saying something because it is up against some very stiff competition in this space. Although Stock Finder cannot be used to automatically place trades, it's ease of use still warrants a 8/10 rating, despite deveopment on the tool being halted.  My request to Worden Brother is to integrate the GUI aspects of Stockfinder directly into TC2000 and improve the P&L analysis in the backtester.
Ease Of Use 10/10 – One of the easiest to use and most powerful packages available places the icing on the cake for the Worden Brothers.


Recommended for investors with a who do not need real time data feeds but value a huge selection of use generated systems, watchlist and powerful technical analysis tools.

QuantShare was new to me and I was pleasantly surprised with the feature set.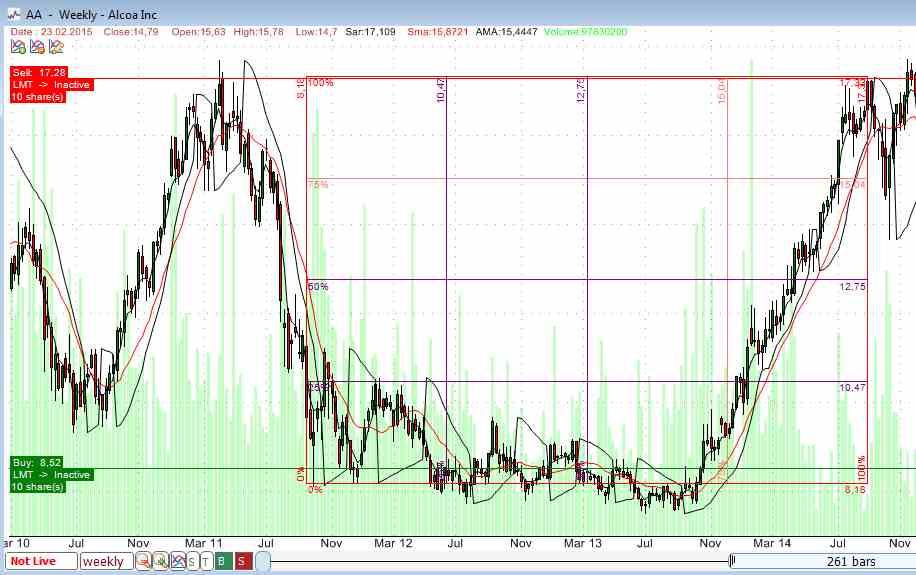 Pricing and Software 8/10 – An extremely cost effective solution with integration into new social media outlets like StockTwits.
Trade Management 7/10 – While QuantShare enables some features in this space, they probably do not cater for your broker
Fundamental Scanning and Screening 8/10 – There is certainly a huge selection of fundamentals to be able to scan against, the usability could be improved.  Watch-lists can be tricky to set up.  Further development required here.
News 7/10 – Including news and the StockTwits integration save the day here for QuantShare, the news is not real-time but certainly does add value.
Technical Analysis 9/10 – With the largest selection of technical indicators to choose from (520+) this package leads the way in the chart analysis stakes.
Stock Systems and Back Testing 10/10 – There is a huge selection of shared systems and the ability to back test them.
Ease Of Use 6/10 – This software package is not the easiest to use and the interface requires serious development effort.  The learning curve will take a time investment on your part.


Recommended for professional frequent trading investors, who value a slick touch enabled interface which operates well with Bloomberg feeds and terminals, premium features and the best Gann Analysis tool set on the market.

Market Analyst has been in the market for almost 20 years and they cater to individual investors as well as to fund managers
Pricing and Software 10/10 – Market Analyst is at the top end when it comes to price and you will need a powerful PC to run it, but with IQFeed, GFT and MT4 data integration's, great customer services and the full range of instruments covered (Stocks, EFTs, Mutual Funds, Options, Futures, FOREX, Bonds) for the premium price you get the premium package.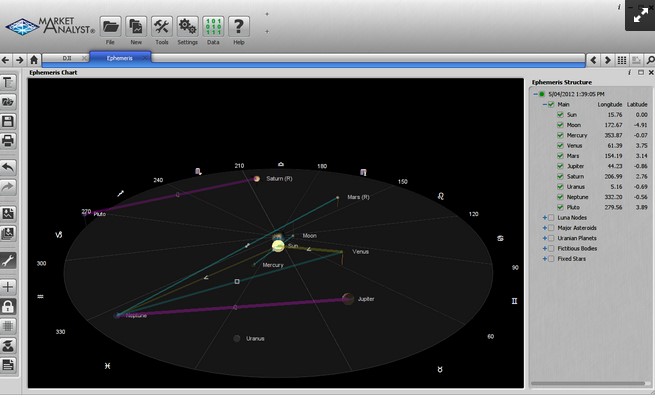 Trade Management 5/10 – While you have the ability to place trades from charts, MA7 does not have a full suite of broker integrations.
Fundamental Scanning and Screening 10/10 – A perfect 10 for fundamental sc screening for MA7.  A well thought out real-time scanning and filtering engine and the fundamental watchlists are well implemented
News 3/10 –MA7 does have news integration if you have the data feed in place.
Technical Analysis 10/10 – Another perfect 10 for MA7.  A fantastic array of  technical indicators and drawing tools.  Specializing in Gann tools with a full suite including Gann Grid Lines, Gann Fans and Gann Swing.  Also included are Elliott Wave and Darvas Box, the full set of exotic indicators are present.  To top it off they have also implemented an excellent astrological analysis suite as an upgrade for those of you who believe in that sort of thing, yes commodity traders I am talking about you :).
Stock Systems and Back Testing 10/10 – Market Analyst has back-testing well covered also, with a well implemented backtesting and system analysis tool set.  Best in class up there with MetaStock and QuantShare as the industry leaders, but unlike the others you to not need a PhD in mathematics to setup and test your system.
Ease Of Use 8/10 – This is another high score for Market Analayst 7.  This score is only beaten by Tc2000.  That says a lot for Market Analyst as it is an exceptionally powerful tool.  The interface, the shortcuts, the whole thought process implemented into MA7 warrant this high score in an important section.  They also have an extensive video training library which is very valuable to the new customer.
Recommended for frequent intraday or day traders who need automated broker integrated trading, powerful execution flexible data configuration and a huge user community.
Pricing and Software 8/10 – NinjaTrader has a huge following in the trading community, this means you get a huge user communities and a lot of webinars educators and developers.  The price point is a very reasonable $995 one off payment and you do not need to pay for data as you can use your broker's data which can be seamlessly integrated into the tool.  This means you get the data coverage you need.  NinjaTrader also covers Stocks, ETF's options futures and Forex.
Trade Management 10/10 – A perfect 10 for NinjaTrader here as the backend integration to 12+ brokers including Interactive Brokers (IB) and TD Ameritrade (TDA).  You can trade from charts and have integrated real-time P&L analysis which is a vital management tool.   The automated trading part of NinjaTrader is truly excellent enabling you to specify and translate what happens on a chart to executing the trade automatically.  A very powerful advantage for day traders and stock system developers.
Fundamental Scanning and Screening 3/10 – NinjaTrader is not developed for the Fundamental or Value investor and it shows in this section.  Fundamental measures do not really feature in NinjaTrader however there is of course real-time scanning and filtering based on technical indicators and price volume.
News 6/10 – NinjaTrader does have an integrated news service, but a lack of chat or community charting in built in to the software mean no perfect score in this round.
Technical Analysis 4/10 – Reasonable chart quality but it could do with significant improvement in aesthetics. The trend lines are thick and it has an older PC interface build.  18 Indicators are available so all the basics are covered but if you rely on powerful indicators, this may not be for you.
Stock Systems and Back Testing 6/10 – Back testing is possible and after setting up your historical data files you can do it. There are more advanced features in other packages. I would ask the developers to improve this aspect.
Ease of Use 7/10 – This is a stress free tool and not overly complex as it specializes in screening on fundamentals.
Recommended for those who want powerful scanning and back testing with strong charts layered on top.
Profit Source is developed by Hubb Financial an Australian company with a very good market offering.  The software scores well in the Trade Management section offering some broker integration and live P&L analysis.  ProfitSource also scores very well in Scanning and Screening with a perfect 10.  With a large array of technical indicators, drawing tools for the charts and even the ability to perform point and click back testing ProfitSource is a very good tool.  Unfortunately today the customer support is Australian time zone only.
For those Elliott Wave enthusiast ProfitSource has a really unique Elliot Wave tool which can automatically plot the waves and provide signals, this could be worth the investment just for this feature.
Pricing and Software 5/10 – Low cost option but still more expensive than MetaStock which offers a lot more power.  It has a huge video training library but only covers US & Canadian Markets.
Trade Management 0/10 – No broker integration or trading from charts means this is an area of improvement for the ChartSmart team.
Fundamental Scanning and Screening 10/10 – Super powerful screening on fundamentals, possibly better than any other package, including candlestick screening, and indicator screening.
News 4/10 – News is included in the package but one layer down in the interface. This could be seriously improved but it is at least there.
Technical Analysis 9/10 – When it comes to Technical Analysis NinjaTrader flexes its muscles, with over 104 different indicators and a good selection of drawing tools, combined with real-time alerts and trade execution this is a package to be reckoned with.
Stock Systems and Back Testing 10/10 – NinjaTrader is a great platform for creating stock market systems and actually one of the only ones that merge your developed system into auto-execution for the trades.  With great power comes great responsibility, be careful that you have a great system before you turn on auto trading.  A lack of point and click system development means you will need to get a developer to program your system for you or purchase an off the shelf system from the ecosystem of vendors.
Ease of Use 7/10 – Not the easiest to use software in our testing but very powerful when you get used to it.  Luckily there are lots of how to videos produced by NinjaTrader and the 3rd party education community.
Recommended for those who value market commentary and proprietary indicators.
VectorVest offer a unique approach to scanning for stocks based on risk and value.  Having read many forums on VectorVest the users have mixed feelings on the usefulness of the ratings.  They do however say that the market commentary is very good.
VectorVest is a solid package offering reasonable technical analysis tools and back testing tools.
However, with no backend broker integration a limited news service and a relatively high price point, you will have to weigh up the advantages this product has against the other on offer.