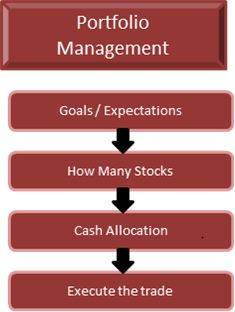 How Should I Manage A Stock Portfolio?
The importance of managing your stock portfolio & money management is often underestimated.  This is an absolutely vital area of mastery if you are to succeed in the long term and generate consistent revenue from your investments.
The Portfolio Management pillar.
Portfolio Management is the ability to manage your money optimally, understanding how to use compounding and solid growth to maximize your portfolio's worth.
Setting solid expectations and real targets to achieve is absolutely key. See "How to Become a Stock Market Millionaire" in the Liberated Stock Trader PRO Training.
There are many questions which you need to be able to answer for yourself before you begin investing or trading.
Those answers will be different for each individual, depending on your profile.

For example:
How long will you be investing?
How much money do you have to invest?
Are you retired or still earning a regular income?
What is your tolerance for risk?
Know Thyself
Key Questions to ask yourself:
Do I favor Diversification or concentration?
How many stocks should I buy?
How long should I hold stocks?
How much should I reserve in cash?
How much should I invest in any one stock?
How can you optimally execute the trade?
What risk-reward factors should I use?
How do I secure against significant losses?
When should I exit a trade?
What size of a win do I need and how many?
All of the questions are key, and all are discussed in the Liberated Stock Trader PRO Training.