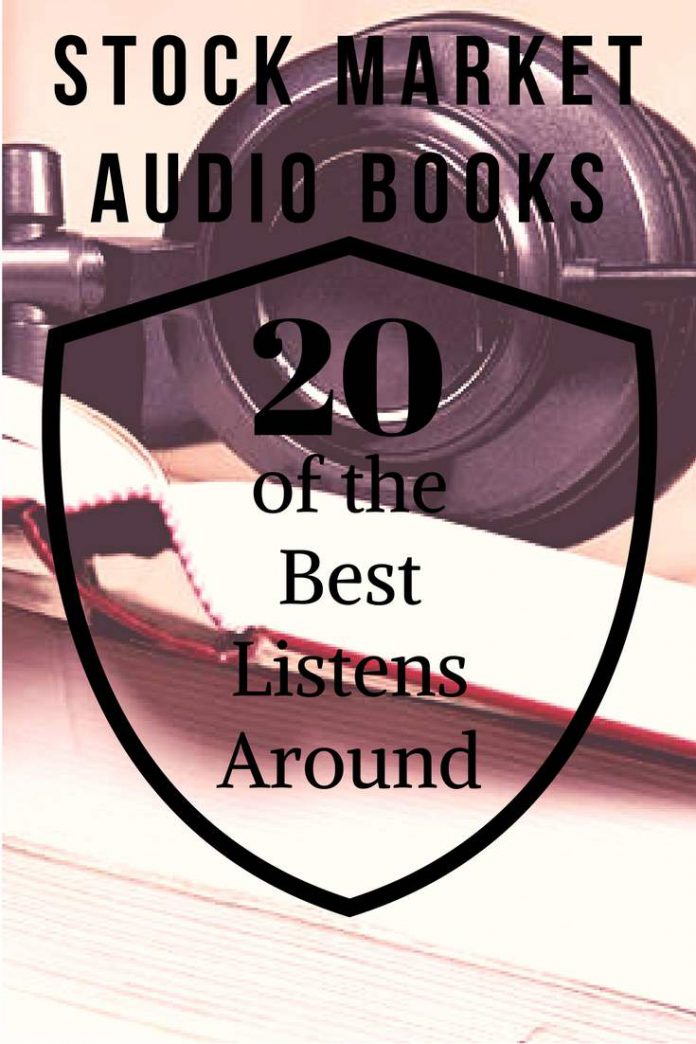 A Review of the Very Best Stock Market, Wall Street & Financial Audio Books of All Time on Audible.
Financial Crimes, Ponzi Schemes, Crashes & great Investing Advice Books, we have it all.
The Stock Market and the world of finance can be a wild place fuelled by ego's, testosterone and pure greed.
Often this fear and greed make for some amazing stories.
Audiobooks are a great way to absorb knowledge when you do not have time to sit down and read.  You can enjoy audiobooks when driving, hiking, walking and even when gardening.
I personally get through at least 50 books per year and I have listened to all the books on this list and many more, not on this list.  These are my All-Time Favorites 
1 – The Little Book that Still Beats the Market – Joel Greenblatt
Rating – 5 Stars – The Best

A short but fascinating book looking at a specific system which the author declares and proves makes a regular profit.  I have Back-tested this system personally and it works very well, it is a little high maintenance, but the lessons help within are vital.  It is also quite humorous which is welcome in the dry world of investing.
I will be approaching Mr. Greenblatt with my systems soon, but suffice to say, a top lesson on finding great companies.
A great introduction to a stock market system.
2 – Flash Boys – Michael Lewis
Rating – 5 Stars – Must Read

A gripping bestseller that blew open the secrecy behind high-frequency trading (HFT) and embarrassed Wall Street, large investment banks and even retail brokers.
This is THE 2014 book to read.  It is not just hype, Lewis has research and investigative journalism on his side.
Unveiling the unfair way HFT trading is seeking to rip off not just American Investors but the whole globe, Lewis deserves more than a best seller, he deserves a knighthood.
-
Keep Reading or Watch the Top 20 Audio Book Video Review
Top 20 Stock Market Investing Audio Books Video
-
3 – Crash Proof – Peter Schiff
Rating – 5 Stars – Must Read

A jaw-dropping insight into the future large stock market crash and the inspiration for my stock market crash detector system.
Schiff makes well-reasoned points that are difficult to argue with.
Even for a bullish investor, it is important to understand the counter argument so you are ready for any major stock market crash.
Related Article: A Reliable System To Protect You From Bear Markets]
4 – The Quants – Scott Patterson
Rating – 5 Stars – Must Read
A poker tournament at a plush hotel with the heads of the big quantitative trading houses is the backdrop for this great book.
Here we get an insight into the larger than life figures and the quantitative tactics of the genius mathematicians working on Wall Street and what impact it has on the broader market.
Packed full of fascinating insights, this book really lets you know what you are up against in the markets
[Related Article: Best MetaTrader Brokers For For DMA & Forex]
-
Join Over 25,000 Liberated Stock Traders 
Get the Latest Stock Market Software, Books & Movie Reviews Directly To Your Inbox
-
5 – The Alpha Masters – Maneet Ahuja
Rating – 4.5 Stars – Highly Recommended

A detailed behind the scenes look at successful hedge fund managers and the industry, including their investing styles.
Understanding how the hedge funds operate and the tactics and strategies they adopt is important for your overall understanding of the market.
Also, it is interesting to see the rise and fall of these Alpha Masters and the psychology of how they deal with it.
6 – The 86 Biggest Lies on Wall Street – John R. Talbott
Rating – 4.5 Stars – Highly Recommended

Talbott's 86 biggest lies on Wall Street is a good book and an easy read. Some of the "lies" are difficult to agree with but on the whole a good insight into the views of Wall Street and Government.
Positives: Although Talbott tells you what all the lies are, his version of the truths are also debatable. A firm view against the use of technical analysis to analyze stocks and market shows he is no expert in this area.
However, these flaws in his reasoning are balanced with good and compelling arguments against many of the preconceptions we have today regarding governments, corporations, venture capital, and economics".
Negatives: Some interesting arguments, especially if you have a left-wing conspiracy theory bent.
7 – The Big Short – Michael Lewis
Rating – 4.5 Stars – Highly Recommended
A great story involving the few men who bet against the investment banks going into the 2007 financial crisis.
Lewis has a way of writing that adds great storytelling to the factual background of what went on before and after the credit crunch.
It is a really great listen and also has been made into a hit Hollywood movie.
8 – The Little Book of Common Sense Investing [New for 2018]
Rating – 4.5 Stars – Highly Recommended
John C Bogle

The creator of the worlds first Index Tracking fund shares the critically important reasons why you should not be actively trading stock, commodities, and ETF, but investing long term.
The key messages are very clear and passionately explained in the book.  Essentially, using any stock advisors, stock pickers or mutual funds are going to work out negatively for your investments over the long term.
This is incredibly important information that everyone needs to understand. Taxes, Broker Costs, Mutual Fund Manager Costs and Financial Advisor costs will severely eat away at the long-term compounding power of your investments.
Positives: Short and sweet and backed up with plenty of proof to back up the assertions he makes.
Negatives: Constantly repeats "Don't take my word for it', gets a little annoying after a while.
Score 76% – Content: 4/5 – Applicability: 3/5 – Readability: 5/5 – Fundamentals: 5/5 – Technical Analysis: 1/5

9 – Full of Bull – Stephen T. McClellan
Rating – 4.5 Stars – Highly Recommended
An insiders account of how Wall Street Financial Analysts really operate. This book deciphers the double talk and outright misleading way Stock Market Analysts cover the markets and how to really read their advice.
I came away with the thought to never trust a Wall Street analyst and do my own research.
Positives: A good addition to any bookshelf with insights into how companies manipulate earnings and how Wall Street Analysts sit in a microcosm of influence from the big company CEO's.
Negatives: Some of the book became a little tiresome to read, but was none the less interesting.
10 – The Wolf of Wall Street – Jordan Belfort
Rating – 4 Stars – Highly Recommended

Ever wondered who is behind the cold call you get from a company you have never heard of, trying to sell you stocks in a company you know nothing about.
Belfort provides a thrilling and entertaining view of his life as a Chop House Stock Broker.
High on entertainment, this book is a roller coaster ride description of the personal life of Belfort himself.
A really great book that was recently turned into a Hollywood blockbuster.
11 – The Buy Side – Turney Duff
Rating – 4 Stars – Highly Recommended

An excellent insight into how the buy side operates on the financial market and just how much money these guys get to play with.
On a similar vein to Wolf of Wall Street, this is also a future film in the making.  A true story looking into Wall Streets underbelly, the crooked practices and the insane after work parties.
Do you really want these people managing YOUR money?
Well worth listening to.

12 – The Snowball – Warren Buffet
Rating – 4 Stars – Highly Recommended

By far the very best Warren Buffet Book.
Weighing in at 37 hours for the unabridged version (which I listened to), I would seriously recommend the abridged version 10 hours as it gets to the meat without all the waffle.
He has had a great life and is the worlds most successful investor.
This is a very worthwhile way to spend your time.
[Related Article: The Best Stock Screeners To Find Dividend & Value Stocks]
13 – Liars Poker – Michael Lewis
Rating – 4 Stars – Highly Recommended

Charting the authors experience working for a Wall Street Investment bank.
This book is an interesting and entertaining look at the characters that make up the testosterone-fueled trading floors that people entrust their money with.
It is worth the read just to ensure you are convinced that investing your money on your own terms is the right direction for you.
14 – One Good Trade – Mike Bellafiore
Rating – 4 Stars – Recommended

Ever wondered what life would be like on a proprietary trading (prop) desk?  Then this is the book to read.
Looking at how a prop desk works and what motivates the people.
What struck me was the short term in/out scalping that occurs on the prop desk.
Thousands of trades for small wins.  A day traders dream.

[Related Article: The Top 10 Best Stock Trading Platforms – Trade From Charts]
15 – The Undercover Economist – Tim Harford
Rating – 3.5 Stars – Recommended
The most entertaining and educational book on economics ever written – Tim Harford helps us mere mortals put the puzzle of economics in perspective and show us why it is so difficult to run an economy.
Great examples of farmers and coffee shops and how to outwit Starbucks.
How do big chains and corporations' price their products and why? To take advantage of your psychology. All is revealed, don't miss this one.
A classic for young adults and older folks alike, economics for everyone.
Great examples of farmers and coffee shops and how to outwit Starbucks.
16 – Undercover Economist Strikes Back – Tim Harford
Rating – 3.5 Stars – Recommended

This great follow up book takes a look at some fascinating examples of human behavior in economic terms and is a fascinating listen.
Why should you care?
Being an investor it is really important to get a basic understanding of economics.  With this book, the medicine of learning is sweet and with humor.

17 – Born to Steal – Gary Weiss
Rating – 3.5 Stars – Recommended

A highly entertaining read covering the scams and mafia infiltrations of Wall Street.
Following the rise and fall of a fast-talking stock market hustler all is revealed about the seedy side of when the mafia knocked on Wall Streets door.
Almost unbelievable, but a true story.
18 – Running of the Bulls – Christopher Smith
Rating – 3 Stars – Recommended

A great fictional financial thriller involving 12 people targeted for murder by the double-crossed Wolfhagen.
This will have you on the edge of your seat.
Although it is less educational than the other books listed it is a movie in the making.

19 – The Intelligent Investor – Benjamin Graham
Rating – 3 Stars – Worth a Listen

A classic book written by Ben Graham, the father of Value Investing. Warren Buffet was also strongly influenced by Graham.
Positives: A huge amount of valuable insight and knowledge. The revised version with comments from Jason Zweig brings the book up to date with new examples of how the book's tenets still hold true.
Negatives: With an overwhelming 623 pages and a very dry writing style you will need a lot of coffee to get you through.
[Related Article: The Best Stock Screeners To Find Dividend & Value Stocks]
20 – Dark Pools: 

The Rise of the Machine Traders and the Rigging of the U.S. Stock Market [New For 2019]
Where are you investment retirement accounts (IRA's) and 401K's invested? In the stock market.  So it is vital you get an understanding of the current state of the stock market and what drives price fluctuations.
Scott Patterson takes on the task of educating us all in the rise of the machines and the artificial intelligence algorithms that run on them.  Whilst the book lacks details on how AI actually works the discussion around the rise and impact of AI trading is enlightening and shocking.
As discussed in our stock market statistics research article, Bot's or AI algorithms are estimated to be responsible for 80% of stock market trading.
Learn more about AI and what you can do about it in this excellent book.
An absolutely compelling read.
21. No One Would Listen – Harry Markopolos
"No one would Listen" by Harry Markopolos. This is a thrilling account of the rise and fall of Bernie Madoff and how difficult it was for Markopolos himself to get the Securities & Exchange Commission to take action.
I was on the edge of my seat during the book and exasperated for Markopolos. You have to see this only to understand the depth of the problem of trying to oversee the companies that take advantage of the lazy money.
Respect to Markopolos for his ordeal and for sharing this great story.  A gripping listen.
How we rated the books.
The depth of Content: How deep does the book go into the subject matter.
Applicability to Investing: How applicable is the material to helping to improve your investing success
Readability: Is the book easy to comprehend or difficult to read
Insight into the subject: Does the book provide a real insight into the subject matter and is it thought-provoking.
Happy listening.


Do you want the knowledge to invest with confidence?
Buy the Liberated Stock Trader PRO Training Package and receive 16 hours of video lessons and the Liberated Stock Trader Book - fast forward your future.
Guiding you through the maze of stock market investing to give you a uniquely practical and comprehensive knowledge of the
4 Pillars of Success
FUNDAMENTAL ANALYSIS - Learn how to analyze the health of the business climate and how to find great companies using our practical stock screening guide.
TECHNICAL ANALYSIS – Chart Reading is not Voodoo, it is science. YOU will gain an incredible understanding of expert charting techniques, covering the most important methods, indicators and tactics, to enable you to time your trades to perfection.
MONEY MANAGEMENT – Understand how many stocks to buy, when to buy them, how much to invest and when to sell using expert stop-loss strategies.
STOCK MARKET STRATEGY – Develop your own stock market strategy and learn how to create your own winning stock system.
This incredible package includes:
The Liberated Stock Trader eBook - Over 200 pages of workbook covering every lesson
16 hours of video lessons for PC, MAC, iPhone, iPad & Android phones