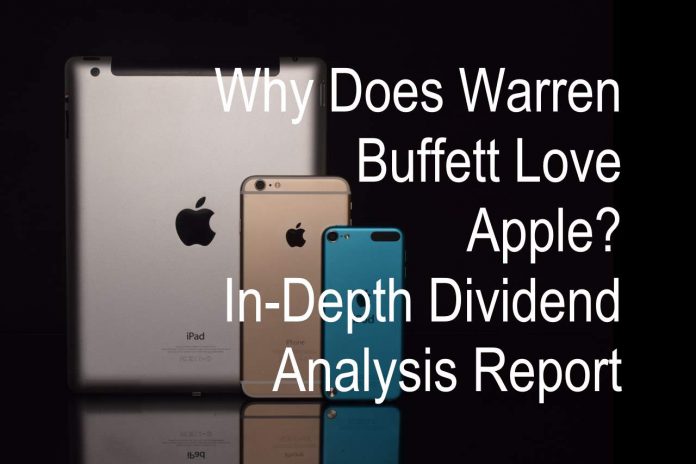 Discover Why We Think Apple is a Great Value & Growth Investment & Why Warren Buffett Loves Apple.
Analysis of Apple Dividend Yield, History & Payout.  Should You Buy Apple Stock Now?
Apple Dividend History
Apple (NASDAQ: AAPL) has one of the longest and most interesting dividend histories in Silicon Valley.
The beloved computer giant has paid dividends off and on since 1987. More importantly, Apple has delivered very high payouts.
Apple paid its first dividend on 15 June 1987. Back then, shareholders received a 6¢ payout. That dividend would be 13¢ in 2018 dollars – when adjusted for inflation.
The latest Apple dividend is 73¢ scheduled for payment on 16 August 2018. Apple shareholders received a 1.39% dividend yield, a $2.92 annualized payout, and a payout ratio of 25% on 16 August 2018. Those figures represent five years of dividend growth.
Apple's Pre 2000 Dividend History
Analysts record five years of dividend growth because Apple stopped paying a dividend for nearly 14 years.
The first Apple dividend began in June 1987 and ran through December 1995. The last payment of that dividend was 12¢ (worth 20¢ in 2018 with compound inflation) on 15 December 1995.
Apple paid its old dividend regularly every quarter for over eight years. That dividend doubled in value during its lifetime.
Apple ended the original dividend when the company ran into trouble in the mid-1990s. The dividend did not return until after Steve Jobs' historic rebuilding of the brand was complete.
The New Apple Dividend History & Payouts – Post-2012
The new Apple dividend began on 16 August 2012 with a payout of $2.65. Not surprisingly, that payment attracted a lot of media attention.
The company pays the new dividend quarterly and increased it to $3.05 on 23 April 2013. The payout grew to $2.39 on 12 May 2014.
The dividend payout took a drastic cut when the stock was split by a ratio of seven-to-one on 9 June 2014. The next payout was 47¢ paid on 14 August 2014.
The good news for investors is Apple paid the dividend each quarter since 2014. Better yet, investors still received a very handsome dividend after the stock split.

Is Apple a Good Dividend Stock?
Apple became a reliable dividend stock in 2012 and has remained so ever since. Impressively, the dividend has grown each year since 2014.
The 47¢ dividend grew by 5¢ to 52¢ on 14 May 2015. Another 5¢ increase occurred on 12 May 2016 when the payout increased to 57¢. The dividend payment grew to 63¢ on 15 May 2017, another 5¢ increase.
To add icing to the cake, the dividend increase doubled to 10¢ in 2018. Apple made a 73¢ dividend payment on 17 May 2018. The board scheduled another 73¢ payout for 16 August 2018.
These dividends justify Apple investor's faith in their company's stock. Long-term Apple shareholders are being well rewarded for their commitment to the company.
Is Apple Inc. a Good Growth Stock?
Here you can see our 5-year stock chart of the stock price growth of Apple Inc.  Recent history shows Apple's explosive growth and it is the darling of technology stock investors. Use the chart to compare Apple vs Microsofts meteoric stock price growth.
Apple is also still considered to be King of the FAANG Stocks.

Why Warren Buffett Loves Apple's Dividend?
Naturally, Apple has gained many new fans in recent years. The most intriguing of those fans is Warren Buffett.
Berkshire Hathaway (NYSE: BRK.B) bought another 12.4 million shares of Apple during 2nd Quarter 2018. Therefore, Berkshire's Apple stake increased to $46.6 billion on 30 June 2018, Marketwatch reported. Berkshire Hathaway is now Apple's second largest stockholder.
Buffett bought Apple because he loves receiving dividends. Berkshire Hathaway will receive a $90.52 million quarterly payout on the 12.4 million shares recently purchased.
However, the Oracle of Omaha famously hates paying dividends. Berkshire Hathaway (NYSE: BRK.A) has not paid a dividend since the 1960s.
Is Apple a Good Value Investment?
Buffett's interest will convince many observers that Apple is a value investment. The financial numbers justify this hypothesis.
Apple reported revenues of $53.265 billion, a gross profit of $20.421 billion, an operating income of $12.612 billion, and net income of $11.519 billion for 2nd Quarter 2018. Simply put, Apple is making a lot of money every quarter.
Incredibly, those numbers were down from 1st Quarter 2018. Apple reported revenues of $61.137 billion, a gross profit of $23.422 billion, an operating income of $15.894 billion, and a net income of $13.822 billion for 1st Quarter 2018.
Apple generates a lot of cash even when its revenues shrink. Apple reported an operating cash flow of $14.488 billion, an investing cash flow of $3.947 billion, and a free-cash-flow of $11.221 billion on 30 June 2018.
Why Buffett Considers Apple a Value Investment
Apple has a lot of resources to pay dividends from. The company reported $31.971 billion in cash and equivalents and $70.970 billion in cash and short-term investments on 30 June 2018.
These numbers show why Buffett has fallen in love with Apple. The iPhone maker is now a cash-rich company. That cash is being shared with investors in the form of dividends.
Apple is not a classic value investment because of its high stock price. Apple shares were trading at $210.24 on 16 August 2018. Despite that, Buffett obviously considers it a value investment because of all the cash.
Apple Dividend Payouts 2014 to 2018
| | | |
| --- | --- | --- |
| Payout Date | Dividend $ | Type |
| 16-Aug-18 | $0.73 | Regular Cash |
| 17-May-18 | $0.73 | Regular Cash |
| 15-Feb-18 | $0.63 | Regular Cash |
| 16-Nov-17 | $0.63 | Regular Cash |
| 17-Aug-17 | $0.63 | Regular Cash |
| 18-May-17 | $0.63 | Regular Cash |
| 16-Feb-17 | $0.57 | Regular Cash |
| 10-Nov-16 | $0.57 | Regular Cash |
| 11-Aug-16 | $0.57 | Regular Cash |
| 11-Feb-16 | $0.52 | Regular Cash |
| 12-Nov-15 | $0.52 | Regular Cash |
| 13-Aug-15 | $0.52 | Regular Cash |
| 14-May-15 | $0.52 | Regular Cash |
| 12-Feb-15 | $0.47 | Regular Cash |
| 13-Nov-14 | $0.47 | Regular Cash |
| 14-Aug-14 | $0.47 | Regular Cash |
How Good is Apple's Business?
Apple is a consumer products company with a business based on a few popular brands.
The most important of those brands is the iPhone. The iPhone is one of the most successful products in history.
Apple is the biggest, most successful and iconic business of the 21st Century with fanatical customers who love and trust it.
Around 216.76 million iPhones were sold in the 2017 fiscal year, Statista calculated. Apple only sold around 270,000 iPhones during the earliest period of sales in 1st Quarter 2007.
The iPhone sales fluctuate dramatically, 77.32 million iPhones were sold in 1st Quarter 2018, that number fell to 41.3 million in 3rd Quarter 2018, Statista reported. The fluctuations expose the risks in Apple's business.
Apple is also in such an authoritative position it is even considering manufacturing its own chips, which might have an impact on Intel. In fact, Apple is making a play to try to move into NVIDIA's space by producing its own graphics processing units (GPU)
Is Apple Recession Proof?
Dependence on consumer products makes Apple very vulnerable to economic and market conditions.
Therefore, sales of the product should slip during economic downturns. Interestingly, Apple sales increased sixfold during the Great Economic Meltdown of 2007-2009.
Apple sold 1.12 million iPhones during 4th Quarter 2007, and 6.89 million during 4th Quarter 2008, Statista estimated. The iPhone sales exploded during the greatest economic crisis in modern times.
The iPhone sales data will convince people that an important portion of Apple's business is resistant to economic downturns. Therefore, Apple's dividend might be safe even in economic downturns.
Skeptics will wonder if Buffett is loading up on Apple stock because he wants to keep cash rolling in during a bear market. Every dividend investor needs to consider that hypothesis.
Apple has proven itself to be one of the most reliable growth stocks around in recent years. The near future will tell us if Apple has become one of the most reliable dividend stocks.
Is Now a Good Time to Buy Apple Stock?
In terms of Market Timing for a Stock purchase, you can look at Technical Analysis Provided by TradingView. This is a summary of the Stock Chart Indicators Relative Strength, Stochastic, CCI, ADI, Momentum, MACD and a suite of Simple and Exponential Moving Averages.