The Fastest Growing Stock Markets
The largest stock markets are interesting from the perspective of choice; the US Exchanges contain over 5000 companies you can choose to enable you to seek your profits.  But alternatively, the growth of the capitalization of these markets allows us to see which markets are the hottest in terms of the growth of the companies.
The Fasting Growing Major Stock Exchanges
The Fastest Growing Stock Markets – NYSE vs NASDAQ vs FTSE 100 vs DAX vs Nikkei 225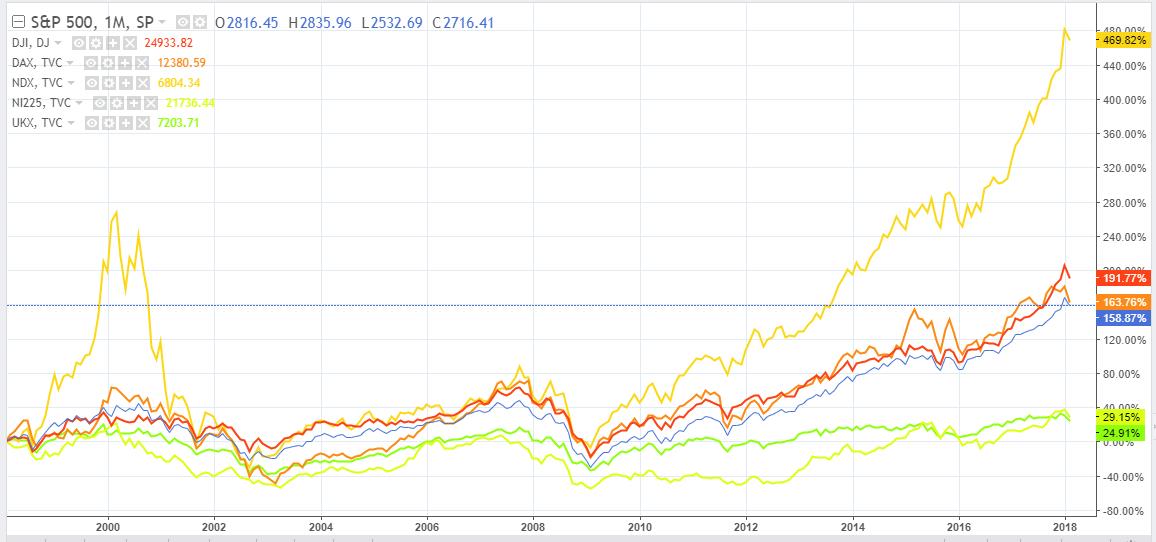 Of the largest exchanges, the U.S. fairs very well, especially the NASDAQ exchange, with an excellent 20-year record returning 468%.
20 Year Index Growth/Returns
Nasdaq 100: 468%
Dow Jones Industrial Average (DJIA):181%
German DAX: 163%
S&P500: 158%
Japan Nikkei 225: 29%
London FTSE 100: 24%
So, if you were to buy an index-tracking fund, which one would you buy?