Using stock research reports or performing your own research is an important part of investing in stocks. This article helps you understand where to get research reports and how to perform your own research.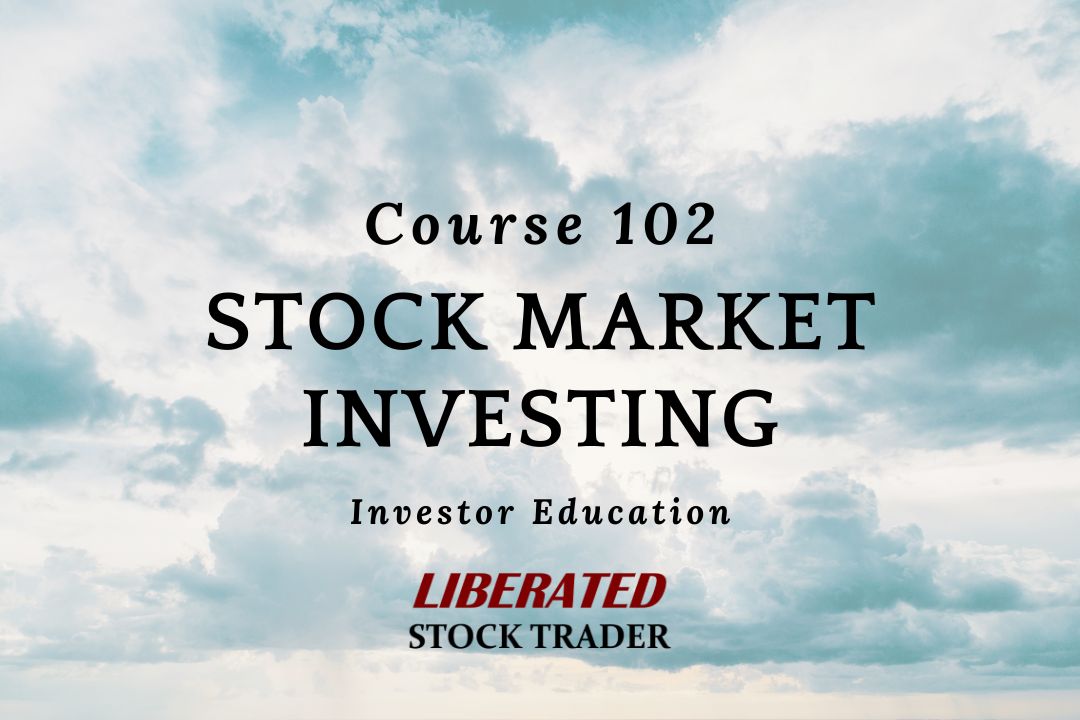 What are stock research reports?
A stock research report analyzes a publicly-traded company prepared by a financial analyst. The report may include the company's financial performance, competitive landscape, and potential investments.
The purpose of a stock research report is to provide investors with the information they can use to make informed investment decisions.
Types of stock research reports
There are several different types of stock research reports, but most contain similar information. The first section of a typical report will provide an overview of the company and its business operations. This section may also include the company's financial history and recent developments.
The second section will analyze the company's stock price performance. This section may include information on the factors that have influenced the stock price and technical analysis of the stock chart.
The third section will discuss the company's competitive landscape. This section may include information on the major competitors, their market share, and their strengths and weaknesses.
The fourth section will analyze the company's potential investments. This section may include information on the company's products, services, and markets. The fifth section will provide a conclusion and recommendation.
How to research stocks
To research stocks, you can use research reports from financial analysts employed by research firms, such as Moody's, Morningstar, or Zacks.
These research companies provide stock ratings and analysis written by market analysis. But there are biases in institutional stock research, as detailed in the book Full of Bull by Stephen T. McLennan:
"The analysts tend to avoid negative opinions as they tend to receive flack from the management teams and pressure that they may lose access to the companies they cover. Analysts are not paid for the performance of their stock ratings; therefore, they have limited motivation to be truthful."
"Wall Street Analysts are bad at stock picking."
"Does buy really mean buy the stock. What if the highest rating used is strong buy. Does that mean that buy is more negative than strong buy?"
"Wall Street is oriented towards increasing stock prices; they have to be positive in order to convince people to continue buying."
"In a 2006 CFA Magazine Research article by Mike Mayo, it was noted that of the recommendations on the Top 10 Largest Cap stocks in the US, There were 193 Buy Ratings and only 6 Sell Ratings. Systemic Bias…?"
Source: Stephen T. McLennan – Book Full of Bull
So if you cannot rely on rating and research agencies, you must learn to research stocks yourself.
How to research stocks for long-term investing
Alternatively, you can perform your own research using powerful stock research software. Our favorite tool for independent stock research is Stock Rover, which provides powerful unbiased, real-time research reports.
Long-term investors use the company's financial reports and news to research companies they are interested in investing in. The problem with performing this research manually is it is incredibly time-consuming.
To save time, investors should utilize Stock Rover, which brings together all the important fundamental financial information into a platform that provides a powerful stock screening and portfolio management service.
How to research stocks for day trading
If you are day trading, you will primarily use real-time financial news and technical analysis software to perform your research. The nature of day trading is that trade typically lasts less than one day, meaning you are not focused on financials; you are using real-time charts and news events to trade.
The difference between technical analysis and fundamental analysis is highlighted in this article.
Where to research stocks
You can research stocks using various resources, including financial websites, stockbrokers, and the news.
Financial websites often have information on individual stocks, such as historical prices and analyst ratings. You can also use these websites to create hypothetical portfolios and track your investments.
The news can also be useful for learning about the stock market and providing information on upcoming events that may affect prices.
Here is a list of services that provide exceptional stock research reports and real-time financial news services.
How to get stock research reports
Great sources for stock research are Stock Rover, Motley Fool, Benzinga, Morningstar, Zacks, IBD, and Seeking Alpha. Below is a table comparing the research services.
Free stock research reports
Free stock research reports may be available with your brokerage account, but if not, Stock Rover provides free research reports for all companies on the Dow Jones 30 Index.
One of the best features of the Stock Rover platform is the Dynamic Research Report. This service enables you to generate a professional, readable PDF report on any particular stock's current and historical performance.
The research report creates something new, a human-readable, real-time research report highlighting a company's competitive position, market position, and historical and potential dividend and value returns. The image below shows the dividend-adjusted commentary on Microsoft, a company I invested in because I found its excellent potential using my Buffett Stock Screener.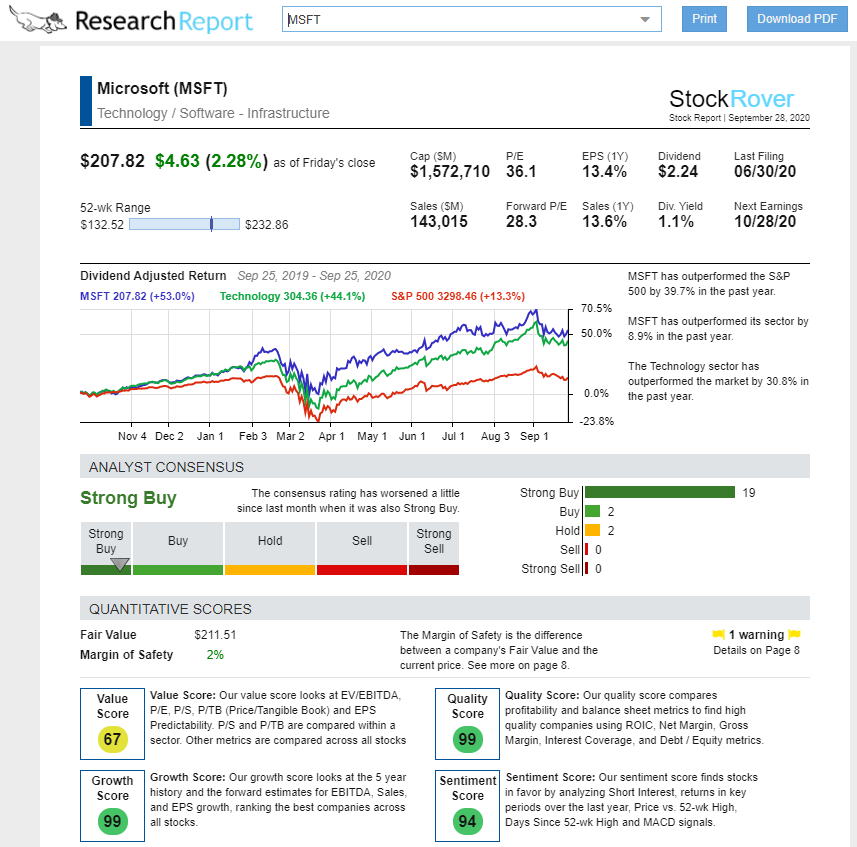 The best thing about Stock Rover's Research Reports is they are Real-time, so the information is always up-to-date.
The Stock Rover research reports provide a genuinely comprehensive summary of any of the 10,000+ stocks in Stock Rover on the US and Canadian exchanges. Research reports can be viewed in the browser and produced in PDF format for portability and sharing.
Stock Newsletters – Stock Pickers
There are also many newsletter services available where you can register to receive stock recommendations. You will usually receive a daily or weekly newsletter recommending buying and selling. They come in two flavors, "Free Newsletters" and "Pay for Services."
At all costs, avoid any Free Stock Tips Newsletters. The companies that run free newsletters provide biased data as they earn money from the companies they promote. The companies will often pay them they promote with stocks. So if they promote the stock well enough, they can sell their stocks as the price rises, making money at your expense.
Premium newsletters can be a useful source of good information, but you have to research the track record of the person providing the tips. Ensure they beat the market year after year. At least 90% of stock tippers do not beat the market regularly.
Be your own Stock Analyst.
Investing in yourself and making your own decisions is the best way to improve your profits and success in the market. When it comes to your own money, you can only trust yourself. Make a good investment in stock market education and spend the time using fundamental and technical analysis to make informed decisions in the stock market.
Summary
Stock research reports can be very helpful for investors trying to make informed investment decisions. However, it is important to remember that these reports are only one piece of information that should be considered when making investment decisions. Investors should always do their own research before making any investment decisions.