Rate of Change (ROC)
The rate of change is very similar to the Momentum indicator mentioned in the previous section, with one crucial difference, instead of subtracting the latest price from the price X periods before dividing it.  This is a significant difference that improves the indicator.
Rate of Change = 100 (C / CX)
The results of ROC are similar but slightly better than that of Momentum as it handles large price swings better.  As in the previous section, follow the numbered steps in the following chart to understand how ROC can tell the story of future price movement.
This is an excerpt from the Liberated Stock Trader book and the accompanying "Pro Training Course."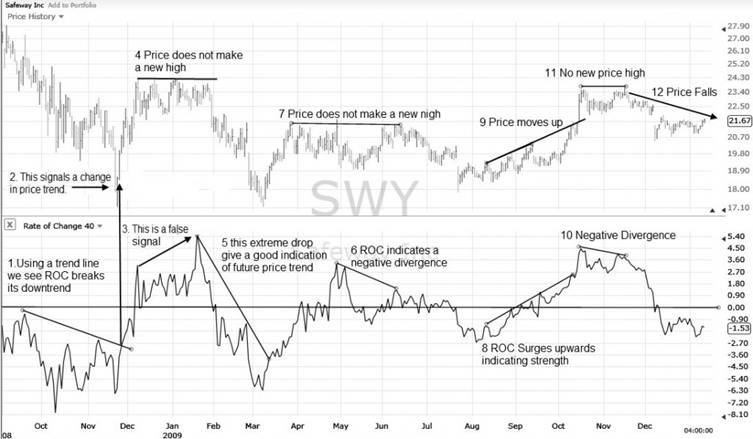 Notes on the chart.
Using a trend line, we can see that ROC breaks its downtrend at the end of November 2008.  This is a useful way of using Oscillators, plotting trend lines on them.  As Oscillators are leading indicators using a trend line, they will show us when a trend change happens before it is reflected in the price.
The price then follows by moving up from 18.90 to 24.30, a 23% gain.
Here we see a false signal; this shows us that no indicator is perfect.  Always remember the price move is the most important; oscillators can help us to improve our chances of guessing correctly.  However, this time it fails.
ROC indicates a positive divergence, yet price hits resistance at 24.30 and then plummets south.
ROC now corrects itself, and two days before the actual severe price drop, ROC shoots downwards; this is a warning sign top exit.
Here again, ROC shows negative divergence.
Price again hits resistance in June at 21.50.  ROC's divergence was correct, and the stock dropped.
ROC Surges upwards in August, and although price retraces in September, ROC powers on showing a positive divergence.
The first two weeks in October, the price surges again.
ROC shows another negative divergence from the price trend.
No new price high
Price falls, again predicted by ROC.
You are now familiar with positive and negative divergences but also realize that price is the most important indicator and that Oscillators can be wrong.  Wait for the indicator to scream; if it says nothing, move on.
Summary
In this section, you were introduced to stock chart indicators.  Indicators are all based on a handful of numbers.  Price indicators focus on the open, high, low, close for the period.  Price volume indicators combine the stock price numbers with the volume numbers.  We looked at moving averages, moving average convergence divergence (MACD), Stochastics, RSI, and rate of change.
In the next section, we look at drawing trend lines and reviewing chart patterns.