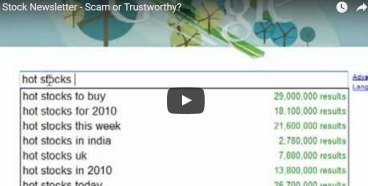 Something has been on my mind for a while and I think it is about time to speak out. If you are new to trading or even if you have been trading for a while there is something important you really need to know. There are a number of businesses out there that peddle "Hot Stocks Newsletters" or "Penny Stock Newsletters". While in theory there is nothing wrong with this as a service, quite a number of these publications operate under a clear conflict of interest.
Penny Stocks & Hot Stocks Newsletter Are A Scam – Proven
For example, go to Google and type the following.

Here you will see Google adverts from companies promising %%% returns from buying the stocks they recommend. However, if you visit any of these sites and navigate to the disclaimer you will find an important piece of text that explains their business model. Here are a few examples.
DISCLAIMER EXAMPLE 1 – Conflict of Interest 
"Since (Company Name Deleted) receives compensation and its employees or members of their families may hold stock in the profiled companies, there is an inherent conflict of interest in (Company Name Deleted) statements and opinions and such statements and opinions cannot be considered independent. (Company Name Deleted) and its management may benefit from any increase in the share prices of the profiled companies. (Company Name Deleted) services are often paid for using free-trading shares. (Company Name Deleted) may be selling shares of stock at the same time the profile is being disseminated to potential investors; this should be viewed as a definite conflict of interest and as such, the reader should take this into consideration."
DISCLAIMER EXAMPLE 2 – Conflict of Interest 
"Investing in micro-cap and growth securities is highly speculative and carries and extremely high degree of risk. It is possible that an investor's investment may be lost or impaired due to the speculative nature of the company profiled. (Company Name Deleted) its operators, owners, employees, and affiliates may have interests or positions in equity securities of the companies profiled on this website, some or all of which may have been acquired prior to the dissemination of this report, and may increase or decrease these positions at any time."
Deciphering the Disclaimers on Penny Stock Sites
"Company A" wants to boost its share price.
It speaks to a purveyor of HOT STOCKS NEWSLETTERS, preferably one with a huge email contact list.
"Company A" may agree to give the Newsletter publishers payment in the form of "Company A's" stock, for the service of convincing it's clients to buy those stocks.
The Newsletter publishers receive these stocks, then they recommend buying "Company A" in their newsletter.
As the people receiving the email start to buy the stock the stock naturally rises.
As the stock rises the Newsletter Publisher and perhaps even people inside "Company A" can then sell the stocks to realize a profit. This is called selling into strength.
The person receiving the email see the stock rise temporarily and then fall. Of course they cannot complain because they will be advised they should have sold sooner and that they should read the disclaimer.
That is how it works.
Why are Penny Stocks So Cheap?
While penny stocks may give the impression that they can double in value any minute and seem exciting to trade. The fact is they are penny stocks for a reason.
They may have:
weak products
be in a weak or shriveling market
be out of favor with investors or not be on the radar
be heavily in debt
have weak management
Stock prices are low because the company is not valued highly by the market. So why would you buy them?
Also, many MicroCap (Penny Stocks) are not traded on the normal exchanges directly but in what is called the OTC (Over the Counter) Market. This means you might see wider spreads and a seriously reduced liquidity. Liquidity is everything when trading stocks because even if the price rises you may not be able to sell the stock at the price you want because no one else is buying.
Also even worse with low liquidity, if the stock is falling and you want to sell there may be no buyers and this can absolutely crush the value of the Stock causing you to completely wipe out.
I am not a fan of Hot Stocks Newsletters or purveyors of Penny Stocks for these reasons. Many new newsletters have sprung up over the years, and to break into this lucrative market they offer their services for free. "FREE STOCKS NEWSLETTERS". Just do not forget few things are "FREE" in this world and the price you pay for these free newsletters is that the information may be biased against you.
Here is my Disclaimer on this article.
Some newsletters may be written by genuinely gifted traders. Please ensure you read the disclaimers on the website and look to see if the Publishers have any industry qualifications such as the "Chartered Market Technician" CMT, "International Federation of Financial Technicians" IFTA, or are Series 7 registered Stock Brokers or equivalent.
Read My Site Disclaimer.
I do not recommend any stocks, I am simply providing education to people who seek it 🙂
To your success!
Do not follow Hot Stock Newsletters, be your own GURU, really learn how to trade the stock market successfully, check out  the Liberated Stock Trader PRO Technical & Fundamental Analysis Stock Market Training Course
Other Interesting Articles on Stock Market ScamsStock Market Scams – Stock Scams – Stock Market Scammers | Qwoter – The following are two of the most common stock scams. The pump and dump is one of the easiest and most common ways of taking money away from unsuspecting investors. Although it is illegal, the use of the pump and dump has actually increased because the Internet has made it possible to reach millions more people.
Also Is the stock Market Rigged is an excellent article.