Best Stock Market Books
The Little Book that Still Beats the Market

How to Make Money in Stocks

One Up On Wall Street

The Little Book of Common Sense Investing

Technical Analysis of the Financial Markets
The Most In-Depth Stock Market Books Review & Ratings on the Web
An essential way to improve your knowledge and therefore improve your success in the stock market is to always keep learning and expanding your mind.
Here you will find a hand-picked selection of simply the best finance and investing books ever written, including a detailed review and ratings based on the content, practicality, and readability of the books.
Top 5 Best Stock Market Books Summary
If you are interested in specifically Stock Market Technical Analysis Books (used by professional analysts), click here to jump to Technical Analyst PRO Book Review.
1. The Little Book that Still Beats the Market
Best Stock Market Strategy Book
Best Stock Investing Book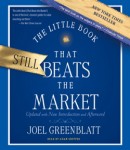 A short but fascinating book looking at a specific system that the author declares and proves makes a regular profit.
The strategy Greenblatt shares is called the Magic Formula, based on two specific formulas, now known as the Greenblatt ROC and the Greenblatt Earnings Yield.
I have backtested this system personally, and it works very well, it is a little high maintenance, but the lessons contained within the book are vital.
It is also quite humorous, which is welcome in the dry world of investing.
A great introduction to a stock market system from an investing legend.
Score 92%. Content:5/5. Applicability:5/5. Readability:4/5. Fundamentals:5/5. Technical Analysis:5/5
Read more about Joel Greenblatt's Recommended Books
Tip: If you want to easily implement the Magic Formula Strategy, it is included in Stock Rover's (Visit Stock Rover for their Premium Plus Service)
---
2. How to Make Money in Stocks
Best for Growth Investing
Best Book on Learning Stock Investing
Combining Technical & Fundamental Analysis, this best selling book gives you a good framework for building your own stock market investing approach. One of the best-investing books ever written.
Packed full of clear examples and a very structured approach. The approach called CANSLIM is easy to remember as a Stock Screening approach to finding good stocks and shares to invest in.
These ideas are integrated into our training courses and also outlined in the Stock Market Strategy Blueprint. The book heavily promotes using Investors.com as a tool. In reality, you do not need to purchase this service as you can create your own stock screeners to achieve the same goal for free.
Score 92%. Content:5/5. Applicability:5/5. Readability:4/5. Fundamentals:5/5. Technical Analysis:5/5
[Related Article: Learn How To Build Your Own CAN SLIM Strategy Screener Based on this Book]
---
3. One Up On Wall Street
Best Stock Investing Market Book for Beginners
Great Book for Value Investing
A great book for beginner investors, with an excellent down to earth approach, ideal for the beginner to show you how to apply your local knowledge to find winning companies.  Great stories, great anecdotes:
"The old Wall Street adage "never invest in anything that eats or needs repairs" may apply to racehorses, but it's malarkey when it comes to houses." Peter Lynch
"Know what you own, and know why you own it" Peter Lynch
Positives: A very easy and entertaining read, authored by one of Wall Streets' great stock pickers.
Negatives: Light on really actionable investing strategies, charts, and technical analysis.
Score 76%. Content: 3/5. Applicability: 3/5. Readability: 5/5. Fundamentals: 5/5. Technical Analysis: 3/5
Tip: If you like the strategies in this book, you can find the Price to Lynch Fair Value Formulas in Stock Rover, our Favorite Stock Screener. 
---
4. The Little Book of Common Sense Investing
Best Book for ETF Investing Strategy
Best Book for Beginner Investors

The creator of the worlds first Index Tracking Fund shares the critically important reasons why you should not be actively trading stock, commodities, and ETF's, but investing long term.  This is again one of the best investing books on my bookshelf.
The key messages are very clear, and passionately explained in the book.  Essentially, using any stock advisors, stock pickers, or mutual funds are going to work out negatively for your investments over the long term.
This is incredibly important information that everyone needs to understand.
Taxes, Broker Costs, Mutual Fund Manager Costs, and Financial Advisor costs will severely eat away at the long-term compounding power of your investments.
Positives: Short and sweet and backed up with plenty of proof for the assertions he makes.
Negatives: Constantly repeats, "Don't take my word for it'; gets a little annoying after a while.
Score 76%. Content: 4/5. Applicability: 3/5. Readability: 5/5. Fundamentals: 5/5. Technical Analysis: 1/5
Tip: The key message in this book is to invest in low-cost exchange-traded funds (ETFs) that track the market indices.
---
On your journey to greatness, it helps to learn from the very best.
I recently signed up for Masterclass.com and learned business leadership from Howard Schultz, economics & society from Paul Krugman, and even business strategy from Bob Iger.
Discover your new passion, from making music to design and photography with Masterclass you can learn from the best.
Pursue Your Passion With MasterClass | MasterClass
---
5. Technical Analysis of the Financial Markets
Best for Learning Stock Chart Technical Analysis Investing
A very valuable contribution to the understanding of technical analysis of the financial markets, this book is a must-have for the technical (Stock Charts & Indicators) trader.
This book is also a prerequisite reading for any serious or professional technical analyst and is a core IFTA exam syllabus for the (International Federation of Technical Analysts).
Positives: One of my favorite Technical Analysis reference books and published by the New York Institute of Finance, this book is well presented and easy to understand.
Negatives: A mind-blowing amount of information; however, it does not backtest the indicators to show if they are really useful in the practical world.
Score 72%. Content: 5/5. Applicability: 3/5. Readability: 4/5. Fundamentals: 1/5. Technical Analysis: 5/5
Tip: If you want to trade the stock markets using technical analysis, our two recommended stock charting services are TradingView and TC2000.
---
6. Liberated Stock Trader, A Complete Stock Market Education
Best Book & Video Course for Learning Stock Trading & Investing
Designed as a complete education, the book covers everything you need to know to get started in investing in stocks. Fundamental analysis, technical analysis, stock screening, risk management, and psychology are all covered.
What makes it different is that there are 16 hours of instructor lead video included, which turns this training from a book to a full stock market seminar training.
Premium stock market education is expensive; this training course is extremely cost-effective—well-rounded education for those who want to take the stock market seriously.
Score: 4.8 Stars on Amazon.com & 5/5 Stars on Benzinga.com
---
7. Trade Like A Stock Market Wizard
Best Book for Stock Trading
Minervini was featured in the Stock Market Wizards Series, and this book is an excellent practical guide to the application of technical analysis and how to apply it in the real world.
Practical, usable, and readable; this is an extremely worthwhile book that explodes myths about the PE Ratio, Valuations, and Wall Street Ratings Services.
Packed full of insights and strategies, this is a modern book that simply must be on your bookshelf.
Score 92%. Content:5/5. Applicability:5/5. Readability:4/5. Fundamentals:5/5. Technical Analysis:5/5
[Related Article: The Top 10 Best Stock Trading Platforms – Trade From Charts]
---
Continue Reading or Watch the Top 20 Best Stock Market Investing Books of All Time Video
---
8. Winning on Wall Street
Great Book for Stock Chart Analysis and Market Timing
A must-have book for the serious investor, covering economic, fundamentals, and technical analysis.  While it may seem a little outdated, this book is still worthwhile and a must-read. It gives excellent insights into how the market works.
Positives: Strong on the logical, systematic evaluation of the state of the business environment and its effect on the stock market.
Negatives: Not enough charts. Some systems are hard to calculate manually and require a lot of effort to maintain.
Score 80%. Content:4/5. Applicability:4/5. Readability:5/5. Fundamentals:4/5. Technical Analysis:3/5
---
9. Technical Analysis Explained
Best Book for a Detailed Education on Technical Analysis, Trends, and Indicators
One of the Bibles of Technical Analysis, and one of the best. Pring is a popular technical analyst, and the depth of the value of this book is unmistakable. This book is a prerequisite read for any serious or professional technical analyst and is the core IFTA exam syllabus for the (International Federation of Technical Analysts) of which I am certified.
Positives: With 600 pages of detailed Technical Analysis, the quality and quantity of the content can be overwhelming.
Negatives: Combining this best of this book and covering some fundamental analysis would provide an improved and more efficient way to learn.
See the Liberated Stock Trader Book for this combination.
Score 76%. Content:5/5. Applicability:4/5. Readability:4/5. Fundamentals:1/5. Technical Analysis:5/5
[Related Article: The 10 Best Stock Market Analysis Software Programs]
---
10. Full of Bull: Do What Wall Street Does, Not What It Says, To Make Money in the Market
Best Book for an Insider View of Wall Street Operations & Lies
An insiders account of how Wall Street Financial Analysts really operate. This book deciphers the double talk and outright misleading way Stock Market Analysts cover the markets and how to really read their advice. I came away with the thought to never trust a Wall Street analyst and do my own research.
Positives: A good addition to any bookshelf with insights into how companies manipulate earnings and how Wall Street Analysts sit in a microcosm of influence from the big company CEO's.
Negatives: Some of the book became a little tiresome to read, but was none the less interesting.
Score 75%. Content: 4/5. Applicability: 3/5. Readability: 4/5. Insight:4/5
---
11. Unshakeable: Financial Freedom Playbook
Top Finance Book for Beginner Investors
Best Investment Book
A new 2017 entry, in classic Tony Robbins Style, he aims to teach the masses about how their investments in Mutual Funds and 401K's are subject to so many hidden costs that the financial industry is literally stealing from the common man.
With many people being charged upwards of 2% annually, this removes hundreds of thousands of dollars from your retirement pot.  This is one of the best books for beginning investors.
Positives:  Tony and his team make solid, irrefutable points that everyone investing for the long term should understand.  I welcome this fresh light being shone into the murky depths of Wall Street Money Manager hidden costs.  Also, the proceeds of the book go to charity.
Negatives:  This is not advanced investing for anyone seeking to actively managed investments, but this should not detract from the importance of the book.
If you are a U.S. investor, this is a book you need to read.  Also, you can uncover your hidden 401K costs here at americasbest401K.com
Score 72%. Content: 5/5. Applicability: 5/5. Readability: 5/5. Fundamentals: 2/5. Technical Analysis: 1/5
---
12. The Intelligent Investor
Best Book for Value Investors
A classic book written by Graham, the father of Value Investing. Warren Buffet was also strongly influenced by Graham.
Positives: A huge amount of valuable insight and knowledge. The revised version, with comments from Jason Zweig, brings the book up to date with new examples of how the book's tenets still hold true.
Negatives: With an overwhelming 623 pages and a very dry writing style, you will need a lot of coffee to get you through.
Score 72%.  Content: 5/5. Applicability: 3/5. Readability: 3/5. Fundamental Analysis / Value Investing: 5/5. Technical Analysis:2/5
[Related Article: The Best Stock Screeners To Find Dividend & Value Stocks]
---
13. Market Wizards – Interviews with Top Traders
Best Book for Learning Different Stock Trading Styles
Packed with good interviews with successful stock market traders, this book is a worthwhile addition to your bookshelf. Do not expect solid strategies, but expect insights into how stock market institutional investors operate.
Positives: Well-selected interviews and easier reading than its predecessor, this book is worth buying.
Negatives: Low on specific strategies and rules to incorporate into your market approach, the interviewees would not want to give away anything truly useful in case they lose their edge.
Score 68%. Content: 3/5. Applicability: 3/5. Readability:5/5. Fundamentals:3/5. Technical Analysis:3/5
---
14. Secrets for Profiting in Bull and Bear Markets
Stan Weinstein
Good Book for Learning Shorting in Bear Markets
Written in the 1980s, this classic investment book covers the Technical Analysis approach to the stock market in a very practical and usable way. A good read.
Positives: The explanations of Bull and Bear Markets and the use of combining price breakout with volume increases to improve the chances of success are excellent.
Negatives: The book is quite old and, therefore, a little dated. It does not make use of more modern indicators or ways to leverage current technologies to achieve your goals.
Score 68% – Content: 3/5 –  Applicability: 4/5 – Readability: 5/5 –  Fundamentals: 2/5 – Technical Analysis: 5/5
[Related Article: A Reliable System To Protect You From Bear Markets]
---
15. Getting Started In Options
Best Book for Learning Options Trading & Strategies
If you want to leverage your capital through the use of options, do nothing until you read this book. Probably one of the best books on options for beginners.
Positives: Options are a difficult subject to learn, never mind to master; this will make getting used to the basics a walk in the park.
Negatives: Options are a tough topic, and a lot of new tools have been developed since this book was written. After reading this book, you will still not be equipped to be a successful options trader. However, it does achieve what it sets out to do.
Score 68%. Content: 5/5. Applicability: 5/5. Readability: 3/5. Fundamentals: 1/5. Technical Analysis: 1/5

---
16. The Bible of Options Strategies
Best Options Trading Book for Advanced Investors
This book takes you to the next level of understanding options.  Taking away the mystery and helping you realize that options can actually be used to create regular income and as a fantastic vehicle for limiting risk and knowing what your risk-reward really is.
Great strategies and a thoroughly good read.  As it says on the cover, this is the definitive guide for practical trading strategies.
Score 65%. Content: 4/5. Applicability: 3/5. Readability:3/5. Insight:5/5
---
17. Trader Vic – Methods of a Wall Street Master
A Good Book on Trading, But a Little Dated Now
An easy to read book with some useful insights. Written in 1991, when everyone and their dog made money in the biggest bull market of all time, I wonder how Vic would have fared in the 2000 or 2007 stock market busts.
Positives: Good chapters on drawing trend-lines and the basics of economics.
Negatives: Dated and lacking any really solid advice for trading in today's market using the power of computers and technical analysis software.
Score 60%. Content: 4/5. Applicability: 3/5. Readability: 3/5. Fundamentals: 2/5. Technical Analysis: 2/5
---
18. Hedge Fund Market Wizards – How Winning Traders Win
Best Book for Learning About Hedge Fund Strategies
A mixture of interviews with top traders on topics as far-reaching as trading Futures, Trading T-Bills, aggressive trading, stock selection, and psychology. The books provide interesting insights into the minds of the traders interviewed and how they operate to achieve that profit. For an insight into the minds on Wall Street, this is a classic book.
Positives: Focus is definitely on interviewing and insights into trading styles, which can make interesting reading and a break from too much number crunching and technical analysis books.
Negatives: The people interviewed provide no real practical insight into specific trading systems or actions, yet is it still a good read.
Score 60%. Content: 3/5. Applicability: 3/5. Readability: 5/5. Fundamentals: 2/5. Technical Analysis: 2/5
---
19. Buy And Hedge
Jay Pestrichelli & Wayne Ferbert
Great Book on Risk Management for Beginner Investors
Buy and Hedge gives you an important lesson in risk management.  I know it sounds boring, right.  Wrong.
If you do not have a solid grasp of the concepts in this book, you will be severely hampering your chances of success.
Covering what they call the five iron rules of hedging, this book reiterates the importance of using Options and other strategies to know and limit your risk.
Score 60%. Content: 3/5. Applicability: 2/5. Readability:5/5. Insight into subject:3/5
---
20. The 86 Biggest Lies on Wall Street
Good Book on the Shadey Operations of Wall Street Investment Houses
Talbott's 86 biggest lies on Wall Street is a good book and an easy read. Some of the "lies" are difficult to agree with, but on the whole, a good insight into the views of Wall Street and Government.
Positives: Although Talbott tells you what all the lies are, his version of the truths are also debatable. A firm view against the use of technical analysis to analyze stocks and market shows he is no expert in this area. However, these flaws in his reasoning are balanced with good and compelling arguments against many of the preconceptions we have today regarding governments, corporations, venture capital, and economics".
Negatives: Some interesting arguments, especially if you have a left-wing conspiracy theory bent. Talbott holds some views that do not make sense. Also, I am sure some of the lies he has made up just for effect.
Score 55%. Content: 3/5. Applicability: 1/5. Readability:4/5. Insight into subject:3/5
---
21. The Winning Investment Habits of Warren Buffet and George Soros
A good book if you enjoy some insights into the two most successful investors of all time, but lacks any serious investing strategy or practical examples. More a book about the people and catchphrases.
Positives: Nice quotes and comparison between the two great men.
Negatives: A let down in terms of real practical investing wisdom.
Score 48%. Content: 2/5. Applicability: 2/5. Readability: 5/5. Fundamentals: 3/5. Technical Analysis: 1/5
Further Information on Warren Buffet and George Soros
[Related Article: The Best Stock Screeners To Find Dividend & Value Stocks]
---
22. The New Market Wizards – Conversations with America's Top Traders
Best Book for Learning the Strategies of Forex & Options Traders
With very diverse interviews this time, the book would appeal to investment firm insiders, but I feel this will have less value to the independent investor who focuses on the stock market.
Positives: Interesting insights on Options Trading, Foreign Exchange (FOREX), and Automated Trading; this book provides insights outside the realms of the stock market.
Negatives: A rather weak trading psychology section at the end leaves one wondering what the point was.
Score 48%. Content: 3/5. Applicability: 2/5. Readability: 3/5. Fundamentals: 2/5. Technical Analysis: 2/5
Tip: Interested in Trading Forex or BitCoin? Read our TradingView Review.
---
23. Dark Pools:
The Rise of the Machine Traders and the Rigging of the U.S. Stock Market (added in 2019]
Best Book on Understanding Robo & Algorithmic Trading
Where are your investment retirement accounts IRA's and 401K's invested? In the stock market.  So it is vital you get an understanding of the current state of the stock market and what drives price fluctuations.
Scott Patterson takes on the task of educating us all in the rise of the machines and the artificial intelligence algorithms that run on them.  Whilst the book lacks details on how AI actually works, the discussion around the rise and impact of AI trading is enlightening and shocking.
As discussed in our stock market statistics research article, Bot's or AI algorithms are estimated to be responsible for 80% of stock market trading.
Learn more about AI and what you can do about it in this excellent book.
An absolutely compelling read.
---
24. No One Would Listen
Harry Markopolos
Best Book on Stock Market Fraud
"No one would Listen" by Harry Markopolos. This is a thrilling account of the rise and fall of Bernie Madoff and how difficult it was for Markopolos himself to get the Securities & Exchange Commission to take action.
I was on the edge of my seat during the book and exasperated for Markopolos. You have to see this only to understand the depth of the problem of trying to oversee the companies that take advantage of the lazy money.
Respect to Markopolos for his ordeal and for sharing this great story.  A gripping read.
Further Reading.