Our List of the Best Stock Market Movies Has Eye-Opening Financial Documentaries, Riveting Crash & Market Scam Movies & The Best Stock Market Stories Ever Told.
Learn, be astounded, and also disgusted at the behavior of the money-hungry elites. I guarantee you will be shocked by the true stories and even entertained by Hollywood.
The first section focuses on the best finance documentaries and true stories, and they are the most mind-blowing and insightful.
The second section covers the Hollywood blockbusters that focus on fictional finance and Wall Street; this is something your partner who is not into stocks might be interested in.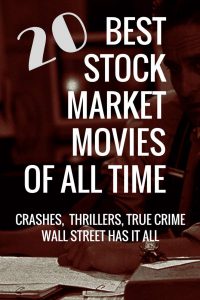 Top 5 Best Stock Market Movies Summary
Top 5 Best Finance Movies Summary
-
Top 20 Best Stock Market & Finance Movies Reviews
1. Inside Job: Financial Crisis Movie
Released: 2011
Won: 1 Academy Award – Best Documentary + Another 8 Awards and 26 other Nominations
The Best Movie About Wall Street Ever Made
Academy Award-winning documentary and, for me, the best movie on the financial crisis made. With high-profile interviewees and a fast-paced, gripping narration by Matt Damon, this film explains what happened leading up to the financial crisis and the level of fear and greed.  High profile interviews and great cinematography wrapped up in a gripping true story.
I have watched this movie three times and plan to do so again; this is not some boring documentary; this is a good movie in its own right. This is a definite must-see and is easily the best movie on the list.
2. The Corporation: Finance Documentary
Released: 2003
Won: 11 Film Awards – Category Documentary
An excellent movie charting the rise of the corporation as a person. The rise of the corporation accelerated after laws were passed, granting the corporation a legal status equivalent to a person. That means the corporation has rights, can buy property, has legal ownership.
So, if the corporation is treated like a person, what is the psychological status of that person? Is that person good for society?
The results of the evaluation are not good; corporations only care about profit and little about the consequences of their products or their impact on society and the environment. This movie is an excellent investment of your time and an excellent addition to your education.
Watch The Full Corporation Movie on YouTube
---
Beat The Market With MOSES Index ETF Investing Strategy
Outperform The Market, Avoid Crashes & Lower Your Risk
MOSES Helps You Secure & Grow Your Biggest Investments
★ 3 Broad Market Index ETF Strategies ★
★ Outperforms the NASDAQ 100, S&P500 & Russell 3000 ★
★ Beats the DAX, CAC40 & EURO STOXX Indices ★
★ Fully Coded Scripts for TradingView ★
★ Buy & Sell Signals Generated ★
MOSES Helps You Sleep Better At Night Knowing You A Prepared For Future Disasters
---
3. The China Hustle: Finance Documentary
Released: 2018
2 Nominations (New Release)
"Capitalism rewards those who work hard, but it also rewards those to take advantage of others" is the opening line of this disturbing movie.
There are many reasons why you need to see this movie.  Firstly it uncovers a real live scam that happened in 2018 in the U.S.A. on the stock exchanges.  It examines how, after the 2007 financial crisis, the next big thing has become investing in Chinese stocks.  Everyone wants to be a part and take their share of the China Story unfolding.
But it is difficult to invest directly in China, so in a scheming collaboration with U.S. investment firms, Chinese companies have found a backdoor into floating on the U.S. exchanges that avoid the regular checks and balances associated with an Initial Public Offering (I.P.O.).
The problem is the Chinese companies are scam companies with no real sales or business.  It is a scam the size of which we have not seen in the last 25 years and estimated at more than $200 Billion.  The movie also introduces you to the world of activist short-sellers.  It is a first-class movie.
"The biggest lie on Wall Street is, This time it's different."
4. Enron: The Smartest Guys in the Room: Financial Scam
Released: 2005
Won: 1 Academy Award Nomination + 3 other award nominations
Greed, arrogance, corruption, this movie has it all, or rather the board of Enron did.
See how the biggest scam of the 21st century developed and exploded. If you pay an army of high-priced lawyers to stand in the way of investigators and regulatory authorities, you can get away with a lot of financial crime.
The deepest insides of this scandal are exposed and laid bare for all to see in this high-quality movie.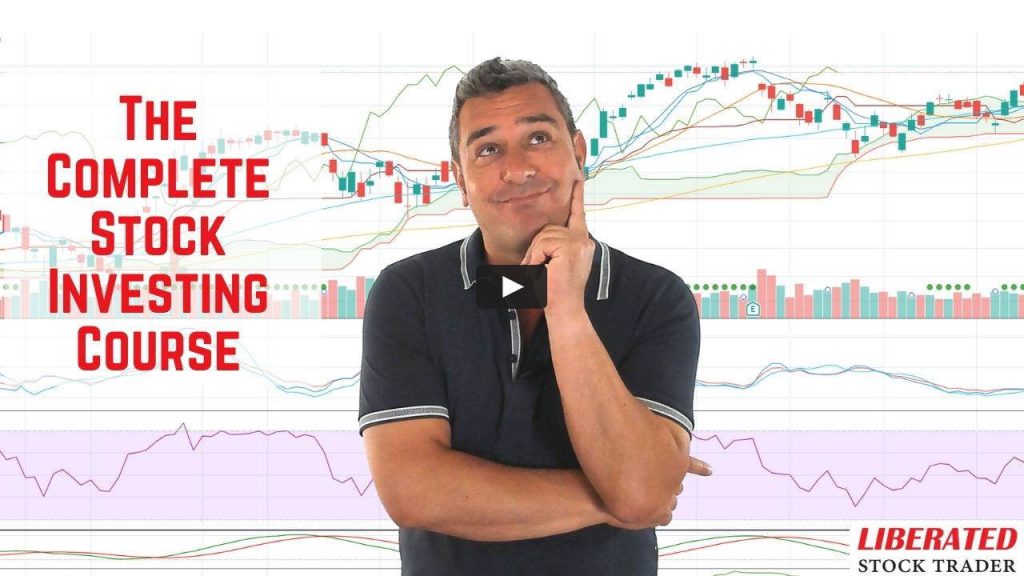 Liberated Stock Trader Pro Investing Course
★ 16 Hours of Video Lessons + eBook ★
★ Complete Fundamental Stock Analysis Lessons ★
★ 2 Powerful Value Investing Strategies ★
★ 4 Dividend/Income Investing Strategies ★
★ Professional Grade Stock Chart Technical Analysis Lessons ★
5. Capitalism: A Love Story: Finance Documentary
Released: 2009
Won: 4 Awards + 12 Nominations
The thing I like about Michael Moore is he fights for a cause and never shirks away from challenging the status quo.
Michael Moore is back and turning his critical gaze on Capitalism itself. Entertaining, thought-provoking, and ultimately a great watch, this movie is highly recommended.
The historical aspects of the movie and the implications of what he depicts are powerful.
An Example Quote: Rep. Dennis Kucinich: "Is this the United States Congress, or the board of directors of Goldman Sachs?"
You really should not miss this one.
6. The Big Short: Financial Crisis Movie
Released: 2015
Won: 1 Oscar & 37 other wins + 79 nominations
A great true story involving the few men who bet against the investment banks going into the 2007 financial crisis.
Lewis has a way of writing that adds great storytelling to the factual background of what went on before and after the credit crunch.
It is a really great movie that brings to life the failures of investment banks and institutions to even be able to understand the products they imaginatively create to try to make a profit.
A roller coaster ride with a stellar cast, well worth the time invested.
[Related Article: A Reliable System To Protect You From Bear Markets]
7. Barbarians at the Gate: Wall Street Movie
Released: 1993
Won: 2 Golden Globes + 6 other Wins + 16 Nominations
A true story focusing on the leveraged buyout of R.J.R. Nabisco.
A bitter battle ensues to take over this conglomerate. Ross Johnson, the C.E.O., wants to make a killing by purchasing the undervalued company from shareholders; however, the Wall Street investment professionals he hires start to become his competition in the buyout.
It is a "Greed is Good" grab for riches at its worst.
This classic shows what it is like on the inside of these mega-merger and acquisition deals that Wall Street firms thrive on.
8. The Ascent of Money: Finance Documentary
Released: 2008
Won: 1 International Emmy
Niall Ferguson traces the history of money and how it has grown from a tool to be able to trade goods and services more easily to a dominating factor in society.
How has money transformed the world we live in? You want to drink a coffee when watching this as it is a lot of information, and some of it may be hard going.
But, ultimately, this is a rewarding watch and gives us a deepened perspective on how and why our modern societies are structured and behave as they do.
Watch the Ascent of Money on YouTube Now
9. Chasing Madoff: Ponzi Scheme True Story
Released: 2010
Based on the great book "No one would Listen" by Harry Markopolos. This is a thrilling account of the rise and fall of Bernie Madoff and how difficult it was for Markopolos himself to get the Securities & Exchange Commission to take action.
I was on the edge of my seat during the book and exasperated for Markopolos. You have to see this only to understand the depth of the problem of trying to oversee the companies that take advantage of the lazy money.
With respect to Markopolos, a great book and a good movie with a solid cast and great acting.
10. The Wolf of Wall Street: Wall Street Movie
Released: 2013
Won: 38 Awards + 5 Oscar Nominations
Based on the book with the same name, this film is entertaining and well-directed – a real Hollywood blockbuster.  It focuses on the excesses of the character charismatically played by Dicaprio, but that somewhat misses the point.
The book (and audiobook) is even better and provides more insight into the catalog of mental issues, drug and alcohol-related challenges of Jordan Belfort in his rise from the street to being a Wall Street hotshot with personal jets, mansions, and empty life.
Top film & great book
---

Investing In Stocks Can Be Complicated, Stock Rover Makes It Easy.
Stock Rover is our #1 rated stock investing tool for:
★ Growth Investing - With industry Leading Research Reports ★
★ Value Investing - Find Value Stocks Using Warren Buffett's Strategies ★
★ Income Investing - Harvest Safe Regular Dividends from Stocks ★
"I have been researching and investing in stocks for 20 years! I now manage all my stock investments using Stock Rover." Barry D. Moore - Founder: LiberatedStockTrader.com
Get Stock Rover Premium Plus Now or Read the In-Depth Stock Rover Review & Test.
---
11. Rogue Trader: Trader Movie
Released: 1999
Based on the infamous Nick Leeson Book Rogue Trader, the film depicts how Leeson brought down Barings bank by taking huge risks in his role as a star trader for the firm.
This film shows you how little governance and risk management there was (and still is) at the top banks or, in fact, most banks.
A compelling and fascinating insight into a trader's mind and why we need strong oversight and controls as the psychology of any individual can be ruinous.
Watch Rogue Trader on YouTube
12. Too Big to Fail: Financial Crisis Documentary
Released: 2011
Won: 5 Awards + 3 Golden Globe Nominations
A rather depressing realization that the U.S. financial system is on the edge, this film, based on the book with the same name, is critical of Wall Street and the governments that are "supposed" to regulate it.
Strangely since the financial crisis, there have been no major changes to reduce the number of too big to fail institutions. This film allows you to see inside, try not to be shocked.
13. Freakonomics: Finance Documentary
Released: 2010
Won: 1 Nomination Warsaw International Film Festival 
A fascinating collection of filmed documentaries exploring human nature and that how we explain the world around us is rarely linked to the true cause.
These are excellent books and a watchable movie. It can be dry at times, but it does show how taking a different lens to economics, and the thought process can show different insights.
14. Floored: Trader Documentary
Released: 2009
From director James Allen Smith, this cult classic captures how it was on the Chicago Board of Options exchange floor.  It follows alpha male traders who tell it like it is, or at least how it was.
The march of technology has made floor trading largely extinct, with most trades happening electronically now.
But floor trading still exists, and a lot of money is still passed over the counter and on the floor.
Watch Floored on YouTube
15. Wall Street Warriors: Trader Documentary
Released: 2006
Insights galore here into the different roles on Wall Street, and although they earn a lot of money, the mental stress, and anguish of the jobs can crush a man.
A nice insight into the mentality of the people to whom you entrust your money, your portfolio, and, ultimately, your financial future.
If there was ever a lesson to trust only yourself, then this is it. I hope you can sleep after this.
Watch the Full Wall Street Warriors on YouTube
16. Banking On Bitcoin: Finance Documentary
Released: 2017
Banking on Bitcoin is a documentary film highlighting the birth of Bitcoin and the underlying technology that drives it, the BlockChain.
For anyone who is mystified by the technology and wants to learn more, this is a great starting point.
Solid interviews with BlockChain and Bitcoin enthusiasts round off the documentary.  Bitcoin and its hundreds of competing digital currencies are the darlings of traders.  But the fact is that in 2018 the vast majority of those who have invested in Bitcoins and others have lost huge amounts of money.
The ultimate investing bubble has been unwinding for the last year.  Learn more about this good documentary.
Stock Market Thrillers, Comedies, Fiction Movies
-
17. Margin Call: Stock Market Movie
Released: 2011
Won: 8 Awards + 1 Oscar Nomination
What happens when over-leveraged financial investment firms get a margin call. This film gives us insights into how fragile our financial system is and how close we can come to utter devastation during the shock waves of fear in the market.
Filmed in a 24 hour time window of chaos during the 2008 financial crisis, this is a real roller coaster ride you do not want to miss.
Watch the Full Margin Call Movie on YouTube
[Related Article: The Best Forex Brokers In The U.S.A. – Margin & Commissions]
18. Boiler Room: Wall Street Trader Movie
Released: 2000
Won: 1 Award + 9 Nominations
Focused on the lowest of the low, Pump, and Dump scheme operators, this film is excellent and gives an insight into the operations that are still around today.
This is a must-watch for those who want to experience how intoxicating the promise of huge wealth is and how it can corrupt anyone and devastate investors who get caught up in it.
I have watched this movie many times and still love it.
19. Wall Street: Wall Street Movie
Released: 2000
Won: 1 Oscar + 9 Other Awards
I am pretty sure you have seen this already, hasn't everyone?
Oliver Stone's Academy Award Winning blockbuster epitomizing the roaring 80's stock market of corporate raiders, this classic must-see movie creates an icon that every trader knows "Gordon Gekko."
"Greed is Good" is the mantra, and this cunning, ambitious, and morally vacant stockbroker will do anything to rise to the top and cash in the wealth.
20. Glengarry Glen Ross: Finance Fiction
Released: 1992
Won: 5 Awards + 1 Oscar Nomination
Quoted by many in the business as a classic in direct sales and the pressure of being on the phone and selling. Al Pacino, Jack Lemmon, Alec Baldwin, and Kevin Spacey make up this all-star cast.
What's not to love about this movie, apart from the fact it is dour, depressing, and down to earth.
A timeless cult classic.
21. Wall Street: Money Never Sleeps: Stock Market Movie
Released: 2011
Won: 1 Award + 1 Golden Globe Nomination
Gekko is out of prison and looks to be on the right path with his new book warning of ruin, but all is not as it seems.
A Gekko cannot change its stripes, and he is planning an almighty return to the top to fuel his ego and self-superiority.
Can he sacrifice his relationship with his family to get what he wants?
22. Arbitrage: Finance Movie
Released: 2012
Won: 4 Awards + 1 Golden Globe Nomination
I am not a big fan of Richard Gere, but strangely many people are!  This movie does focus on a Hedge Fund Manager trying to cover up his personal misdeeds.
The focus is not on hedge fund management but on a scum bag rich guy trying to get out of a crime he committed in typical Hollywood style.
-
Top 20 Stock Market Movies Video
-
We hope you enjoyed the review. Please leave your comments or favorite film feedback below.
Are You Looking For Stock Investing & Trading Software? Here Are My Favorites.
My favorite
software for trading
is
TradingView
because it does everything well. It has backtesting, great charts, stock screening, and an active community of over 3 million people sharing ideas, plus a free plan available globally.
My favorite
software for investing
is 
Stock Rover
, as it specializes in deep fundamental financial screening, research, and portfolio management. It is the ideal platform for dividend, value, and growth investing.
My favorite
software for stock market news
is
Benzinga Pro
, with its super-fast real-time news engine, squawk box, and news impact ratings.
My favorite
AI trading software
is
TrendSpider
which enables automatic pattern recognition for Trendlines, Candlesticks, and Fibonacci levels.
Trade Ideas
uses AI to generate high probability daily trading signals for auto-trading.
My favorite
stock-picking service
is
Motley Fool Stock Advisor
, which has a proven track record of beating the market with excellent stock research reports.
Read the Full Top 10 Stock Market Software Testing & Review