Are you looking for that perfect gift for the stock trader in your life? Our curated list of 21 gifts for traders provides inspiration for any special occasion.
You probably know that traders always seek an edge, insight, or something special. Stock traders are always reading, researching, and trying to find new ways to beat the market and make money. But they also love their workspace and their surroundings.
So what do you get for the stock trader who has everything or has not yet lost everything?
Here are 21 handpicked gifts for stock traders that will delight and surprise them.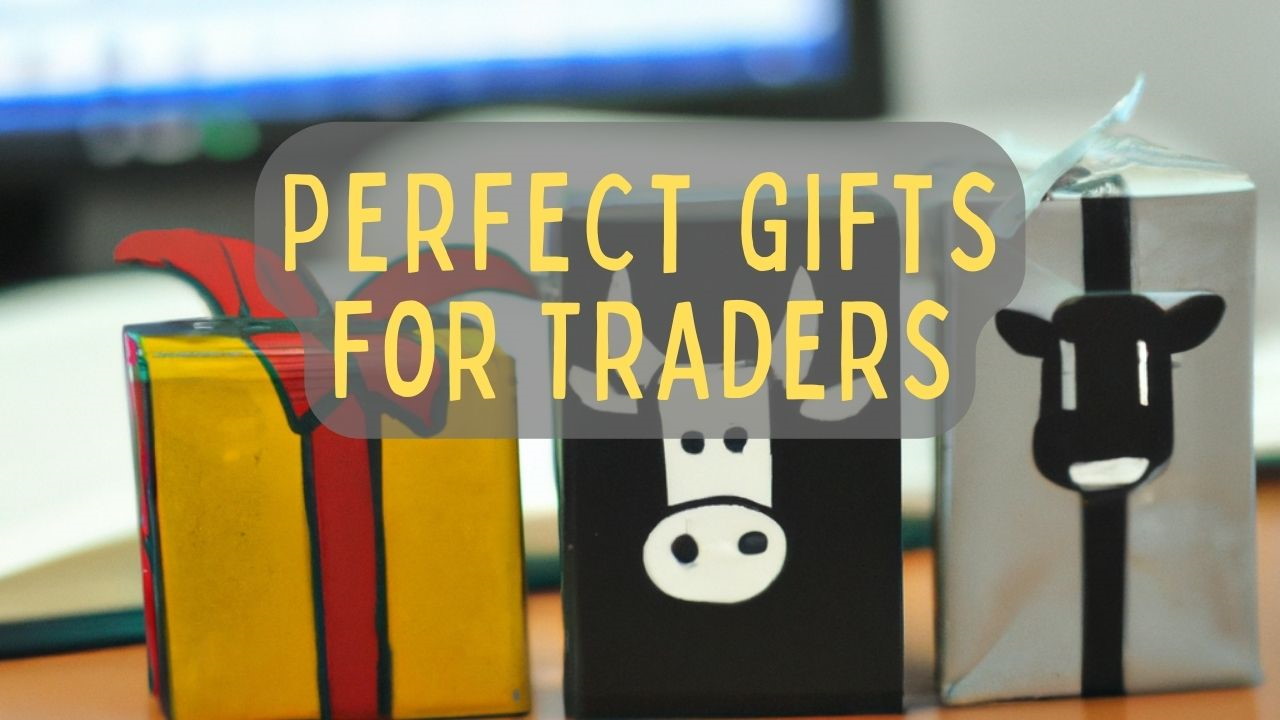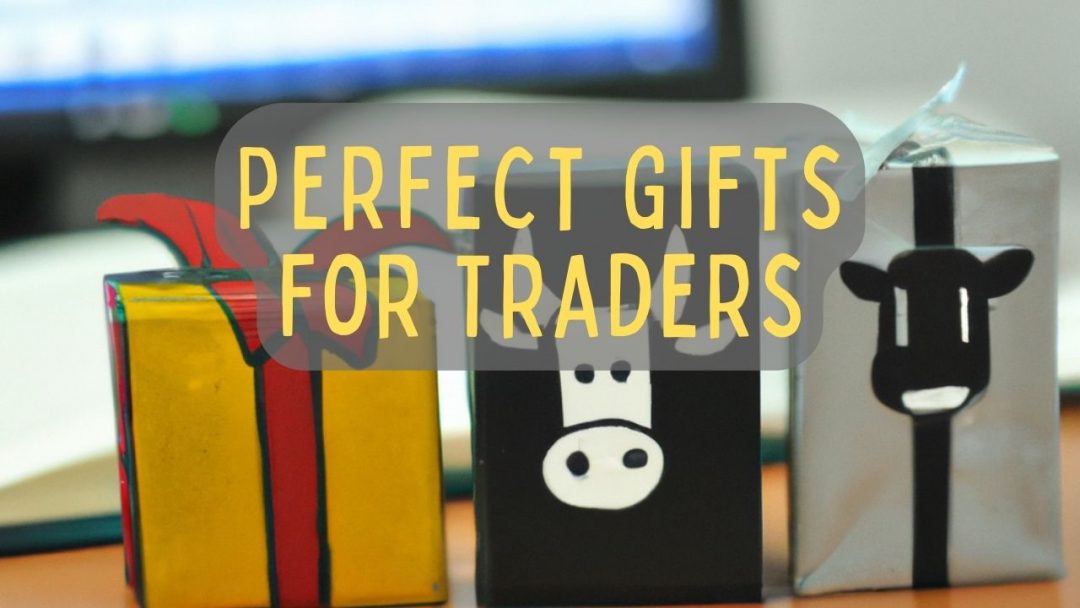 21 Perfect gifts for stock traders
1. Bronze Bull vs. Bear Statue
Are you looking for the perfect way to spruce up your favorite stock trader's office?
This unique brass statue is truly an object of desire and one of my favorite gifts on this list. This classic bull and bear is a beautiful reminder of the constant struggle in the stock market between the bulls who want prices to increase and the bears who are waiting for crashes. All stock traders are guaranteed to love this piece of art. I should know; I have one on my desk.
2. The Stock Exchange Game
What could be better than trying to beat your favorite stock trader at their own game? Perfect for Christmas, Thanksgiving, or any family get-together, this highly-rated board game is sure to create some drama.
Perfect for 2-6 family and friends and guaranteed to kindle your children's interest in stock market investing, this fun game will teach you how to retire rich.
3. Motivational Trading Mug
Every trader needs coffee to get them through the day, so why not gift your favorite trader one of these excellent coffee mugs? With ten different designs, you are sure to find a good match. I particularly like "The Stocksfather," but if your stock trader has ever mentioned Reddit, GameStop, or Wall St Bets, the mug to choose is the "To the Moon" design.
4. Day Trader T-shirt

What could be better for profits than a cool stock trader T-shirt? With many customizable designs, a trading T-shirt could be a low-cost, fast-track way to your favorite trader's heart.
My particular favorite designs are the Capitalism is King and the Diamond Hands T-shirt, which is a Wall Street Bets reference.
See more Trader T-Shirts Designs
5. Book Ends with Style
Every successful trader will have many books on charting, patterns, and investing strategies. These beautiful bronze Bull and Bear bookends help your trader's bookshelf stay organized in style.
I think you will agree; these bookends would grace any library.
With an Amazon 5-star rating, this gift will surely increase your stock.
6. Post-Modern Stock Market Battle Statue
This wonderful bull-bear battle statue is the one I wish I owned. This cold-cast bronze statue of the classic bull and bear has a metallic surface that is sure to impress.
The master artisan craftsmanship really brings this statue to life. At 6 1/4″ tall, it's the perfect size to display your favorite trader's desk to remind them that the daily battle is about to resume.
7. Solid Silver Bitcoin
If the trader in your life has ever mentioned bitcoin or cryptocurrency, don't worry, you don't need to understand the techno-babble. You simply need to gift them this 2022 1-ounce solid silver Bitcoin.
I love collecting silver coins, so trust me, this gift, unlike cryptocurrency, is a good investment.
8. Super Slim Pop-Up Leather Wallet
With all the money your favorite trader makes, they will need somewhere to store it. I am a huge fan of pop-up wallets, and I personally own two. There is something satisfying about pushing the clip and seeing your payment cards slide out of your wallet. I have selected this Vulkit pop-up wallet because it is made with high-quality leather, is super slim, and has space for good old-fashioned cash.
Get your favorite trader to demonstrate how the wallet works by buying you lunch.
9. Bull vs. Bear Painting
Being a stock trader is part art and part science. Why not give the gift of art with this beautiful handmade abstract bull vs. bear painting? Each painting is created especially for you, so each artwork is unique, just like your special trader.
10. Traders' Neon Sign
After a hard day trading stocks or crypto, your special investing genius needs to be reminded to sit back and relax. I love this tropical-style "It's 5:00 Somewhere" neon sign.
It is the perfect gift to remind your trader to go for a drink with their favorite gift giver. There are also neon Bulls and even customization services for neon lights for that personal touch.
11. Stock Trader Starter Kit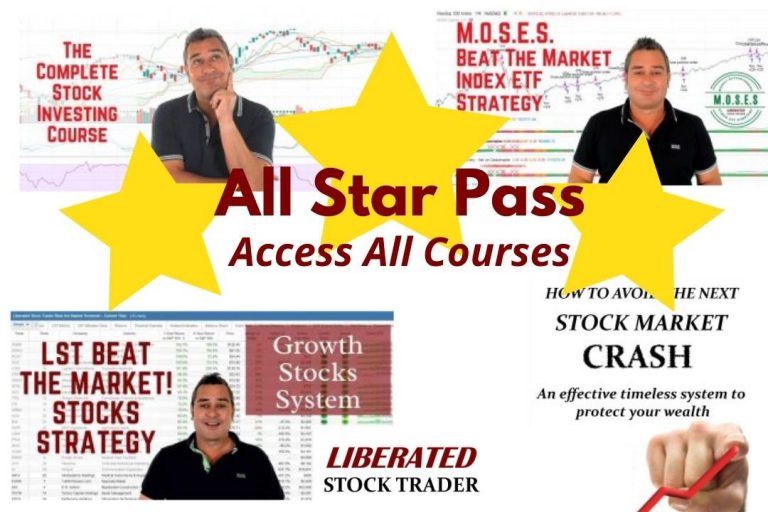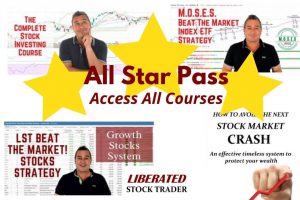 If you want to improve your newbie trader's chances of success, our Traders Starter Kit is the perfect way to go. The All-Star Pass provides lifetime access to our Pro Investor Training, our MOSES ETF strategy, and our Beat the Stock Market System.
Your favorite trader will love you and this font of trading wisdom. With 20 hours of video training, eBooks, tools, and full support from myself, this is the ultimate trading gift. The All-Star Pass grants a 50% discount and a 90-day risk-free refund, so you can rest assured it's the gift that keeps on giving.
12. Stock Trader Laptop Screen Extender
Every trader needs more screen real estate for their stock charts and news feeds. In fact, trying to trade effectively on a laptop is nearly impossible. Be your favorite trader's superhero with this OFIYAA P2 PRO Triple Portable Monitor for Laptops.
The high-quality aluminum casing and USB C connectors make this a durable and future-proof solution, not to mention it looks great.
13. Day Trader Mouse Mat
The trader in your life probably spends way too much time on their computer. So why not gift them something that will always remind them you still exist? This day trader mouse mat looks great and includes a few handy stock chart patterns. Who knows, it might make your trader bullish on you.
14. Adjustable Standing Desk

It's no secret trading financial markets keeps you at your desk. If the trader in your life complains about backache, you can give the gift of pain-free trading. I personally have a standing adjustable motorized desk, and it is a life changer.
This dual motor desk looks elegant, has space for multiple monitors, and is very highly rated.
15. Ultra-wide Monitor

Big traders have big screens. The ultimate tool for the trader in your life is this 34-inch ultra-wide monitor. It is not only perfect for multiple stock charts and real-time news streams, but it doubles as a super-fast gaming monitor.
Give the gift of vision, and your trader will be going to the moon.
16. Traders Magazine
There is only one magazine for true stock traders. Established in 1982, "Technical Analysis of Stocks & Commodities" (TASC) magazine is a comprehensive resource for stock traders, ideal for learning about technical analysis and trading all assets. It includes articles on various topics, such as chart patterns, indicators, and strategies. The magazine includes interviews with successful traders and reviews of trading software and books. Whether you are a beginner or an experienced trader, the technical analysis of a stocks magazine is the best.

17. Dark Pools
Dark Pools provides a chilling yet critical lesson for your stock trader. Dark Pools helps you to understand you cannot compete with the machines. Machines make 80% of stock trades; how can you compete?
Dark Pools is an excellent book detailing how robots manage your investments and that AI algorithms execute 80% of all trades.
The book Dark Pools tells the story of the rise of these mysterious markets and the battle between the New York Stock Exchange and the upstart electronic exchanges to control them.
18. Reminiscences of a Stock Operator
Reminiscences of a Stock Operator, written by Edwin Lefèvre, follows the life and career of Jesse Livermore, a stock trader from the early 1900s. Livermore was a successful trader in his time, making and losing millions of dollars, and his story provides valuable insight into the world of stock trading.
The book offers advice on topics such as when to buy and sell stocks, deal with losses, and stay disciplined in the market. Reminiscences of a Stock Operator is considered one of the most important books on stock trading and is still relevant today.
19. Technical Analysis of the Financial Markets
All great traders have a copy of this book. John Murphy's "Technical Analysis of the Financial Markets" is the bible of using technical analysis to trade stocks, bonds, and commodities.
The book covers everything from interpreting charts and trend lines to more advanced techniques such as Elliott Wave analysis. Murphy provides real-world examples to illustrate how technical analysis can be used to identify and trade market opportunities.
20. The Intelligent Investor
One of the most inspirational and important investing books ever written. Benjamin Graham's The Intelligent Investor is the bible for long-term investing success. The book covers common investing mistakes, the four essential rules of investing, and how to find undervalued stocks.
Benjamin Graham, the greatest investment advisor of the twentieth century, taught and inspired people worldwide. Graham's philosophy of "value investing" shields investors from substantial error and teaches them to develop long-term strategies. The Intelligent Investor has been the stock market bible since its original publication in 1949.
21. How to Make Money in Stocks
The special trader in your life needs a copy of this great book in their life. It is one of my favorite trading books and is at the top of our stock market books list.
"How to Make Money in Stocks" by William O'Neil teaches readers how to make money in the stock market. The book is divided into four sections: understanding stocks, buying stocks, selling stocks, and protecting your profits.
O'Neil provides readers with a wealth of information on investing in stocks, including finding profitable opportunities and avoiding costly mistakes.