If you are looking to really learn how the stock market works, then you are probably looking around for a Stock Market Training Course. There are many training courses out there, but there are a few things you need to know before selecting the right one for you.
Most stock investing training focus only on Technical Analysis; that is only one side of the equation.
1. What Is Technical Analysis
Technical Analysis is the study of supply and demand in the stock market by comparing the history of stock price movements and volume (the number of shares traded).
Understanding how the price moves in relation to the Open, High, Low, and Closing Prices on a given minute, hour, day, week, or month and comparing that to the volume can give an insight into future market direction. The data required is usually displayed in a Stock Chart, so it is easily consumed.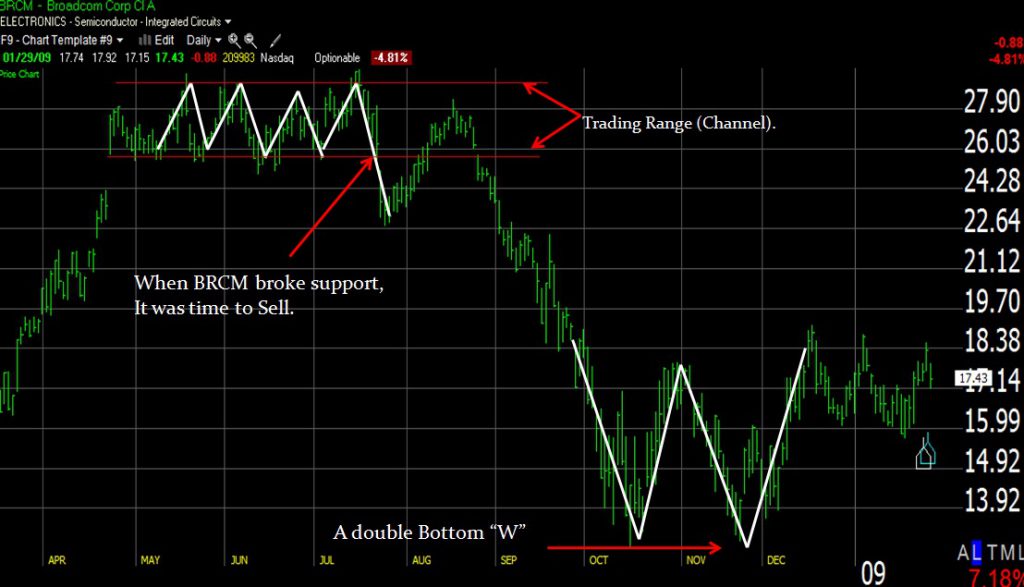 2. What Should a Technical Analysis Course Cover
All of these elements of Technical Analysis are viewed using stock charts.  Technical analysis is very visual, and it aims to interpret and predict the future movements of stock price by using historical information on supply and demand.
Supply & Demand – Stock Price Movement vs. Volume
Trend Following – understanding what trends are, will they continue, or will they change direction?
Waves & Cycle Analysis – understanding how markets move
Stock Charts – Price – plotting price in charts to understand the Stock, Share, or Market Index history using Bars, Candlesticks, or Point and Figure Charting.
Trend Interpretation – Drawing Trend Lines – Support and Resistance Lines
Price Indicators – the study of price based chart indicators or Oscillators know as Stochastics, "Relative Strength Index" (RSI), "Rate of Change" (ROC), "Moving Averages" (MA), "Moving Average Convergence Divergence" (MACD), Parabolic SAR, ADX Average Direction Movement Index.
Study of Volume – understanding how the level of volume has a relationship with the price – and how the price has a relationship with volume.
Study of Price Volume Indicators – "On Balance Volume" (OBV) and Chaikin Money Flow.
Market Sentiment – understanding the madness of crowds.
3. The Positives of Technical Analysis Courses?
If taught correctly, technical analysis training can help you understand one side of the stock market equation. This is the "effect" part of the cause and effect equation.
Technical Analysis Courses Cover:
the What – What has just happened in the market
the Effect – What will be the effect of what just happened
the Market Action – what is happening "real-time" at the moment (strength of buying and selling)
the Price – what direction will it go, up or down
the Trends – will price continue in this direction
4. Where Do Technical Analysis Courses Fail?
Most stock market training courses focus exclusively on Technical Analysis; this can be misleading. I support technical analysis and am a Certified Technical Analyst with IFTA; however, having only an understanding of technical analysis can cause problems for the trader or investor.
The main problems with technical analysis courses are:
No grasp of economics – no understanding of life's basic economic facts can cause an investor to be trading in a business or economic climate that is fundamentally bad, reducing any probability of success.  If the business climate is bad, most stocks will fall, so catching a rising stock to make a profit is low.  You would need to adapt your strategy based on the economic and business situation.
No grasp of company fundamentals – trading the stock in a company on the edge of financial suicide reduces the odds of success if you are buying long (to make a profit if the stock goes up). Of course, if you are shorting a stock, you also need to understand the financial situation of a company.
Too Expensive.  Many Stock Market Courses cost more than $1,000 or even $4,000 for 2 to 4 days of training.  It need not be so expensive, but it is considered a premium area of knowledge.  The Liberated Stock Trader Pro Training is extremely cost-effective and allows you to study and restudy at your own speed you full instructor-led video training and a print book to back it all up.  It also covers all the important topics that a certified stock market analyst needs to know.
5. A Complete Stock Investing Education Needs to Include:
Economic Health & the Business Climate – this determines your investing strategy, buy & hold, short-term trades, selling short, or investing in cyclical stocks.
Company Fundamental Analysis – how to determine if a company is financially fit and healthy and worth an investment
Risk Management – there are special techniques to risk management, cutting losses, how many stocks to invest in, how long to hold, when to buy
Portfolio Management – How many stocks should you own to be diversified enough, what industries do you invest in, what Exchange Traded funds do you invest in.
Tracking Trades – how often should you check your stocks, hours, daily, weekly, keeping a detailed log. How should you track your trades, why did you buy them, how many stocks did you buy, why did you exit the stock.  This enables your continual learning.
Creating a system – essential.  What are the criteria you use to screen for stocks?  Do you select companies with strong EPS (earnings per share) growth and a low P/E (price-earnings ratio), meaning they are fast-growing and undervalued?  Or, do you go with technically strong stocks on the chart, displaying strong short-term buying for a quick trade.  Which indicators suit your system the best?
Psychology – how do you handle the trade.  When you have invested your money in stock, the game changes from passively watching to being actively involved.  Your investment win/loss moves up and down.  When it lurches down, you feel negative; you feel like a hero when it moves up.  You need to be able to understand these emotions, or they may cloud your judgment.  Establishing under what circumstances you will sell the stock before you even buy the stock will help remove some emotion from the trade.
Technical Analysis Course Summary
Now you know what to look for when deciding on a stock market education provider. Ensure the Technical & Fundamental Analysis is there, combined with a splash of economics and a good dose of Money Management, Risk Management, and Psychology / Mindset.
Next Steps
Take a Tour of our Liberated Stock Trader PRO Technical Analysis & Fundamentals Training
This video will give you an idea of what to look for in a good training course.

Do you want the knowledge to invest with confidence?
Buy the Liberated Stock Trader PRO Training Package and receive 16 hours of video lessons and the Liberated Stock Trader Book - fast forward your future.
Guiding you through the maze of stock market investing to give you a uniquely practical and comprehensive knowledge of the
4 Pillars of Success
FUNDAMENTAL ANALYSIS - Learn how to analyze the health of the business climate and how to find great companies using our practical stock screening guide.
TECHNICAL ANALYSIS – Chart Reading is not Voodoo, it is science. YOU will gain an incredible understanding of expert charting techniques, covering the most important methods, indicators and tactics, to enable you to time your trades to perfection.
MONEY MANAGEMENT – Understand how many stocks to buy, when to buy them, how much to invest and when to sell using expert stop-loss strategies.
STOCK MARKET STRATEGY – Develop your own stock market strategy and learn how to create your own winning stock system.
This incredible package includes:
The Liberated Stock Trader eBook - Over 200 pages of workbook covering every lesson
16 hours of video lessons for PC, MAC, iPhone, iPad & Android phones


Chapters from the Liberated Stock Trader PRO Training Course.
These excerpts are from the Pro Training Book and covered in our videos also.  They should give you an idea of the quality of content and lessons you should expect from good stock market training.
Chapter 1 – Essential Stock Market Knowledge – Fundamentals
This chapter sets the stage for the two key stock market technical analysis areas and the fundamental analysis of companies, including macro and microeconomics.
Chapter 2 – What Really Moves Markets – Why do Booms and Busts Occur?
This chapter looks at what REALLY makes the markets move, what causes boom and bust cycles, and how to spot them.
Chapter 3 – How do markets move? – Stock Market Cycles – Business & Economic Cycles – Kondratieff to Kuznets
What are the stock market cycles and the cycles of business and economies?  Important information that you need to appreciate as part of your core analysis.
Chapter 4 – Is the Company in great shape – P/E Ratio.
Next, we move into fundamental analysis and the financial fitness of a company.  All the major indicators and measures are covered.
Chapter 5 – How to find the best stocks
Stock screening means using criteria to shortlist the kind of stock that you want to purchase.  A vital part of any stock market training
Chapter 6 – Chart Reading made easy – Japanese Candlesticks – Bullish Reversal Patterns
Once you know the business climate, the economy's state, and you have shortlisted the stocks you want to buy.  The next thing to do is technical analysis.  Even if the company looks great on paper, you do not want to buy it until it has bottomed out if the stock price is plummeting.  This is called catching a falling knife.  This is what chart patterns and technical analysis help with.
Chapter 7 – Trend Lines and Price Patterns – How to draw trend lines
Here we get into the art of drawing on charts to help you visualize the Supply and Demand on the stock, the direction of the trend, and estimate how long the trend will last.  Vital for you to establish buy and sell signals.
Chapter 8 – Chart Indicators are your friends! – ROC Rate of Change Indicator
Which indicators should you use? There are literally hundreds of stock chart indicators?  Each has a specific use case and application; which should you use?
Chapter 9 – Chart Indicators Volume – The Price-Volume Relationship
Volume is a vital indicator along with the price.  Both of these you need to understand in granular detail; you will learn everything you need to know.
Chapter 10 – Advanced Stock Charting Techniques Parabolic SAR
Moving to the advanced technical analysis, we cover indicators such as parabolic SAR and point & figure charts.
Chapter 11 – Sentiment Indicators & Trading the News – How to trade the news
How are the market participants feeling?  Positive, Negative, or indifferent.  Consider that 90% of people fail to beat the average market returns; sentiment indicators can be a great contrary indicator.  Learn how to use them to your advantage.
Chapter 12 – Trading Strategy – What type Of Investor are you?
Understanding how you want to invest, how much time you have, and your time horizon.  These questions help you understand what type of investor you want to be; this enables you to select the right strategy.  Then we move on to building your stock investing system, a critical element of your plan.