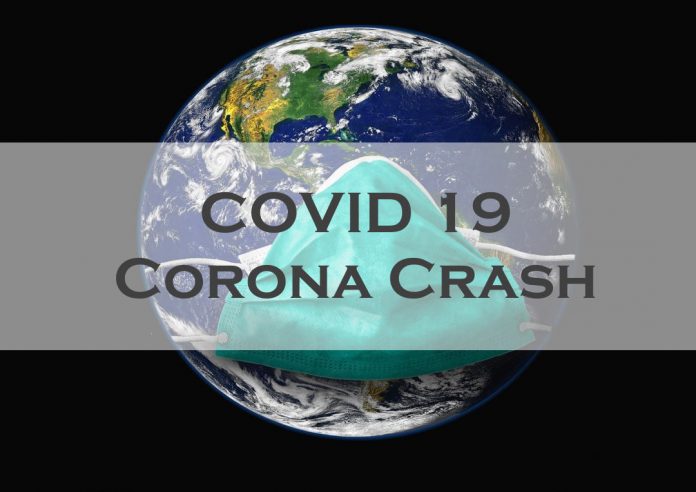 ---
March 26th, 2020
S&P 500 – Jostling for Support With a Vicious Bear!
t seems with the huge amount of macro-economic news providing fiscal and monetary stimulus the market might be trading to establish a trading range between 2,100 and 2,600 points.
Very early to say as right now as one bounce does not make a trend.
I am surprised the massive jobless claims news today has not had more of an impact.
Market Outlook.
A previously mentioned, I set 4 targets for the S&P 500 crash.
Target 1: Break of the 2019 Bull Run Support – Achieved
Target 2: Break of the 2008 Bull Run Support – Achieved
Target 3: Retrace to 2014 Stock Market High at 2140 points – In Progress
Target 4: Deep Value Zone – This is where we move down to the 2000 and 2008 stock market peaks.
Interestingly if we were to evaluate market direction according to Dow Theory it would be.
Long Term – Uptrend
Medium Term – Sideways
Short Term – Downtrend
If this market turned around from here it would be a miracle, I don't believe in miracles.
Outlook – Full Bear Market – Short.
---
March 25th, 2020, Pre-market
Is Gold a Good Safe Haven in Stock Market Crashes
Gold is widely perceived as the best safe haven for your capital as the stock market goes through a bear market correction or crash.  But is this really true?
For gold to be a good hedge it would need to move in the opposite direction (have a negative correlation) to the broad market index, in this case, the S&P500.
Looking back 15 years we can see this is not the case for Gold (GLD) versus the market.
2005 to 2007
Gold out-performs the S&P500 with 52% gains compared to 25% for the S&P500
2007 to 2009
During the Financial Crisis, Gold provided a good safe haven for 7 months until it lost all of its gains.
2009 to 2020
The S&P 500 goes on a staggering bull run making 481% to January 2020
Gold makes 138% from 2009 to 2012 moving in correlation with the market, then suffers a serious crash wiping out 42% of its value.  The crash and stagnation lasts 8 years.
Gold is still 13% lower than its previous all-time high.
My Observations
Gold might provide a very temporary solution as a safe haven during the early part of a stock market correction.
During the Credit Crisis, Gold should have been a perfect store of value because as it seemed the Fiat Currency system was failing gold would have been a great replacement currency along with silver. But that did not work out.
Gold is only a safe haven is people think it is.
Since the 2009 market bottom, Gold has increased by 65% and the SP500 232%
Would I use Gold as a safe haven? Personally no.
Not based on this evidence.
But in the short-term, it may provide relief until people stop believing.
What is a good alternative? Holding cash and dollar-cost averaging into the market again as we near the bottom.
---
March 24th, 2020, Pre Market
Corona Crash, How Much Will We Lose? How Long Will It Last?
With the current stock market collapse, inevitable parallels are drawn with previous stock market crashes.
Each crash is unique in its own way, with different causes and different market and governmental responses.
The Corona Crash is unique in that it is the most violent and volatile crash so far on record. So far it is not the biggest crash, nor of course the longest crash, but the ferocity is unparalleled.
Using the prediction and measurement tools available in TradingView I have mapped the previous crashes for comparison.
Anatomy of Crashes.
1929 Great Depressions: Lost 83%, Crash Duration 2010 Days, Full Recovery 24 Years
1973/4 Oil Crisis: Lost 35%, Crash Duration 700 Days, Full Recovery 7 Years
1987 Black Friday: Lost 35%, Crash Duration 61 Days, Full Recovery 2 Years
2000 Dotcom Crash: Lost 49%, Crash Duration 944 Days, Full Recovery 7 Years
2007 Credit Crisis: Lost 58%, Crash Duration 485 Days, Full Recovery 7 Years
2020 Corona Crash: Lost 33%, Duration So Far 28 Days, Full Recovery???
So, what can we learn from the historical stock market collapses?
The quickest market recovery was 1987 Black Friday which took 2 years. The last two crashes in 2000 and 2007 took 7 years to recover.
The Corona Crash is so far most similar in nature to the 1987 Black Friday Crash. This could mean that if our governments and central banks manage monetary and fiscal policy optimally, we might be out of this disaster in 2 years.
We are heavily dependent on vaccine development and deployment and even the most optimistic estimates of delivery date are November 2020, but realistically we are talking about 12 to 18 months.
This bear market will not go away anytime soon. We may see some stabilization, but bear markets to not disappear overnight. Additionally, typical market recovery, meaning the index reaches and new high (surpassing the pre-crash high) is between 2 years and 7 years.
Stock Market Crash Statistics
Average Duration 2 Months to 3 Years
Average Full Recovery 2 to 7 Years
Average Loss 35% to 58%
Not great news, but I hope this helps to prepare you mentally for what is to come in this Black Swan Event.
---
March 21st, 2020 Weekly Wrap
Catching a Falling Knife – Trying to Go Long on the SP-500
With our everyday lives being severely restricted, the new reality of a massive economic impact raises its ugly head.
The ferocity of the market collapse makes this different from all other market crashes we have seen before.
We have now entered target 3 and are about to wipe out 12 years of gains on the S&P500.
Breaking down through the 2000 points support will see us enter the value zone.
But what is value to you?
You could re-enter the market under 2,000 points to watch your investments deteriorate by another 25% down to the year 2000 and 2007 stock market highs at 1,500 points.
This market shows NO SIGN of stabilizing as you can see from the long-term weekly chart.  The daily chart is equally as horrific.
The new support level has not been found.
I expect a fall through into the value zone and potentially to 1,500, but it all depends on how quickly we emerge from the crisis.
Don't Try to Catch a falling knife.
NASDAQ 100 – Is the worst yet to come? Probably.
With lockdowns spreading around the world almost a quickly as the virus, the new reality is a severe recession.  Seeing China start to theoretically emerge from a state of emergency gives us hope.  But I say theoretically because the expulsion of foreign journalists suggests the Chinese government has something to hide.
We have now entered phase 2 of the crash which sees an imminent break of the 4-year support line at NDX 6723 points. Potentially a further break down towards the 10-year support at 5,700 points.
At below 6,000 points, I would see deep value with 10 years of gains being knocked off the market capitalization. That deep value zone stretches a long way down to 4000 points which is below the year 2000 dotcom highs.
Realistic expert estimates suggest our social lifestyle and working practices will be impacted at least through to autumn or even the end of the year.
Government commitment to support our economies are admirable, and we should expect to see a mass devaluing of currencies as more paper is printed.
Here's hoping that humanity's response and the response of our pharmaceutical industries are so strong we bounce back quickly.
But we must be realistic.
During this crisis, we are seeing the best and worst of humanity. The best being the bravery of our health care professionals and the acts of kindness we bestow on each other. The worst being people panic buying facemasks and stealing sanitizer from hospitals, depriving our doctors and nurses of critical products.
Some people are even people selling toilet roll and facemasks on eBay for extortionate amounts which is disgusting.
---
March 17th, 2020 – Pre Market Open Update
NASDAQ Could Lose 20 Years of Gains
The use of technical analysis can be extremely enlightening when trying to evaluate where a new bear market might end.
I am currently in cash, and I am working on understanding where the value zone is for stocks.  The value zone is the area where the supply and demand equations shift from fear to greed.
Right now, the market is in freefall and even the Philippines has closed their exchange indefinitely.
Interestingly it took the NASDAQ 100 16 years to recover from the DOTCOM 2000 crisis.
Since then 2008 bottom is has risen an incredible 804%
So, from that meteoric rise, it is a long way down.
The NDX100 has lost 27% so far and has broken through the 2018 support and I am sure will break the 4-year support line soon.
There is a possible 32% further drop back down to the year 2000 high which would wipe out 20 years of gains.
I would see great value when the Nasdaq 100 drops under 6000.
Technical analysis comes with some caveats that many technical analysts will not discuss:
Government intervention massively impacts the supply and demand equation.
Drops in Interest rates and a nearly $1 Trillion Emergency fund will change the outlook.
Ultimately the governments need to protect people, protect jobs and ensure the sick are looked after. That is more important than money.
I wish all of you and your families good health and wish you all a happy lockdown as our civil societies go into isolation.
---
March 16th, 2020 – Pre Market Open Update
Corona Crash – The US Wakes Up to a New Reality
With lockdowns and quarantining spreading across the globe as quickly as COVID 19 there will undoubtedly be a severe economic impact as wealth as an impact on our society. With high profile sports stars, politicians and actors contracting the virus, the new reality is setting in.
I believe this will be the most volatile stock market crash in history.  Panic and fear are gripping the globe and certain industries such as travel, leisure, sports, and events will all be severely impacted. Typically tourism and dining contribute to about 5% of GDP according to the Economist Magazine, so this might mean we drift into a technical recession this year, but it will hopefully be short-lived.
There is strong evidence that China is already bouncing back with the CSI 300 only registering a 5% loss in 2020 compared to the other major indices losing at least 20% so far.
The good news is that central banks and governments are reacting economically very well slashing interest rates and creating emergency response budgets to help keep businesses afloat.
The bad news is that the US response to testing and quarantine is too slow and the weaknesses of the US healthcare system are seriously exposed, which will prolong the economic impact of the virus.
This may be the most volatile crash in history, but it may also be the most short-lived and quickest recovery.  It depends on the speed to deliver and deploy a vaccine, so we can all resume our normal routines again.
Systemically, we are OK, goods are still flowing, and there are no large job losses announced so far.  As long as governments support the businesses and those who are suffering we should hopefully come out the other side relatively unscathed.
Market Outlook.
A previously mentioned, I set 4 targets for the S&P 500 crash.
Target 1: Break of the 2019 Bull Run Support – Achieved
Target 2:  Break of the 2008 Bull Run Support – Achieved
Target 3: Retrace to 2014 Stock Market High at 2140 points – In Progress
Target 4: Deep Value Zone – This is where we move down to the 2000 and 2008 stock market peaks.
I think we will not break through Target 4 support IF we manage to deploy the vaccine and support our businesses against mass redundancies and bankruptcy.
And that is a big IF!
---
March 11th, 2020
Corona Market Crash Update – Target 2 Achieved – What Next?
Update from my post on 28th Feb, target 2 is achieved.
The question is how low can it go?
Back to 2015 levels, back to 2008? Probably.
No amount of stimulus is going to make companies profitable again in the short term.  The stimulus needs to target consumers, but if they cannot go out and spend it or it cannot be delivered then what?
Depending on your trading or investing style this is a great market or a terrible one.
Trading Short Side – Brilliant
Trading Long – Terrible
Investing Long and still in the market – Terrible
Pulled all money out of the market (me) – Brilliant
The smart money is waiting for the value zone, that zone will vary for specific stocks, but once COVID 19 is under control we should see a sharp bounce back.
---
February 28th, 2020
US Stock Market Today: Corona Crash, What to Expect? What to Prepare For?
The Coronavirus is a big macro-economic issue.
The Coronavirus is going to cause a significant dent in global output and trade.
Infection rates are rising across the globe. Countries are taking measures to curb the spread, the next steps will be closing schools and those who can work from home will work from home.  But huge swathes of the population who need to go to work might be sent home to stop the spread, this will mean big corp profitability will suffer significantly.
The 11% drop in 6 days on the S&P 500 is a very violent stock market shock.
The financial crisis in 2007 lost the stock market 43% in 18 months.
One should prepare now for at least another 10% drop in the S&P over the next weeks.
A worst-case scenario looks to be an additional drop to the 2007 and 2000 market tops (the long red horizontal line) which would mean a further 38% drop.
This all depends on how we contain the virus.  If we contain it well and soon, expect a strong bounce back.  If not expect further decline.
Batten down the hatches.