Learn Stock Trading & Investing, Improve your Profits & Make Better Investment Decisions – Professional Training from a Certified Market Analyst
High Quality, Unbiased, Trustworthy Stock Market Education for the Independent Investor.
Get the knowledge you need with our educational services designed to meet your needs.
Our Educational Products

Click Image For Further Information

Product




Trading Academy Free




Course 102 Stock Market Investing




Course 103 Technical Analysis




Liberated Stock Trader PRO
Print Edition + Digital Edition eBook
Most Popular

Live Mentoring Sessions


Per Hour

Content




Over 90 Articles + Videos 
+ 2 eBooks
Short Course designed to provide an in-depth introduction to the stock market

+ Course Quiz
Short Course designed to give an in-depth introduction to technical analysis

+ Course Quiz
A complete stock market training course 16 hours of video lessons
+The Liberated Stock Trader Print Book
(ISBN 978-1460956021)
Personal mentoring via Skype, Telephone, or in person

Online Video Training



✔

Skill Level

Beginner
Beginner
Beginner
Beginner to Expert
ALL

Price

$ 0 (Free)

$ 0 (Free)

$ 0 (Free)

from $239

Quote

Further Information

Start Now
Start Now
Start Now
Find Out More
Find Out More

Money Back Guarantee

90 days

90 days

Click Image For Further Information

Knowledge Level

Beginner
Beginner to Intermediate
Beginner to Intermediate
Beginner to Pro
Beginner to PRO
Fundamental Analysis
✔
✔
✔
When to buy & Sell
✔
✔
✔
Fundamentals made easy
✔
✔
✔
✔

Intermediate + Pro Level

✔
✔
What Really Moves Markets
✔
✔
Market Cycles & Waves
✔
✔
✔
Advanced Business Fundamentals
✔
✔
✔
Expert Stock Screening Finding Great Stocks
✔
✔
Fast Growth Companies
✔
✔
Blue Chips
✔
✔
Cyclical / Turnarounds
✔
✔
High Dividend Returns
✔
✔
Core Stock Charts / Technical Analysis
✔
✔
✔
✔
✔
Advanced Stock Charts
✔
✔
✔
Advanced Chart Indicators
✔
✔
✔
Stochastics, RSI, MACD, ADX, Market Sentiment, News
✔
✔
✔
Advanced Trading Strategy
✔
✔
Millionaire Strategy
✔
✔
Using Compounding
✔
✔
Trading Psychology
✔
✔
Market / Sector Analysis
✔
✔
Timing Trades
✔
✔
✔
Stop Losses
✔
✔
Cash Allocation
✔
✔
Risk vs. Reward
✔
✔
Creating a Master System
✔
✔

Further Information

Start Now
Start Now
Start Now
Find Out More
Find Out More
-
Go PRO with our very best integrated learning experience complete with: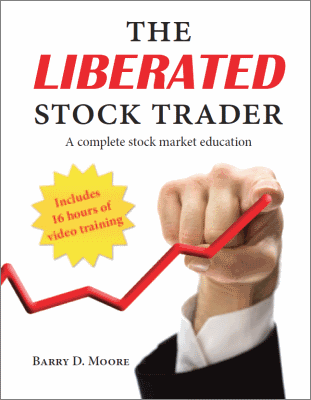 29 Video Modules [over 16 hours] + Print Book & eBook – The Liberated Stock Trader + Exclusive Private Masterclass Facebook Group Access
FUNDAMENTAL ANALYSIS – Learn how to analyze the health of the business climate and how to find great companies using our practical stock screening guide.
TECHNICAL ANALYSIS – Chart Reading is not Voodoo; it is science. YOU will gain an incredible understanding of expert charting techniques, covering the most important methods, indicators, and tactics, to enable you to time your trades to perfection.
MONEY MANAGEMENT – Understand how many stocks to buy, when to buy them, how much to invest, and when to sell using expert stop-loss strategies.
STOCK MARKET STRATEGY – Develop your own stock market strategy and learn how to create your own winning stock system
Skip the Free Training Courses! Upgrade to Pro & Fast Track Your Skills
-
Our Amazon.com Reviews
-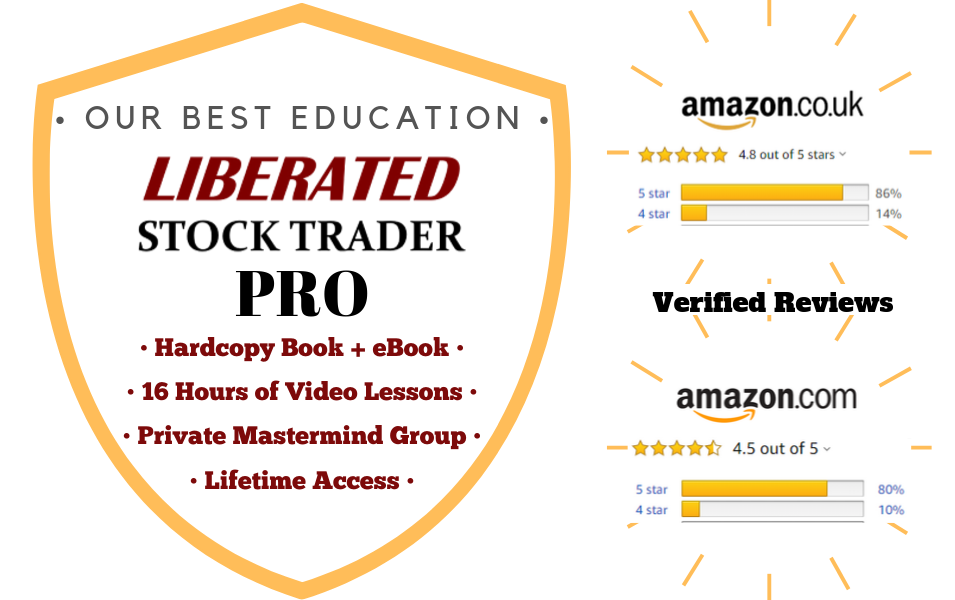 Jeff S. U.S.A – "5 Star Beginning Trader Book"
"I recently retired and plan to manage my own portfolio so have been trying to educate myself on how to do it with confidence and success… I wholeheartedly recommend the Liberated Stock Trader PRO training package that includes the book and 16 hours of video to anyone thinking of entering the market or veteran players that never really took the time to learn how to play. It was money an time well spent. I'm sure I will be using this book as a desktop reference for quite some time."

David Dambrowski. South Africa – "All in one Trading Solution"
"What makes this book unique is that it comes with 16 hours of (video) lessons which is priceless, allowing you to review any part of the course at your own time. I have never learned so much in such a short time before. After completing the entire program, my confidence and skills levels have improved tremendously. I am able to make informed decisions on my own without having to rely on the experts. My entry and exit positions are no longer based on emotions; they are now based on my trading strategies and skills that I've learned."

"The Liberated Stock Trader – Self Study Stock Market Training Course is an exceptional source of information for both the novice, as well as the more advanced trader. This book is a must for any serious traders library."

UtahGuy. U.S.A – "Just what I have been looking for"
"I've gone to introduction seminars for all kinds of tools out there. Investools comes to mind. they wanted to charge thousands of dollars to get into their system and even then, it didn't cover anywhere near what Barry teaches you to do on your own at a fraction of the cost. Barry teaches effective and efficient means of making informed decisions. This isn't necessarily a get rich quick scheme. It is all about learning to make informed decisions and waiting for the best opportunities.
I highly recommend this book. I am already referring it to my family and friends. This is EXACTLY what I have been searching for."

Muraliram. U.S.A. – Must Have
"This is one of the must-have books for any type of investors. This book targets audience from novice to expert traders. If you are expert trader, this definitely will fill the gap's in your knowledge, if you are novice trader it provides very good foundation".
"One great feature of this book is Barry tries to make sure that each every concept on this is well understood by readers with examples and charts. This book is perfect."

AC. U.S.A. – "Great beginners guide"
"Great videos & article.. being a new investor I would highly recommend this to anybody new at investing."

Tom. U.S.A. – "Helpful and easy guide to share trading"
"My girlfriend's father advised me about Barry`s book and that I shall have a look at it. All I ever thought about trading has changed immediately when I started reading the book and I was surprised how simple it was for me to read and more importantly, also to understand! It`s the handbook every successful trader should have!"

Edward W Gordon. Ireland – "HONEST and TRUSTWORTHY… MUST READ !!!

"This book and Barry's easy way of writing and explaining provides a platform for your own INFORMED decisions on the MARKETS and on individual stocks. It is by far the most comprehensive amalgam of information and training in book and video format…
After 20 years of winning and losing I embark on a journey that is now beginning to have understanding.
If you have any queries about these products contact us.