Log In or Register To Access Your Stock Market Training & Strategies
Dear Visitor, you have arrived at this page because you would like to log on, or because you have attempted to access a premium training course that you have not purchased.
Liberated Stock Trader Pro
Our Free Training Is Good, But Pro Is Excellent
Fast Track Your Skills! Go Pro for $199
A Complete Stock Investing Education
Professional Grade Stock Chart Technical Analysis Lessons
Charts, Indicators, Trendlines & Patterns
Fundamental Financial Analysis Lessons
Screening for Great Stocks
2 Value Investing Strategies
4 Dividend Investing Strategies
Portfolio Management Lessons
Stock Trading Tactics & Risk Management Lessons
95 Videos (16 hours) + The "Liberated Stock Trader" eBook + Pro Tools
M.O.S.E.S.
Market Outperforming Stocks ETF Strategy
Sleep Better At Night. Get M.O.S.E.S. for $199
A Unique Long-term Investing Strategy. MOSES Helps You Sleep Better At Night Knowing You Are Prepared For Future Crashes
MOSES Helps You Secure & Grow Your Biggest Investments
3 Broad Market Index ETF Strategies
Outperforms the NASDAQ 100, S&P500, Russell 3000, DAX, CAC40 & EURO STOXX Indices
Buy & Sell Signals Generated
Successfully Backtested over 24 years
8 Videos + The "M.O.S.E.S." eBook + Coded Scripts For TradingView + System Logic
---
Beat the Market Strategy
High-Performance Growth Stock Selection Strategy
Get My Beat the Market Stock Strategy for $199
An Automated Individual Growth Stock Selection Strategy
Beat the S&P500 by 102% Winning in 7 of 8 years
Stocks With Have Strong Earnings & Cashflow Growth
Stocks That Make Great Use Of Their Assets
Stocks That Already Beat The Market
Buy The Stocks & Hold For 12 Months – Then Rotate
Successfully Backtested over 8 years
5 Videos + The "Beat the Market" eBook + Scripts & Logic For Stock Rover
---
All-Star Pass
Get All Courses for a -50% Discount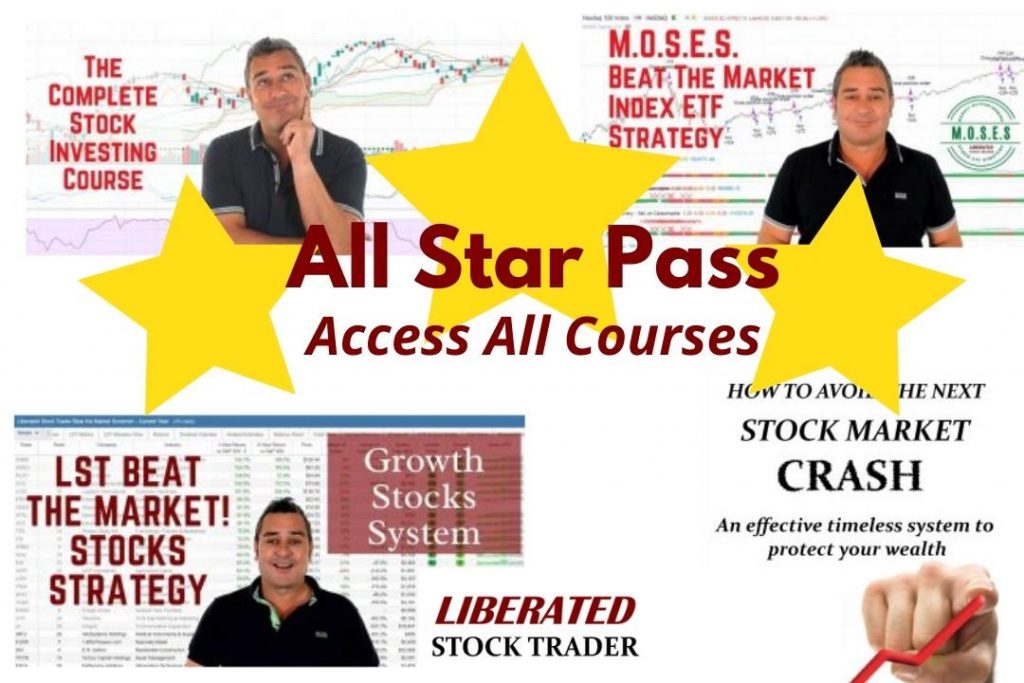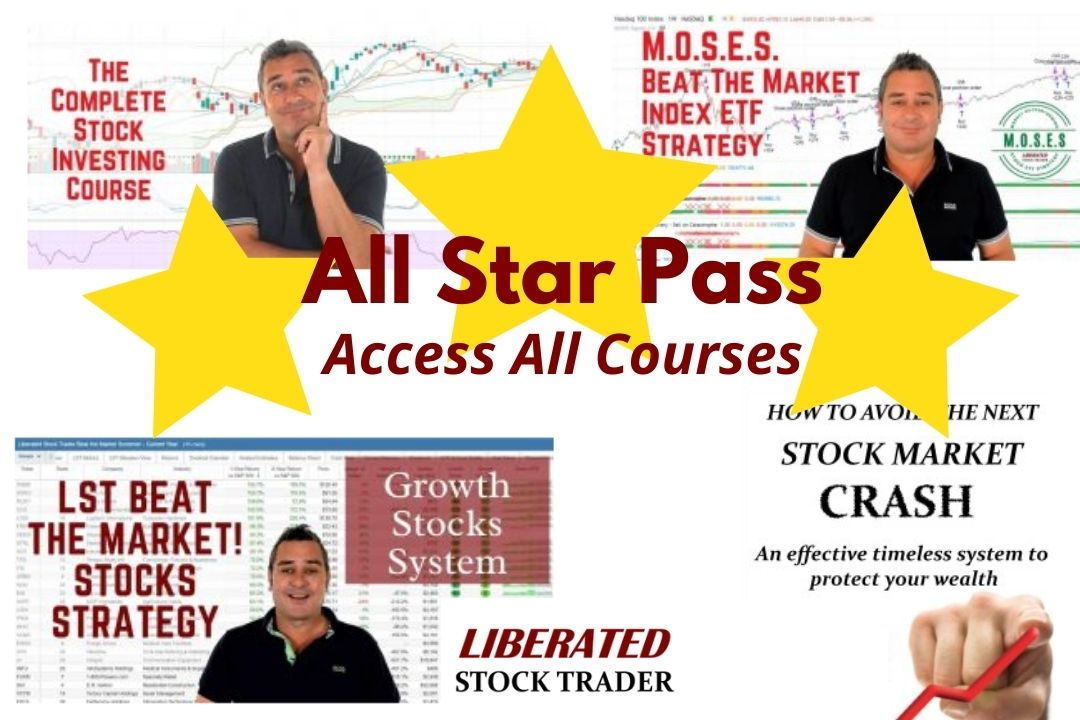 Get the All-Star Pass for an Incredible $499
Access to Our Best Stock Market Courses & Strategies
Liberated Stock Trader Pro Stock Investing & Trading Course
M.O.S.E.S. Market Outperforming ETF Strategy
LST Beat the Market Stock Picking Strategy
Exclusive Bonus Course – The Stock Market Crash Detector Strategy
Fully Guided Videos, eBooks & Lifetime eMail support
108 Videos + 3 Full eBooks + 5 Scripts for TradingView + Code & Logic For Stock Rover
Join our 44,000 members who have access to our:
Investing in Stocks Course (20 Modules / 180 Lessons)
5 Exclusive Investing Strategy & Research eBooks
Learning Videos
Course 101 – Introduction to Investing
Course 102 – Stock Market Investing
Course 103 – Technical Analysis
+ A weekly training email to guide you through the training course (12 weeks)
+ A monthly summary of the latest in stock market software testing, research & strategies
Please Wait Up to 60 Seconds for Registration to Complete.
Privacy Guarantee: We will NEVER share your details with any 3rd party or partner.