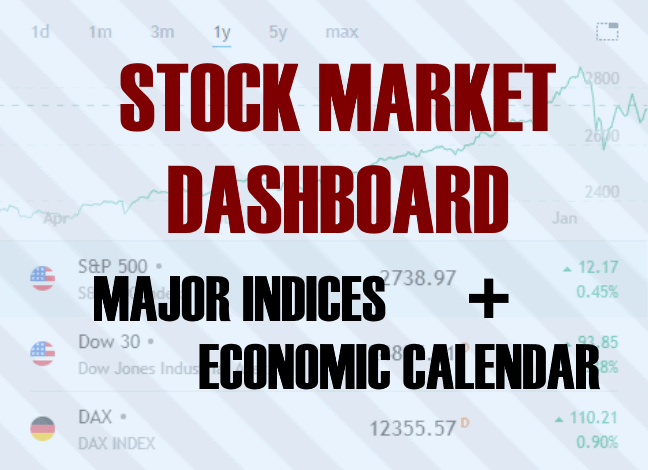 U.S. Stock Market Action Today.
Live Data from the NASDAQ, S&P500, Dow Jones 20 & 30, NASDAQ Composite & S&P 400 Mid Cap Index. Information on how to use our tools & interpret these charts & the Latest Market Commentary from Liberated Stock Trader scroll down.
| | |
| --- | --- |
| U.S. Stock Markets Today | Economic Calendar |
(15 Minute Delay)
Using Stock Market Today Tools

The US Stock Markets Today overview shows you the most important Indices and how they are performing today.  Click on any Index to jump to a detailed Chart, where you can plot indicators or even compared one Index to another

S&P500  – is the go-to index used by most people as it is the majority of the NYSE Company Capitalization.

NASDAQ 100 – is the major Index of the Nasdaq Stock Exchange with the top 100 technology companies.

Dow 30 – is the Industrial Index of the 30 biggest corporations on the NYSE.

Dow 20 Transport Index – This is the 20 biggest Transport & Logistics Companies. Look for medium to short-term divergencies in the DJ30 and the DJ20 according to Dow Theory

Nasdaq Composite – All of the Stocks on the Technology heavy Nasdaq Exchange

S&P 400 Mid Cap – The 400 medium sized companies on the NYSE

Using the Economic Calendar

Country Selection – Select the Globe to choose which country economic data you want to see.

The U.S. Economic data is usually a catalyst for markets across the globe, but if you trade a particular market select the one you are interested in.

Economic Data Description – Click on the Data to see a description of what it is and the impact of it.  The actuals vs Forcast is important.

If the Actual is less than Forecast then that could have a negative impact on the overall market direction.  See how the market reacts to the news.

Important Economic Data Only – it is easy to get carried away with economic data, even the best economists cannot predict how the data will affect the stock market.

By default, we have selected only important data, but you can change that by clicking the Globe Symbol

Charts & Data Provided By TradingView Get TradingView Free Here
Stock Market Today – Level Headed Market Commentary
Stock Market Commentary – Today 4 May 2018
The U.S. Markets continue their sideways momentum, with bulls and bears maintaining their fight for dominance.  There is no terribly bad macroeconomic news.  The U.S. Economy created 164,000 new jobs in April, lower than expected, but not a crisis and unemployment is now at a 20 year low under 4%.  Also, surprisingly Apple boosted the markets with a serious earnings beat and gapped up 4%.  In terms of price volatility we are seeing it, reflected in the CBOE VIX Volatility Index which in good times oscillates around the  15 mark, right now it is around the 20 mark, however, we saw it today plummet to 11 before bouncing higher. So, no crisis here either.
The Dow Jones 30 is finding a channel bottom at 23,500 and is testing the 200 days moving average, we do not want to see that base broken as it would be a bullish sign.
I still do not believe there is nothing to worry about for now.  Buy those stocks on the dip.
Short-Term Trend (days to weeks) – Sideways
Medium-Term (weeks to months) – Sideways
Long-Term (months to years) – Uptrend
I recently provided feedback to a reporter on the question of bad stock advice.  I think my reply will be of interest to you.
What are some of the worst investing tips out there?
One of the worst pieces of advice I hear is "Invest in China Stocks, China is the future." This is bad advice for a number of reasons:
Over the past 6 years hundreds of Chinese Companies have been launched onto the US stock markets through reverse mergers. Many of these stocks have been found to seriously overstate their earning and profits.
Because of limited oversight of Chinese companies and an inability to investigate them, these types of investments are highly risky.
The SEC has limited ability to investigate these companies as they are located in China
While I am sure there are good Chinese Companies out there, discerning the good from the bad is a big challenge and not worth taking the risk on. Activist Short Traders have even been targeting Alibaba (the Chinese eBay) a flagship Chinese Company, calling into question it's Book Keeping & Financial Reporting
These issues have been highlighted in the Film documentary "China Hustle" and every student looking to invest should watch this excellent movie. My advise if you want to invest in individual stocks is do your due diligence and invest in great U.S. companies, there are plenty to choose from.
Stock Market Commentary – Today 17 April 2018
As the fears of a possible crushing trade war start to recede, the TV talking heads on Bloomberg are now suggesting the recent pullback in the U.S. markets are due to the risk of rising inflation and with that the risk of the Federal Funds Rate rising to combat inflation and cool the economy.  There may be an element of truth to this speculation, but the fact is the market is not really overpriced right now.
When you look at the S&P Price Earnings Ratio of 23.8 it is neither overpriced or too cheap.  Sure is has risen constantly over the last 7 year, but so has the market and earnings.  It is simply a sign that the outlook for the markets is still strong.  On that note though, investors are starting to get nervous and we can see that in the increased price volatility.
If we look at market sentiment, via Stocktwits, for example, we can see that traders and investors are split between 60% bearish and 40% bullish.
Lastly, we can see a large possible Head & Shoulders top starting to form in the major indexes.  So keep an eye out for that.
I believe there is nothing to worry about for now.  Buy those stocks on the dip.
Short-Term Trend (days to weeks) – Sideways

– New

Medium-Term (weeks to months) – Sideways
Long-Term (months to years) – Uptrend
Stock Market Commentary – Today 17 April 2018
It has been 8 days since my last update.  The U.S. markets have given us little to worry about during this period.  In fact, reviewing the major U.S. indexes, show that the short-term trend has changed from down-trend to up-trend.  Earnings Season is in full swing and Netflix (NFLX) beat significantly on subscriber numbers boosting the stock price 8%.  Netflix is my largest holding and I am up 87% since purchase on November 30th 2017, not a bad return for 18 weeks.
Looming Trade War with China
I recently spoke to a reporter on a suggestion for how to invest in the shadow of a looming U.S. trade war with China and here is what I said.
"One possible move is to invest in great stocks with zero china exposure. This means they are neither manufacturing in or exporting anything to China. A great investment example in this niche is Netflix, with incredibly strong domestic streaming and aggressive growth internationally. Netflix has no real exposure to China with the vast majority of revenue from the U.S 56.9% and the rest from Latin America, Europe & the UK. Netflix did announce a content licensing deal with Baidu which has 500 million Chinese subscribers, but this should not be subject to any tariffs."
Short-Term Trend (days to weeks) – Uptrend

– New

Medium-Term (weeks to months) – Sideways
Long-Term (months to years) – Uptrend
Stock Market Commentary – Today 09 April 2018
As investors, we must seek to buy stocks in the best markets which have the biggest probability of success.  In the U.S. and of all the developed economy stock markets the NASDAQ is the clear winner, with the Nasdaq 100 seriously outstripping the S&P500, DJ-30 and any European major index (see stock market statistics).  I currently invest in NASDAQ Stocks, and all my index and stock backtesting proves the NASDAQ is the place to be historically and I believe, in the future.  Why, because the top tech stocks can leverage their businesses and profit like no other.
I recently sold Facebook (FB) as the Cambridge Analytica News Broke,  sealing in a profit and protecting from the 16% decline so far.  It is actually the worse performing of my NASDAQ investments by far.
If you watch Bloomberg, you will have the impression that the market is in complete turmoil, but it is not really.  Sure we have a bull vs. bears fight and the VIX Volatility Index has doubled from 10 to 20, but it is not a great concern at the moment.
The Stock Market Crash Detector signaled a Shock Event Warning for the week of the 23rd of March, but no Bear Market Signal so far.  The Trump led trade war with China is the big outstanding risk to the market, but there are plenty of stocks that will not be seriously affected even if it goes ahead, such as NetFlix.  However, I believe that the trade war is a bargaining chip that Trump is "cleverly" using.  China does a lot of dumping on U.S. markets and it needs to back off, see the NetFlix Series "Rotten – Episode Garlic Breath" for an insight into dumping of Chinese Garlic in U.S. Markets.
No change in the market direction for now.
Short-Term Trend (days to weeks) – Downtrend
Medium-Term (weeks to months) – Sideways
Long-Term (months to years) – Uptrend
Stock Market Commentary – Today 27 March 2018
Volatility is the name of the game in the Stock Market today.  A 1.73% drop in the S&P500 and a whopping 3.32% decline on the outperforming Nasdaq 100, signals we are starting to see what could be the start of a pullback in the markets.  The last decline like this was in January 2016 when the S&P500 rested on the 200 week moving average then began an epic 30% increase. This indicates that we could see a pullback of up to 15% unless the market participants fight back over the next few weeks.
Short-Term Trend – Downtrend
Medium-Term Sideways
Long-Term Uptrend
Stock Market Commentary – Today 26 March 2018
After a 9 day retreat in the U.S. Markets, overshadowed by the veil of a Trump led trade war, the market has bounced back with heroic ferocity.  While the financial media is screaming that the next market crash is here, in actuality, there is no technical evidence in the market for this.
The LST stock market crash detector, which is simply the best implementation of technical analysis to predict an impending market crash, did, in fact, register a Shock Event Warning – meaning an external impact and pre-cursor to a crash.  While this long-term bull market is not technically impacted we remain in a:
Short-Term Trend – Downtrend
Medium-Term Sideways
Long-Term Uptrend
25 March 2018
Don't Panic!  Commentary Coming Soon.
Do you like this Dashboard, was it helpful? It is new and we appreciate any feedback to help improve – please leave a comment below