Trade.com Recommended for Traders & Investors Trading US Stocks & ETFs with Beneficial Ownership & Straight Through Processing (STP) of Trades, Plus a Large Selection of CFD's on Stocks, Forex, Bonds & Commodities.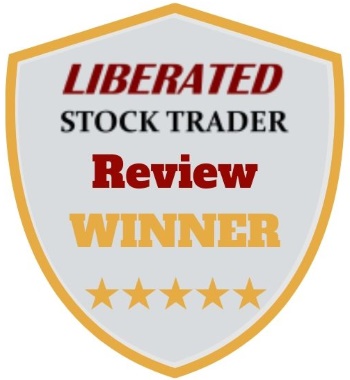 Trade.com Review Summary
Trade.com is a mature European broker offering the best trading platforms including Webtrader, MT4 & MT5. They offer CFD's & Direct Market Access to 2100+ Stocks, ETFs, & Forex on US & European Exchanges with fast execution. Fully regulated, they are especially excellent at providing direct access (STP) to US markets.
Is Trade.com Safe?
Yes, Trade.com is a safe broker; they provide not only CFDs but direct access to many different markets with no conflict of interest. Additionally, as a fully authorized financial services provider under the FCA in Europe, they must ensure "best execution" and "ring-fenced accounts" for clients.
Trade.com Compaints
Many European brokers get complaints. They mostly center around the inability to withdraw funds. What most new traders do not realize is that due to European money laundering / anti-terrorism rules, you must withdraw capital to the same account from where it was deposited or provide detailed, verifiable identification.
To get the inside information, I asked a few questions about the safety of trading with Trade.com to the UK managing director Christiana Vasiadou.
Question: CFD brokers get a lot of complaints about not being able to withdraw their capital, or trades being delayed.  What makes TRADE.COM different?
Answer – Christiana Vasiadou: "We are a fully authorized financial services provider regulated by the FCA under strict rules governing client money and assets, so you know that you can depend on our credibility. Client money and assets are completely ring-fenced and protected at all times in segregated bank accounts under trustee arrangements at top-tier high-street banks such as Barclays and Santander UK, so you can immediately withdraw your capital at any time.
As an FCA regulated firm, we are also obliged to ensure that "best-execution" conditions are always in place. Under this obligation, we take adequate measures to execute our clients' orders in the best possible manner in terms of price, costs, speed, likelihood of execution, and settlement. In simple words, you enjoy the benefits of trading in thousands of instruments across the whole spectrum of asset classes and global markets with fast and reliable execution."
Trade.com Review – Broker Accounts Types
| | | | | | |
| --- | --- | --- | --- | --- | --- |
| CFD Accounts | Micro | Silver | GOLD | PLATINUM | Exclusive |
| Minimum Account Size | $100 | $1,000 | $10000 | $50,000 | $100,000 |
| Daily Analysis | Morning Review | Morning Review | Morning Review | Morning Review | Morning Review |
| Desktop & Mobile Trader | ✔ | ✔ | ✔ | ✔ | ✔ |
| Education Videos | ✔ | ✔ | ✔ | ✔ | ✔ |
| 24 Hour Customer Service | ✔ | ✔ | ✔ | ✔ | ✔ |
| Webinars & Seminars | | ✔ | ✔ | ✔ | ✔ |
| Dedicated Account Manager | | ✔ | ✔ | ✔ | ✔ |
| Premium Daily Analysis | | | ✔ | ✔ | ✔ |
| Signals & Strategies | | | Trading Central | Trading Central | Trading Central |
| Premium Customer Support | | | | ✔ | ✔ |
Table 1: Service & Leverage Per Account – Trade.com
As you can see, there are four accounts starting at Basic with only a 100 $/Eur minimum.  But if you deposit $2,500, you can open a classic account.  This is worthwhile because you will be assigned a dedicated account manager, this is recommended because starting out trading contracts for difference and utilizing margin can be complex.  It is people not understanding these complexities that often leave negative comments on rating sites about CFD brokers.  With a dedicated account manager, you will get a free one to one time with that person who can provide guidance on how the accounts, margin, and CFD's work, most importantly they can advise on good account management of your portfolio, so you do not fall into any traps.
The gold and platinum account will enable you to get complimentary access to Trading Central a 3rd party trading strategies, signals, and research company.  Finally, with the platinum account, you will receive premium service levels and responses for support.
Trade.com Review – Live Stocks Account STP/DMA
I reserve a section in this review to discuss the Live Stocks Account.  Recently introduced, the Live Stocks Account gives the client access to market liquidity, with key differences to a CFD account:
You will be a beneficial owner of the stocks and ETF's you trade in this account
This account allows you to access & trade thousands of U.S., German, French & UK Stocks
You are able to purchase & own US exchange-traded funds (ETF's)
Using MT5, you will have direct market access (DMA) via Straight Through Processing (STP)
The Live stocks account is a Straight Through Processing (STP) account which enables direct market access, meaning you can buy or sell securities on all major global stock exchanges. This means the broker is not taking the opposite side of your trade, therefore not trading against you.  Because it is an STP account, you will pay a tight spread to fund the transaction with the liquidity providers.  It has an excellent selection of stocks and ETFs with low commissions.  The commissions range from 0.05 USD per share for volumes under 10,000 share per month, to 0.007 USD for more than 500,000 shares per month traded.  There is a minimum cost per trade of $1.50.
With this account, you get MetaTrader 5 for free.  The MetaTrader 5 platform is one of the most advanced and effective multi-asset trading platforms available.
Choose the account right for you. If you want to trade & own Stocks and ETF's choose the Live Stocks account, if you prefer a broad selection of currencies, cryptocurrencies and commodities choose one of the the CFD accounts
Trade.com Forex Trading
Trade.com offers a huge selection of up to 62 foreign exchange (Forex or Fx) pairs for trading.  All the common pairs such as EUR/USD and EUR/GBP are covered, plus more exotic pairs such as NZD/JPN (New Zealand/Japan).  Leverage is available up to 300:1 for professional accounts and 20:1 for retail accounts.
Cryptocurrency Trading
Trading Crypto is hot right now, and Trade.com currently offers 4 Cryptocurrency pairs, Bitcoin, Dash, Ethereum & Litecoin.
Shares, Indices & ETF Trading
As mentioned previously, you can trade stocks via a CFD account (Webtrader or MT4) or a Live Stocks (MT5) account.
In terms of ETFs,  there are over 30, covering France, Germany, U.K, and the USA.  There are 26 different indices covered via CFD's.
Commodities
For those interested in commodities, there are 36 to choose from, which gives you the biggest selection of all the CFD brokers we have reviewed, so if your focus is on commodity futures, then this is a good choice of broker. The usual commodities like Oil, Coffee, Corn, Wheat, Copper, Sugar, and all the metals are available.
Trade.com Trading Platforms Review
Trade.com aims to keep it simple and straight forward when it comes to the choice of tools; you have the choice of WebTrader, MetaTrader 4, or MetaTrader 5.  Of course, whichever desktop software you choose, you will still be able to trade from your tablet and smartphone. The MetaTrader 4 App has a 4-star rating on the Play store and in the Apple store 4.5-stars, which means you will get a great mobile trading experience. Ultimately you know you will be getting a solid and seamless experience, however, and wherever you choose to trade.
Trade.com Review – Platform Video
Trading Forex CFDs on TRADE.com - USD
Risk Warning: 69.7% of retail accounts lose money
Trade.com WebTrader For MT4 & MT5
You can use the Web Trader platform, which is easy to use yet very powerful; this will give most retail investors what they need with a minimal investment in training and no installation required.  Simple "one-click to trade" enables you to execute the trade quickly.  You have all the order types available, so there is no pairing back of functionality with the online tool.  Naturally, you get streaming real-time quotes.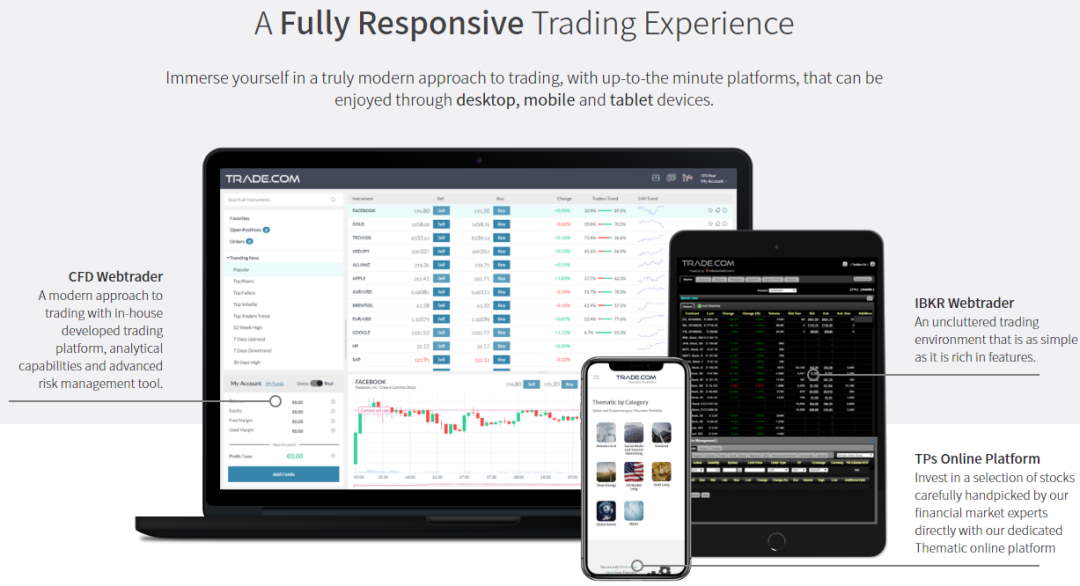 Powerful Signals & Research For Clients
Trade.com provides complimentary access to Trader Central, a respected 3rd party service for gold and platinum account holders; for this, you will need an opening balance of $10,000.  Email and video trading signals and analysis through Trading Central are focussing on specific high probability setups.
Trade.com also provides daily market update videos filmed directly from their head office trading floor and are provided in English, German, Spanish and Italian languages.
Trade.com Daily Update Video
Trade.com_EN- Daily financial news-24-07-2018
Risk Warning: 67.9% of Retail Investors Lose Money Trading CFD's
Their various youtube channels host thousands of educational and market update videos and their own private channels for registered clients to provide daily briefings.  They also have live webinars and have a good selection of training videos and resources.
Company Background & Regulators
Trade.com was established in 2013 in Cyprus, Europe. The holding company is Trade Markets Ltd, a privately held company supervised and regulated by Cyprus CySec.
Account Funding & Investor Protection
Account Funding
Opening a demo account is free, but to start trading, you will need a minimum balance of $100 for retail accounts.  Minimum balances seem to be important to some people, but from my perspective, if you cannot afford $1,000, you probably should not be attempting to trade CFD's.
Trade.com Investor Protection
Trade.com does offer negative balance protection for all retail CFD accounts. Also, as per regulatory requirements, Trade.com operates segregated accounts, meaning that your cash account is segregated from the accessible funds available to Trade.com. Simply meaning, they cannot use your funds to trade their own accounts.  Lastly, there is insolvency compensation of up to 20,000 EUR in accordance with regulations.
Trade.com Review – Customer Service
Customer support is available on a 24/7 basis offering call-in numbers in Cyprus.  If you want the best level of service and support, I would recommend the Classic, Gold or Platinum accounts as you will have your own dedicated account manager to help you get up to speed and to provide training and guidance.
You can also see from their 700 twitter followers there are few complaints about the service.
Trade.com also offers the best service for German-speaking clients, with Telephone, live chat, and trading applications available in German.
I also asked the UK Managing Director of Trade.com / Livemarkets.com about customer service.
Question: What steps are being made to ensure the clients get the highest level of service?
Answer: Our focus is on service excellence through our dedicated client relationship management. Because we value the relationship with our clients first and foremost, we always make sure that our London-based dedicated, world-class client relationship management service is standing by to cater to the needs of our professional and retail clients. And that's how we add value.
Our philosophy lies on putting the greatest value in our people: from our Customer Support, who focus on delivering the highest high levels of service, to our dedicated Client Relationship Managers, blending into a high-powered team, constantly delivering a great trading experience for our clients who are always in the center of our operation and company culture. Christiana Vasiadou, Managing Director UK
Trade.com Review Summary
Trade.com is focused on providing a broad selection of assets to trade via CFD's and real beneficial ownership accounts.  A good set of trading platforms are provided for free, including MT4, MT5, and their own Trade.com web application.
What I like the most is the Live Stocks account, which opens up the world of US stocks and ETF's to their customers around the globe.  Easy direct market access and straight-through processing to the large exchanges and liquidity pools means fast execution and low commissions, plus you actually own the stocks.
Open An Account With Trade.com
Risk Warning: 71.36% of retail investor accounts lose money when trading CFDs with this provider.
Trade.com: In-Depth Service Data Sheet
Broker
Customer Ratings
ForexPeaceArmy Rating
Not Enough Ratings
Trustpilot Stars Rating
Not Enough Ratings
Trustpilot (% Average Rating & Above)
N/A
Dealing Type STP
✔ (Live Stocks Account)
Dealing Type ECN
No Dealing Desk / Market Execution
✔ (Live Stocks Account)
Market Maker
Yes (CFD's)
Instruments & Leverage
Forex Pairs
62
Forex Leverage
1:300
Forex Commissions
Spread / Commission
Crypto Trading #
4
Crypto Leverage
1:2
Shares #
2000+
Shares Leverage
1:10
Shares Commission
Indices #
26
Indices Leverage
1:200
Indices Commission
Spread
ETF #
30+
ETF Leverage
1:100
Commodities, Bonds, Treasuries
Commodities / Futures
36+
Commodities Leverage
1:200
Bonds / Treasuries #
8
Bonds Leverage
1:100
Automated Trading
✔
Funding & Company Size
Minimum Balance
100 EUR
Established
2013
Investor Protection
Negative Balance Protection
✔
Guaranteed Stops
Volatility Protection
Segregated Accounts
✔
Investor Protection $
20,000 EUR
Regulated By
CySec / FSCA
Parent Company
Leadcapital Markets LTD- Private
Primary Business Location
Cyprus, Europe
Trading Software
Software
MetaTrader 4
MetaTrader 5
MT WebTrader
Mobile Software
✔
Customer Services
Customer Support
Phone, Chat, Email + Dedicated Client Account Manager
Research / Signals
Trading Central
Social Trading
Islamic Account
Education
Many Online Courses
Twitter Followers
700
Trade.com: In-Depth Service Data Sheet. Leverage is adjusted according to the Company's Leverage Policy and Client Categorisation Policy Maximum leverage available to Elective Professional clients
Leverage is adjusted according to the Company's Leverage Policy and Client Categorisation Policy.  Maximum leverage (stated above) is available to Elective Professional clients
CFD Risk Notice ESMA & FCA Risk Warning - "CFDs are complex instruments and come with a high risk of losing money rapidly due to leverage. Between 74% and 89% of retail investor accounts may lose money when trading CFDs with any provider. You should consider whether you understand how CFDs work and whether you can afford to take the high risk of losing your money. Capital at risk"

We thoroughly background check the brokers we recommend and only list reputable trustworthy companies.  Read our tips to perform your own background checks, and test a broker after you sign up. You can perform your own check easilly. LiberatedStockTrader.com accepts no responsibility for your experience with any broker.
-
Frequently Asked Questions About CFD Brokers
How do I find a trustworthy CFD Broker?
There are thousands of brokers offering Contracts for Difference Brokerage Services. CFD's differ from buying or selling regular stocks or foreign exchange because you do not actually own the underlying stock or currency.  Instead, you own a contract for that instrument, which should closely represent the underlying asset's value. We recommend you check ratings on Trustpilot; it is a well established independent website where customers can rate brokers.  Secondly, you can use ForexPeaceArmy (FPA), which is a very well run community-driven rating site focused on fairness.
Why are CFD's not available in the USA?
CFD's are not allowed in the U.S.A., Canada, and India, due to the fact they do not represent trading or exchange of the actual asset. They are forbidden under the Securities and Exchange Commission regulations. CFD trading is huge in Europe and Asia, where it is completely legal and regulated.
Why do people complain about not being able to get their funds back from CFD Brokers?
One of the issues with review sites is that sometimes unhappy customers form the majority of reviews as the websites are an outlet for complaints, the happy customers feel no need to review the service as they are content.
Due to money laundering legislation and anti-terrorism laws, all financial institutions are not allowed to return money to a bank account that did not send the money in the first place.  This means you cannot fund your account from bank A and expect your funds to be returned to bank B.  Many traders do not realize this, and when the brokers need to investigate the potentially fraudulent request, the delays make the customers angry, this is typically not the fault of the reputable broker. That is not to say all brokers are reputable.
What kinds of Fraud Activities are in the CFD Industry?
Many brokers act as market makers for their clients, meaning they provide the liquidity upon which you trade.  An unscrupulous broker might manipulate the market prices to benefit themselves.  Tactics like not executing trades or executing trades at different prices to the ones on the quote screen, for example.  This is why reputation is everything in this industry.