There are many stock trading platforms available on the market, but which one is the best for you?  We have invested thousands of hours using and comparing the platforms that will give you an edge in stock trading.  But which platform suits your style?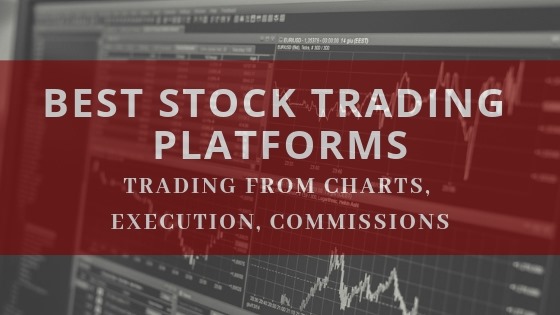 What are the important factors in choosing the best stock trading platform?
Quality of Stock Charts & Indicators. This Helps You Analyze Supply & Demand Trends
Can The Platform Perform Stock Screening / Filtering? To Enable You To Find Undervalued Stocks
Ability To Trade Stocks Directly From The Platform / Charts.  So You Can Trade Quickly & Effectively
In What Countries Can You Trade Stocks?  You Can Trade Your Own Country Exchange, Or Exchanges Across The Globe.
We answer all of these questions and more in our deep-dive research into the best stock trading platforms.
The Best Online Stock Trading Platforms Are:
-
Top 10 Online Stock Trading Platforms Review Summary
If you are looking for a stock trading platform that puts social interaction and global data and analysis across all markets, Forex, Stocks, Crypto, CFD's, then TradingView is clearly the best choice for you. For the most powerful real-time stocks screening for USA stocks and the most intuitive trading from stock charts experience, then TC2000 Brokerage is for you.  Looking for a first-class platform with zero commissions from an established broker, Firstrade breaks the mold and is a perfect choice.
Scanz is a great choice for day traders looking for a platform with fast order entry, great real-time news, and top-class level II quotes and insight. Interactive Brokers are the best choice when you want to trade the world's stocks exchanges from one account, global coverage, and global integration for experienced traders with the lowest margin rates.
The Top 10 Best Online Stock Trading Platforms Reviews
TradingView
Insanely Good Fundamental & Technical Analysis + Stunning Social Integration & The Best Ease Of Use.
There is no doubt about it; I love TradingView and use it every single day.  I post charts, ideas, and analysis regularly and chat with other traders. Follow me on TradingView.  The entire community on TradingView is focused on trading, and the service is first class.
Pricing & Software. You can have TradingView for free; it is a review winner for our Best Free Charting Software Review.  However, there are limitations.  I would recommend going for the PRO+ at $19 per month or the Premium at $39 per month; the benefits are extensive, including priority customer support and unlimited everything.  Also, a huge benefit is that the data speed and coverage are mind-blowing, covering literally every stock market on the planet and not just stocks but ETF's, mutual funds, futures, forex, bonds & cryptocurrencies AT NO EXTRA COST.
TradingView Platform Analysis
Trade Management Score with TradingView, you get full broker integration, you can place trades on charts, and it will take care of profit & loss reporting and analysis for you.  The only thing it does not cover is Stock Options trading.  There are a few complications trading stocks in the USA directly from charts; you will need to see if your brokers have a CQG integration.
Fundamental Scanning & Screening. A perfect 10 for TradingView as they hit the mark on real-time scanning, filtering, and fundamental watchlists.  The list of fundamentals you can scan & filter on is truly huge.  Any idea you have based on fundamentals will be covered.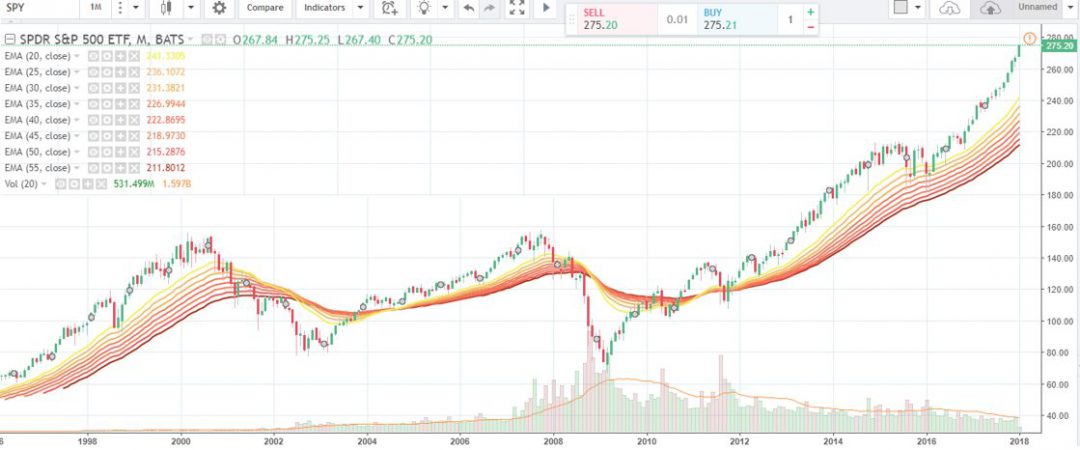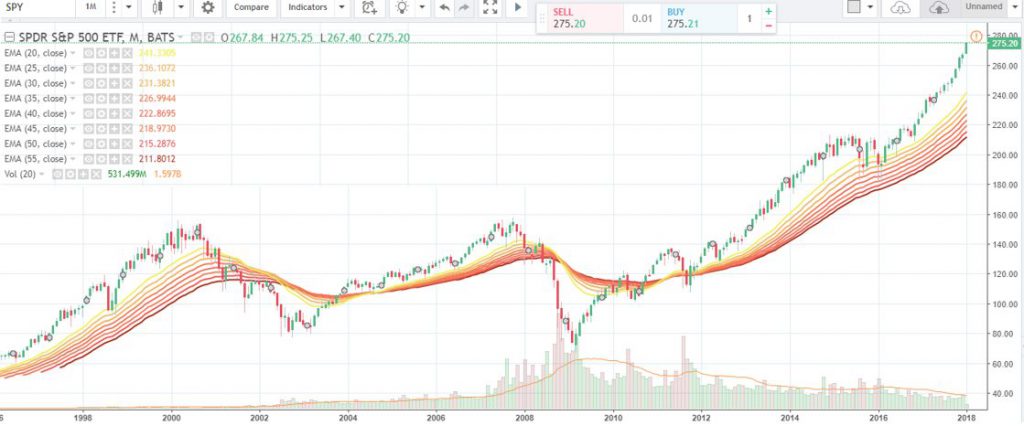 News & Social Community. As soon as you connect to TradingView, you realize this is also developed for the community.  You can look at community ideas, post your charts and ideas, and join limitless numbers of groups covering everything from Bonds to Cryptocurrencies.  You can connect with other traders, read their ideas, be inspired, and there is a full chat function integrated.  It is simply the best socially integrated trading platform on the planet.  The news feeds are fully integrated, including Kiplinger, DailyFX, Futures Magazine, FXStreet, and StockTwits.  Add that to the social network, and you have a great solution.
Technical Analysis & Charts.  With over 160 different indicators, and unique specialty charts such as LineBreak, Kagi, Heikin Ashi, Point & Figure, and Renko, you have everything you will need as an advanced trader.  With the Premium membership, you also get Level II insight, fully integrated.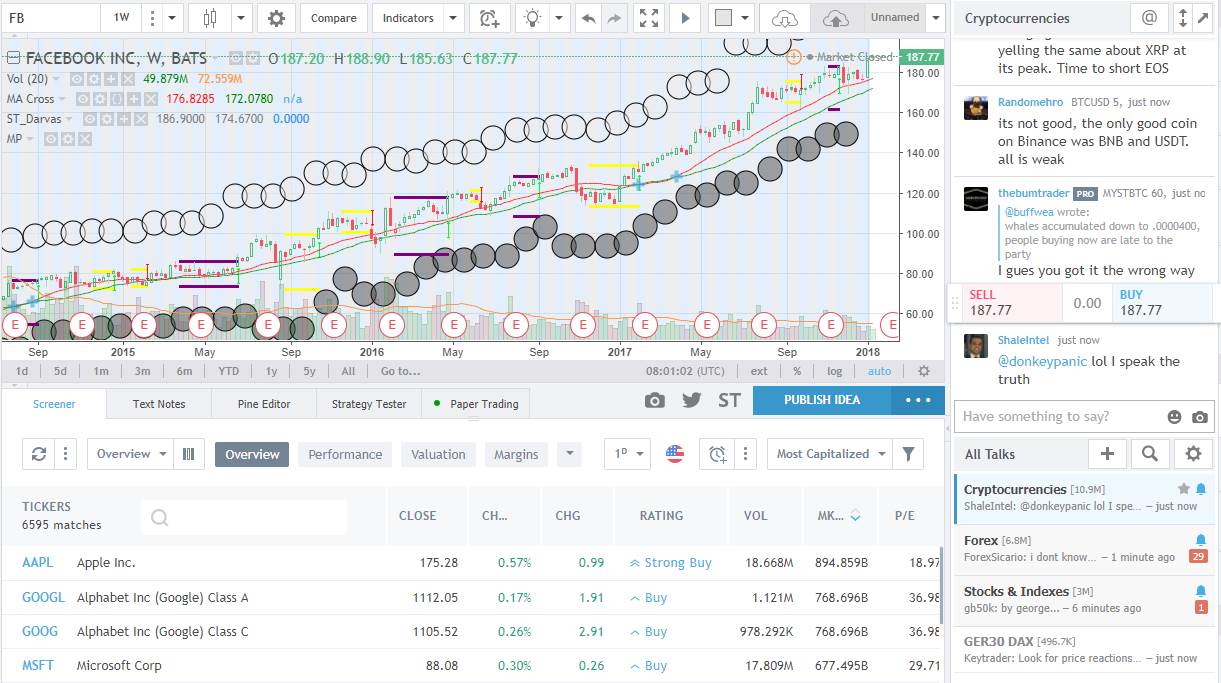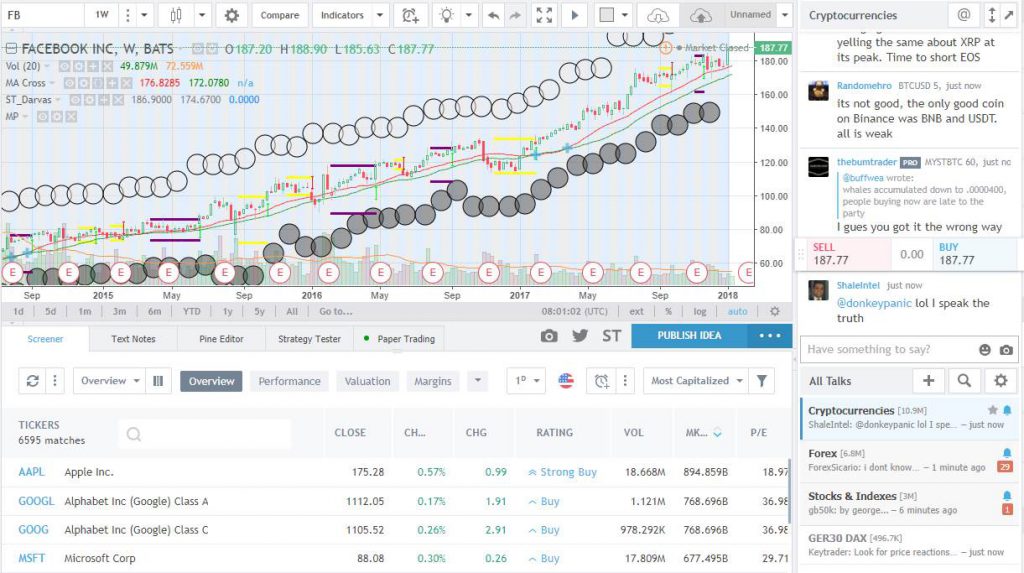 Did I mention the charts are fast and beautiful?
Systems, BackTesting & Automated Trading. Good but not perfect.   TradingView has an active community of people developing and selling stock trading systems, and you can create and sell your own with the Premium-level service.  Also, there are a huge number of indicators and systems from the community for free.
The only thing you cannot do is forecast and implement Robotic Trading Automation.  For that, you would be better off with NinjaTrader, QuantShare, or TradeStation.
Ease of Use.  Within 5 minutes, I was using TradingView, no credit card, no installation, no configuring data feeds; it was literally just there.
| | |
| --- | --- |
| Read the Full TradingView Review | Open An Account With TradingView |
★ Bonus: Sign Up For This Service & Get 5 Exclusive Investing Strategy & Research eBooks Valued at $99 ★
-

Best For USA & Canada Investors Needing Powerful Real-time Screening & Excellent Trading From Charts
Recommended for long-term investors  & traders in the USA & Canada with a fundamental bias who need powerful screening and excellent charts on all platforms.
Telechart has long been one of my favorite tools; I have been a subscriber for over 20 years and find the latest release to be another step forward.  Endlessly customizable and scalable, the platform offers nearly everything an investor will need.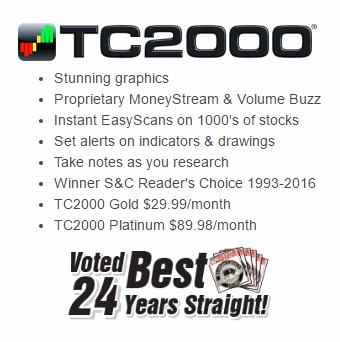 Pricing and Software.  Telechart is a big hitter when it comes to software and pricing.  Telechart runs on everything – your iPhone, your Tablet, your Mac, and your PC.  It is also priced very reasonably with a simple pricing structure.  If you trade U.S. Stocks, ETF's or Mutual Funds, then this is a great solution.  Worden Brothers also provide regular live training seminars across the USA, which are of very high quality; I often have students write to me to say how amazing the seminars are.
TC2000 Stock Trading Platform
As I have been using the software since 1999, I can say the software is first class and reliable.
TC2000 for Windows, Mac, Mobile
Developed with Microsoft's Dot.net framework, TC2000 runs natively on the PC.  It is fast, responsive, and simple to use.  The resolution of the software enables very intricate design details that other development platforms cannot match. Very quick to download, and installation is a breeze.  Because TC2000 is developed on a Microsoft framework, you will need to install Parallels Desktop, a windows emulation software, to run TC2000.  The current license cost for Parallels is $79.99.  Worden Brothers have apps on both the Apple store and the Google Play store; as you can imagine, some functionality is trimmed due to screen real-estate.
Trade Management Plattform
Worden recently released TC2000 Brokerage offering discount brokerage services at $4.95 per trade.  This new service means a tight integration between the charting software and the brokerage house.  Essentially it means the holy grail, trading directly from charts in a visual way.  Worden Brothers make a clean sweep when it comes to trade management, with full Broker Integration (as long as you choose TC2000 Brokerage as your broker).
Options Strategies Platform
Use the Options Trading button at the top of the chart to open Options Strategy tickets directly on the chart. The menu divides strategies into bullish, bearish, and volatility categories. Strategies include single-leg, multi-leg, and combinations of the underlying stock.  Multi-leg strategies then open as a single trading ticket on the chart.  TC2000 also offers a nice implementation of options trading and integration; you can scan and filter on a large number of options strategies and then execute and follow them directly from the charts.
Good profit & loss tracking and reporting round off the package to be a well-implemented solution.
Opening An Iron Condor Option Trade With TC2000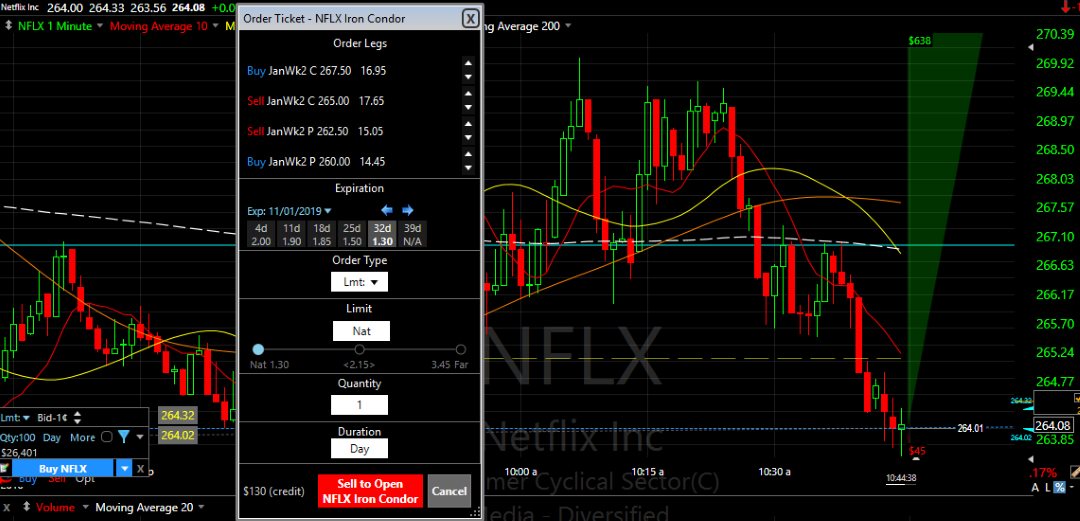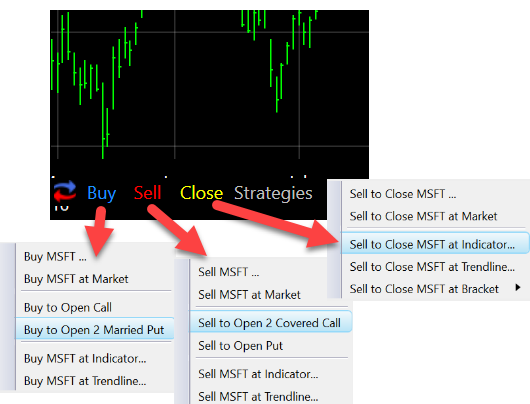 Industry Leading Live Trading
Taking a look at the image on the right, you can see how well planned the order execution is from the chart.  You can open an order but only execute it based on a condition.
The interesting thing here is that conditions can be any technical or fundamental condition.  So you could theoretically execute a trade if the EPS for the last quarter exceeds 35%.
Alternatively, execute a trade is the real-time price breaks through the Ichimoku cloud on higher volume.
The possibilities are limitless and mind-boggling.
Fundamental Scanning and Screening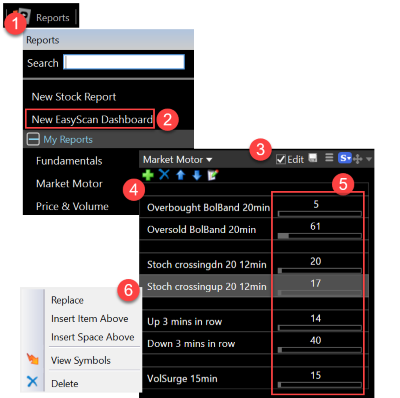 Make no mistake about it, if you want fundamentals stock screeners in real-time layered with technical screens all integrated into live watch lists connected to your charts, TC2000 is a power player.
I selected TC2000 as my tool of choice back in 1999 because it offered back then simply the best implementation of fundamental scanning, filtering, and sorting available on the market.  Twenty years later, they are still a leader in this section.
They offer a huge selection of fundamentals to choose from 192, to be exact, but even better than that, what makes it truly unique is the fact you can, with a few clicks, create your own indicators based on the fundamentals.
You can then overlay the indicators directly on the charts, which opens up a whole new world of technical and fundamental analysis.  10 out of 10 for TC2000 again.
One of My Favorite Scans & Fundamental Watchlist Setups.
TC2000 is perfect for scanning the entire market in a few seconds for the best fundamental setups of any company. In the Liberated Stock Trader PRO Training,  I show how to find the best companies using TC2000.

Plotting Fundamental Indicators As Stock Chart Indicators.
In the chart below, I show you how to plot over 129 different fundamental variables from the balance sheet, income statement, and financial performance onto a chart.  According to the classic William O'Neil book "How To Make Money In Stocks," the C from the CANSLIM method stands for current earnings.  This fundamental criterion and many others are easily plotted using TC2000.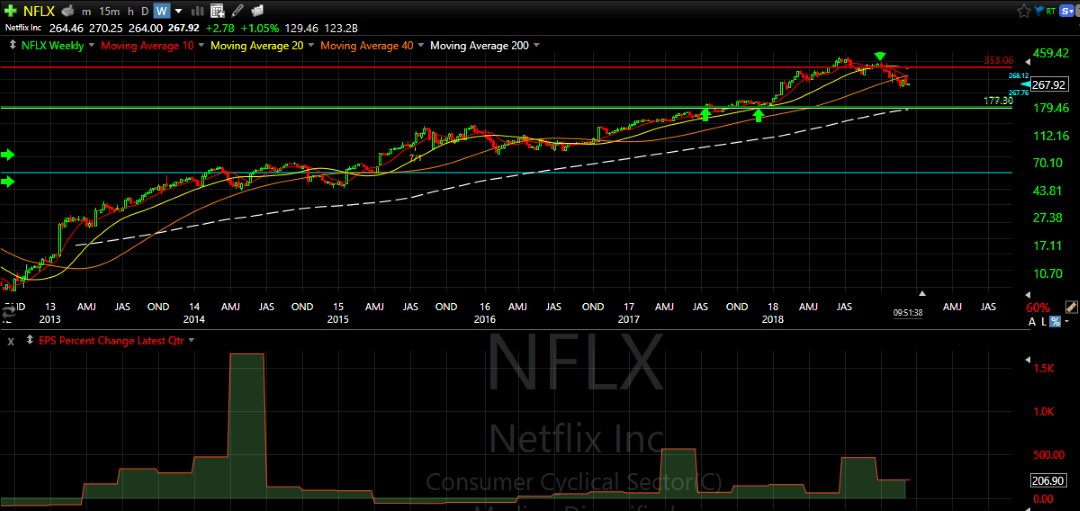 -

Best for Zero Commissions, Free Platform With Powerful Stock & Options Trading Tools.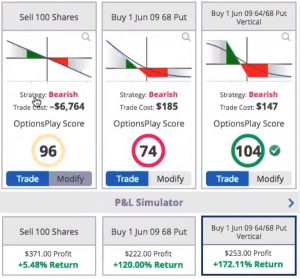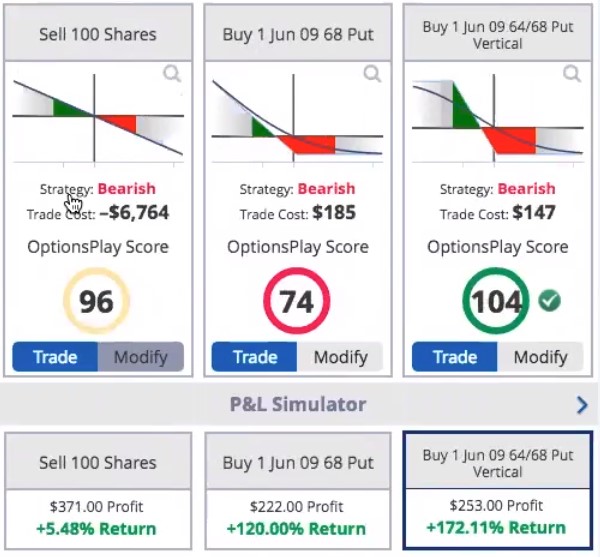 Great for Day Traders & Investors Seeking FREE Stock & Options Trades + an Industry Best 700 Commission-Free ETF's.
Firstrade is the outright winner in commissions with a $0 flat fee per trade and $0 per options contract.  Commissions are a critical point for day traders; if you are making ten trades per week at $5 per trade, that can amount to over $2,600 in trading costs per year.  That is a huge saving.  Not to mention the core Firstrade set of excellent tools are free for brokerage clients.
But what also adds to the appeal with Firstrade is the 700+ commission-free Exchange Traded Funds on offer.  This is a huge selection, more than the total for all the other brokers reviewed in our Top 10 Brokers Review.  You can also purchase Mutual Funds for $0, and Bond purchases are on a Net Yield Basis. The only thing you cannot trade with Firstrade is Forex.
Finally, the margin commission percent is a little higher than with Interactive Brokers or Worden2000 Brokerage.  If you are not buying on margin, this is not a problem.
The Firstrade Trading Platform
The trading platform has several components.  The web-based platform is available for all clients. If you have an account balance over $10,000, you will have complimentary access to Firstrade Navigator, a downloadable, more powerful trading experience.
Web Trading Platform – Heatmap & Sector & Industries Tool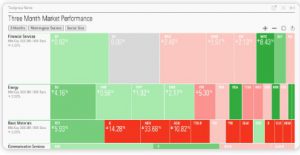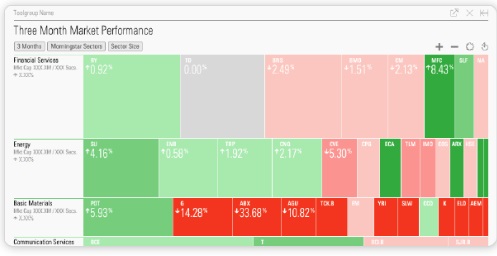 To find a potential opportunity to trade, you can start with the big picture view of the market and drill down from there.  The heatmap is designed for short-term traders who need to see where the price action and volatility are on any given day.
Alternatively, you can utilize the sectors and industries tool to evaluate past performance and select a sector to review in more depth.
Web Trading Platform – Advanced Screener, Fundamental Data & Event Calendar
No product set would be complete without scanning and screening for stocks based on the fundamental data.  Firstrade attempt at this is pretty good.  It does not match the offerings from TradingView or TC2000, but it is adequate for most investors.
A new event calendar is also available, neatly broken into tabs for Earnings Announcements, Dividends, Ratings Changes, Economic Indicators, IPOs & Splits.
Web Trading – OptionsPlay
Firstrade put a lot of effort into the Options Trading Platform OptionsPlay.  A first-class platform that focuses first on what kind of options strategy you want to implement.  You can drill down through industries and sectors, and you instantly get a technical analysis for the stock, the bullish or bearish score.  You can even sort your watchlist based on the bullish or bearish score.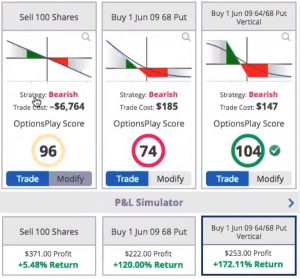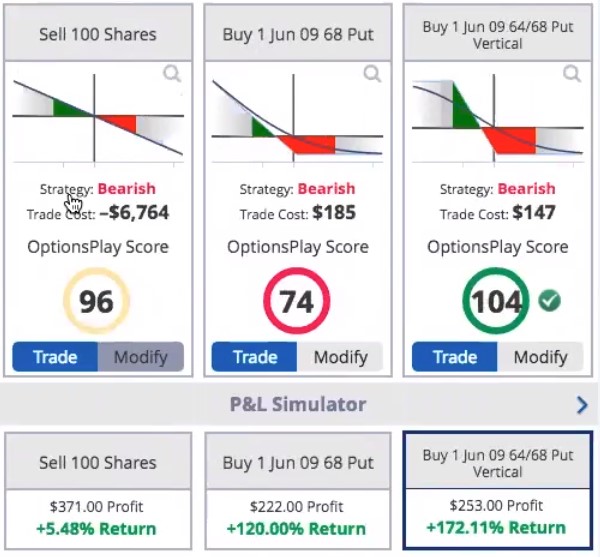 The image to the right shows the OptionsPlay Bullish and Bearish Ratings based on three scenarios based on feeling bullish or bearish about the stock or index.
Strategy 1 – Selling 100 Shares of the stock – A Bearish Strategy – Cost would be $6764 – with a mediocre score of 96 for the trade
Strategy 2 – Buy the June 9th Put Options – Bearish – Cost $185 – Low probability Rating of 74
Strategy 3 – Buy June 9th Put Vertical – Bearish – Cost $147 – High Probability Rating of 104
I really like the implementation here; simple and intuitive.
Firstrade OptionsPlay Trading Platform Walk-through
See how the whole OptionsPlay functionality works in the image below to get an overview of the functionality.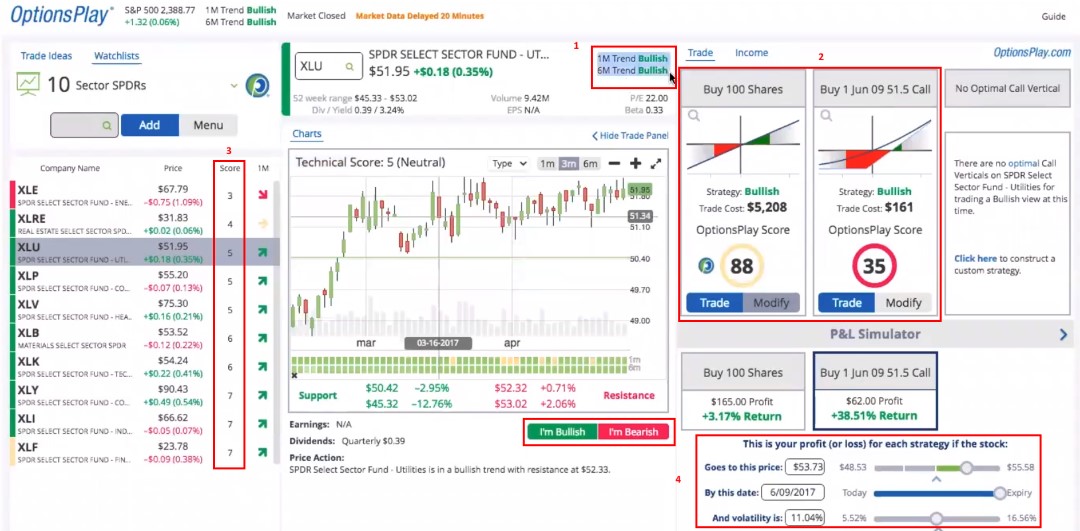 Immediate feedback into the one month and six-month trend for the stock.
This particular fund is has a rating of 88 for a bullish strategy but only a 35 rating for a bullish options strategy.  The beauty of this is you can compare where you should buy the stock or utilize an options strategy.
The ability to then sort your list on the strongest score is excellent functionality.
Finally, the Profit & Loss simulator is splendid as it enables you to try to predict what your profits would be depending on how much you invest in the strategy.
Desktop Trading Platform – Firstrade Navigator
Firstrade Navigator is a very nicely designed and relatively powerful system.
It is very customizable and also has a selection of widgets that you can embed into the dashboard.  Studies and indicators are included.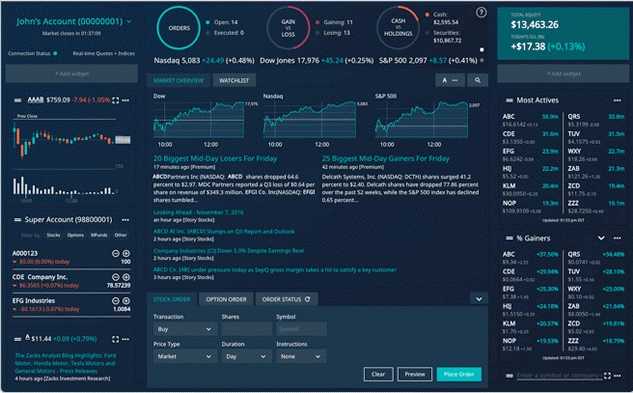 This is relatively newly developed, and I expect more functionality to be released in the near term.
-

Best For Traders Needing Excellent Broker Integration Real-Time & News + Level II & Dollar Volume Data
Recommended for Day Traders, who want a super simple and slick workflow, real-time streaming charts & news and unique Level II data, Dollar Volume Information & excellent broker integration
With their slogan "Find It, Trade It, Profit," Scanz is considered by some a gold standard for Day Traders.
Pricing & Software. Scanz specializes in providing real-time data and fast news directly to your screen.  It is neither cheap nor expensive with a medium price point, but you do get a lot for your money, as you can explore in the detailed Scanz review.  Data speeds are excellent, and it has excellent US data coverage, including extensive Over The Counter markets (OTC: BB, OTCQX, OTCQB, OTCPINK, GREY)
Scanz Platform
Trade Management. Scanz has introduced the "Chart Montage" functionality, enabling an ultrapowerful way of trading off the charts.  This single window contains a wealth of critical trading information, including real-time streaming news, level 2 data, including time and sales.  Also, Scanz is the only software to offer Dollar Volume data.  The Scanz Team has a fantastic set of integrations to your broker to enable this, including TD Ameritrade and Interactive Brokers, two of the brokerage world's powerhouses.
Fundamental Stock Screening & News– Scanz contains many fundamental screens.  But what is the key for days traders?  With the ability to scan entire markets for liquidity and volume patterns to find volatility, you can trade for a profit.  This is the Scanz unique offering.  In terms of News top placing and definitely worth mentioning this year is the deal news section in Scanz.  I really like the simple implementation; you can get the low down on contracts and deals struck between companies.  This can give you an edge if you can quantify the deal's impact on the company's bottom line.  Scanz also has a strong focus on the news, but it is let down by having no social integration.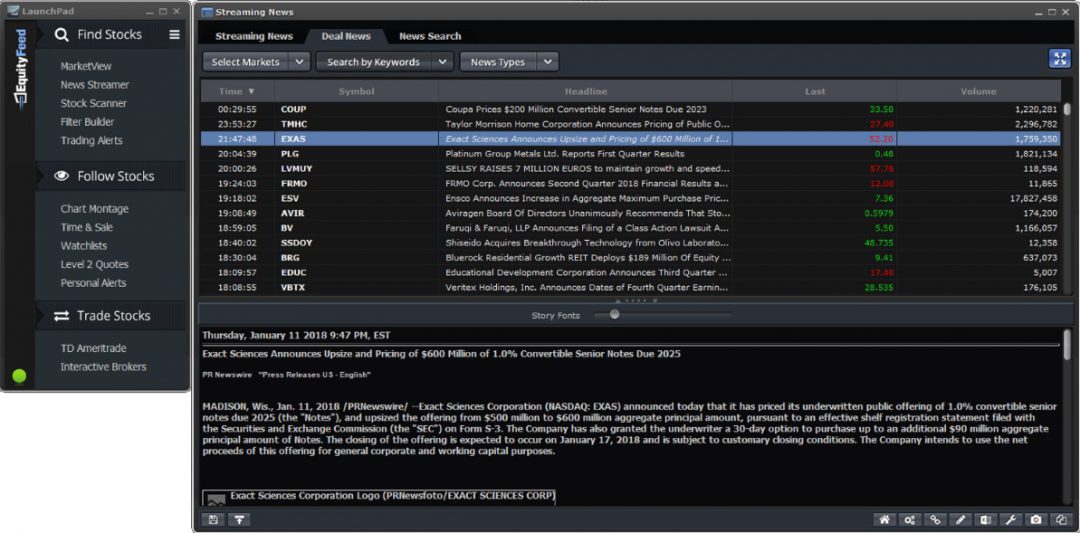 Technical Analysis. In third place in this round, Scanz does not offer as many chart patterns or chart indicators as its competitors, but it does not have to.  Most people will only use 5% of the indicators available, and fortunately, Scanz covers all the important ones.  The power here is in the technical analysis screening, which is very fast, seamless, and powerful.
Ease of Use. In the development process, Scanz has opted to keep everything on the surface super simple and intuitive to use.  However, don't be fooled by the simple interface; there is real power underneath the main screen, which is a few clicks you will be viewing Level II liquidity data and buying directly from the charts.  I have been extremely impressed with the progress Scanz makes in their product and carving out their Day Trader niche.
[Related Article: Free Real-time Charts Without The Cost Of A Premium Service]
-

Best For Global Exchange Execution, All Instruments, Very Low commissions & Best Margin Rates
Ideal for Active Investors and Day Traders seeking the LOWEST Trading Costs, Direct Global Market Access
Interactive Brokers: Ideal for Active Investors and Day Traders, seeking the absolute lowest trading costs, direct market access for fast execution, and best in class margin costs. Interactive Brokers (IB) is the grandfather of online discount brokers.  Not only are they a long-established company, but they are also big. It has a complete set of services, enabling you to trade practically anything on any market.  Stocks, Options, ETF's, Mutual Funds, Bonds, Foreign Exchange, and even Futures and Commodities. Usually, when a company is well established and large, it loses its competitive edge.  Not so with Interactive Brokers
Interactive Brokers Trading Platform
Interactive Brokers has a truly outstanding trading platform based on Trader Workstation (TWS).  It is free to download and use as a client.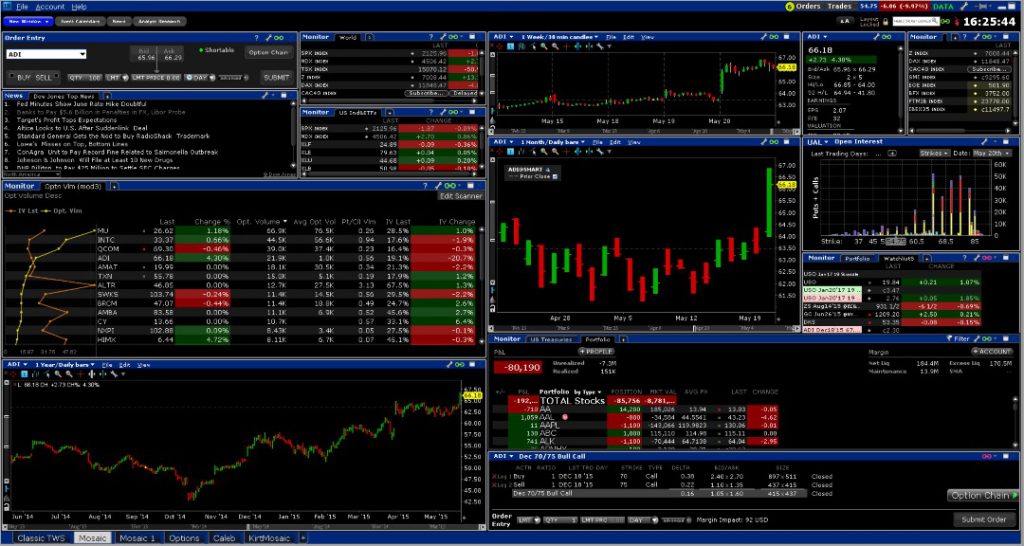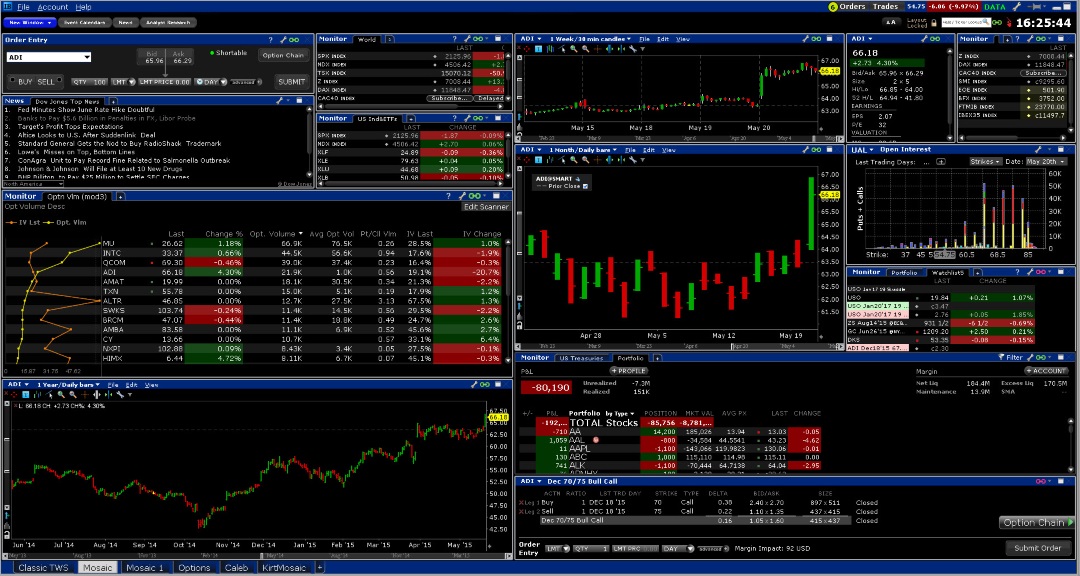 Not only that, but there are a huge number of advanced add-on tools that plug into TWS, such as:
ChartTrader – for trading directly from charts.
Continuous Futures – for commodity futures scanning and analysis.
DepthTrader – for deep analysis of market liquidity
OptionTrader – deeper Options Analysis with specific Options strategies
ProbabilityLab – to test the Probability Distribution of a particular trade
In total, there are 27 different advanced trading tools to suit every possible approach to the market.
Overview Video of Interactive Brokers – Trader Workstation (7 mins)
https://www.youtube.com/watch?v=UTzUMjF2-Jc
Interactive Brokers offers by far the best free services in the area of research.  Here is a snapshot of some of the services you will get for free.
IB Market Signals
IB Traders Insight
Morningstar equity ownership
Thomson Reuters (in 10 languages), stock reports, news, fundamentals
Zacks Investment Research
Real-time News Streaming
In terms of customer service, they offer the full package of telephone, chat & email contact, so no issues there, but their response times are slow.
We could not find any evidence of negative tweets or reviews, so IB has a very good customer satisfaction score, particularly since they have by far the largest Twitter following of 233,000 people.
They are lower on the list of winners because they do not have a history of people raving about their services.  Perhaps the more professional investors trading with IB are not focussing on praising them on Twitter but traders making profits in the markets.
In any case, IB is a very high-quality company with the very best research included for free in your account.
-

Best For Day Traders Wanting Direct Market Access (DMA) & Fast Execution
The key service offering is Direct Market Access (DMA), meaning you do not go through a 3rd party market maker for your trades; you deal directly on the market itself, which means better visibility of prices and tighter spreads.
Some Brokers offer a flat fee regardless of how many shares are traded.  Some offer an optional "per share" commission structure, which can be beneficial for smaller traders.  Direct Market Access (DMA) is the name of the game when it comes to day trading in the markets. All of the contenders in the Top 10 Best Stock Broker Review have this, but the key is in the implementation, and from the rave customer feedback, SpeedTrader gets this right.
When it comes to commissions, SpeedTrader offers a $2.25 flat fee per trade. Still, most interestingly, they offer a per-share pricing structure of $0.0044, which beats Interactive Brokers, LightSpeed, and SureTrader by the width of a cat's whisker to be the best in our review.
When it comes to Options Trading Fees, the offering of $1.99 + $0.40 per contract is among the best of all 20 brokers reviewed.
Suffice to say, extremely competitive.  But that is where the competition ends as SpeedTrader does not offer Forex, ETF's, Mutual Funds, Bonds, or Commodities.  So, if you are into Stocks and Options Day Trading, this is a good place to be.  SpeedTrader has white-labeled the suite of products developed by Direct Access Software Inc. (DAS Trader).  And why not? It is a highly rated set of tools designed for day traders to enable fast screening analysis and order execution with direct market access.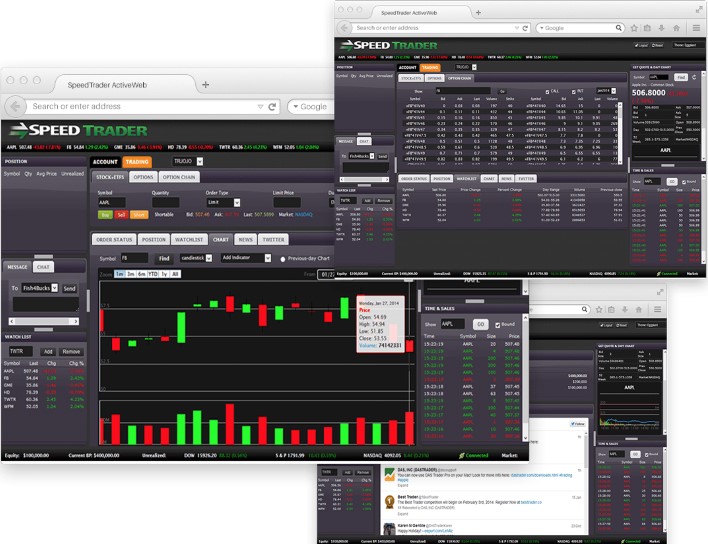 Developing an in-house suite of trading apps is a huge job and incurs many expenses, so only the biggest companies can manage this.
For the smaller brokers, using a third party is quick and efficient.  The only challenge is as a broker if you have to pay for the software on behalf of your client or pass the cost onto the client directly by making the client pay. This is exactly the situation with SpeedTrader and most other Day-Trader Brokers. I mention this because, ultimately, you will need to be making at least $25 to $104 per month in trading profit just to cover the cost of the software.
SpeedTrader Day Trader Platform Options
SpeedTrader Active Web
SpeedTrader's cost model means you will have to pay for the Active Web version $25 per month.
However, for this price, you do get:
Real-time L1 Quotes
Live Streaming News
Real-Time Charts
Options Chains
Risk Management Tools
SpeedTrader (DAS TRADER) PRO
For the desktop-based SpeedTrader Pro version, you will be out of pocket by $49 or $104 per month (depending on which version you go for), but at least the mobile version is free if you have the desktop Pro version.  But for this price, you do get a serious upgrade:
Faster Trade Execution
Trading off the Charts
Level 2 Data
Most importantly, Direct Access ECN Order Routing
-
Best For Low Margin Rates (5.9%), Solid Tools + Very Low Commissions
ZACKSTrade offers a compelling addition to the competition for day trading customers.  They are offering great margin rates that offset your trading costs.  You can also buy stocks in North America, Europe, Asia, and Australia, which qualifies ZacksTrade as a fully international broker.
In terms of the platform offerings for day traders, you have three options.  BacksTrade Pro is the flagship offering that is very customizable and powerful.  It has the usual basket of technical analysis tools, but it also has something for more advanced traders.  Algo Lab, Basket Trader, Spread Trader, and even a lab where you can test out your options strategies.
-
Best for US Day Traders Wanting Powerful Automated Trading.
TradeStation is a leading brokerage house with excellent execution and low commissions, but did you know they have great software also.  Joint winner in the review TradeStation offers enough in its software and broker integration to stand tall with the other vendors.
TradeStation has real-time news, an excellent service but only fails to score top marks here because it does not provide market commentary or a chat community.  But do you really need that?  Some people do; it's a factor to consider. TradeStation offers TradeStation University and a huge wealth of online videos to help you master their trading platform.  They also have a morning briefing that you can tune into online, and their selection of professional analysts will give an opinion on the market action and potential strategies.TradeStation has also cultivated a systems and strategies marketplace called the "Strategy Network," where you can purchase stock market systems from an ecosystem of vendors or even contract someone to develop your system for you in the "Easy Language" code.
Read the Full TradeStation Review
-
TD Ameritrade
Best For Investors Seeking A Mature Product Including IRA's DRIPS, Retirement Planners But Trades Are Expensive
TradeStation is a leading mainstream brokerage house with excellent execution and low commissions, but did you know they have great software also.
Think or Swim has been around since the early 2000s when TDA acquired it.  I full suite of trading tools and well respected in the industry with an avid following.
Best Online Stock Trading Platforms Comparison Table
Use the search box to filter down to the platform that meets your needs.  e.g., USA or Options or Crypto
Brokerage
Trading Platform Score
★★★★★
★★★★★
★★★★★
★★★★★
★★★★★
★★★★
★★★★
★★★
★★★
Country Exchanges Supported
USA, UK, Australia, Europe, Asia
USA, Canada
USA
USA
USA, UK, Australia, Europe, Asia, Global, International
USA
USA, UK, Australia, Europe, Asia, Global, International
USA
USA
Stock Charts & Indicators
✔
✔
✔
✔
✔
✔
✔
✔
✔
Stock Screening
✔
✔
✔
✔
✔
✔
✔
✔
✔
Trading From Charts
✔
✔
✔
✔
✔
✔
✔
✔
✔
Platform Developer
TradingView
TC2000
Firstrade Navigator,
Options Wizard
EquityFeed
TWS, WebTrader,
DAS Trader Inc
ZacksTrader
TradeStation
Think or Swim
Trading Platform Cost/Month
$9.95
$9.95
Free
$135
Free
$104
Free
Free
Free
Web Software
✔
✔
✔
✘
✔
✔
✔
✔
✔
Desktop Software
Web Only
✔
✔
✔
✔
✔
✔
✔
✔
Mobile Software
✔
✔
✔
✘
✔
✔
✔
✔
✔
Indicators / Studies
✔
✔
✔
✔
✔
✔
✔
✔
✔
Streaming Charts
✔
✔
✔
✔
✔
✔
✔
✔
✔
Watchlists
✔
✔
✔
✔
✔
✔
✔
✔
✔
Profit / Loss
✔
✔
✔
✔
✔
✔
✔
✔
✔
Broker Integration
iBroker
OANDA
Forex.com
CQG
modalmais
POLONIEX
TC2000 Brokerage
Interactive Brokers
Firstrade
Interactive Brokers
RealTick
Sterling Trader
TD Ameritrade
Lightspeed
Interactive Brokers
SpeedTrader
ZacksTrade
TradeStation
TD Ameritrade
Brokerage
Trades & Commissions
Cost Per Stock Trade
Broker Dependent
$4.95
$0
Broker Dependent
$1.00
$2.95
$3.00
$5.00
$5.95
Stock Trading
✔
✔
✔
✔
✔
✔
✔
✔
✔
Stock Options
Broker Dependent
✔
✔
✔
✔
✔
✔
✔
✔
Leverage Available
Broker Dependent
✔
✔
✘
✔
✔
✘
✘
✔
ETF Trades
✔
✔
✔
✔
✔
✘
✔
✔
✔
Futures
✔
✘
✔
✘
✔
✘
✘
✔
✔
Mutual Funds
✔
✘
✔
✘
✔
✘
✘
✘
✔
Bonds
✔
✘
✔
✘
✔
✘
✘
✔
✔
Forex Trading
✔
✘
✘
✘
✔
✘
✘
✘
✔
Crypto Trading
✔
✘
✘
✘
✔
✘
✘
✘
✘
Margin Account Interest Charges
Broker Dependent
3% to 4.2%
4.75% to 9.%
Broker Dependent
2.2% to 3%
Call for Quote
4.7% - 5.9%
✘
8% - 10.75%
Comparison Table 1: Best Online Stock Trading Platforms
Best Online Stock Trading Platforms Review Summary
If you are looking for a stock trading platform that puts social interaction and global data and analysis across all markets, Forex, Stocks, Crypto, CFD's, then TradingView is clearly the best choice for you. For the most powerful real-time stocks screening for USA stocks and the most intuitive trading from stock charts experience, then TC2000 Brokerage is for you.
Looking for a first-class platform with zero commissions from an established broker, Firstrade breaks the mold and is a perfect choice.  Scanz is a great choice for day traders looking for a platform with fast order entry, great real-time news, and top-class level II quotes and insight. Interactive Brokers are the best choice when you want to trade the world's stocks exchanges from one account, global coverage, and global integration for experienced traders with the lowest margin rates.