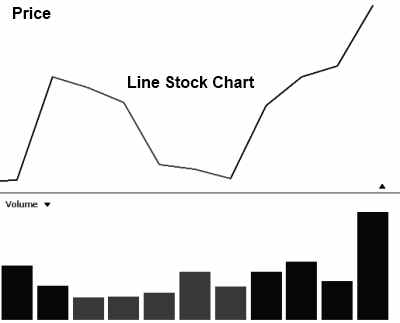 Stock charts come in many shapes and sizes.  From the differences in the bars to the different concepts applied to the chart itself.  Here you will find a guide to the Line Chart.  Often overlooked by investors this chart has some distinct benefits based on simplicity and comparison analysis.
Line Stock Chart

This is one of the most basic charts, probably giving the least amount of information.  The line in the top pane is drawn using the close price for each unit of time.  Time is plotted across the X-axis (horizontally).  Price is plotted along the Y-axis (vertically)
So if this is a daily line chart, the close price for the day is used.  If this is a 5-minute chart, then the close price for each 5 minutes of trading is used.
The Good
This is a very simple view of the price movement.  The key advantage of this of chart is it's simplicity.  For example, one could view many different stocks or indices on a single chart using lines.  This would enable one to see the relative performance of different investments. See the chart below.
The Bad
The line chart is not overly useful for making decisions on individual stocks or indices.  The lines chart does not show the Price Open (opening price for the stock) / High (highest trading price for the stock) / Low (lowest trading price for the stock) for the trading period.  The trading range for the day is important in price based decision making.
Effective use of the line chart
Is this example of global stock market analysis I used a line chart to plot 6 different stock market indices.  The beauty of an effective multi-comparison line chart is that you can see at a glance the best and worst performers for the time period.

Summary
Choosing the right chart for the job at hand is important.  The line chart certainly has its uses and most stock chart vendors provide this functionality.