A mixed day on the markets yesterday, despite excellent earnings reports from such big hitters as Whirlpool and Caterpillar who echoed positive outlooks for the economy and future earnings.
Medium Term View
But how does the medium term picture look.  Below I have a 5 day per bar chart stretching back to 2006.  This shows us the last 4 years.  What is extremely interesting here is the market is approaching is 200 bar Moving Average (white dashed line).  You can see this is a significant area of support and resistance.  In the chart in 2008, when the SP-500 finally capitulated and made its most violent of moves down, it did this after significantly breaking down through the 200 bar moving average.
We are now seeing the price line approach this area, and I believe make an attempt to break through it.  A break of this line would in my opinion be very bullish and signal a clear continued move upwards.  As always we would like to see this on increasing volume and with support form the other indicators.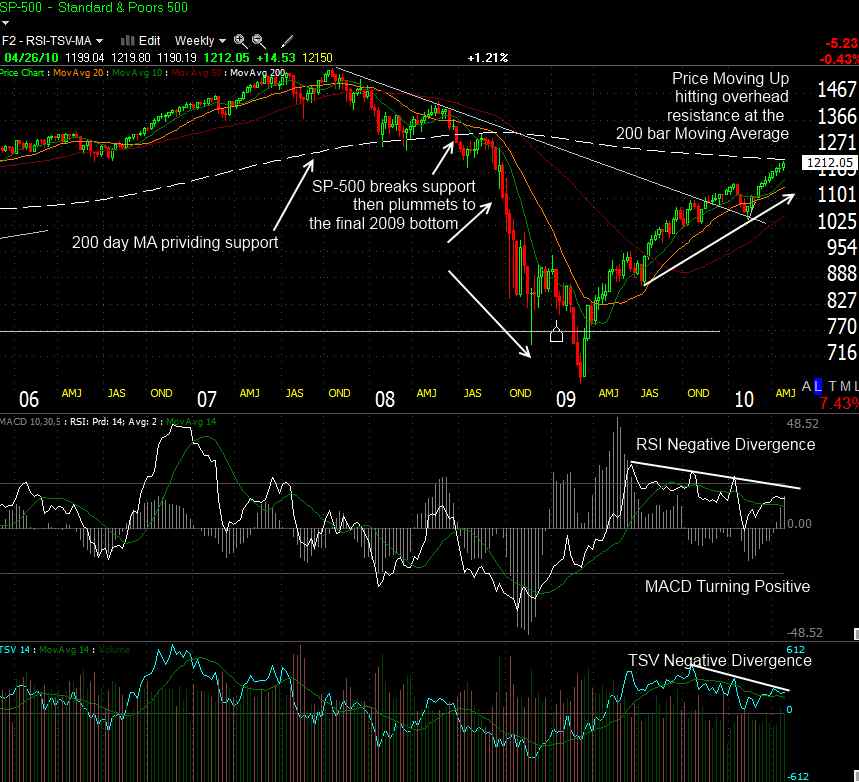 Short Term View
We are seeing increasing volume on the S&P500 since the beginning of April which combined with this uptrend is continuing to give out a Bullish signal.  As we know price up volume up is very positive indicating there is increasing appetite for stocks at higher prices.
So for now all looks good. Or does it?
There is one fly in the ointment. The oscillators.  On both a 5 day chart and a daily chart the RSI 14 with a 14 day moving average is showing negative divergences.  This also goes for the TSV indicator, ROC and Momentum.
However, price is the most important indicator and for now all seems to be rosy in the the garden of Eden.  Just be careful not to lose to much of the profit you have made over the last 8 weeks, hoping the market will continue up.  Have no emotion, trade the picture.