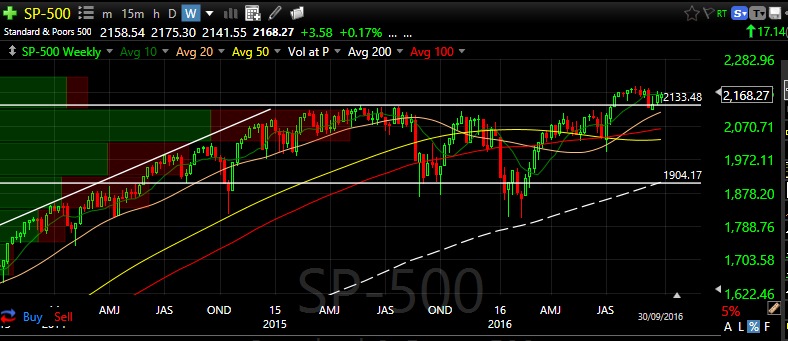 The U.S. presidential race is bringing to light the American people's desire to close national borders to further immigration and global trade which has left many communities and cities devastated in it's wake.  See  article Far Right Revolution. However, the Global Markets seem unconcerned at least on paper by the rhetoric being TRUMPeted regarding TTIP trade agreements, greater trade tariffs, Mexican Walls and closing off America to Immigration.
In the chart below we look at the S&P 500 Index on a weekly chart for the last two years.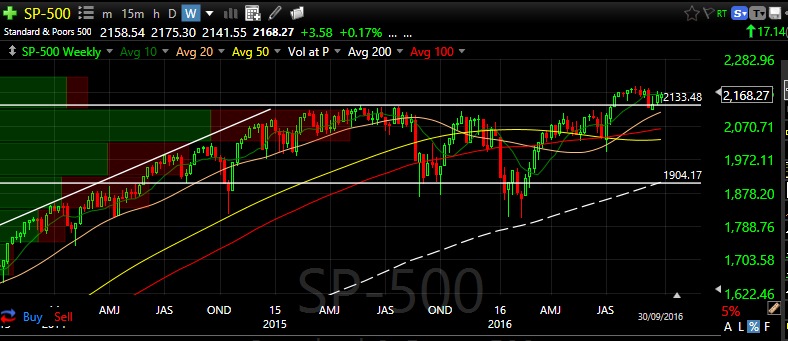 In July 2016, the S&P 500 reached a new all-time high.  You can see the market has retraced from that high but is holding the line at 2133.48 and is setting up for a bounce upwards.
Many economists agree that Trumpian economics would be bad for business and trade, but not all.  The fact that a Trump win has gone from extremely unlikely to slightly improbable has not affected the market outlook.  On the whole, the market participants do not believe he can win.  The following weeks will determine the longer-term direction of the market.  The presidential race is a macroeconomic event in the global markets and we know that macroeconomic events affect the market in the longer term.
So stay focused on the presidential race and its effect on the market.  Prepare to move to cash if the market turns sour because it is a long way down from here.