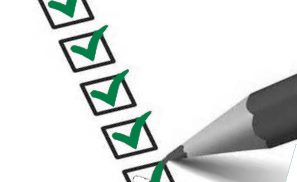 If you are anything like me, you know an organized approach to learning a new skill requires a checklist.
The 6 Point Checklist for Beginners
in order to get started with trading in the stock market, there are a number of decisions you need to make. Below you will find a "Getting Started in the Stock Market Guide" which will outline the potential decisions to make and notes on the positives and negatives of the various options.
This should lay the groundwork for a comprehensive approach to your trading.
Internet-connected or offline trading
Choosing an online broker
Using a stock screener
Charting Tools
Using a portfolio management system
Educate yourself
Watch The Video and Read the Checklist
Stock Market Training 1. Stock Traders Checklist- Part 2

1. Internet Connected Trading or Offline Trading
There are two ways to operate a portfolio.
Offline trading. This means reading newspapers, journals company accounts, and calling a broker by telephone to place orders. This is very much the old style of operation with some severe limitations in terms of :
Cost: placing telephone trades with brokers is expensive(can be more than 3 times more expensive than online trading), and has a time lag (picking up the phone dialing, speaking etc.
Limitation of News: although there are many excellent quality publications (Investor's Business Daily for example) you would need to archive all the papers to enable any back research required.
Information is not searchable; meaning back research for a particular stock is not easy and is very time consuming.
No real time charting, back testing, or screening.
Internet Connected Trading.
This means you will require
A computer (medium specification)
Internet Connection (ideally Broadband with flat rate)
Internet Service Provider
Although the initial setup costs may be higher, with a few trades this money with easily be paid back.
There are huge benefits to online trading
News from across the world available instantly·
News is fully indexed and searchable
Access to newsgroups, bulletin boards, communities, and blogs.
Free Charting Software
Free Stock Screeners
Free portfolio Management Applications
Free real-time streaming charts and prices*
Free streaming news *
Lower cost per trader (very important)
* normally available through your online broker
The benefits are clear that successful traders today trade online, and learn to utilize the rich array of tools and resources available online. The rest of the checklist assumes you will be trading ONLINE.



2. Choosing an Online Broker.
There is a lot of competition out there today in the online broker space and the commissions and services offered changed regularly. Here we will detail some of the key things to look for.
Commission Charges – ensure that your broker is competitive (under $10 per trade)
Real-Time Charting (should be free in the base package)
Access to news (preferably streaming news)
Access to level II quotes.
Stop Losses and Rules to enable you to place alerts and automated actions when you are away from the Office.
Original Market Research and Valuations
Compare the interest rate on the Cash Account.
Customer Service read online reviews of customers.
3. Choosing Charting Tools
Charting tools enable you to view the history of a stock using mathematical visualizations of the Price/volume and various indicators. Choosing the right Charting software for you can be very time consuming, but is well worth the time invested.
To fast track this decision-making process, the LiberatedStocktrader.com has completed an in-depth analysis of the best free internet stock charting software available and organized this in a side by side comparison. This is invaluable information and enables you to see what is important in a Charting package.
The key choice for you is whether to use free Internet stock charting packages or paid for subscription-based software.
Free internet charting – Positives
No Costs
Huge Choice
All indicators Covered
Some connect to portfolio management software
Connect to news and plot news on charts
Free internet charting – Negatives
Few offer real-time streaming charts
Can be slower to use
Lack detailed screen resolution / full screen options
Lack ability to track your notes / thoughts on a chart
Few offer trend lines capabilities
Subscription Based Charting tools – Positives
Real-time Streaming Charts
Ability to plot own indicators*
Built-in screening*
Ability to track chart notes*
Built-in communities*
Flexibility and Usability*
*depends on provider and package
Subscription Based Charting tools – Negatives
Small Portfolios – if you have a small portfolio, circa $1000, the cost of charting packages can represent across a whole year a significant investment
There are many packages that are not established, badly written or do not provide a market advantage.
The liberated Stock Trader recommends a "Subscription based" software package called "Telechart 2000" by Worden Brothers Incorporated, and has many advantages over the Free internet Charting packages. This software however only covers all the US Markets.
4. Using a Stock Screener
Stock screeners enable you to filter all stocks by your requirements, such as Earning Per Share or Profit Margins etc. Finding the right Screener is an essential building block to successful trading.
Here is a quick guide to how to screen for stocks.  There are also Stock Screening and filtering options in "subscription-based" Charting Software Packages. For example Telechart offers extremely powerful screening capabilities.
5. Using a Portfolio Management System



Portfolio Management System's enable you to enter a Stock and a bought price and sold price. This will enable you to have the %gain and $ gain automatically calculated for you.
You have essentially 3 options to choose from.
Free Portfolio Management Tools
Online Brokers Portfolio Management Tools
Tracking Manually with a Spreadsheet.
Free Portfolio Management Tools Positives
Free
Easy to use and setup
Great for paper trading & Watchlist tracking
Usually linked to Charting and news services
Free Portfolio Management Tools Negatives
Not connected to trading platform
Usually 20-minute delay in stock quotes
Not secure information
Unable to track personal notes in the portfolio
Unable to track trading history
Online Brokers Portfolio Management Tools -- positives
Secure information
Integrated with trading system (1 click buying)
Real-time Bid and Ask
Linked to research and news
Online Brokers Portfolio Management Tools -- Negatives
No ability to track personal comments
Few options to review performance Year to Date
Historical track record not available (only with your trading statements)
Tracking Manually with a Spreadsheet -- Positives
Completely flexible
Simple calculations easy to create
Secure
Ability to track personal notes comments
Tracking Manually with a Spreadsheet -- Negatives

Not linked to stock prices
Not linked to trading software
Some knowledge of equations/calculations and spreadsheets required
The liberated stock trader uses a mix of Online Broker Management tools and a Spreadsheet. The spreadsheet enables you to have complete control, and used wisely is a completely invaluable asset.
6. Educate Yourself
The power of knowledge should never be under-estimated. There are various options to educate yourself.
No Cost : Follow the Trading School Structure at www.liberated stocktrader.com
Low Cost : Books -- please see here for the Liberated Stock Traders Recommended reading list.
Medium Cost : Self Study Training DVD's / CD's
High Cost : Training Courses Live Seminars
Checklist Summary
We have covered all the core essentials you need to set yourself up as a Stock Trader. The most important by far is to educate yourself and always think for yourself and be responsible for your own decisions.
Learn Stock Market Trading and Investing with our "Trading Academy FREE" 10 Modules, Videos + 2 eBooks. Click Here to join our 20,000+ Members