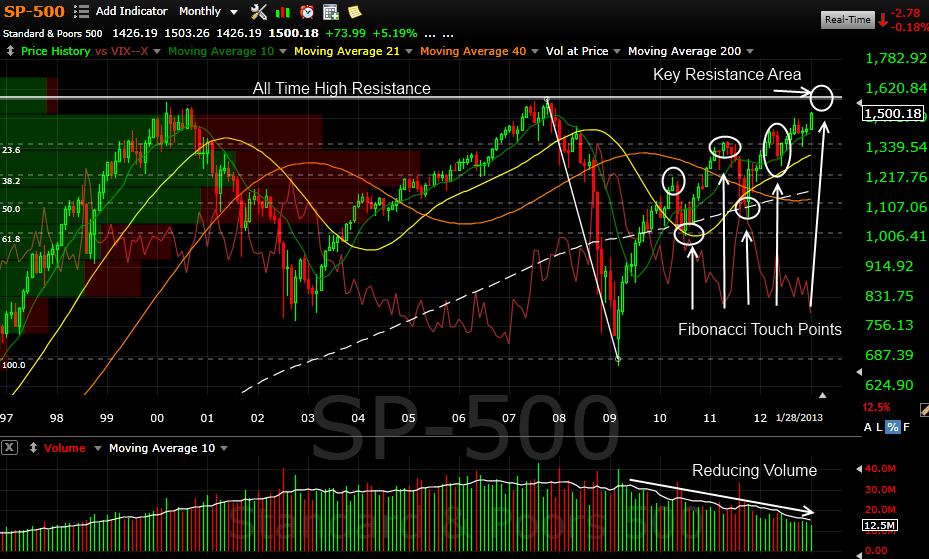 What an exciting year so far, the S&P 500 is up 5.7% so far this year approaching it's all time high of 1545.  The index is only only 38 points off the historic high.  Investors seem at the moment to be shrugging off financial cliff worries choosing to focus on the current mostly positive earnings season.
Other indices approaching their all time highs include the:
U.S. – Russell 3000, DJ-30
Germany – DAX
India – SENSEX
The chart below demonstrates how Fibonacci Retracement, when used in the right, way can give us excellent natural support and resistance levels.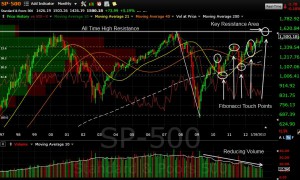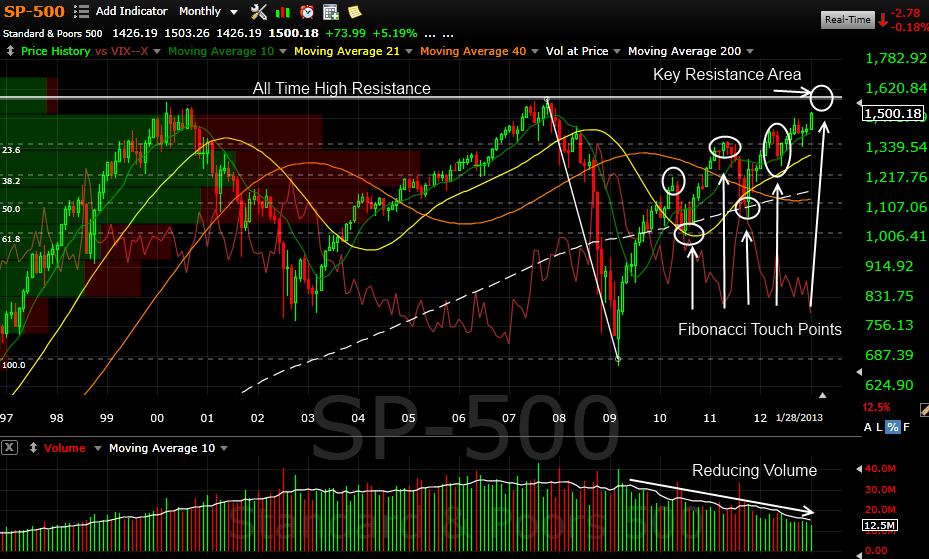 Using Fibonacci retracement on the S&P 500 index allows us to see future pivot points in the stock market and plan for them accordingly.  In this chart you can see the the last 5 major support and resistance levels in the S&P 500 since the market bottom in 2009.  The next resistance point will of course be the all time high at 1545.  Interestingly since the 2009 crash the market has recovered strongly more than doubling during this period.  Most interestingly to the technical analyst is the fact that we see this market surge on decreased volume.
This could indicate the following:
There are less shares being traded on average since the 2009 bust
There may be less high frequency trading in operation as this accounts for the majority of stocks traded in a given period.  The average hold time for a stock in the U.S. is less than 1 minute.  In fact the UK newspaper "The Telegraph" reported the hold time to be just 22 seconds.
The independent investor is not fully back in the market and there may be more money on the sidelines than expected.
The reduction in volume also suggests that given the future fundamentals of the U.S. Economy that more money has been flowing into other international markets or other financial instruments.
However, recently reported on Reuters is the fact that last week alone mutual funds saw a net inflow of funds of 6.35 billion dollars, this is the third consecutive week of inflows.  This means the private investor is coming back to the table, this is a bullish sign.
How far up can the markets go?
Well right now the short, medium and long term trend is UP.  This could change depending upon what happens with U.S. law makers.  Lets see if the S&P 500 can break through to new all time highs.
To learn more about the application of Fibonacci Retracement in the stock market and how to apply expert fundamental and technical analysis check out the Liberated Stock Trader PRO Training Course.