What a day!
June 15th 2010 was a big day in the US Markets, with the Dow Jones Industrials (DJ-30), Standard & Poors 500 (SP-500) and the Russell 3000 (RUA-X) registering an average  a 2.27% gain.
I mentioned in a previous market update, that we needed to look out for a change in the market signals to tell us if the downtrend was about to end.  Especially we needed to look for:
Price breaking through the 200 day moving average
Positive divergences in the indicators
Be careful if the S&P breaks below 1044
Well how good was the advice?
Here is an updated chart to show you the current situation.  Here we will focus on the Russell 3000.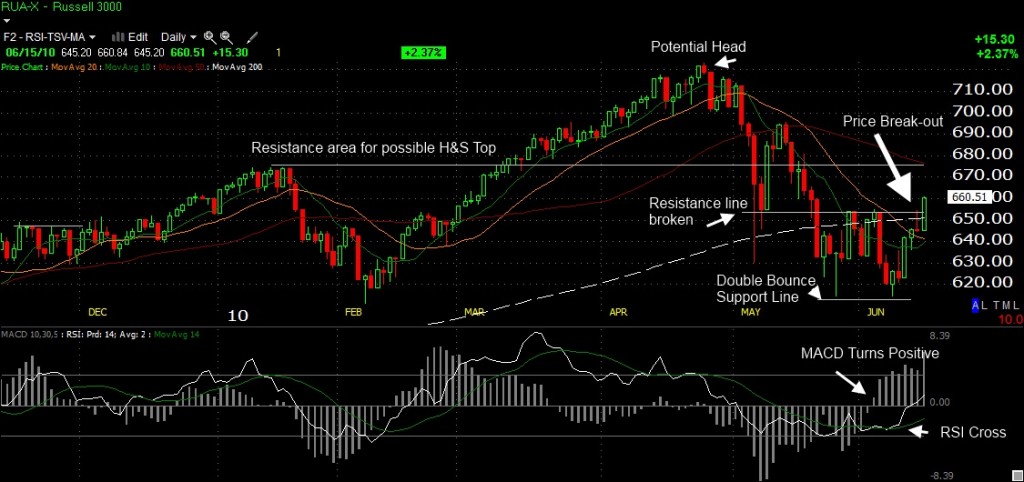 Positive Notes on the Russell 3000 chart.
Price broke out above the 200 day moving average yesterday (dashed line)
Price also broke out above the horizontal resistance line.  The price may yet fall back to rest around this mark but not fall through it.  Breaking back down below it would indicate a resumption of the downtrend, or at least a continuation of the sideways consolidation pattern.
MACD is moving strongly positive with another new peak.
RSI is crossing over the 14 day MA of the RSI, strongly.
Negatives Notes on the Russell 3000 chart.
If we look at the chart on a longer term view we can see that there is the possibility of a Head and Shoulders Top forming.  Be careful here!  A move up to the 680 mark with a failure to break through it could constitute the final shoulder in the head and shoulder pattern.  However do not forget that Volume has an important part to play in a Head and Shoulders Pattern.
Beware the market is very volatile at the moment, it is also very sensitive to news, especially bad news.  Take this into consideration when trading.
Conclusion.
This could be the start of a new short term uptrend, leading to another leg up if the 680 mark or the January 2010 high is surpassed.  Now may be a good time to start buying, but be wary of a break down of price through the most recent horizontal resistance line (now a support line) at 654.
Happy trading!
To your success.