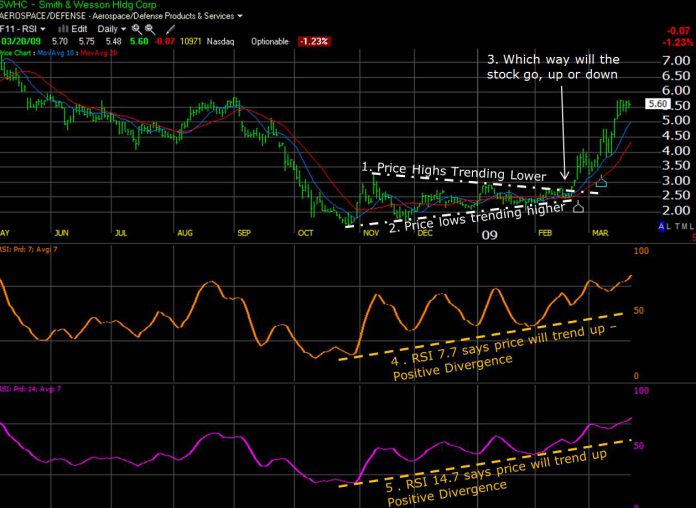 RSI measures the strength of a stock, use this practical 5 point analysis to understand and take advantage of this popular indicator
RSI – Relative Strength Index – a critically important indicator.
Here we have a very popular indicator called Relative Strength Index, or Wilders RSI. Developed by J Welles Wilder, this indicator measures the strength of any stock by comparing it's average net up closing day prices versus its average net down closing prices, for the period set. It enables you to see if a stock is overbought or oversold.
How Is Relative Strength Indicator Calculated?
RSI fluctuates between 0 and 100, 0= Oversold, and 100 being overbought. It is a leading indicator and can be used to predict future trend changes using positive or negative divergences compared to price.
Divergences are one of the most powerful ways to use most indicators. The fact that it is a leading indicator, as opposed to Moving Averages which are lagging, and can thus indicate future directional changes.
Relative Strength 5 Step Detailed Analysis
The chart below is of Smith & Wesson (SWHC), the chart shows clearly how RSI can be used to clearly predict future trend changes.
Using RSI on 2 settings shows how shorter and longer-term settings can show a different line, but the same answer, therefore confirming each other.
The shorter-term setting (7 Periods Prices:7 Periods Smoothing)
The longer-term setting (14 Periods Prices:7 Periods Smoothing ).
Review the chart, and read below the 5 key points explaining usage.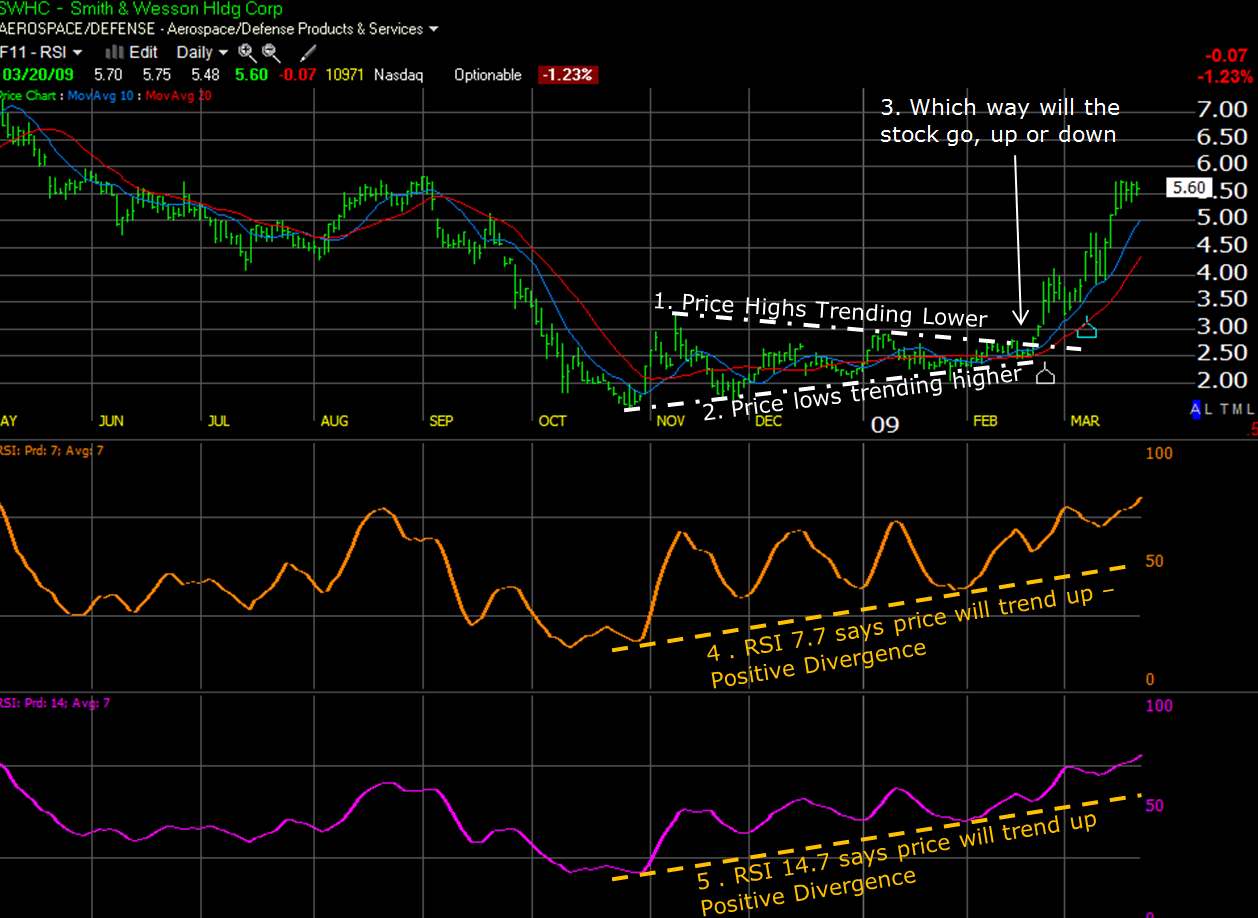 TC2000 chart courtesy of Worden Brothers, Inc.
Here you can see the

price highs trending downward

from the period November 2008 to February 2009
Here we see the

price lows trending higher

for the same period.
So we see the forming of a

Price Pennant

, but which way will the Stock price go. Up or Down. For the answer we refer to the leading indicator RSI
The RSI (7:7) Orange line, tells is as early as the beginning of January 2009 that we are seeing a stronger upward momentum in RSI, although this is not reflected in the Price, it is the underlying action.
The RSI (14:7) also confirms the shorter timeframe RSI settings but gives us a smoother line which can be easier to interpret.
Finally, in mid-February, the stock price bursts through the price high trend Line (point 1 above) and the stock proceeds to double in Price (100%) in 5 weeks.
What a great result, and what proof that RSI has real meaning and application.
However, if RSI is telling you nothing important, then please use other indicators, or move on to review another stock where the indicators will tell you something.
To control your investment, your money and your destiny takes hard work, but the fruit will be sweet. Long live the Liberated thinker, long live the Liberated Stock Trader.
Learn Stock Market Trading and Investing with our "Trading Academy FREE" 10 Modules, Videos + 2 eBooks. Click Here to join our 20,000+ Members