In this article, we discover the Relative Strength Index stock chart indicators, possibly the most used chart indicator in technical analysis.  But most people do not know how to use it properly.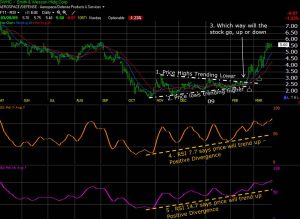 What is the RSI Indicator
Developed by J Welles Wilder, the Relative Strength Index or Wilders RSI indicator measures the strength of any stock or market index, by analyzing its price movements.  RSI measures price relative strength by using average net up closing day prices versus its average net down closing prices for the period set.
RSI enables you to evaluate if a stock is overbought or oversold.
How Is RSI Calculated?
RSI fluctuates between 0 and 100, RSI less than 30 indicates the stock is oversold, and above 70 suggests a stock is overbought. RSI is considered a leading indicator and thus can be used to predict future trend changes using positive or negative divergences compared to price.
Divergences are one of the most powerful ways to use most indicators. The fact that it is a leading indicator, as opposed to Moving Averages, which are lagging, and can thus indicate future directional changes.
The Best RSI Indicator Settings
There is no "best" setting for RSI; you actually need to tune the RSI settings for the timeframe in which you want to analyze a stock trend.
A Short-term RSI Setting RSI 7 (7 Periods of Price: Good for Daily or Intraday Charting)
A Medium-term RSI Setting 14 (14 Periods of Price: Good for a Daily Chart)
A Longer-term RSI Setting 20 (20 Periods of Price: Good for a Weekly Chart)
Tune the RSI setting based on the timeframe.  If you want to see the stocks strength over a period of weeks on a daily chart, you could use RSI 20, which indicates a 1-month trend (20 market days in a month).
If you prefer to trade short-term on an hourly chart, you might use an RSI 24 to see three days of trend (24 hours or 3 market days).
Relative Strength Investing
The chart below is of Smith & Wesson (SWHC); the chart shows clearly how RSI can be used to clearly predict future trend changes.
In this chart, I use RSI in two separate windows on two different settings to show how the shorter and medium-term settings can show a different line but draw the same conclusion. This means they are confirming each other, which is a key concept in technical analysis of stock charts.
Review the chart, and read below the five key points explaining usage.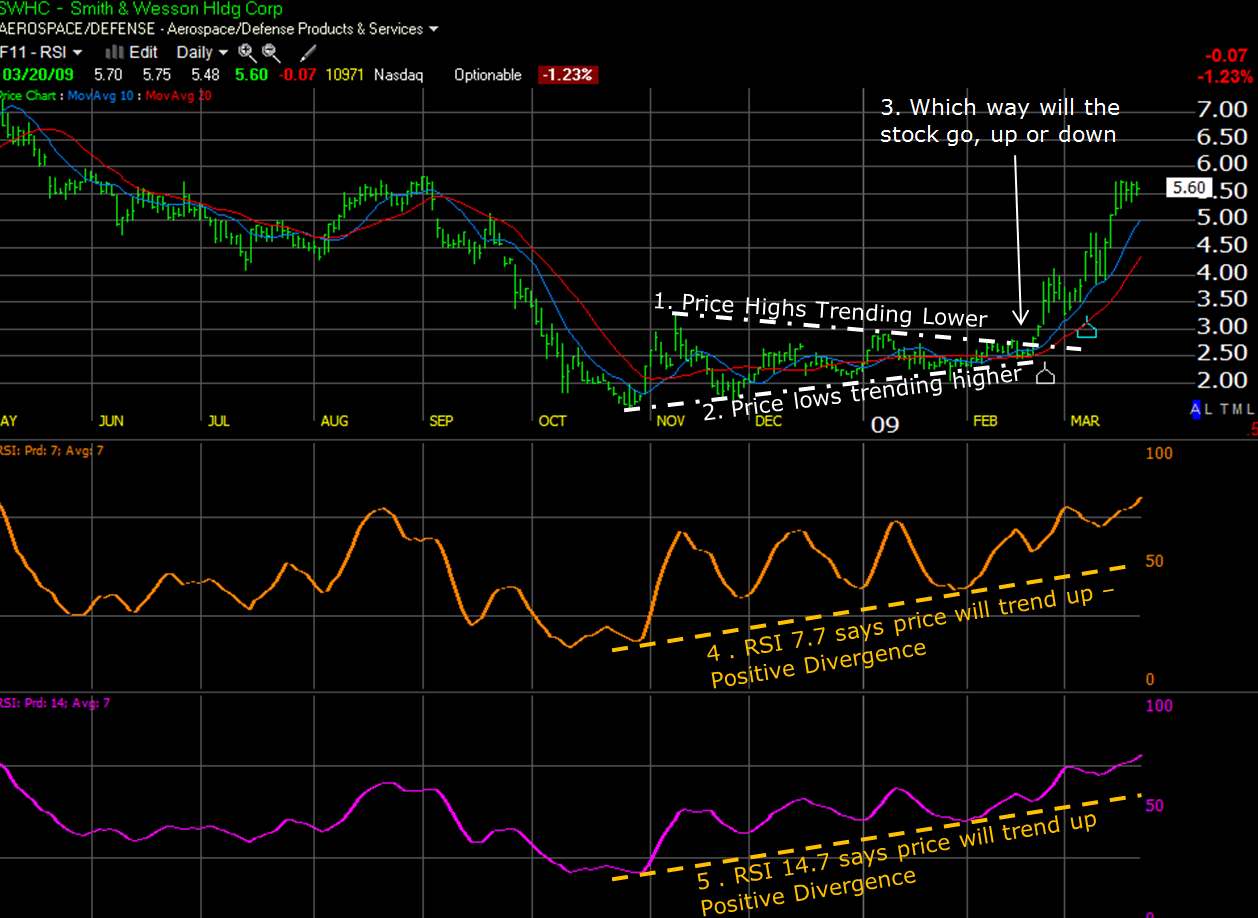 TC2000 RSI Chart – Get TC2000 Free
Relative Strength Chart 6 Step Explanation
Trendline showing the price highs trending downward from the period November to February.
During the same period, we see the price lows trending higher.
The two trendlines indicate the forming of a Price Pennant, but which way will the stock price go, up or down? For the answer, we refer to the leading indicator RSI.
The RSI 7

(Orange Line)

, indicates as early as the beginning of January that there is strong upward momentum in RSI, although this is not reflected in the price, it is the underlying action.
The RSI 14

(Purple Line)

also confirms the shorter timeframe RSI setting but gives us a smoother line, which can be easier to interpret.
Finally, in mid-February, the stock price bursts through the price high trend Line (point 1 above), and the stock proceeds to double in price, gaining 100% in 5 weeks.
What a great result, and what proof that RSI has real meaning and application.
Divergence Is The Key to RSI
The important lesson here is to notice when the Relative Strength Index moves in the opposite direction to the stock price.  The indicators moving against the price is called a divergence.  Spotting divergences are essential to use with the majority of stock market chart indicators.
Stock Market Analysis Using RSI
During the 2020 Corona Crash, I used RSI to help stop the serious impending stock market crash and also the subsequent recovery. The S&P500 chart below shows how to use RSI with other indicators to draw conclusions on market trend change.
This chart was built using TradingView, our review winning best stock market software. You can get TradingView for Free.
The Best Indicators to Use With RSI
There may not be any "best" indicator to use with RSI, but you should select indicators that perform different calculations. RSI is a price indicator, so in addition to RSI, you should use a price and volume indicator such as OBV or Money Flow. When RSI and OBV or Money flow both agree in direction, it is a reliable way to interpret trend direction.
In the market analysis of the Corona Crash I used RSI with the Advance-Decline Ratio (ADR), the Know Sure Thing (KST) indicator, and the Volume Indicator with a Moving Average 20 line.
When Not To Use RSI
Stock chart indicators never work perfectly all the time. If the RSI indicator is telling you nothing important, then please use other indicators, or move on to review another stock where the indicators will tell you something.
To control your investment, your money and your destiny take hard work, but the fruit will be sweet.
Best RSI Stock Chart Software & Screeners
Compare The Top 10 Stock Charting Software Platforms Comparison
Learn Stock Market Trading and Investing with our "Trading Academy FREE" 10 Modules, Videos + 3 eBooks. Click Here to join our 34,000+ Members