Dear Liberated Stock Traders
as I write we can see the US markets are at a point of indecision.  I believe that where the market decides to go from here will be important.  The market participants have been fluctuating between being Bullish and Bearish, meaning they are unsure.  The news broadcasters are screaming Bullish one day and Bearish the next day.  It is important for you to form your own hypothesis.
After reaching a new 2 year high the S&P500 has broken down through its last support line and may continue further.  However if we plot an uptrend support line (connecting the lowest lows since March) we see we are still, only just, in an uptrend.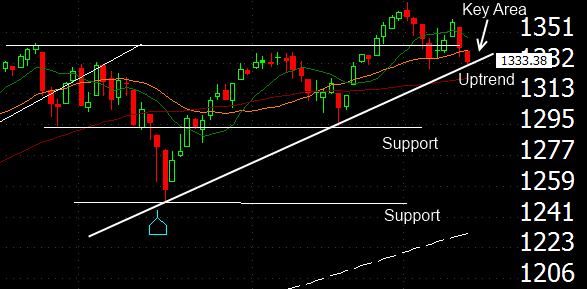 Chart Courtesy of Worden Brothers Inc.
We are currently in a Key Area (shown in the daily S&P500 chart).  Where the market decides to go from here may have important implications on the near/medium term trend.
Will it bounce up through the uppermost horizontal support line?
Will it break down through the diagonal Uptrend line and potentially move down to the next support line at 1295, or even further down to 1250?
Only the market will tell us.
What is the lesson here?
Have a contingency plan.
Do not sit there and hope for the market to move in your direction.
Decide what you will do with your stocks if the market continues down.
Decide what you will do if the market moves up.
Make your decisions now to avoid the emotional conflict you will have in the heat of the moment when everything is moving against you.