Dear Liberated Stock Traders,
I have been receiving emails recently asking me when my next market update will be, as I guess I have not done one in a while.
The reason I have not provided a market update recently is because we have been in a strong up trend since August 2010.  Yes, sure we had a blip  in November, but that was soon corrected.
The trend itself is still looking strong.  Take a look at price, continuing despite all odds to rise.
As we know, price is the most important of all the indicators as it tells us the truth.  But actually, price can continue to go up even though the underlying factors underpinning the price are changing.  Does that mean price is lying?  Well… sometimes.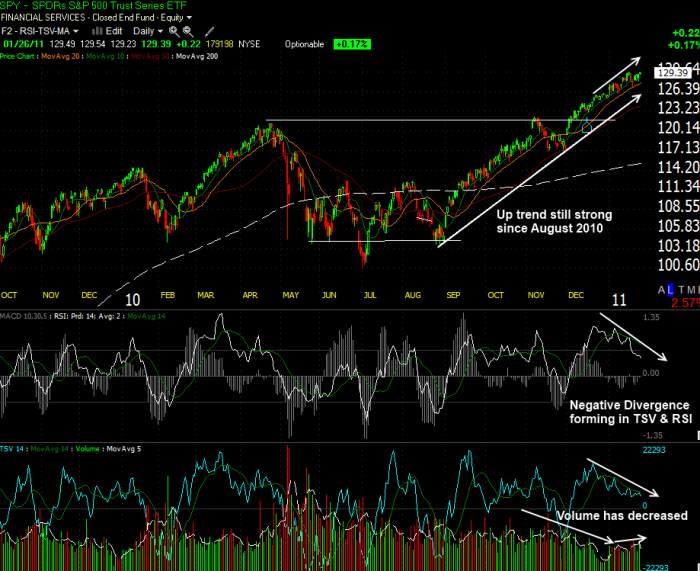 TeleChart2007 chart courtesy of Worden Brothers, Inc.
This is why we usually plot additionalö indicators on a chart, volume is one.  Volume has been steadily decreasing since the "blip" in November.  What does that mean?  It means the market participants are beginning to back away from higher prices.  Does that mean the trend will change?  Maybe not today, maybe not tomorrow, but at some point yes.
Also sharp students of the Liberated Stock Trader Pro Course will have already noticed that there are a few negative divergences forming in some of the price and price volume indicators.  They will already have formed a contingency plan, maybe begun to shore up their stop losses, or move to cash, who knows.
What does this divergence tell us?  Maybe something, but maybe nothing.  But usually something to be wary of.  As I showed comprehensively in the PRO training course these divergences allow us to take a look at the underlying action and see what might happen in the future.  Is is 100%?  No.  Is it a significant advantage in the market place…ooh yes.
As one of our PRO students said about the PRO Training Course in the recent Gold Seminar he "really likes the part about divergences and how to use them, it was excellent".
So this is a divergence quick refresher.
Don't forget, price is the most powerful indicator, but divergences allow us to see when the underlying factors underpinning the price are changing, and therefor the price may change.
The price trend is still UP, but it might be weakening.