Recommended for professional frequent trading investors, who value a slick touch enabled interface which operates well with Bloomberg feeds and terminals, premium features and the best Gann Analysis tool set on the market.

Market Analyst has been in the market for almost 20 years and they cater to individual investors as well as to fund managers
Pricing and Software 9/10 – Market Analyst is at the top end when it comes to price and you will need a powerful PC to run it, but with IQFeed, GFT and MT4 data integration's, great customer services and the full range of instruments covered (Stocks, EFTs, Mutual Funds, Options, Futures, FOREX, Bonds) for the premium price you get the premium package.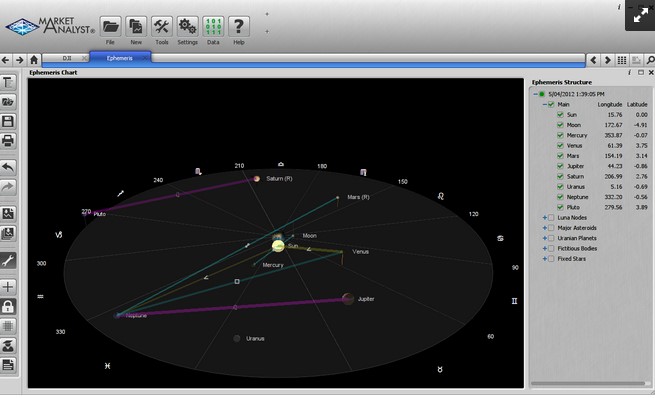 Trade Management 3/10 – While you have the ability to place trades from charts, MA7 does not have a full suite of broker integrations.
Fundamental Scanning and Screening 10/10 – A perfect 10 for fundamental sc screening for MA7.  A well thought out real-time scanning and filtering engine and the fundamental watch lists are well implemented
News 3/10 –MA7 does have news integration if you have the data feed in place.
Technical Analysis 10/10 – Another perfect 10 for MA7.  A fantastic array of  technical indicators and drawing tools.  Specializing in Gann tools with a full suite including Gann Grid Lines, Gann Fans and Gann Swing.  Also included are Elliott Wave and Darvas Box, the full set of exotic indicators are present.  To top it off they have also implemented an excellent astrological analysis suite as an upgrade for those of you who believe in that sort of thing, yes commodity traders I am talking about you :).
Stock Systems and Back Testing 9/10 – Market Analyst has back-testing well covered also, with a well implemented backtesting and system analysis tool set.  Best in class up there with MetaStock and QuantShare as the industry leaders, but unlike the others you to not need a PhD in mathematics to setup and test your system.
Ease Of Use 8/10 – This is another high score for Market Analayst 7.  This score is only beaten by Tc2000.  That says a lot for Market Analyst as it is an exceptionally powerful tool.  The interface, the shortcuts, the whole thought process implemented into MA7 warrant this high score in an important section.  They also have an extensive video training library which is very valuable to the new customer.