A heartfelt thank you to those of you who completed the customer survey we sent out in December 2012.  We conducted two surveys, one for our students of the PRO Training Course and another for our members of the Free Trading Academy.
We learned a lot from your feedback and would like to share some of it with you.
The Liberated Stock Trader Book
57% Satisfied, 43% Very Satisfied, 0% Dissatisfied.



The Liberated Stock Trader PRO Training consists of two major components, the Liberated Stock Trader Book and the 16 Hours of Video Training that accompanies the book.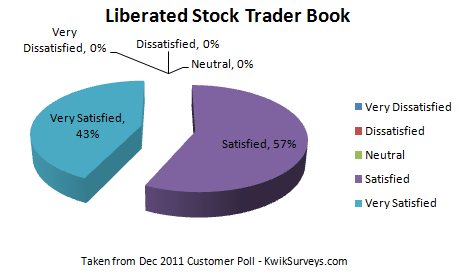 The results for the Liberated Stock Trader Book were very encouraging, and we thank you all for the positivity. With 57% of our customers Satisfied and 43% Very Satisfied, this was beyond our expectations.  This means that no-one who purchased the training course and completed the survey was dissatisfied or even neutral.
The Liberated Stock Trader PRO 16 Hours of Video Training
43% Satisfied, 53% Very Satisfied, 0% Dissatisfied.
The second major component of the training is the Video Lessons, we scored even better on this, with 57% of our respondents Very Satisfied and 47% Satisfied.
Again we had no-one dissatisfied.

The most popular sections of the training were Essential Knowledge and Economics, Waves & Cycles & Stock Charts & Indicators.  The lowest rated section was the Chapter on Strategy, which was rated with 29% neutral and 71% Satisfied or Very Satisfied.
We also offer additional services with the training, such as the entire training available on Mobile Edition for iPhone.  50% of the respondents were Neutral on rating this option, perhaps because they did not use it or have a need for it. Again no-one was dissatisfied with it.
The Trading Academy Free Training Course
94% Good, Very Good or Excellent
Our second survey was conducted with our Free Members, and we asked them how they rated the Trading Academy Free.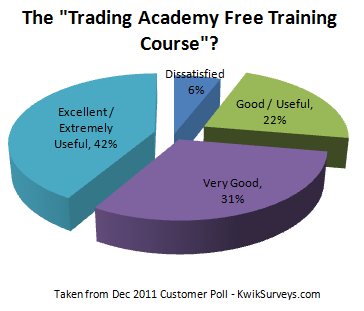 We were very happy to hear that 22% of people found our free training. Good/Useful, 31% thought it Very Good, and 42% found it Excellent.  We are very proud of this fact.
6% of people were dissatisfied.  We received a number of comments regarding usability, location of the logon box, and issues with navigating through the content.  We have made a number of changes to improve the user experience, for example, the addition of a privacy policy, location of the login box in the top right of the screen, and added additional menu items in the member content area.  We hope this helps.
The Free Stock Market Training Video Content
15% Good, 48% Very Good, 30% Excellent
We achieved very similar results for the ratings of the Video Training in the Free Training.  Again 6% of you were dissatisfied.  Some comments such as "the Podcast should be available for Android, not just iPhone," "the free training navigation could be improved," and "please include live trading videos."  We will work on this.
Summary Results
The team and I are very thankful for your thoughtful and provoking feedback, and we will continue to offer our Free and Premium services in the manner you were accustomed to in 2012.
We wish you and your family a fulfilling and profitable new year ahead.