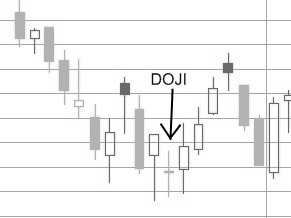 This in an excerpt from the Liberated Stock Trader Academy Pro Training Course.
The theories behind candlestick charts are so abundant that one could write a book about it and in fact many have.
At first candlesticks look very difficult to understand and there are at least 60 different main patterns.  Who has the time to learn the name of every pattern and its meaning?  Not you I can imagine.
In this section I will show you how they work and also focus on what they are trying to tell us.  There are a few psychological principles involved with Candlesticks and when you know them you can understand the meaning of all the patterns without having to learn them all.
Let's start with the 2 types of Candlestick.
The first Candle has a black or filled body.  This indicates the day was a price down day.  A white or hollow candlestick indicates an up day.  The lines above and below the main body are referred to as the "Shadows" or "Wicks".
Also worthy of note is that candlesticks show the days price pictorially quite nicely as the extent of the surge or "Trading Range" from Opening Price to Closing Price can be seen very clearly.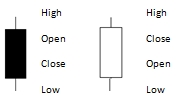 Once you get used to Candlesticks I am sure you will never go back to OHLC Bars again.
Candlesticks are used to allow us to try to predict the movement of price of the course of the next few days.  Candlesticks are of 2 types, "Reversal Patters" and Continuation Patterns"
In this graphic you can see one of the most popular uses of a candlestick chart, to spot a "reversal"
The "Doji" is when the opening price and the closing price are very close together.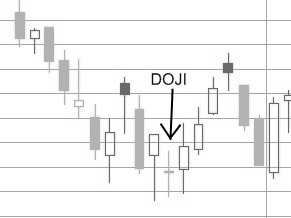 You can see the price pattern here, price was going down then the Doji appeared and then price reversed and proceeded upwards.
This is one of the most common reversal patterns and when you understand it you will see it everywhere.
Learn Stock Market Trading and Investing with our "Trading Academy FREE" 10 Modules, Videos + 2 eBooks. Click Here to join our 20,000+ Members