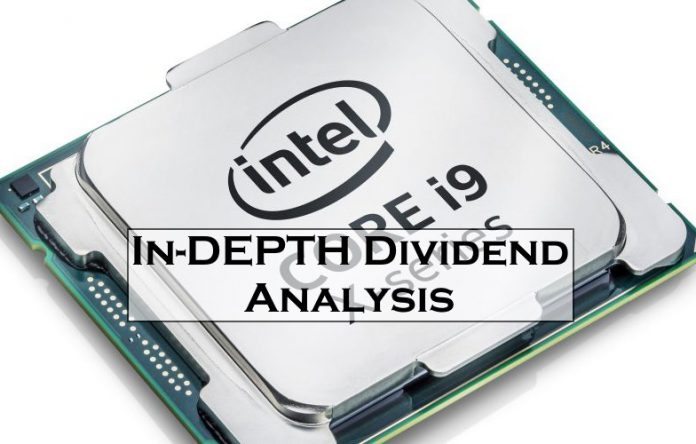 In-Depth Analysis of Intel Stock Dividend Yield, Growth, Reliability & Payout. Is INTC a Better Dividend Investment than FANG [FB, AMZN, NFLX, GOOGL] Stocks?
Those seeking a cheaper alternative to NVIDIA (NASDAQ: NVDA) should look to the Intel Corp (NASDAQ: INTC). Intel delivers a higher dividend yield and payout than NVIDIA at a lower price.
Intel shareholders enjoyed a dividend yield of 2.39%, an annualized payout of $1.20, and a payout ratio of 29.1% on August 10, 2018. Yet they only paid $48.91 a share.
On the same day, NVIDIA offered a dividend yield of .24%, an annualized payout of 60¢ and a payout ratio of 8.5%. Despite the lower dividend numbers, NVIDIA shares were trading at $254.30 on August 10, 2018.
These numbers demonstrate that those seeking a dividend from a chipmaker would be better served by Intel. Intel not only offered a yield, it delivered a higher dividend. The latest is 30¢ scheduled for September 2, 2018. NVIDIA investors received a dividend of 15¢ in May 2018.
Intel is Experiencing Substantial Dividend Growth
There is one aspect of Intel's dividend that should give investors pause for thought. Its growth is not as steady or as reliable as NVIDIA's is.
The NVIDIA dividend has been growing for around 14 years. Intel's dividend has only been growing for the last three years.
Intel delivered a quarterly dividend of 22.5¢ for over two years from August 2012 to November 2014. The dividend started grew again by jumping 24¢ in February 2015; it increased to 26¢ in February 2016, 27.5¢in May 2017, and 30¢ in January 2018.
Therefore, Intel has experienced steady dividend growth for the past three years. More importantly, the company has experienced substantial dividend growth for the past three years.
Is Intel Corporation a Good Growth Stock?
Here you can see our 5-year stock chart of the stock price growth for Intel Corp.

Intel has a Reliable Dividend
Furthermore, Intel has a very reliable dividend. It has paid a cash dividend every quarter since October 1992.
That means Intel has been paying a dividend every quarter for nearly 26 years. Intel's dividend started at 10¢ in October 1992. Then fell to 5¢ in 1993, rose to 6.5¢ and 6¢ in 1994, fell to 4¢ in 1995, rose to 5¢ in 1996, fell to 3¢ in 1997, and dropped to 2¢ in 2000. The dividend stayed at that level in 2004 when it doubled to 4¢ and 2008 when it rose to 8¢
The most impressive thing about Intel's dividend history is its reliability. Intel kept a growing dividend right through the great economic meltdown of 2007-2008.
Intel was paying a dividend of 10¢ in 2006, that payout increased to 11.25¢ in 2007 and 14¢ in 2008. Then remained at 14¢ until 2010 when it increased to 15.75¢. That dividend increased again to 18.12¢ in 2011. The Intel dividend actually rose during the worst economic crisis of the past 70 years.
More impressively, Intel's dividend has not fallen below 20¢ since 2011. The dividend reached 21¢ in 2011, and 22.5¢ in 2012.
Intel's dividend has not experienced a serious drop in value since the year 2000. The dividend has been slowly growing since 2004.
How Much Money is Intel Making?
The financial numbers show that Intel has the resources to support its dividend.
Intel reported quarterly revenues of $16.96 billion for 2nd Quarter 2018 on June 30. It also reported $66.23 billion in annual revenues and net income of $13.29 billion on the same day.
There was plenty of cash at Intel including a quarterly free cash flow of $2.883 billion, $27.2 billion in cash from operations, and cash and short-term investments of $122.22 billion on June 30, 2018.
Intel's business is growing and generating large amounts of cash. The dividend will survive if these financial results continue.
Is Intel a Good Value Investment?
Another fascinating characteristic of Intel is that its stock is a value investment.
The value parameters at Intel include the low stock price ($48.91 on August 10, 2018) and the dividend. Beyond that, Intel's business has many of the attributes of a classic Ben Graham or Warren Buffett-style value investment.
For example, Intel is a manufacturer that makes physical products rather than software. The physical products are the chips and the processors that applications and algorithms run upon.
Therefore, Intel (like NVIDIA) must be viewed as an infrastructure company. Intel builds critical components of the infrastructure that the internet, the Cloud, e-commerce, streaming video, and social media operate upon.
Is Now a Good Time to Buy Intel Corp Stock?
In terms of Market Timing for a Stock purchase, you can look at Technical Analysis Provided by TradingView. This is a summary of the Stock Chart Indicators Relative Strength, Stochastic, CCI, ADI, Momentum, MACD and a suite of Simple and Exponential Moving Averages.
TradingView Won our Stock Market Analysis Software Review. Get TradingView for Free Now 
Is Intel a Safe Investment compared to other Silicon Valley Companies?
All of this makes Intel theoretically safer and more stable than most of today's technology companies, the design, and manufacture of silicon chips is a market with high barriers accessible to only a few.
Software applications can become obsolete or redundant very quickly. Audiences might abandon a social-media or e-commerce platform overnight.
The platforms and applications will still need processors to operate upon. Intel is one of the main companies that provide those processors.
The relative stability of the semiconductor or processor market has enabled Intel to offer a dividend for over 25 years. The rest of the tech market has changed dramatically over that period but Intel is still in business and paying a dividend.
Is Intel better than the FANGS?
Back in 1992; when Intel first issued dividends there was no Google, or Amazon (NASDAQ: AMZN). Facebook (NASDAQ: FB), and the rest of social media were not even a theory yet. Streaming video was nothing but a dream.
Therefore, Intel is superior to the popular FANG stocks in terms of staying power. The FANG; Facebook (NASDAQ:FB), Amazon (NASDAQ:AMZN), Netflix (NASDAQ: NFLX), Google (NASDAQ: GOOGL), were all founded after Intel issued its first dividend in October 1992.
Interestingly, none of the FANG has paid a dividend yet, which makes them poor income stocks. Even the highly priced Amazon and Alphabet Inc. (NASDAQ: GOOG) have resisted issuing a dividend.
The lack of a dividend makes the FANGs unattractive as income stocks. Naturally, the dividend makes Intel more attractive to income investors.  However, Apple Inc (NASDAQ:AAPL) a member of the FAANG Stocks  does pay a dividend with a yield of 1.56%
The Future of Intel Corp Dividends & Business
Intel is not resting upon its laurels. The company is constantly out new chips to stay on top of the market.
For example, Intel unveiled Cooper Lake, a 14nm chip with hardware acceleration support on August 9, 2018. Cooper Lake is reportedly designed to provide support for Alphabet's Bfloat 16 floating-point format, Extreme Tech reported. That means Cooper Lake is designed to work with solutions like Android and Chrome.
The chip called Cascade Lake supports machine learning. Machine learning is a critical component of artificial intelligence.
Intel (NASDAQ: INTC) demonstrates that there is such a thing as a secure dividend from Silicon Valley. Intel is a great low-cost alternative to NVIDIA and the FANG.
Download The Intel Dividend Payout History for your own Analysis
This excel sheet includes Declare Date, Ex-Dividend Date, Record Date, Pay Date and Dividend per share amount for 26 years.
Click Here to Download the Complete Intel Corp INTC Dividend History In Microsoft Excel Format
Learn more about dividend investing and read out expert tips on dividend strategies.
If you are looking for alternative dividend stocks, check out our Best Real Estate Investment Trusts Paying Monthly Dividends, or our Top Monthly Dividend Stocks.