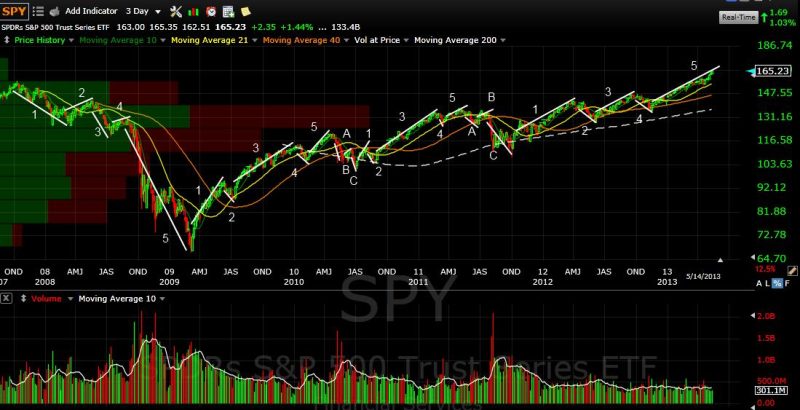 This article will show you how to apply and use Elliott Wave thoery on the market today; specifically the S&P-500.  It will also share some realities about the theory.
The U.S. markets have hit new all time highs and seem to be happily advancing despite lacklustre economic data.  Volatility is low historically on the VIX confirming the uptrend.  Both Chaikin MoneyFlow (14) and RSI (14) are reaching oversold territory but the trend marches on.
The basic technical analysis view of the markets suggest all is well in the world of stocks.
To understand where we are in the market cycle it can be very useful to employ a tool called Elliott Wave*.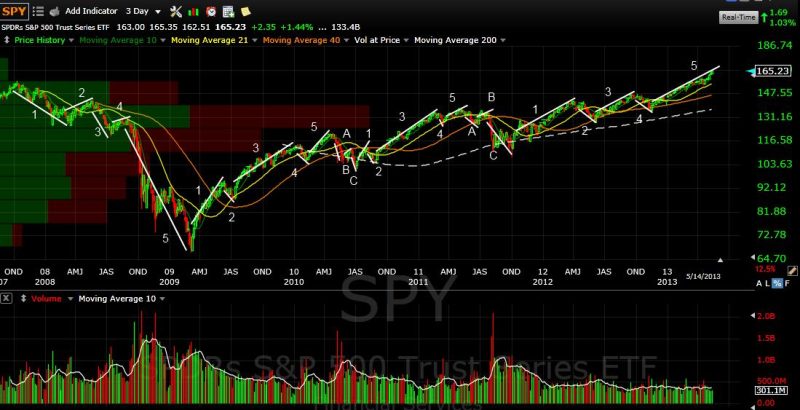 Chart Courtesy of Worden Brothers Inc.
In this chart I have mapped approximately the main 3 waves of Elliott Wave Theory.
The first impulse wave starts at March 2009 and ends in May 2010.
The second impulse wave starts in July 2010 and ends in May 2011.
The third impulse wave starts in October 2011 and is continuing until today (May 2013).
Elliot wave theory suggests that major bull markets propel upwards in 3 primary waves.  After the third impulse wave we then se a primary downward trend bear market, to set us up for the next round of impulse waves up.
The problem with Elliott wave theory is that the mapping is always open to interpretation and ask 10 Elliott wave theorists the same question you may get 10 different answers.  But assuming my mapping is correct we could be due for a major down move in the market.
When will that occur? Well this is the key question.  The final impulse wave is normally the longest according to the theory, and in this instance that certainly holds true.  However I do not imagine the market will continue up smoothly for the rest of this year.
There are some caveats with Elliott wave theory.  The first is that is is proven accurate and statistically relevant only on highly liquid stocks or markets, where there is less likelihood manipulation of prices by a "few strong hands".  Elliott himself warns us of this.  This means that the not so liquid elements of the market are not applicable; approximately 65% of the total market.
So according to Elliott wave, we are in the final leg of the primary bull market and a significant pullback is due at the end of this primary impulse wave.
Keep your eyes open for signs of weakness and in the mean-time enjoy the bull market.
For further reading on Spotting Potential Bear Markets I recommend reading my book the Stock Market Crash Detector, available direct through LiberatedStockTrader.com or via Amazon Kindle
for more details on Elliott Wave Theory take a look at Traning Course 103 or the Liberated Stock Trader PRO Training.
For a good understanding of Eliiott Wave see