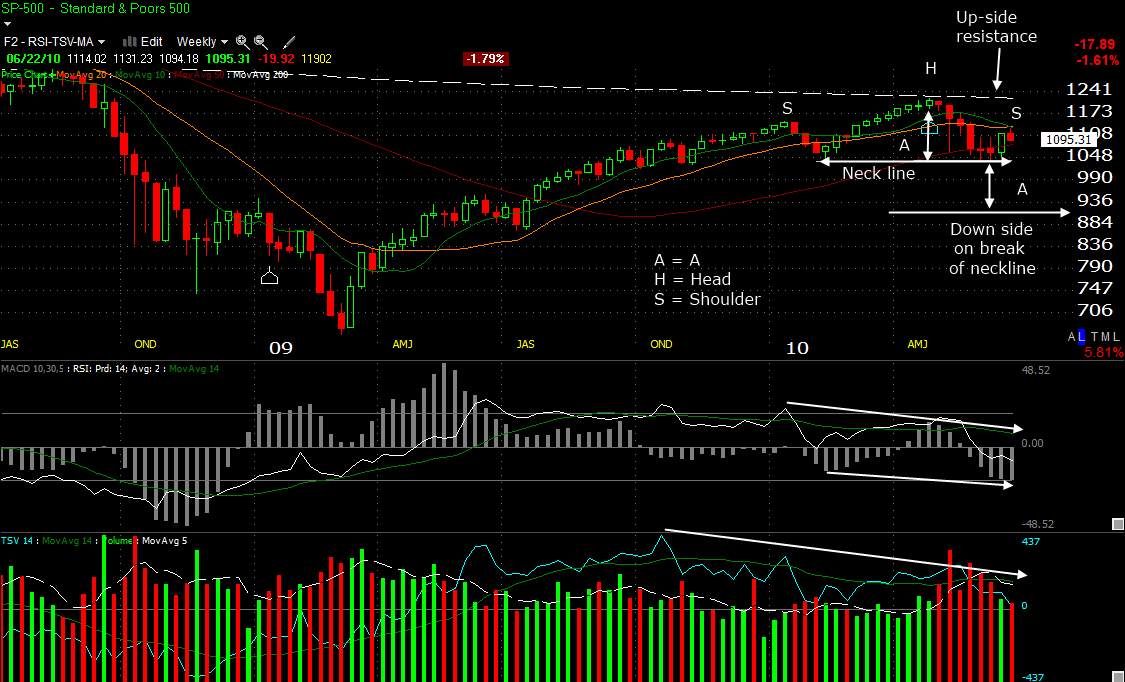 How to Recognize a Real Head & Shoulders Pattern?
The importance of the Head and Shoulders pattern should not be under-estimated.  One of the most reliable patterns in technical analysis yet one of the most misunderstood.
Here we discuss the famous Head and Shoulders price pattern it has some unique characteristics. However, you do need to know what you are looking for.
What does the Head & Shoulder Pattern Look Like?
it has two shoulders.
it has a high point, the head, in between the shoulders.
the volume should confirm the pattern (explained below).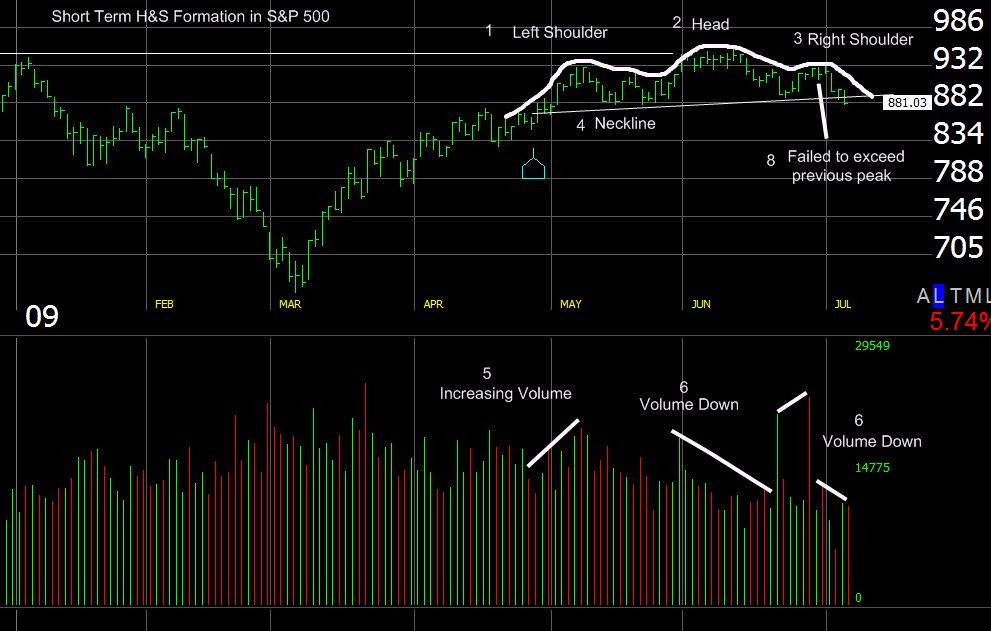 TeleChart2000 chart courtesy of Worden Brothers, Inc.
For a True Head & Shoulder Pattern, You Need to Confirm the Following 7 Steps.
In the chart:
Step 1 – this is the left shoulder
Step 2 – this is the head
Step 3 – this is the right shoulder
Step 4 – this is the neckline, using a trend-line connect the low from both sides of the head through the outer price limes.
Step 5 – the left shoulder was formed on increasing volume. This is to be expected.
Step 6 – in the forming of the head, we see a significant decrease in volume.
Step 7 – in the right shoulder we see also decreasing volume
All of the above conditions of the Head & Shoulders pattern here are consistent with text book descriptions. See the classic book Technical Analysis of the Financial Markets by John J Murphy as a reference.
The Head and Shoulders pattern is said to be confirmed on a break of the neckline, this is about to occur in the chart above.
Summary.
Use these 7 steps to confirm a head and shoulders top.  Becuase if it is a real market turning point and the market is going to head downwards, you will want to protect your assets.
Learn Stock Market Trading and Investing with our "Trading Academy FREE" 10 Modules, Videos + 2 eBooks. Click Here to join our 20,000+ Members