The November consumer sentiment survey revealed that 89.4% of those polled are feeling more secure and ready to spend more money in the holiday season.  Considering that the U.S. economy is built on it's consumers this is good news.
A stronger and recovering labor market with the additional boost of lower commodity prices such as gasoline mean consumers are feeling more secure and have more cash in their pocket. On the back of that consumer web spending is predicted to rise 16% according to ComScore.
So, all in all I see not reason to change my bullish outlook on the markets, having moved my entire portfolio into market tracking 'long' ETF'S  on October 20th I have benefited from a 10% increase from the NASDAQ 100 (QQQ) and the NASDAQ Composite (ONEQ).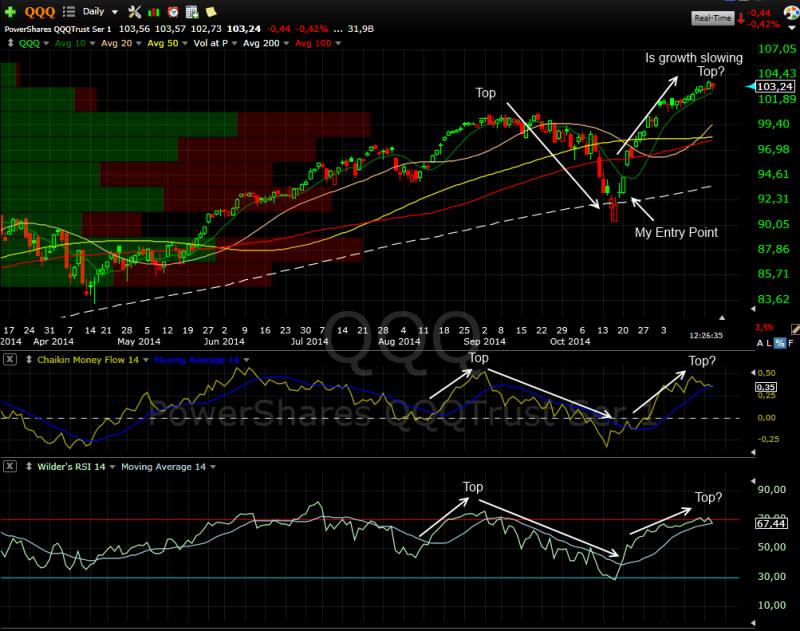 The only question to consider is whether the market, by surging over 10% in 21 days is starting to get tired.  In the chart above you can see how Chaikin Money Flow and Wilders RSI were successful in signalling an early divergence with the price indicator in September to predict a significant drop in the index.   Is the top in RSI & Money Flow indicative?
If at this point you do not understand what I am talking about with "divergence" and "stock market indicators" check out our Pro Stock Market Training
Well, we will see.  It is an indicator, however, no indicator is 100% correct 100% of the time.