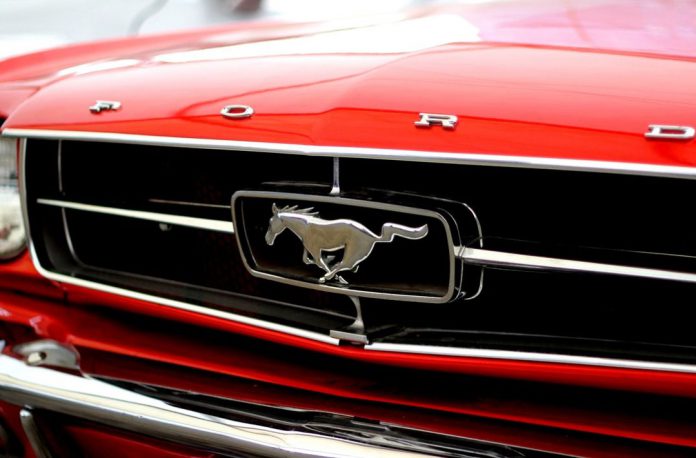 Is FORD a good investment for Dividend Income?
In-Depth [50 DataPoint] Analysis of Dividend History, Dividend Rate & Payout Ratio over 25 Years.
This article includes a downloadable Microsoft Excel Sheet with all 25 years of data.
Ford Stock Dividend History
The Ford Motor Company (NYSE: F) has one of the most interesting dividends around. Many investors are attracted to the historic automaker because it offers a high payout ratio and a low stock price.
Ford was offering a dividend yield of 5.96%, an annualized payout of 60¢, and a payout ratio of 42.9% on a share price of $10.07 on August 1, 2018. In contrast, General Motors (NYSE: GM) was producing a dividend yield of 4.01%, a payout ratio of 25.2%, an annualized payout of $1.52, and a share price of $37.87 on the same day.
Many investors like Ford because it is the only American automaker that regularly paid a dividend over the last 20 years. Since April 1999, Ford has normally offered a dividend yield of 2.77% to 5.72% per share.
Steady Stock Dividend Yield at Ford Motor Company
The only time that dividend was not available was during and immediately after the 2007-2008 crisis. Ford offered a dividend yield of 5.16% on July 31, 2006; but did not payout again until January 27, 2012, when shareholders received a 0.41% dividend yield.
Therefore Ford is capable of paying a dividend under normal conditions. It took the most catastrophic financial crisis since the Great Depression of the 1930s to stop Ford from paying a dividend. Ford's management stopped paying the dividend during the financial crisis, which is responsible.
Historically, there have been some big dividend price and yield fluctuations at Ford. Ford was offering a 46.08% dividend yield and a $6.37 annualized payout back on October 28, 1998. Those numbers fell to 53¢ and 3.47% on October 28, 1999, but rose to $4.52 and 27.09% on October 30, 2000.
Since then Ford's dividend yield has stayed in the single digits. The yield did reach 7.01% on October 25, 2016, which provided an annualized payout of 78¢. Therefore, Ford is capable of providing sudden and pleasant dividend surprises.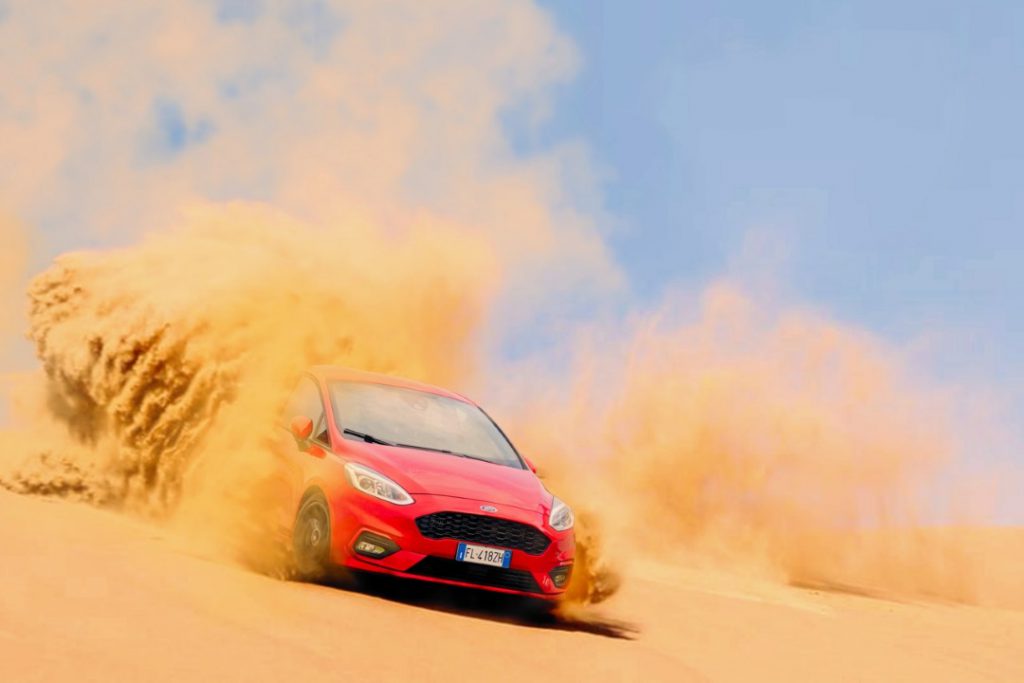 Is the Dividend at Ford Safe?
Ford's dividend is safe and reliable, but it is often quite low. Ford's current dividend is 15¢ a share, which is scheduled for payout on September 4, 2018. That dividend was recorded on July 12, 2017.
The 15¢ dividend rate has been steady since January 28, 2015. Since then Ford has only deviated from that rate twice.
The dividend more than tripled to 55¢ on January 27, 2016, and increased by 5¢ to 20¢ on January 18, 2017. The bad news is that the dividend has stayed low. The good news is that the dividend payout has not fallen below 15¢ in over three years.
Consequently, Ford is a reliable dividend income stock that occasionally rewards shareholders with a bigger payout. Ford has been paying a dividend every quarter since January 27, 2012.
The obvious conclusion is that Ford is a reliable dividend stock under normal economic conditions. Despite that Ford's dividend is very vulnerable to conditions in the American auto market.
Ford Dividend Yield vs Price Chart 25 Year Payment History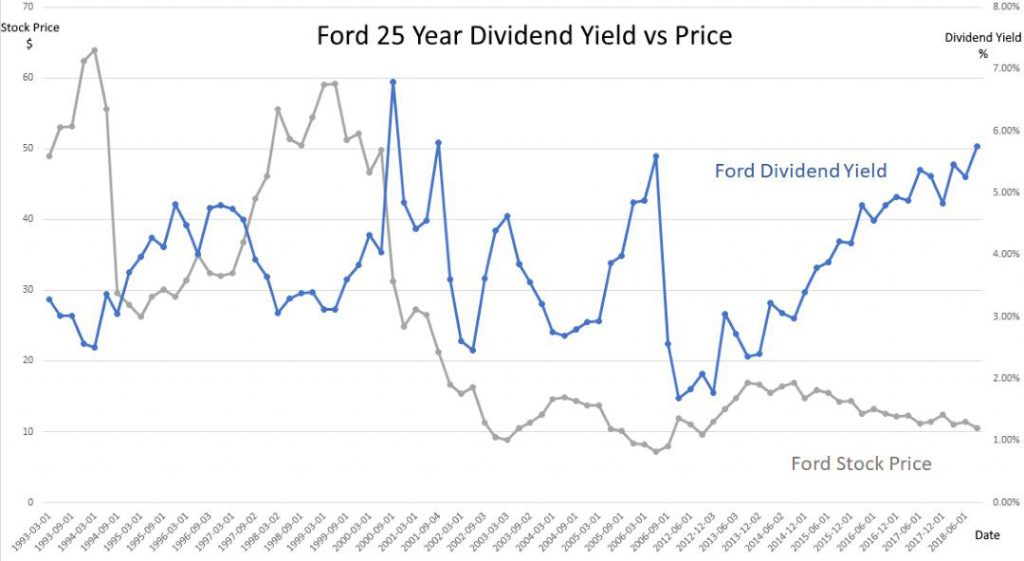 Why can Ford afford to pay a High Dividend?
Ford can afford a generous dividend yield because of the nature of the auto industry.
Automakers like Ford generate a lot of cash from their core businesses. Ford reported an operating cash flow $18.096 billion and a free cash flow of $11.047 billion for 2017.
More importantly, Ford generated revenues of $156.776 billion in 2017. Those revenues gave the company a gross profit of $16.34 billion, an operating income of $4.813 billion, and a net income of $7.602 billion for 2017.
Unfortunately, those numbers can fluctuate dramatically. Ford's rate of revenue growth fell by 9.32% between 1st Quarter 2018 and 2nd Quarter 2018. Ford's annual revenues were growing at a rate of 7.19% in 1st Quarter 2018 and shrinking by a rate of -2.34% just three months later.
Ford's revenues fell by $3.039 billion during 2nd Quarter 2018. Ford reported quarterly revenues of $41.959 billion on March 31, 2018, that fell to $38.92 billion on June 30, 2018.
Are Automakers Good Dividend Stocks?
The nature of the auto business provides the reason why Ford's revenues fluctuate.
The reality is that the vast majority of people rarely need to buy a new vehicle. Even though most people need a car for transportation, a new vehicle is a luxury.
As a luxury, a new vehicle is a purchase that most individuals make when times are very good. Any sort of economic uncertainty will make people hesitate about buying a car.
For example, US auto sales fell from 17.2 million in April 2018 to 16.9 million in May 2018. The drop coincided with growing economic uncertainty unleashed by media speculation about a trade war triggered by President Donald J. Trump's (R-New York) tariff policy.
The good news for Ford dividend investors is that the management understands this and keeps the dividend rate reasonably low. That means sudden drops in the dividend payout are rare, but the company occasionally makes a bigger payout.
Is the Dividend Outlook Good at Ford?
Recent history points to a good dividend outlook at Ford because vehicle sales at the company are growing.
Sales of Ford's most popular model; and America's best-selling vehicle, the F-Series pickup increased by 11.3% during May 2018, Investor's Business Daily reported. Overall retail sales at Ford increased by 3.3% during May 2018.
Car sales at Ford are falling, they dropped by 13.3% during May 2018, but increases in truck sales nearly covered that loss. For the record, truck sales at Ford increased by 9.4% during May 2018.
More importantly, Ford's management has decided to end most of its car production in North America. Ford announced plans to stop manufacturing sedans and hatchbacks in US and Canadian factories in April 2018.
Instead, the company will manufacture those vehicles in Europe. The automaker will keep building its iconic Mustang muscle car in the United States.
Ford's decision to kill sedans is good for dividend investors because the company will stop trying to market the vehicles customers do not want. News reports indicate that even sales of the most popular sedan in the US; the Honda Accord, have fallen off.
That means Ford will concentrate its production on the higher profit and better selling models, such as trucks, SUVs, and vans. That can lead to higher cash flows and steady dividends.
Those who are seeking a low-priced dividends stock should investigate Ford. It offers a low share price, a steady dividend, reliable payouts, and good prospects for revenue growth in the near future.
Is Now a Good Time to Buy Ford Stock?
In terms of Market Timing for a Stock purchase, you can look at Technical Analysis Provided by TradingView. This is a summary of the Stock Chart Indicators Relative Strength, Stochastic, CCI, ADI, Momentum, MACD and a suite of Simple and Exponential Moving Averages.
Further Resources – Ford Investor Relations Video