Live Sentiment Indicators, Interactive Charts & Quotes will help you decide which FAANG Stock to buy.
Despite the hype and diversion, FAANGs are still in good health; find out more.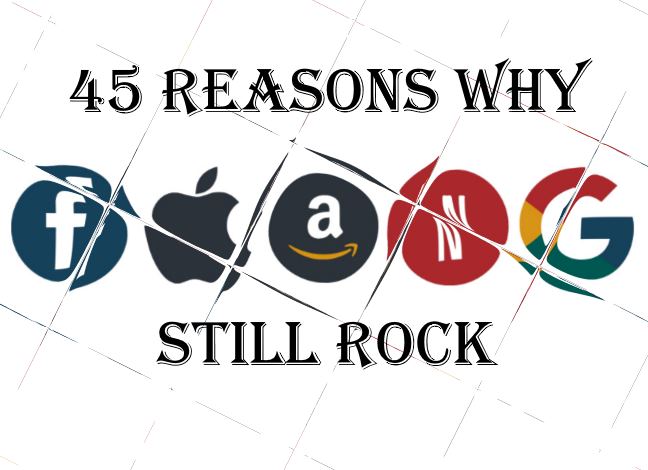 What Are FAANG Stocks?
FAANG is the collective name given to five technology titans in the USA. Facebook, Amazon, Apple, Netflix & Google.  The FANG stocks trade on the NASDAQ stock exchange and are core components of the NASDAQ 100.  Together these technology giants make up $5.7 Trillion or 40% of the total value of the NASDAQ 100.  According to our stock market statistics, the NASDAQ 100 is the fastest-growing mature economy index over the last 20 years.
FAANG Stocks Facebook, Amazon, Apple, Netflix & Google make up $5.7 Trillion or 40% of the total value of the NASDAQ 100 Index
The FAANG Companies
Facebook – The leader in social media
Amazon – The worlds largest retails store & web services company
Apple – The largest company in the world
Netflix – The leading on-demand entertainment company
Google – The worlds leading search engine & advertising network
FAANG Stock Prices Now
Are FAANG Stocks Overpriced?
One way to value a stock is by using the Price Earnings Ratio (PE Ratio).
Facebook P/E Ratio 26
Amazon P/E Ratio 70
Apple P/E Ratio 32
Netflix P/E Ratio 82
Google (Alphabet) P/E Ratio 35
The P/E Ratio is essentially measuring how many years it would take the company to buy all its stock back with its earnings—the value of all the stock divided by the company's earnings.  Depending on the particular industry, a P/E ratio may vary, but a normal valuation sought after by a value investor would be something below 20.  So compared to that, the FANG's could be considered overpriced.
But we need to be clear that these are not normal companies; they are still considered fast-growing technology stocks, with relatively low costs, high earnings, and still higher earnings potential.
While Facebook & Google have a reasonable P/E Ratio, and Apple could almost be considered a bargain, both Amazon and Netflix seem to be extremely overpriced.  One of the reasons for this is they are plowing all revenue back into the business to fuel the fast growth.  This reduces the earnings (after expenses) and makes them look on the surface overpriced.
Related Articles: Finding Great Stocks With Stock Rover
Are FAANG Stocks Still a Good Buy?
Yes, they probably are. Unless things fundamentally change for any of the companies, they are solid market leaders who continue to beat the market. Facebook, Amazon, Apple, Netflix, and Google have all beaten the S&P 500 over the last 5 years.
FANG Stock Beat the Market: 5-Year Price Growth vs. S&P 500:
Facebook +28%
Amazon +302%
Apple +296%
Netflix +305%
Google (Alphabet) +83%
Which FAANG Stock To Buy?
Which FANG Stock you should buy is perhaps not the right question.
Perhaps you should buy them all to help you spread your risk of owning a single stock.  In fact, the NASDAQ 100 is performing so well you might want to buy a low-cost exchange-traded fund (EFT) that tracks the index.  You would also get exposure to the other two great tech giants not considered part of the FAANG group, Microsoft (Ticker: MSFT) and Paypal (Ticker: PYPL), whose share price rose 56% in the last 12 months.  In any case, if you want to buy only one FAANG stock, then read below for our analysis and buy-sell sentiment indicators.
Is there a FAANG ETF?
Many exchange-traded funds contain FAANG stocks.  Any ETF that tracks the S&P 500, NASDAQ 100, or any large-capitalization technology ETFs.  There is a specific ETF (Ticker: FNG) that is supposed to be a FAANG ETF, but not surprisingly, it fails to match the actual performance of the FAANG group of stocks.  According to a CNBC interview, the portfolio manager said it was because of the fund's underperformance in the past year resulting from specific stock buys and sells and their timing; too much "buying on the rip" and "selling on the dip.".  Well, we all know that 90% of professional money managers cannot beat the market.  My advice is, if you want to buy FAANG stocks, do not pay the exorbitant price for an actively managed fund that cannot match their performance, buy the stocks directly.
FAANG Stock Charts – 5 Year Performance
Which FAANG Stock To Buy?
Facebook Inc.
Who would have believed in 2012 at the time of its IPO that the leader of social networking Facebook in 6 years would be closing in on Amazon, Apple, and Google as the most valuable company in the world?
Facebook does not need distribution centers, stores, or manufacturing in Asia; it simply needs massive data centers and talented developers to milk customer data.  Facebook needs only 27,700 employees to power the juggernaut profit machine.

Amazon Inc.
Mr. Bezos has built a retail system that competes with, and nearly beats, every shopping mall, retail chain, and every mom and pop store. It delivers audiobooks, eBooks, physical and virtual DVDs, music, books, and everything from wine to lawnmowers.  I know because I am a prime member, and a significant percentage of my online spending is with Amazon.
But not all of my spending.
In fact, I actually weigh up my purchases and buy locally to preserve the local economy, local jobs, and, heavens above, money goes into my local tax system and keeps local services alive. This is the boundary for me.  I know a lot of consumers feel the way I do.
But Amazon is fast, convenient, and cheap.  It is cheap that keeps it in the market.
People are still a large part of the equation, though Amazon employs over half a million people, significantly more than the other FAANG companies.
What I love about Amazon is the ability to simplify everything.  This website runs on Amazon Web Services (AWS), and AWS is on course to dominate web services provisioning.  Everyone from solo entrepreneurs to multinational corporations is signing up like crazy to have their digital services hosted on the one true flexible "pay as you go" digital application hosting service. Where the established incumbents Hewlett Packard Enterprise, DXC Technology, and IBM are failing, Amazon succeeds.
Amazon has fostered for its entire history a completely unreasonable price-earnings ratio of over 100, now standing at 75.  How is this possible?  Well, because the margins are razor-thin, but the growth still keeps coming with Bezos plowing any spare cashflow into expansion and innovation.
Innovation is the key; Bezos and the team still manage to find innovation, from the Kindle, Firestick, to Alexa, AWS, and space travel; this management team is not lacking ideas.
Amazon has and will continue to disrupt industries, but can they maintain their current valuation?  On past record, probably YES for now.
---
You want to be a successful stock investor but don't know where to start.
Learning stock market investing on your own can be overwhelming. There's so much information out there, and it's hard to know what's true and what's not.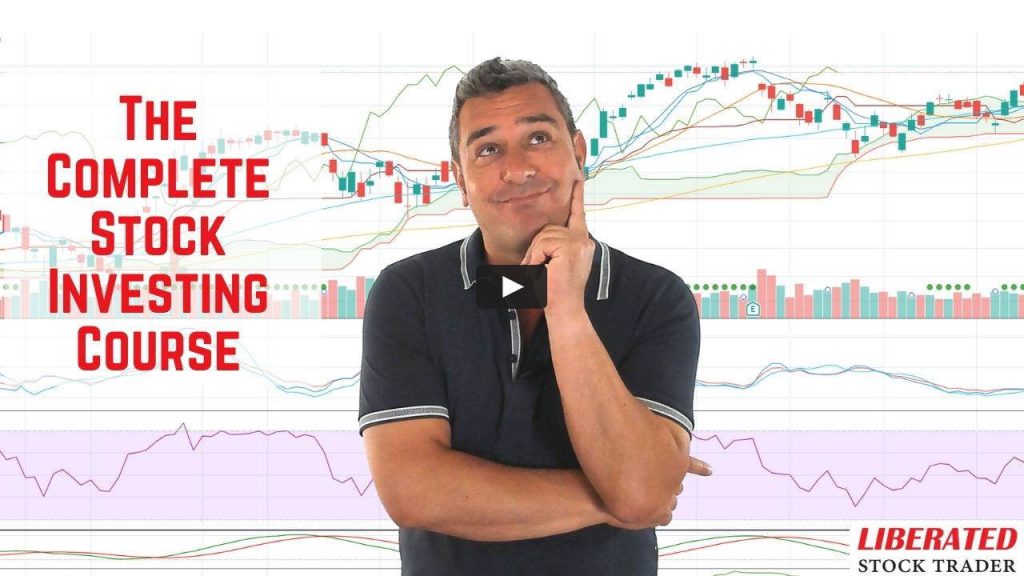 Liberated Stock Trader Pro Investing Course
Our pro investing classes are the perfect way to learn stock investing. You will learn everything you need to know about financial analysis, charts, stock screening, and portfolio building so you can start building wealth today.
★ 16 Hours of Video Lessons + eBook ★
★ Complete Financial Analysis Lessons ★
★ 6 Proven Investing Strategies ★
★ Professional Grade Stock Chart Analysis Classes ★
---
Apple Inc.
With a market capitalization of $2.5 trillion, Apple is the elephant in the room.  Having gone from success to disaster when Steve Jobs was fired from the company, which actually required Microsoft to bail them out. Job's return heralded the most spectacular comeback in corporate history.  Apple is the most valuable public company globally, but Amazon and Google are still challenging it for the corporate behemoth crown.
In our 45 fundamentals comparison table, Apple has the greenest numbers of all the FAANG stocks.  It is the most valuable in terms of Market Capitalization, and it generated 25% more sales in dollar value than Amazon; it's the nearest competitor.
Not only that, its earnings dwarf those of the other FAANGs, earnings of 300% more than Facebook or Google, and 14 times more than Amazon, and it only has 25% of Amazon's workforce.
"Apple and Netflix are the only truly trusted brands in the FAANG stocks"
So it seems Tim Cook and Apple's continued focus on premium products, premium prices, closed ecosystems, and innovative products still pay dividends to their shareholders.
Also, do not forget Apple is a trusted brand, who actually has products, unlike Facebook and Google, whose products are their users to whom they push adverts and sell their personal (though anonymized) data. Amazon's product is logistics, and Netflix is also a trusted brand that does zero advertising, sells no user information, and entertains the world.
Netflix Inc.
June 29th, 2018, was the week that NETFLIX appeared on the Economist magazine cover entitled "Netflix – The Tech Giant Everyone is Watching."
An interesting article in which the lead premise was that the other FANG's (Facebook, Amazon, Google) could learn a lot from Netflix in terms of managing privacy and its business model that does not involve selling user data or obtuse advertising.
So, the media starts churning out articles on Netflix.  I actually responded to a reporter from Forbes Magazine on my thoughts on the following questions.
Is Netflix Overvalued?
To answer the question, we should perhaps compare Netflix to a competitor, Disney.
Netflix is priced for continued strong growth, sure the Price Earnings Ratio is 82, which is significantly higher than Disney's 0. That's rights Disney made a loss in 2020.
This does suggest that Netflix is overvalued, but the reason the stock price is so high is that the growth trajectory Netflix has enjoyed since 2002 is huge.
Is there still room for growth for Netflix?
The driver for long-term growth is in the content business. Companies like Disney make great profits on content, and Netflix knows this. The significant investments in Netflix Originals are a move into markets like Disney's.
Deeper Analysis of the Netflix Fundamentals
Have you ever walked into a Netflix store? Have you ever called them on the phone?  Of course not, but why?
Because they have the simplest business model of all the FANG stocks literally, they do not need a call center; they do not need stores; they only need the internet, net neutrality, application user interface designers, great developers, and a massive content delivery network.  Oh, did I forget the deal makers?  Negotiating with content developers like Disney, HBO, and others is the absolute key to success.  The total of employees at Netflix is only 5,500 people.  That is incredible.
But the content providers started to see the light.
They realized that if you own the marketplace, you own it all.  So they start to pull out Marvel, Disney, HBO, and others.  So what does Netflix do?  It launches a content-building campaign to dwarf all others.  Netflix is spending so much money on "Netflix Originals" that it is already surpassing the total spending of many of the industry giants put together.
But is it working?  Well YES.
I have Amazon Prime Video, but my entire family and I do not use it.  The user experience is poor, and the content poorer.
But it is not just me; it is the entire consumer space—Netflix rules at a price that's right.
Is that a cause for concern?
Not really; it's actually quite clever.  Netflix sees the opportunity to seize it all, and all it needs to do is leverage its capitalization to dominate a conservative and staid industry.
Netflix does not sell your data; they support more local language original productions than anyone else, independent standup comedy artists, and fund excellent independent documentaries and investigative journalism.
What's not to like?
Disclosure: I have owned Stock in Netflix since 2017
Google (Alphabet Inc.)
Google changed the world.  It helps us find everything online, powers our smartphones, gives us apps and plows us with adverts.
"Don't Be Evil" is the motto, and to be fair, it is not really evil; it just has the same business model as Facebook.  But it is a more mature company.  This warrants its price-earnings ratio of 34, which indicates it is no longer a fast-growing company with the entire world ahead of it.  In fact, to all intents and purposes, Google has saturated the western world with its search engine.
So Google needs to branch out and innovate to continue to drive its stellar historical growth. Let's face it; Google has tried many things and failed, which is admirable.
Why Is Microsoft Not In The FAANGS?
The simple explanation of why Microsoft is not considered a FAANG is because where do you put the M in the FAANG abbreviation.  In actuality, Microsoft has all of the trademark signs of a FANNG stock. It still grows fast, it is a technology stock, and it is an industry leader.
FAANG Stocks Which One Should You Buy?
The FAANGs are the new tech era's darlings, and there are high expectations for their business growth.
Therefore as we have seen with Netflix and Facebook, any reset in growth projections will likely produce an overly excessive reaction from investors.
Why buy one FAANG, when you can buy them all?
Volatility could be the name of the game in the future.  As suggested at the beginning of the article, do not place all your eggs in one basket and ensure you diversify and manage risk accordingly.
My personal opinion is that NETFLIX and APPLE's business models do not rely on selling your data or pushing adverts to consumers and are, therefore, ethical buys.  But all of the FAANG stocks have serious benefits, and you would be unwise to choose one over the other.
So Which FANG will YOU Buy?  Let us know in the comments below. I promise to reply.