45 Point Fundamental Analysis & Comparison of FAANG Stocks [FB, AMZN, AAPL, NFLX, GOOGL]. PE, EPS, Sales & Revenue Growth, and more compared.
Live Sentiment Indicators, Interactive Charts & Quotes will also help you to evaluate the FAANG Stocks & Why they Still Rock.
Which FAANG Stock will YOU buy?
Despite the hype and diversion, FAANGs are still in rude health, find out more.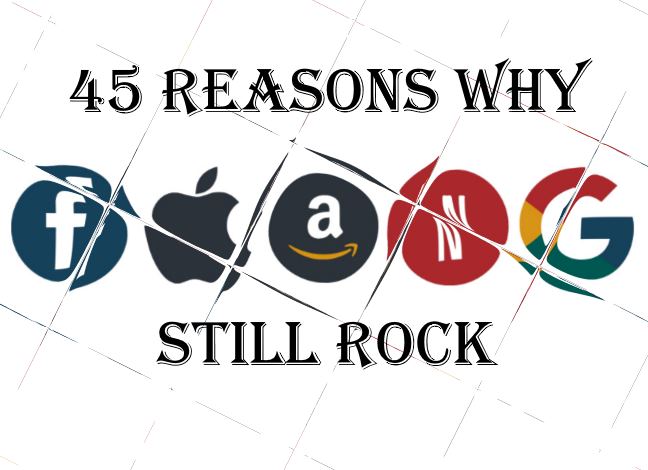 FAANG Stock Prices Now
What Are FAANG Stocks?
FAANG is the collective name given to the five technology titans in the USA. Facebook, Amazon, Apple, Netflix & Google.  The FANG stocks trade on the NASDAQ stock exchange and are core components of the NASDAQ 100.  Together these technology giants make up $3.4 Trillion or 40% of the total value of the NASDAQ 100 Index's $8.3 Trillion.  According to our stock market statistics, the NASDAQ 100 is the fastest-growing mature economy index, and it was up 32% in the last 12 months and 468% over the last 20 years.
Together, Facebook, Amazon, Apple, Netflix & Google make up $3.4 Trillion or 40% of the total value of the NASDAQ 100 Index
Are FAANG Stocks a Good BUY in a Trade War with China?
In my opinion, yes, they are.  Facebook, Amazon, Netflix, and Google are effectively shut out of the Chinese market for their services, so they have relatively little exposure to any tariffs that would affect other US companies.  They also manufacture very little.  Facebook is primarily a service company.  Amazon is primarily a logistics company.  Netflix is a media & entertainment company and Google, whilst dabbling a little in hardware is an advertising giant.
Since the Trump Trade war tariffs have been put in place, there has been relatively no impact on the stock prices of any of these companies.
The only fly in the ointment would be Applce Inc, where China is their third-biggest market (but not third most profitable).
Are FAANG Stocks Overpriced?
One way to value a stock is by using the Price Earnings Ratio (P/E) Ratio.
Facebook P/E Ratio 28
Amazon P/E Ratio 143
Apple P/E Ratio 14.8
Netflix P/E Ratio 135
Google (Alphabet) P/E Ratio 26.5
The P/E Ratio is essentially measuring how many years it would take the company to buy all it's stock back with its earnings—the value of all the stock divided by the earnings of the company.  Depending on the particular industry, a P/E ratio may vary, but a normal valuation sought after by a value investor would be something below 20.  So compared to that, the FANG's could be considered overpriced.
But we do need to be clear that these are not normal companies; they are still considered fast-growing technology stocks, with relatively low costs, high earnings, and still higher earnings potential.
While Facebook & Google have a reasonable P/E Ratio, and Apple could almost be considered a bargain, both Amazon and Netflix seem to be extremely overpriced.  One of the reasons for this is they are plowing all revenue back into the business to fuel the fast growth.  This reduces the earnings (after expenses) and makes them look on the surface overpriced.
Are FAANG Stocks Still a Good Buy?
Yes, they probably are, unless things fundamentally change for any of the companies, they are solid market leaders.  We can take a look at the last 12 months' price growth performance to see if they are still growing.  If we look at the performance of the NASDAQ 100 over the last year (to July 2018), we know the index registered a gain of 32%.
FANG Stock Price Growth:
Facebook has managed 41%
Amazon powered to 92%
Apple grew 28%
Netflix exploded 173%
Google (Alphabet) crafted 31%
Only Apple failed to beat the growth of the NASDAQ 100.  Interestingly,  the supposedly overpriced stocks Amazon and Netflix beat the index returns by 300% and 500%, respectively.
Which FAANG Stock To Buy?
Which FANG Stock you should buy is perhaps not the right question.
Perhaps you should buy them all to help you spread your risk of owning a single stock.  In fact, the NASDAQ 100 is performing so well you might want to buy a low-cost exchange-traded fund (EFT) that tracks the index.  You would also then get exposure to the other two great tech giants not considered part of the FAANG group, Microsoft (Ticker MSFT), who registered a 43% stock price growth and Paypal (Ticker PYPL) whose share price rose 56% in the last 12 months.  In any case, if you want to buy only one FAANG stock, then read below for our analysis and buy-sell sentiment indicators.
Is there a FAANG ETF?
There are many exchange-traded funds that contain FAANG stocks.  Any ETF that tracks the S&P 500, NASDAQ 100, or any large-capitalization technology ETFs.  There is a specific ETF (Ticker: FNG) that is supposed to be a FAANG ETF, but not surprisingly, it fails to match the actual performance of the FAANG group of stocks.  According to a CNBC interview, the portfolio manager said it was because of the fund's underperformance in the past year resulted from specific stock buys and sells, and the timing of them; too much "buying on the rip" and "selling on the dip.".  Well, we all know that 90% of professional money managers cannot beat the market.  My advice is, if you want to buy FAANG stocks, do not pay the exorbitant price for an actively managed fund that cannot match their performance, buy the stocks directly.
FAANG Stock Charts – 5 Year Performance
-
FAANG Stocks 45 Fundamental Comparisons
| | | | | | |
| --- | --- | --- | --- | --- | --- |
| Company | Facebook | Amazon | Apple | Netflix | Google |
| Market Cap | $602 B | $880 B | $948 B | $159 B | $829 B |
| Sales 1 Year | $43.9 B | $193.2 B | $247.4 B | $13.9 B | $105 B |
| Earnings 1 Year | $17.9 B | $3.9 B | $53.3 B | $989.6 M | $16.6 B |
| Earnings as % of Sales 1 Yr | 40.7% | 2.04% | 21.55% | 7.13% | 15.85% |
| EPS Change 1 Year | 50.62% | 49.44% | 20.89% | 167.07% | -20.53% |
| Operating Cash Flow | $27 B | $18.2B | $67.4 B | $-1.7 B | $39.2 B |
| P/E Ratio (forward) | 26.88 | 142.8 | 15.06 | 135 | 26.53 |
| % Change Revenue 1 Year | 48.54% | 35.51% | 12.23% | 36.20% | 18.86% |
| Stock Price Growth 1 Yr | 41% | 92% | 28% | 99% | 31% |
| Employees | 30.3K | 566K | 123K | 5.5K | 89.1K |
Table 1: Comparing FANG Fundamentals – Data From TC2000 Fundamentals 23/7/2018
FANG Stock Performance Walkthrough.
We highlighted in Green outstanding numbers and in potential Red issues.
When it comes to sheer size in terms of market capitalization, Amazon & Google are huge, but Apple is the king just $50 billion away from $1 Trillion in worth. Netflix is a mere minnow in comparison, even though it is number 9 in the NASDAQ 100.
Amazon makes by far the most in terms of dollar sales, nearly double that of Google, but it only converts 2.04% of its sales into earnings, whereas Google manages 15.85%.  Facebook wins this one, of course, as it converts 40.7% of sales into earnings.
In terms of Earnings per Share (EPS) growth Netflix is way out in front with a 167.07% increase in earnings for the year.  This inevitably contributes to the high Price Earnings Ratio of 135.
Revenue growth is led by Facebook as it continues to drive more advertising through its user base. Netflix and Amazon follow closely behind.
Lastly, in terms of stock price growth, Netflix still leads, even though the stock price dropped 25% due to a miss in the number of new subscribers in July 2018.
FAANG Stock Analysis & Sentiment Indicators
Facebook Inc. Ticker:NASDAQ: FB
Who would have believed in 2012 at the time of its IPO that the leader of social networking Facebook in 6 years would be closing in on Amazon, Apple, and Google as the most valuable company in the world?  Facebook has racked up 446% since the end of the first week of the IPO.  An incredible 55% per year price growth.
With a FAANG leading profitability of 40.7% of sales contributing to earnings, the simple business model of Facebook is making itself known.
Facebook does not need distribution centers, stores, or manufacturing in Asia; it simply needs massive data centers and talented developers to milk customer data.  Facebook needs only 27,700 employees to power the juggernaut profit machine.
"Facebook is running out of humans to onboard to its social network"
According to Statista, in 2018, Facebook has 2.19 billion active users, which means it would only cost each user $20 per year to have protected data and an advert-free social network.  But with that business model, Facebook would not be able to grow anymore.  The number of users is finite, but the number of ways to exploit data and push adverts on users is infinite.
So Facebook has a simple business model, low costs, and is still growing earnings fast, with a one year EPS of 50.6%.  It is also still reasonably priced with a P/E ratio of only 26.88.
Facebook survived its first real test with Cambridge Analytica, which dragged Mr. Zuckerberg through the wringer, but ultimately the US lawmakers talk tough but do nothing.
Plain sailing for Facebook?  Well, yes, it looks like it.  The only shadows on the horizon are how much they can leverage adverts and milk private data before their loyal customers move somewhere else, also their limited, finite user growth.  But the smart Mr. Zuckerberg and friend have a solution for that.
All your photos, videos, likes, and relationships are documented and released to you in lovely little cute videos with nice soundtracks that remind you that if you move to another social network, you lose it all.
Great revenue growth, solid earnings growth, low P/E Ratio, and despite the drama, continued price growth, the outlook is positive for Facebook investors.
Update:26/07/2018 – Facebook announced a reset on the operating outlook in its quarterly announcement, which caused the biggest 1-day drop in the capitalization of a company in history.  Approximately $124 billion was lost.  The long-term picture is still positive but not quite what it was.
Mr. Bezos, you have built a retail system that competes with, and nearly beats, every shopping mall, retail chain, and every mom and pop store, you deliver audiobooks, eBooks, physical and virtual DVD's, music, books and everything from wine to lawnmowers and anything in between.  I know because I am a prime member, and a significant percentage of my online spend is with Amazon.
But not all of my spending.
In fact, I actually weigh up my purchases and buy locally to preserve the local economy, local jobs, and, heavens above, money goes into my local tax system and keeps local services alive. This is the boundary for me.  I know a lot of consumers feel the way I do.
But Amazon is fast, convenient, and cheap.  It is cheap that keeps it in the market.  This is why, despite sales of $193 Billion, it manages to hold on to only 2.93% of earnings as a percent of sales.  That plus the continual investment in logistics and technology to remove people from the equation with automated warehouses and drone deliveries.
People are still a large part of the equation, though, Amazon employs over half a million people, significantly more than the other FAANG companies.
What I love about Amazon is the ability to simplify everything.  This website runs on Amazon Web Services (AWS), and AWS is on course to dominate web services provisioning.  Everyone from solo entrepreneurs to multinational corporations are signing up like crazy to have their digital services hosted on the one true flexible "pay as you go" digital application hosting service. Where the established incumbents Hewlett Packard Enterprise, DXC Technology, and IBM are failing, Amazon is succeeding.
Amazon has fostered for its entire history a completely unreasonable price-earnings ratio of over 100, now standing at 142.  How is this possible?  Well, because the margins are razor-thin, but the growth still keeps coming with Bezos plowing any spare cashflow into expansion and innovation.  With a percent change in revenue of +35.51% from 2017 to 2018, they are still with the leading FANG wolf pack.
Innovation is the key, Bezos, and the team still manage to find innovation, from the Kindle, Firestick, to Alexa, AWS, and space travel this management team is not lacking ideas.
One of the finest ideas was for Amazon not only to be the seller of books but to be the marketplace for everyone to make money.  Solutions like "Createspace on-demand printing" for independent book publishers, and the fact that anyone can opt-in for the service "Fulfillment by Amazon" has changed industries and given some power to independent entrepreneurs.
Amazon has and will continue to disrupt industries, but can they maintain their current valuation?  On past record, probably YES for now.
With a market capitalization of $948 billion, Apple is the elephant in the room.  Having gone from success to disaster when Steve Jobs was fired from the company, which actually required Microsoft to bail them out. Job's return heralded the most spectacular comeback in corporate history.  Apple is the most valuable public company in the world, but Amazon and Google are still challenging it for the corporate behemoth crown.
In our 45 fundamentals comparison table, Apple has the greenest numbers of all the FAANG stocks.  It is the most valuable in terms of Market Capitalization, and it generated 25% more sales in dollar value than Amazon; it's the nearest competitor.
Not only that, it's earnings dwarf those of the other FAANGs, earnings of 300% more than Facebook or Google, and 14 times more than Amazon, and it only has 25% of Amazon's workforce.
In terms of Earnings as a Percent of Sales, Apple makes a tidy margin of 21.55% only beaten by Facebook's 40.7%.
Apple has only two mediocre numbers in the comparison; the first is an Earnings per Share Growth of only 20.89% for the last year, which for the largest company in the world, is still great.  The other number is the revenue growth of 12.23%, which is more aligned to an established bluechip company than a fast-growing FAANG stock.
Let us not forget that Apple is really well priced at the moment with a modest Price Earnings Ratio (forward) of 15; this means it is the best value of all the FAANGs.  Alongside Google, Apple managed to match the growth of the NASDAQ 100 index with a stock price growth of 28% in the last year.
"Apple and Netflix are the only truly trusted brands in the FAANG stocks"
So it seems, Tim Cook and Apple's continued focus on premium products, premium prices, closed ecosystems, and innovative products are still paying dividends to their shareholders.
Also, do not forget Apple is a trusted brand, who actually has products, unlike Facebook and Google, whose products are their users to whom they push adverts and sell their personal (though anonymized) data. Amazon's product is logistics, and Netflix is also a trusted brand that does zero advertising, sells no user information, and entertains the world.
June 29th, 2018 was the week that NETFLIX appeared on the cover of the Economist magazine entitled "Netflix – The Tech Giant Everyone is Watching."
An interesting article in which the lead premise was that the other FANG's (Facebook, Amazon, Google) could learn a lot from Netflix in terms of managing privacy and it's business model that does not involve selling user data or obtuse advertising.
So, the media starts churning out articles on Netflix.  I actually responded to a reporter from Forbes Magazine on my thoughts on the following questions.
Is Netflix Overvalued?
To answer the question, we should perhaps compare Netflix to a competitor, Disney.
Netflix is priced for continued strong growth, sure the Price Earnings Ratio is 135, which is significantly higher than Disney's reasonable 14.
This does suggest that Netflix is overvalued, but the reason the stock price is so high is that the growth trajectory Netflix has enjoyed since 2002 is huge.
In fact, Netflix had an excellent EPS growth last year of 96% compared to Disney's 30%. The P/E ratio of Netflix looks more like that of Amazon (AMZN), who, as a company, has always had a P/E Ratio of 100+, Amazon could also be considered expensive, but it isn't because it manages to maintain continued phenomenal growth.
Is there still room for growth for Netflix?
The driver for long-term growth is in the content business. Companies like Disney make great profits on content, and Netflix knows this. The significant investments in Netflix Originals is a move into markets like Disney's.
Disney generates an operating income of $4.4 billion, whereas Netflix generates only $400 million. That is a potential revenue source for Netflix of over ten times the size it is generating if it can eat into Disney's.
Ultimately, Netflix is priced as a discretionary purchase of $9.99 in the USA, and most people have it alongside other providers. Future planned price rises may be a risk, but ultimately the service is fast, the user experience is first class and the content broad and entertaining enough for everyone.
Deeper Analysis of the Netflix Fundamentals
Have you ever walked into a Netflix store, have you ever called them on the phone?  Of course not, but why?
Because they have the simplest business model of all the FANG stocks literally, they do not need a call center; they do not need stores, they only need the internet, net neutrality, some application user interface designers, great developers, and a massive content delivery network.  Oh, did I forget the deal makers?  Negotiating with content developers like Disney, HBO, and others is the absolute key to success.  The grand total of employees at Netflix is only 5,500 people.  That is incredible.
But the content providers started to see the light.
They realized that if you own the marketplace, you own it all.  So they start to pull out, Marvel, Disney HBO, and others.  So what does Netflix do?  It launches a content building campaign to dwarf all others.  Netflix is spending so much money on "Netflix Originals" that it is already surpassing the total spending of many of the industry giants put together.
But is it working?  Well YES.
I have Amazon Prime Video, but my entire family and I do not use it.  The user experience is poor, and the content poorer.  Would we ever buy a Disney channel?  Never ever.
But it is not just me; it is the entire consumer space—Netflix rules at a price that's right.
Netflix stock price has grown 99% in the trailing 12 months (3 times that of the NASDAQ 100) and grew revenue at 36.2%.  What you might find shocking in the fundamentals is that they are running an operating cash flow of $-1.7 Billion.
Is that a cause for concern?
Not really, it's actually quite clever.  Netflix sees the opportunity to seize it all, and all it needs to do is leverage its capitalization to dominate a conservative and staid industry.
With earnings per share of 167% for the previous 12 months and a super aggressive content building strategy, I truly believe Netflix will be the dominant force in entertainment media in the near and mid-term future.  The next frontiers will be conquering live sports broadcasting, and with the leverage and size, Netflix has, who will stop them?
Netflix does not sell your data; they support more local language original productions than anyone else, independent standup comedy artists, and fund excellent independent documentaries and investigative journalism.
What's not to like?
Disclosure: I have owned Stock in Netflix since 2017
Google Alphabet Inc. Ticker:NASDAQ: GOOGL
Google, you changed the world.  You help us find everything online, you power our smartphones, you give us apps and office, and you plow us with adverts.
"Don't Be Evil" is the motto, and to be fair, it is not really evil; it just has the exact same business model as Facebook.  But it is a more mature company.  This warrants its price-earnings ratio of 25.53, which indicates it is no longer a fast-growing company with the entire world ahead of it.  In fact, Google has, to all intents and purposes, saturated the western world with its search engine.
So Google needs to branch out and innovate to continue to drive its stellar historical growth.
Smartphone operating system domination to secure mobile advertising revenue – WIN
YouTube – Totally Awesome – WIN
Google Maps – Yes WIN – The Best
Google Chrome OS to beat Microsoft – Lose.
Chromebook – Lose
Chromecast – Lose
Google Home to beat Amazons Alexa – Lose.
Google Apps to take Microsoft Office dominance – Lose.
Google Adwords & Adsense – losing ground to competitors MediaVine and AdThrive who offer significantly better terms
Google Plus Social Network – Devastating Defeat
Blogger – Lose
Let's face it; Google has tried many things and failed, which is admirable.  But if Sir Tim Berners Lee was the father of the worldwide web, Google is the godfather of finding any meaning in it "kiss my advertising ring."
With a huge market capitalization of $829 billion and earnings as a percent of sales at 15.85%, Google (Alphabet) is still a darling of the market.
However, some storm clouds might be on the horizon, with an EPS change for the trailing 12 months of -20.53%  and the second-lowest percentage increase in revenue of the FAANG's at 18.86%, is the shine wearing off?
Google has matched the earnings of the NASDAQ 100 at 31% for this year,  But it needs some big wins to start thrilling investors in the future.
FAANG Stocks Which One to Buy
The FANGs are the darlings of the new tech era, and there are high expectations for their business growth.
Therefore as we have seen with Netflix and Facebook, any reset in growth projections is likely to produce an overly excessive reaction from investors.
Why buy one FAANG, when you can buy them all?
Volatility could be the name of the game going forward.  As suggested at the beginning of the article, do not place all your eggs in one basket and ensure you diversify and manage risk accordingly.
My personal opinion is that the business models of NETFLIX and APPLE do not rely on selling your data or pushing adverts to consumers and are, therefore, ethical buys.  But all of the FAANG stocks have serious benefits, and you would be unwise to choose one over the other.
So Which FANG will YOU Buy?  Let us know in the comments below. I promise to reply.