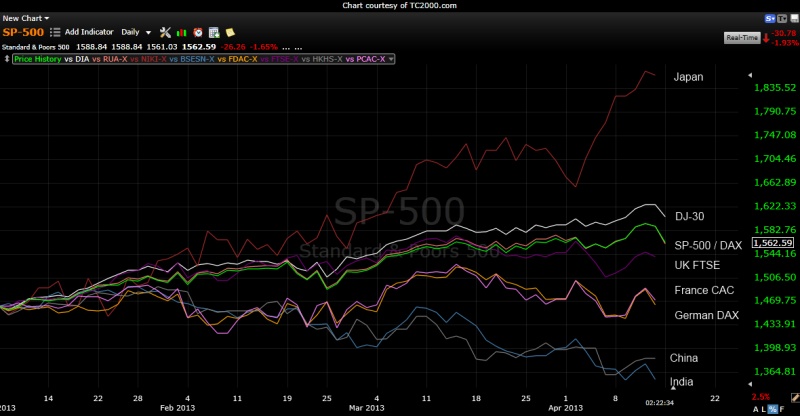 Weak U.S. economic data, strong signs of slowing growth in China and gold plummeting over 9% at the time of writing has compounded to send waves of fear through the market.  With most U.S. indices down around 2% at the time of writing, is now a time to be fearful?
In short it could be, take a look at this chart. >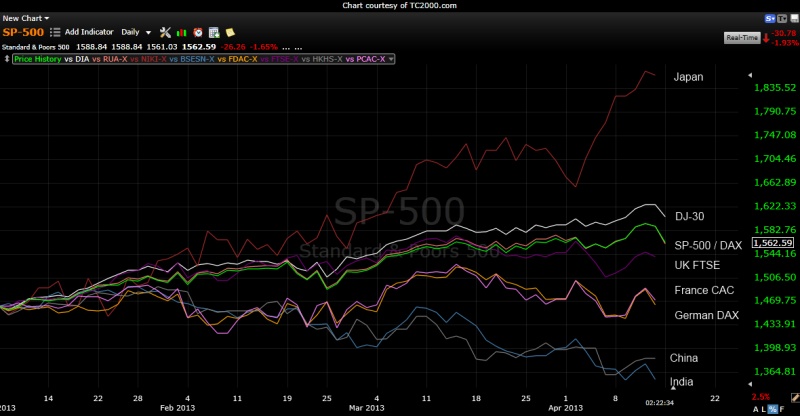 Here we plot the major stock market indices against each other to assess performance since the start of the year.  What we can see quite clearly is that rather than leading the charge the Indian and Chinese markets have been diverging with the rest of the world, down 7.5% compared with the U.S. and the German DAX who have registered between 5% and 8% gains.
In this context you could use the emerging market as a leading indicator to suggest that there is downside to come in the U.S. and European markets.
Japan seems to be the strong outlier with over a 20% gain since the start of the year.  This is a clear sign that the monetary easing in Japan has unleashed a lot of the pent-up stagnation that we have seen in Japan over the past 4 years.
Now is the time to protect your gains and wait for the dust to settle before picking up some bargains.