Introduction
In this section, we will look at how to find good stocks based on your strategy. You may want to look for fundamentally good stocks that are not overpriced. You may want to look for overpriced stocks to short them. You may want to look for stocks that show a strong trend to buy into the uptrend. We cover these scenarios here.
Stock Screening
In previous sections, we covered the fundamentals of a business, EPS, P/E ratio, Book Value, Assets, Liabilities, and Debt. The importance of understanding this information will now become clear as we look at the stock screening.
Checklist to find winning stocks
Understand what you are looking for. (Fundamentals – EPS% Acceleration)
Understand in which market you want to trade
Use your selection criteria to narrow down the thousands of stocks on the market (Stock Screening)
From your screened list (filtered list), you can then review in detail further fundamentals.
Learn a little about the industry of the stocks you are interested in
Analyze the stock patterns to assess when to BUY "Charting."
Work out your entry and exit strategy.
This section is explicitly about filtering out the junk to find the gems.
This is known in the industry as screening for stocks. It is essentially filtering out stock based on specific criteria.
There are many stock screeners available on sites such as Yahoo Finance, ZACKS, and Morningstar. Some offer premium upgrades to access a more powerful screener service.
The best stock screener on the market today is Stock Rover, which also provides portfolio management, watchlist tracking, and deep stock research functionality. See the review here.
Here is a list of screening criteria that can be used to find potentially good investments.
Last Close Price >= $4 – This is the Share Price of the Stock at last market close. Use this to filter out penny stocks. When the share price of a stock can is so small, it is not usually a good reason. Stocks decline in price because the companies behind the stock are usually run poorly or are worth little if any money.
Market Capitalization >= $200 Million- This is the worth of all the outstanding stocks added together. Essentially the worth of the company. You could use a figure of $100 million or $50 million if you wish. This depends on what you think constitutes a stable business size.
Price Change Last Week >=5% – This can indicate stocks that are experiencing positive moves upwards.
P/E Ratio =< 50- This is the valuation of the company. If you select a P/E of less than 50, this means you will not be paying way too much for a company whose earnings may not be able to sustain the valuation.
EPS % Change Last Quarter >= 20% – This is the % increase in the EPS for the last three months compared to the same three months one year previous. The earnings are compared to 1 year previous to account for seasonal adjustments. Setting this to 20% shows us stocks performing strongly.
EPS % Growth 1 Year >= 20%- Combined with the previous criteria, this helps us ensure that the company is growing over the past year, not just the most recent quarter. This means over the last year the earnings have increased by over 20%
Sales Growth >=20% -This helps to ensure that the sales growth is in line with the earnings growth. For example, if a company is suffering from decreasing sales to boost its earnings, it can decide to lay off staff and close buildings. This might then show up as increasing earnings, but increasing earnings with decreasing sales are unsustainable.
You will get a list of between 30 and 50 stocks from these seven criteria, which you can sort by EPS, P/E, or company name.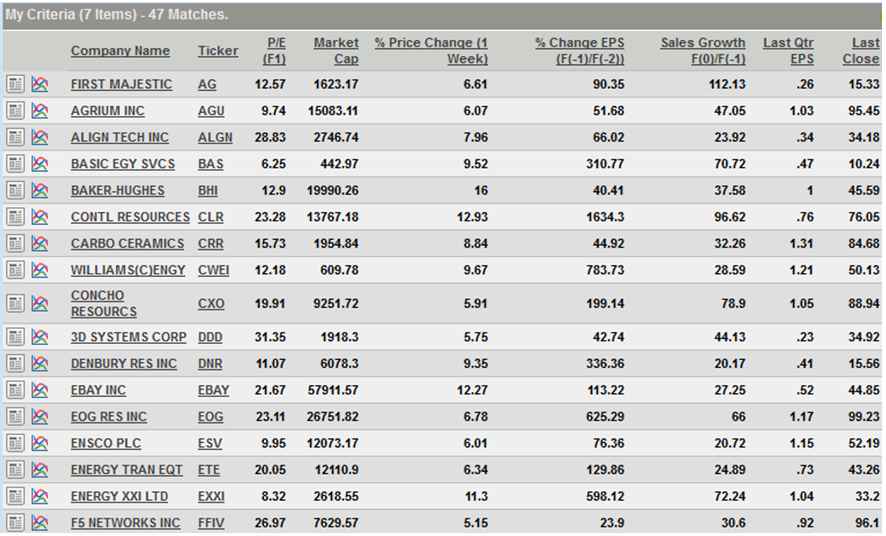 Stock screening requires some imagination to formulate a screen for different strategies. You always need to adjust the numbers to get a satisfactory amount of stocks to review. In the following sections, we look at potential screening strategies.
Further Reading: Finding Great Stocks