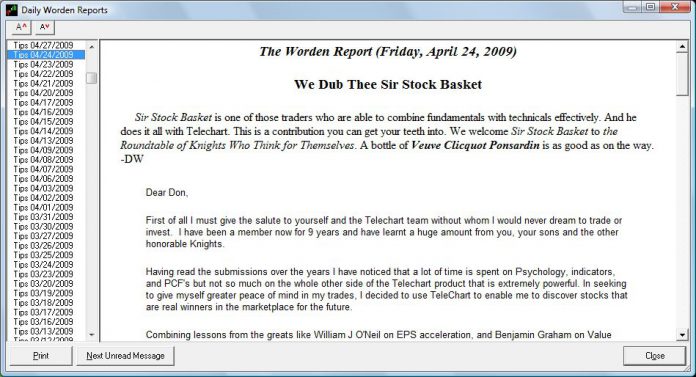 This is a detailed review of the Worden Telechart 2000 / 2007 Stock Charting and Screening Package, the tool that I actually use. I have been a member of the Telechart community for over 10 years from a wet behind the ears beginner to an experienced Trader. Through this maturing experience I have used Telechart religiously to provide a view of the US Stock Markets that I do not believe is available anywhere else.
This review is available as video or an article. Click play below, or read on.
I have reviewed many Stock Charting (Technical Analysis) Packages over the years but in my opinion NONE offer what Telechart tc2000 2007 offers, a fantastic price with an excellent array of features, but Telechart offers you much much more.
Powerful screening and sorting.
A huge user community.
Individual Stock Analysis by Don & Peter Worden
The Daily Worden Report, by Don Worden
Proprietary Indicators (TSV, Money Stream & Balance of Power)
"The Knights of the Round Table"
Telechart not only allows you to plot charts, it enables you to learn from the best and see how they Analyze Stocks and do what they do. Even better they encourage you to "Think for yourself" this is after all one of the goals of the Liberated Stock Trader, "enabling you with the tools and the knowledge to make your own decisions, to impact your future".
Powerful screening and sorting
With Telechart tc2000 / 2007 you can screen and sort on everything from fundamentals to volume surge. This means you can look for EPS Acceleration, Current Annual Earnings, Debt to Equity, % Shares Held By Insiders, % Shares held by institutions (as per the famous investment classic book from William J O'Neil "How to make money in Stocks")
Huge User Community
If you want to join a group of traders and talk stocks and learn from them you can do this with the Telechart Platinum Package, you can form Private groups, join public groups and learn from the vast experience of the user base.
Individual Stock Analysis by Don & Peter Worden
In Telechart tc2000 / 2007 you are able to read daily commentary on normally at least 5-10 different stocks that they find on their scans and see what they predict as possible outcomes, more often than not they are accurate. They also show the reasoning/analysis behind the forecast. Every day you get many lessons on how to evaluate stocks. The Picture below is a snapshot from September 2009, read the comments!
TeleChart2007 chart courtesy of Worden Brothers, Inc.
Peter Worden predicted a sharp rise in the stock, and less that 4 weeks later it was more than 50% up. This is a team that when they post their comments you can actually back test to see if they were correct in the prediction. They cannot hide from the forecasts they make, unlike other Newsletter Publishers or Wall Street Analysts. There is a lot of hype and too many celebrity Stock Guru's around today, however when the Worden's post analysis it is well worth reading. I do not always agree, but it is always solid analysis. As of today over 35% of the Stocks in the US have a Worden Note attached with a stock analysis lesson.
The Daily Worden Report by Don Worden.
On top of the individual stock analysis we also get a Daily Worden Report. In this report Don Worden provides a priceless review of the day's market action. This review provides critical analysis of the market's performance and direction according to classical Technical Analysis. Focusing on Dow Theory, the Price Volume Relationship and the Breadth of the Advances versus Declines, Don is able to provide insight that quite frankly only experience and an incredible eye for detail can bring. The snapshot below is the Worden report only 7 days after the 2009 Market bottom. Read the commentary in detail from Don and you can see for yourself what an unbelievable report this was. The Report is called "Two Hours that Changed the Character" Published 18th March 2009.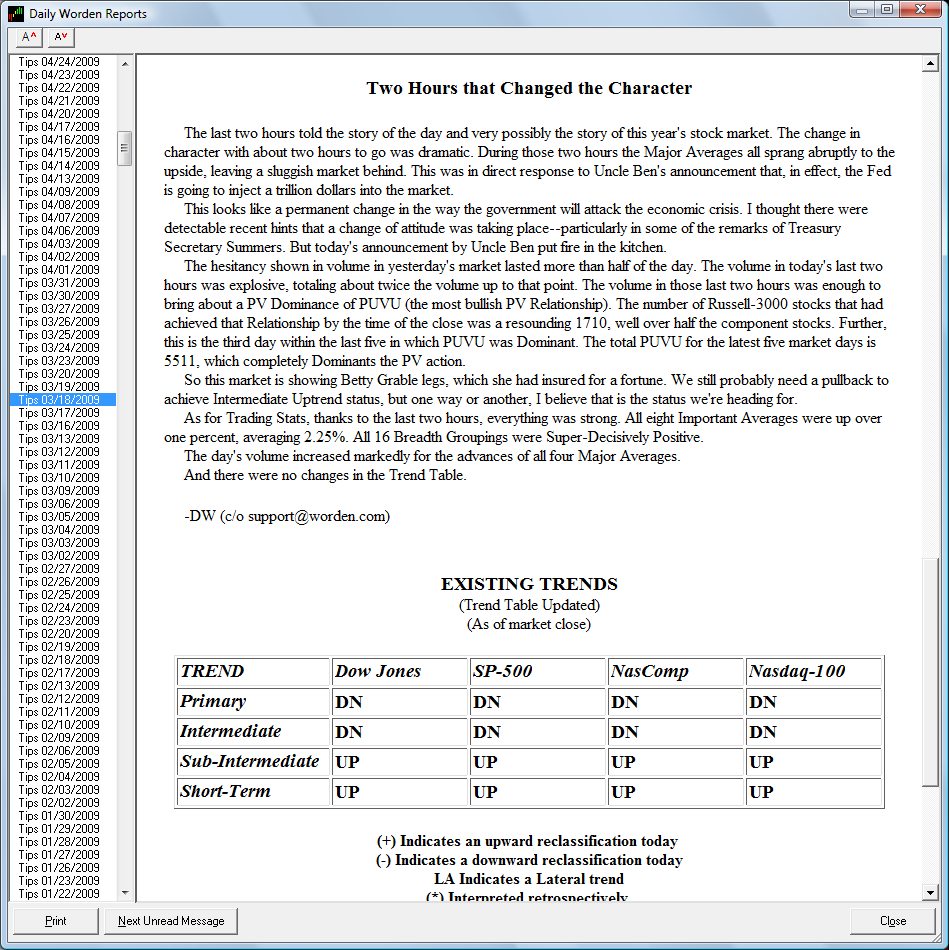 TeleChart2007 chart courtesy of Worden Brothers, Inc.
I think you will agree the comments from Don in this report were amazing and really proves that Technical Analysis in the hands of the experienced Analyst is extremely powerful.
Proprietary Indicators (TSV, Money Stream & Balance of Power)
There are hundreds of Technical indicators available in the world of Technical Analysis, from the moving averages to the Gann Fan, but what do I use to help me trade effectively? Moneystream (MS), Time segmented Volume (TSV) and Balance of Power (BOP). These indicators are only available on Telechart tc2000 / 2007 & other Worden packages. The power they have to predict the possible direction of the market is unbelievable. Like any other indicator they are not 100% effective, but in my opinion they are usable tradable and extremely effective. You can see them for yourself if you download the free telechart trial.
"The Knights of the Round Table"
One of the most fun parts of Telechart tc2000 / 2007 is the fact that Don Worden inspires you to "Think for yourself", not just to follow the Stocks that the Worden's think will do well. All members of the community are able to submit articles to Don and if you submit a good article you may be given the title of Squire. However, if you submit an excellent article that is highly original and thought provoking you may receive the honor of being knighted. This is an elite "group of Knights who think for themselves". When you become a member of the Round Table Don awards you a bottle of Fine French Champagne. This really motivated me 10 years ago, and in April 2009 on my first submission I was knighted and now have this great honor. My name, well it is "Sir Stock Basket".
TeleChart2007 chart courtesy of Worden Brothers, Inc.
We Dub Thee Sir Stock Basket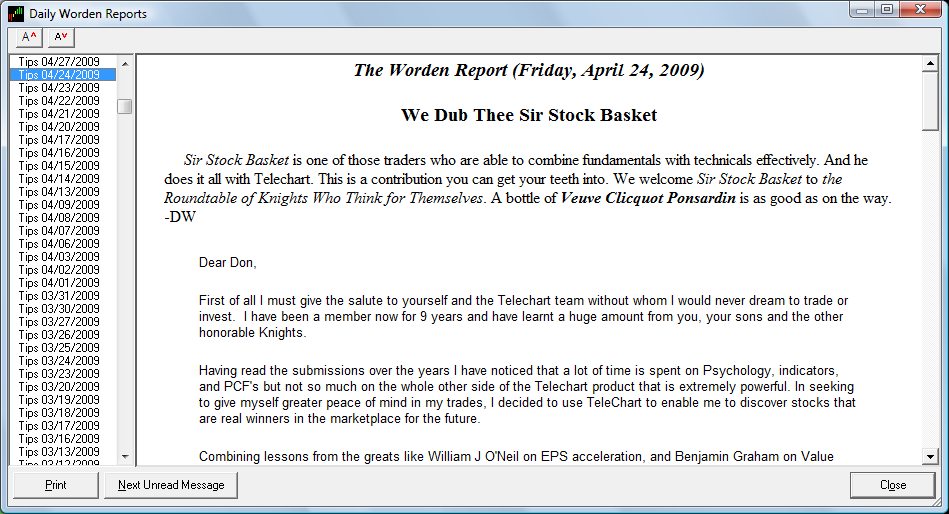 "Sir Stock Basket is one of those traders who are able to combine fundamentals with technicals effectively. And he does it all with Telechart. This is a contribution you can get your teeth into. We welcome Sir Stock Basket to the Roundtable of Knights Who Think for Themselves. A bottle of Veuve Clicquot Ponsardin is as good as on the way". -Don Worden
In Summary:
When your portfolio size reaches a certain level and you want to upgrade your tools to provide you maximum advantage in the market place Telechart tc2000 2007 is not only one of the best priced tools available but the very best tool to improve "you" as a trader. Every day will be a learning experience.
Sincerely
The Liberated Stock Trader Aka Sir Stock Basket