Knowing where to go online to get great free stock market information is very important.  Having a few key resources that you incorporate into your trading and investment planning and visit regularly can be of great benefit.
This article will highlight some important resources to help you create your weekly plan of action.  I recommend you book mark these sites and use them regularly.
Stock Market Info
Stock Indexes & Futures
If you can get Bloomberg TV via satellite this is well worth it, it is also free in most regions.  Bloomberg TV is also available via streaming from their website at Bloomberg.com.  Bloomberg is fast paced, full of valuable information and even contains some worth while Technical & Fundamental Analysis of individual stocks and the major stock market indexes.  Apart from having to sit through countless annoying adverts for the Charlie Rose Interview show, Bloomberg is a good source of information.  Also before tuning in to Bloomberg, you will need to work on your news filter.  By this I mean you need to practice filtering out the un-important news from the important news.  This article on playing the news will help.
Bloomberg also have other very interesting information sources on the website.

Bloomberg Futures – it is very important to review the futures before the opening bell.  This will help you assess whether the trading day will turn out positive or negative.  Futures contract are traded globally 24 hours a day and can be a good indicator of the direction of the actual market before the opening bell rings.  Stock Index Futures are the ones to look out for.  If the Futures Contracts for the SP-500 are soaring before the opening bell it is fairly certain the market will open up.  This might help you decide that today is the day to buy that stock you have been watching.  Also if the futures trading is strongly negative, you might wait for later in the trading day to see if the market recovers from the negative open before you buy that stock.
Bloomberg Economic Calendar – this can be useful for a quick weekly check to see if there are any macro economic announcements due.  Things to look out for are the Federal Reserve, European Central Bank or other reserve bank announcements especially regarding Monetary Policy (Interest Rate or Money Supply Chages etc)
Bloomberg World Indexes – a snapshot summary of the current state of play in the major world stock market indexes
Fundamental Company Information
One excellent source of information on an individual stock or company which you might not be aware of is TDAmeritrade.  You will not need an account with TDAmeritrade to access this information.  TDAmeritrade lay out the information in a very easy to digest way.
Also on the Earnings Tab you will find the corporate earning announcements and future earning estimates presented in bar graph format which gives you an easy way to visualize if a company is making good steps forward in earnings or experiencing earnings acceleration.

Analyst Earnings Expectations & Ratings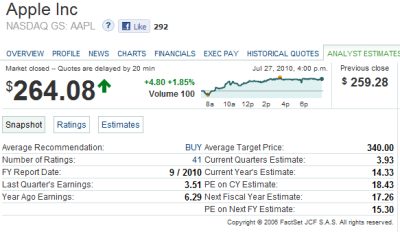 While stock market analysts are not always accurate, in fact mostly inaccurate, it is nice to be able to review the current analyst estimates for a given stock.  Marketwatch.com makes this very easy.  Here you can see a snapshot of the Average Analyst Ratings and the Number of ratings, and then drill down for further detail.
Stock Market Sector Summary
It can be very important to visualize what is happening in the individual sectors of industry.  As the big money cycles through different sectors it can be a good strategy to select winning stocks in the winning sectors.  For a quick snapshot view of the overall Stock Market Sectors to see where the big money is flowing, you can check out Google Finance.

In this example you can see the Utilities sector is seeing a big influx of investment, perhaps as the market participants become more defensive.
Stock Info Summary
There are many sources of information on the web.  Please leave a comment to recommend any you feel provide an excellent source of news or analysis.
For further information see