MetaStock Special Offer + Discount + Free Books & Training
By
MetaStock 11 – Special Offer + Discount Coupon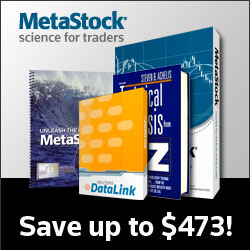 I just got off the phone with Thomson Reuters and they have cut us an exclusive deal on MetaStock, the worlds leading Stock Market Analysis Tool and real-time news service.
I am very pleased to announce that if you purchase MetaStock through the Liberated Stock Trader you will get a:
Discounted Price

– save up to $100 off the purchase price

FREE copy of Technical Analysis from A to Z

– a classic in the industry, this 380-page book is a complete reference for Technical Analysis ($40 value)

FREE copy of Unleash the Power of MetaStock

– This CD/Manual combo was made especially for MetaStock 11 and shows you everything you need to know to squeeze all you can from our latest features. ($99 Value)

FREE month of LIVE online training

– BreakAway Training Solutions is the official training partner of MetaStock. Take advantage of a real MetaStock professional in an interactive online training environment. ($99 Value)

1 FREE month of end-of-day or real-time data

(up to a $135.00 value)
Reuters have the broadest span of Stock Exchange and real-time news coverage of any other company.  They also have over 300,000 members world wide making them the leader in independent investor solutions for technical analysis / news and real-time prices.
So if you are considering buying a professional analysis package, check out this deal.
Get A Great Deal on MetaStock HERE
Facebook comments:
comments