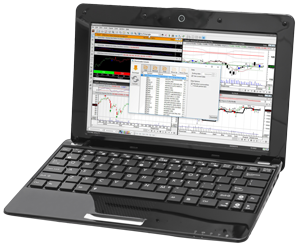 Recommended for day traders and those who need excellent real-time news, access to a huge stock systems market and powerful technical analysis with global data coverage all backed up with excellent customer services.
The latest release of Metastock XV has been a big hit with improvements across the board. with huge improvements in Scanning, Back Testing and Forecasting making this one of the best offerings on the market.

MetaStock – Review Score 85%

Pricing and Software – 10/10
MetaStock starts at a very reasonable $22 per month which unlocks the entire package, and as you will see that is a great package, including Reuters real-time news feeds and award-winning technical analysis and expert advisors for system backtesting and analysis.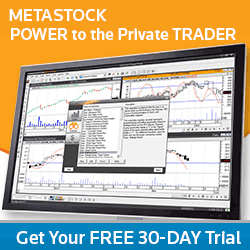 It is designed only for the PC, but can be run on Mac with PC emulation software.  You will need to download and install MetaStock and configure your specific data feeds for the markets you want to trade.  So the software installation is not as slick and quick as competitors but the package is extremely powerful.

MetaStock has a clean sweep in terms of Stock Exchanges covered (e.g. All of them) and it covers ALL of the vehicles, stock, ETF's Mutual Funds, Options, Futures Forex, and Bonds.
MetaStock is one of the biggest fish in the sea of stock market analysis software.  Backed up by the mighty Thomson Reuters you can expect excellent fast global data coverage and broad market coverage including equities, futures, Forex, ETF's and options.
Trade Management – 4/10
MetaStock does provide broker integration but the execution of trades from charts and live integrated P&L analysis is limited, this is definately an area of improvement for the future..
Fundamental Scanning and Screening – 10/10
As  I mentioned MetaStock is owned by Thomson Reuters, who are without a doubt the biggest and best provider of real-time news and market analysis.
They also have an incredible database of global fundamental data, not just on companies but economies and industries.
The filtering & scanning possibilities are endless. I would like to see better integration within the MetaStock suite, bringing together the fundamentals and the technical analysis to enable better charting on fundamentals. However, the wealth of data is first class.
Using Eikon you can see a really in-depth analysis of company fundamentals from debt structure to top 10 investors, including level II.  Excellent watch lists featuring fundamentals and powerful scanning of the markets gets a perfect 10
News & Social – 10/10
MetaStock 12 has full Eikon integration with institutional level news, analysis, and outlook.  This is the fastest global news service available on the market including translations into all major languages.
Thomson Reuters the king of the real-time newsfeed and global market data coverage is the owner of MetaStock, so you get the entire wealth of knowledge included in the package.  This should not be underestimated.
MetaStock however, does not have any social elements, which under normal circumstances, would detract from the score, however, because the news feeds are so strong it warranted still a 10 out of 10.
Technical Analysis 10/10
Forex forecasting based on sentiment is a feature that is absolutely exceptional.  Never mind the broadest selection of technical analysis indicators on the market today. MetaStock is the king of technical analysis warranting a perfect 10.
MetaStock takes a clean sweep when it comes to Charting covering all the core chart types, but also includes, Point & Figure, Equivolume, and Market Profile charts.
When it comes to indicators, MetaStock has 300+ different types, including Darvas Box and Ichimoku Cloud.  MetaStock will also help you develop you won indicators based on their coding system.
Finally, MetaStock racks up a perfect score on the drawing tools section, which includes Gann and Fibonacci tools.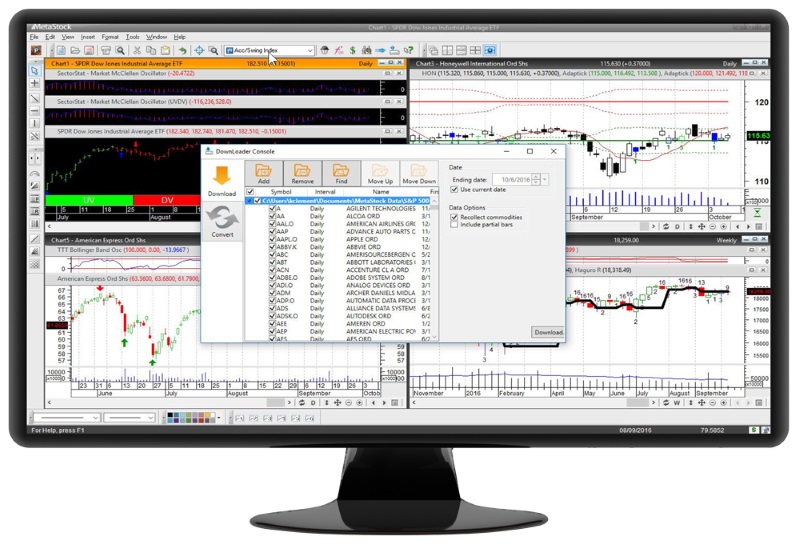 Stock Systems and Back Testing 9/10
Another area where MetaStock excels is what they call the expert advisors.  MetaStock harnesses a huge amount of inbuilt systems that will help you as a beginner or intermediate trader understand and profit from technical analysis patterns and well-researched systems.  This is really a key area of advantage.  The biggest addition to the MetaStock arsenal is the forecasting functionality which sets it apart from the crowd.
You can even use artificial intelligence like functionality to test a set of variables within your backtesting.  You could for example test if price moves above the moving average 10,11,12,14,16,18 or 20, in a single test to see which of the moving averages best work with that stock.
Check Out this Video Overview Of MetaStock

Ease of Use 19/20
MetaStock has made huge strides this year in terms of installation and usability.  You are up and running quickly and you do not need to spend time trying to configure data importers anymore unless you want to use a 3rd party provider.
Once installed the huge selection of automated expert advisors you can deploy on the selection of stocks in your purview make MetaStock well worth the investment.
Special Features
MetaStock features some industry-leading systems such as:
Power Strike – Options Trading 
PowerStrike relies on three phenomena of the market:
1. Stock prices are heavily influenced by trading near option strike price levels. These levels greatly influence where important buying and selling occur.
2. Support and resistance are based on the concentrated buying and selling of influential traders.
3. The human mind gravitates towards memorable, easy-to-remember numbers. These values are typical of option strike prices. Hence many traders' attention is drawn to these numbers providing the potential for even more "concentrated" buying and selling.
All in all a top class showing from MetaStock, simply put one of the best packages available.
MetaStock Service Data Sheet
| | |
| --- | --- |
| Vendor | MetaStock |
| Pricing & Software | |
| Monthly End of Day | $22 |
| Monthly Real Time | $99 |
| Software Only Fee | $449 |
| Customizable Data Feeds | ✔ |
| Customer Service & Education | Excellent |
| PC | ✔ |
| Market Data Coverage | Global |
| Data Speed | Excellent |
| Stocks | ✔ |
| ETF | ✔ |
| Mutual Funds | ✔ |
| Options | ✔ |
| Futures | ✔ |
| Forex | ✔ |
| Bonds | ✔ |
| Pricing & Software Score | 10 |
| Trade Management | |
| Broker Integration Stocks | ✔ |
| Trade Management Score | 4 |
| Fundamental Scanning & Screening | |
| Real Time Scanning & Filtering | ✔ |
| Fundamentals Scanning | ✔ |
| Watch Lists with Fundamentals | ✔ |
| Extended Economics Fundamentals (New) | ✔ |
| Fundamental Screening Score | 10 |
| Technical Analysis | |
| Charts | |
| Multiple Charts Per Desktop | ✔ |
| Bar Line HLC Candlestick | ✔ |
| Point & Figure | ✔ |
| Equivolume | ✔ |
| Others | Market Profile |
| Indicators | |
| Bollinger Bands | ✔ |
| Directional Movement | ✔ |
| Ichimoku Cloud | ✔ |
| MACD | ✔ |
| Momentum | ✔ |
| Money Flow | ✔ |
| Moving Averages | ✔ |
| Parabolic SAR | ✔ |
| Rate of Change | ✔ |
| Relative Strength / RSI | ✔ |
| Stochastics | ✔ |
| Volume at Price | ✔ |
| Custom Indicator Development | ✔ |
| Volume | ✔ |
| Darvas Box | ✔ |
| Elliot Wave |  X |
| Total Number of Indicators | 300+ |
| Drawing Tools | |
| Fibonacci Retracement | ✔ |
| Fibonacci Time | ✔ |
| Fibonacci Fan | ✔ |
| Trend Lines | ✔ |
| Text Overlay | ✔ |
| Pitchfork | ✔ |
| Error Channel | ✔ |
| Gann Grid/Line | ✔ |
| Gann Fan | ✔ |
| Quadrant Lines | ✔ |
| Speed Lines | ✔ |
| Tirone Levels | ✔ |
| Automated Alerts | ✔ |
| Technical Analysis Score | 10 |
| News & Social | |
| News Feed | ✔ |
| Real-Time News Feed | ✔ |
| Economics & Deal News | Reuters |
| Market Commentary | ✔ |
| News Score | 10 |
| Systems & Backtesting | |
| System Marketplace | ✔ |
| Create Customizable Systems | ✔ |
| Back Testing Point & Click | ✔ |
| Back Testing Programmatic | ✔ |
| Forecasting (new) | ✔ |
| Robotic Trading (new) | |
| Systems & Back-Testing Score | 8 |
| Setup & Usability | |
| SW Setup | 6 |
| Ease of Use Score | 6 |
| Usability Points | 12/20 |